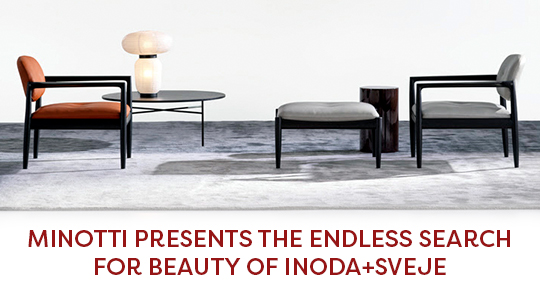 presented by

MINOTTI PRESENTS THE ENDLESS SEARCH FOR BEAUTY OF INODA+SVEJE
Published by Sugar & Cream, Friday 17 March 2023
Images courtesy of Minotti
Furnishing Pieces Characterized by Eastern Influences
Keinginan Minotti yang berkelanjutan untuk menjelajahi berbagai budaya dan pengetahuan, telah mendorong jenama untuk berkolaborasi dengan desainer internasional selama bertahun-tahun, dengan cerdik memadukan selera Skandinavia dengan budaya Jepang dalam Collection 2022 melalui kolaborasi dengan duo desainer Kyoko Inoda e Nils Sveje, masing-masing dari Jepang dan Denmark.
Di bawah pengawasan Art Director, Rodolfo Dordoni, sebuah perjalanan yang menginspirasi dimulai pada 2018, memimpin jenama untuk mengembangkan proyek dengan desainer Prancis, Christophe Delcourt; desainer Jepang Oki Sato, pendiri studio Nendo, Studio arsitek Brasil Marcio Kogan / studio mk27, dan Italia – Duo Denmark, GamFratesi.

Presented by Interni Cipta Selaras
"For us, the relationship with Inoda+Sveje represents another step forward in our design path and in the history of the company. We have chosen to start these collaborations because they are important exchanges of views that allow us to explore new stylistic horizons" – Roberto Minotti –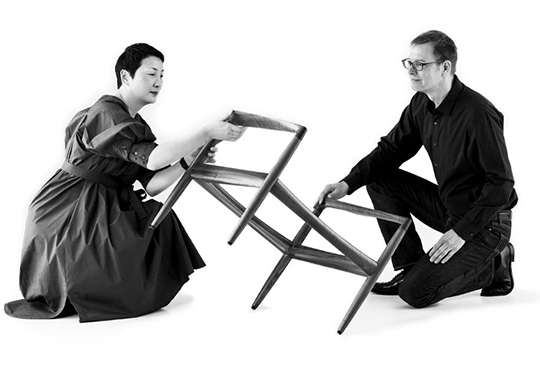 Kyoko Inoda x Nils Sveje

Kisah Inoda+Sveje, sebuah studio desain yang didirikan di Kopenhagen pada 2000 dan sekarang berbasis di Milan. Dua dunia yang sangat berbeda tetapi terkait erat dengan pendekatan mereka terhadap desain sebagai sarana untuk menciptakan keindahan dan keanggunan abadi.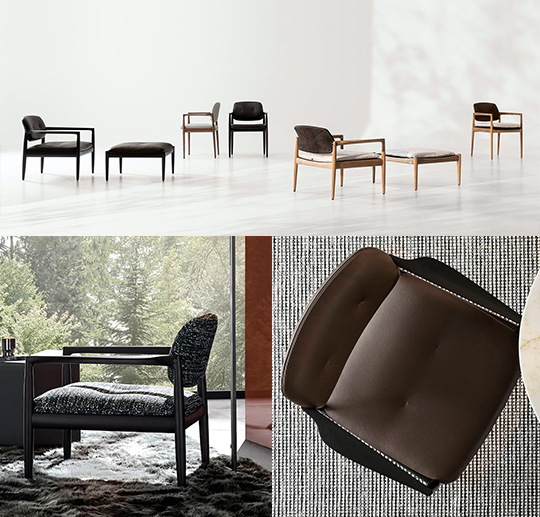 Yoko
Kolaborasi dengan Inoda+Sveje membuka pintu untuk perabotan yang dicirikan oleh pengaruh timur, yang ditempa oleh kekakuan Nordik dan dalam nuansa gaya Minotti: tiga proyek pertama oleh duo desainer memberi kehidupan yang baru, ringan, dan halus pada gaya Nordic Japanisme.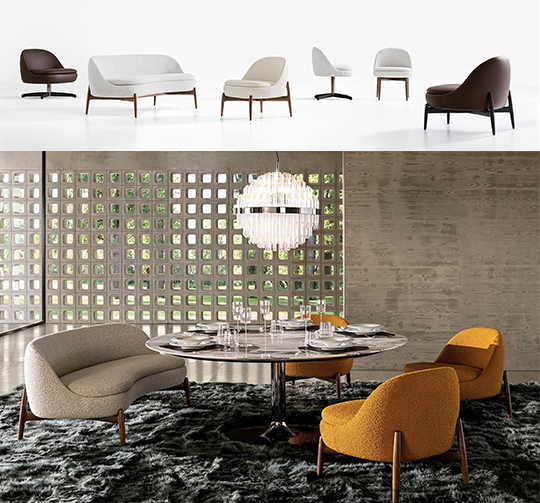 Sendai
Rangkaian Yoko, yang mencakup armchair, dining little armchair, dan bench/footstool, untuk koleksi Sendai  mencakup elemen mulai dari little armchairs hingga lounge sofa nyaman, dan sedangkan Lars,  memiliki lima kaki organik ramping terlihat seperti batang pohon yang seakan bisa terbang dibawa  angin.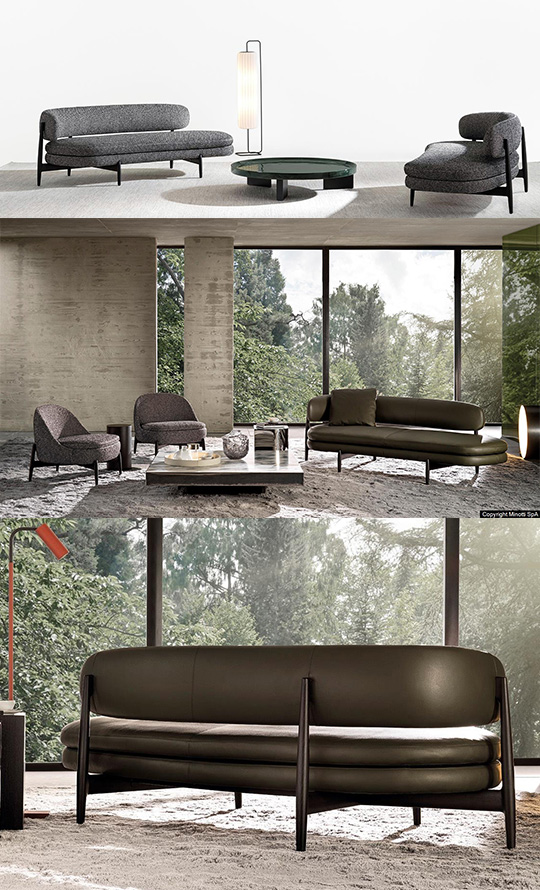 Lars
Setiap objek dibedakan tidak hanya oleh elemen yang mengingatkan pada dua budaya yang menjadi inspirasinya, tetapi juga oleh savoir-faire di baliknya: dari teknik cabinet-making paling halus hingga bentuk yang ringan dan sartorial craftsmanship yang canggih.
Hasil dari kolaborasi Inoda+Sveje dengan tim Minotti adalah sinergi cerita desain dan tradisi, menggabungkan kesederhanaan dengan detail artisanal yang indah, dan identitas kontemporer yang merespons tren kehidupan modern yang terus berkembang.
Benda kompak dan serbaguna yang mudah ditempatkan di lingkungan perumahan dan hospitality, tetapi yang terpenting, sempurna untuk memenuhi kebutuhan kebiasaan baru saat ini: makan siang sambil duduk di sofa, menambahkan sudut untuk menyambut tamu di ruang yang dibuat untuk tujuan lain, sertamenciptakan ruang tamu yang batasan visualnya langsung berbaur dan memudar berkat pencahayaan komposisi dan keindahan detail.
"To sums up the power hidden within the sophisticated details that make their collections for Minotti unique, our collection for Minotti is made up of objects that are the interface between the person and the rest of the house". –  Nils Sveje –
So, a focus on design, but before that, on the people who live it!