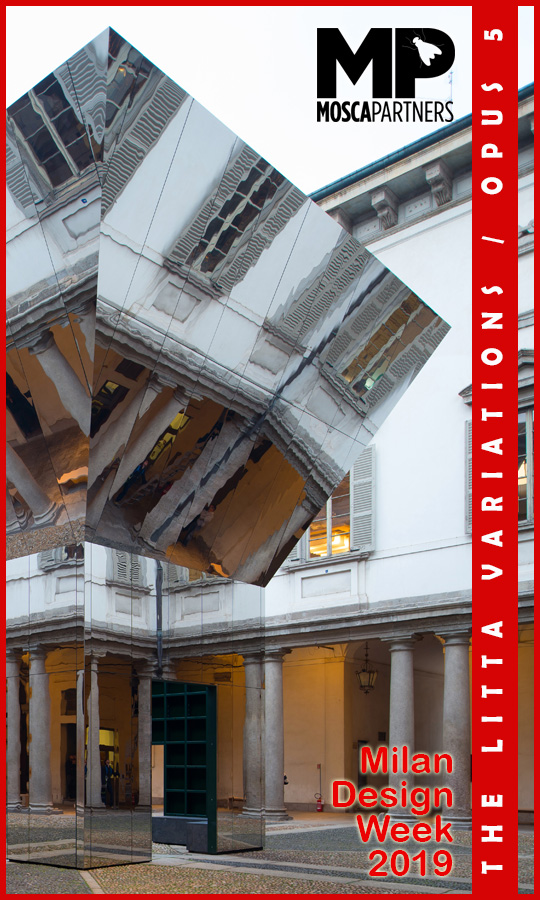 presented by

Milan Design Week 2019: MoscaPartners Presents The Litta Variations / Opus 5
Published by Sugar & Cream, Wednesday 29 May 2019
Text by Dira Rohmatun, images courtesy of MoscaPartners
22 Exhibitors, more than 65 designers from the international scene from 11 countries
Ajang pesta desain Milan Design Week 2019 turut dimeriahkan oleh MoscaPartners dengan menggelar pameran bertajuk The litta variation / opus 5 – pameran yang menyatukan berbagai proyek dan koleksi dari 22 peserta pameran dengan lebih dari 65 desainer internasional dari sebelas negara ini berlangsung meriah selama 9 – 14 April 2019 lalu di Palazzo Litta.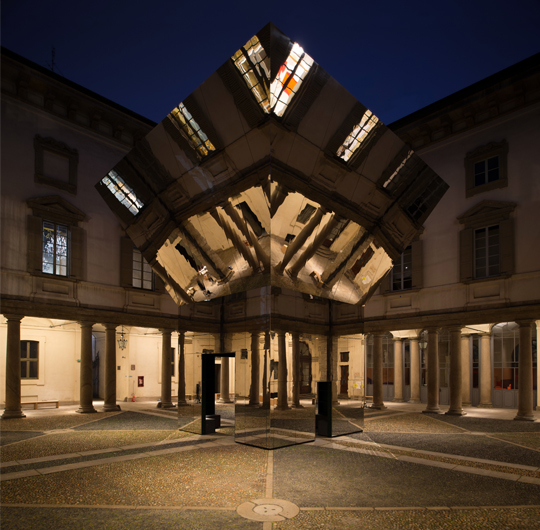 Instalasi Echo by Pezo von Ellrichshausen Studio
The Litta Variation / opus 5 mempresentasikan karya-karya melalui beragam instalasi dan produk-produk desain yang dipamerkan di penjuru ruangan Palazzo Litta. Di halaman utama Palazzo Litta, The Litta Variation / opus 5 menghadirkan instalasi "Echo" oleh Pezo von Ellrichshausen Studio, struktur bangunan yang dilapisi kaca pada bagian permukaan luarnya ini merefleksikan kekhasan seni barok pada barisan pilar dan dua ordo atas yang membentuk halaman Palazzo Litta. Sebaliknya, bagian dalam instalasi Echo menampakkan keindahan langit yang diterangi oleh pencahayaan kelas atas dari Flos dan dilengkapi dengan rangkaian 22 bangku PAC berwarna white oak dari B&B Italia, juga bangku dari batu alam oleh Salvatori rancangan Pezo von Ellrichshausen Studio yang sangat selaras dengan instalasi ini. Instalasi Echo building dibangun dengan high-end craftmanship oleh De Castelli Metal Projects Factory yang akan menjadi karya permanen di Palazzo Litta.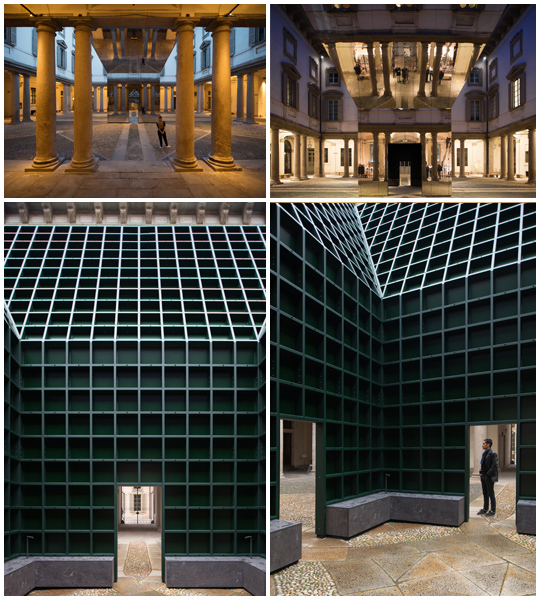 Instalasi Echo by Pezo von Ellrichshausen Studio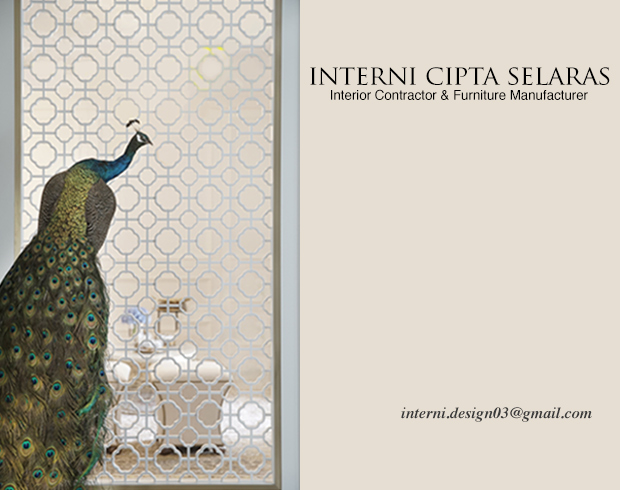 Presented by Interni Cipta Selaras
Pada area Litta Theater, berjajar karya dari the Swiss foundation for culture, Pro Helvetia di bawah naungan Design Switzerland yang menghadirkan pameran dari 11 studio desain muda: AATB, Valentin Dubois, Matthieu Girel, Douma Guittet, Xénia Lucie Laffely, Bertille Laguet, Somniacs, Studio 5, Studio Ilio, Studio Porto dan Reto Togni. Selanjtnya di area Foyer, terdapat instalasi Good News from Brasil oleh direktur artistik dan desainer Jader Almeida dari label Brasil, Sollos. École Camondo juga mengisi Copper Room dengan Teatro del giorno, 6 giorni, 6 temi yang disutradai oleh Mathilde Bretillot dalam kemitraan dengan TIPTOE.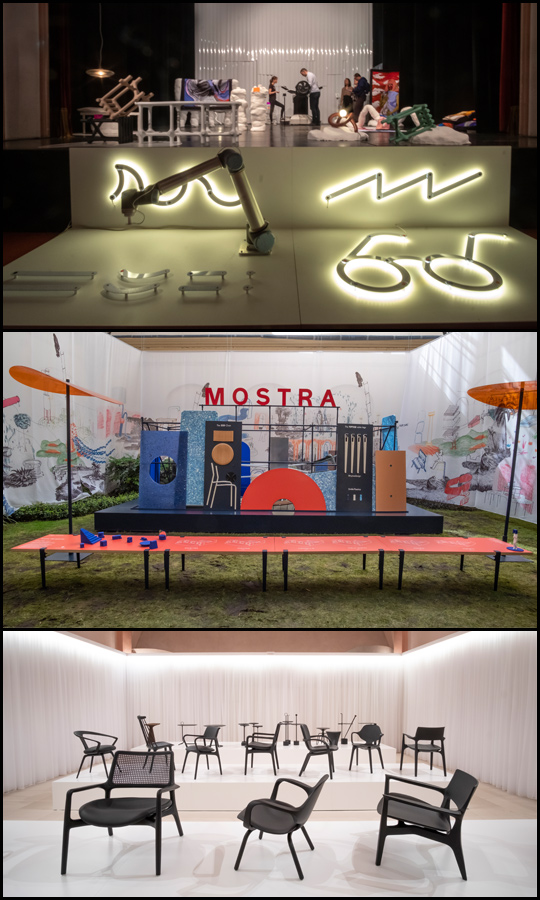 Exhibition view – Pro Helvetia, Ecole Camondo, and Sollos
Menaiki Scalone d'Onore dan sepanjang area Piano Nobile, berjajar produk desain yang selaras dengan Palazzo's rich rooms, diantaranya yaitu koleksi furnitur handmade dari studio AlvinT yang terbuat dari rotan alami bertajuk Tropicalia Modernity karya desainer Indonesia Alvin Tjitrowirjo; Label Alp Design menampilkan desain vas dan lampu unik rancangan Annick L. Petersen; Instalasi photobooth dengan furnitur unik dari Babled Edition bertajuk Prime Matter Photobooth karya Emmanuel Babled; instalasi koleksi karpet kontemporer bertajuk Jaipur Wunderkammer dari Jaipur Rugs bersama desainer Matteo Cibic; Produk artisanal Jepang dari Japan Creative rancangan Formafantasma dan Raw-Edges; Instalasi Innesti Mediterranei / Living oleh Martinelli Venezia Studio untuk LITHEA dengan aksesori rumah rancangan Elena Salmistraro dan Martinelli Venezia; Pameran pintu lipat "Walk out the dooor" oleh Calvi Brambilla dari label Dooor; Instalasi Time Matter by Mason Editions yang memamerkan koleksi ikonik dan terbaru rancangan Matteo Fiorini, Martina Bartoli, dan Serena Confalonieri. Atelier de Troupe menampilkan koleksi terbarunya yaitu L.A Noir, sebuah kursi berlengan dengan desain yang unik.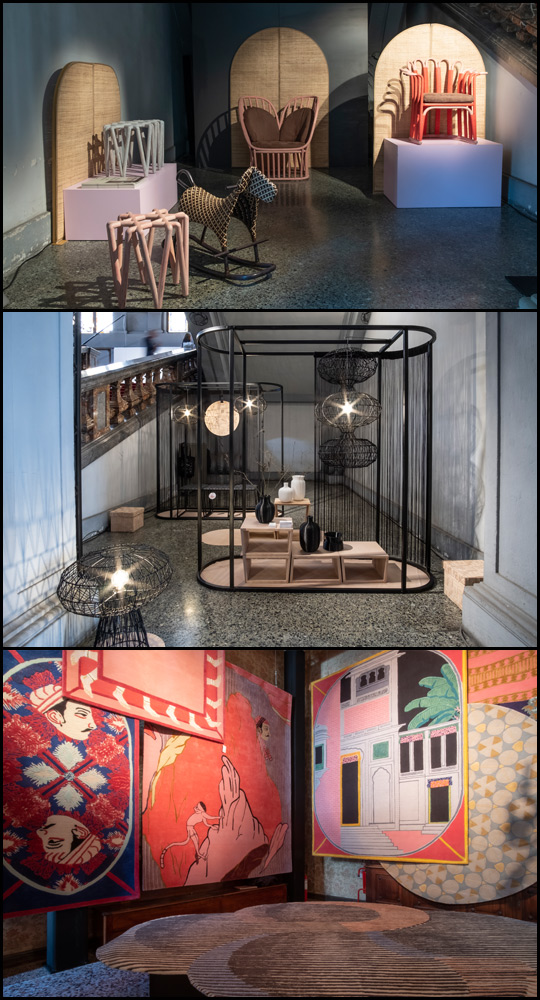 Exhibition view – Alvin T, Alp Design, and Jaipur Rugs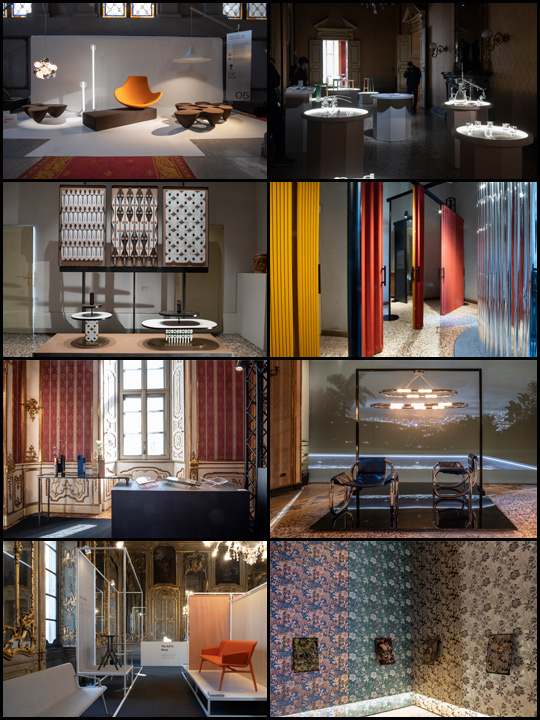 Exhibition view – Babled Editions, Japan Creative, Mason editions, Atelier de Troupe, Allermuir, and Kawashima Selkon Textiles
Selain itu, ada juga Allermuir X LAYER yang memamerkan koleksi furnitur terbaru rancangan Benjamin Hubert dalam instalasi Cove; Pameran Craft ⇄ Industry dari Kawashima Selkon Textiles menghadirkan motif kain paling simbolis rancangan Kamisaka Sekka; Kober yang menampilkan koleksi gagang pintu berjudul Enter Porcelain berkolaborasi bersama Olivary; XL EXTRALIGHT® dan Scuola Politecnica di Design SPD menampilkan instalasi A.X.A.P yang dirancang oleh Matteo Ragni Studio dan SPD Master students; Instalasi ruangan kaca mungil "house within a house" yang dilapisi dengan lima warna Squid textiles bertajuk Glasshouse of Textiles dari Squid; Artmining Milan 2019 memamerkan projectnya dengan memperkenalkan koleksi dari seniman Korea di kancah international; Pameran The Theatre of Food dari 1400° Mitterteich menghadirkan koleksi gourmet rancangan Defne Koz; Dan pameran benda-benda kaca Murano "Impronte (Imprints)" oleh Arcade rancangan desainer Ivan Baj and Marcello Panza.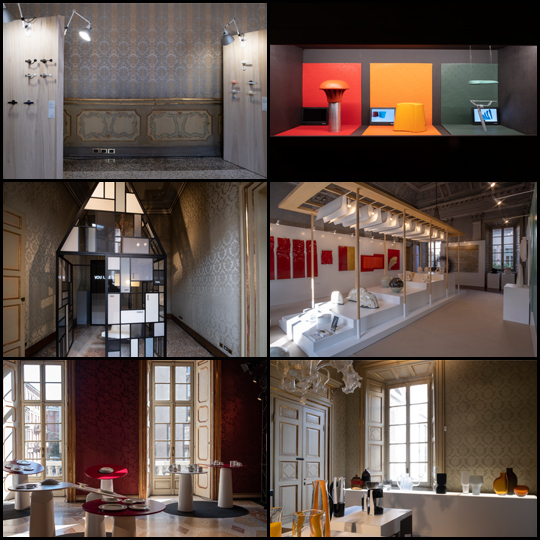 Exhibition view – Kober, XL Extralight, Squid, Artmining, 1400° Mitterteich, and Arcade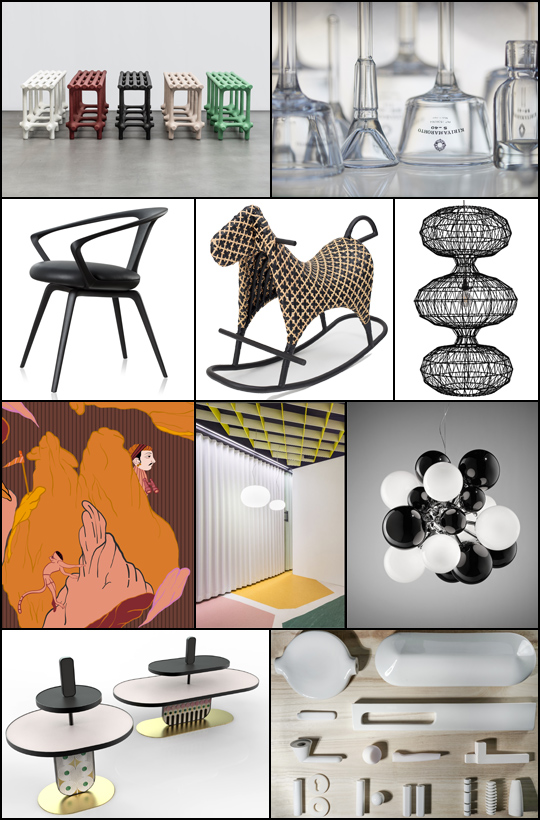 Product of exhibitiors – Pro Helvetia, Kiriyama Glass Works by Japan Creative, Bone – design by Jader Almeida for Sollos, Lumping by AlvinT, Alp lights by Alp Design, Jaipur Rugs, Dooor, Digit Mini White Black by Babled Editions, Maniace coffee table – design by Elena Salmistraro for Lithea, and Kober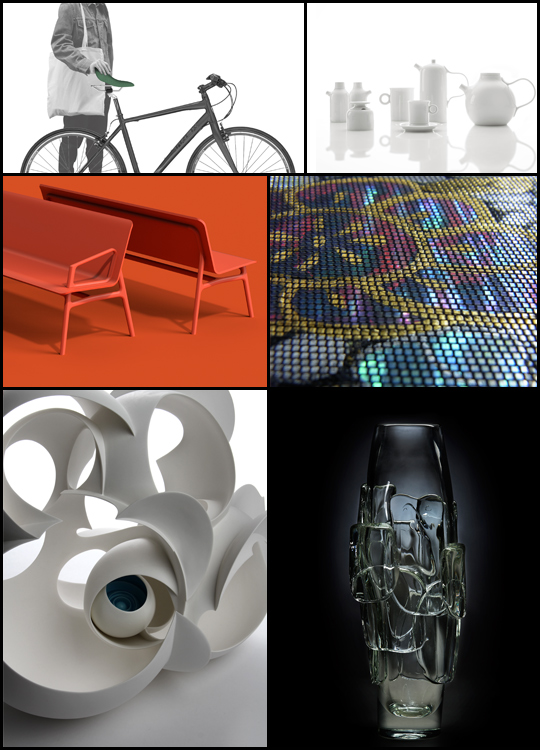 Product of exhibitiors – Saddle by XL EXTRALIGHT®, Te Coffe by 1400° Mitterteich, AXYL Chair – design by Benjamin Hubert for Allermuir, Hyakka Karanikashiki – design by Kamisaka Sekka for Kawashima Selkon Textiles, Variation of Space Series – design by Yoon Sol for Artmining Milan 2019, and Corinto – design by Marcello Panza for Arcade