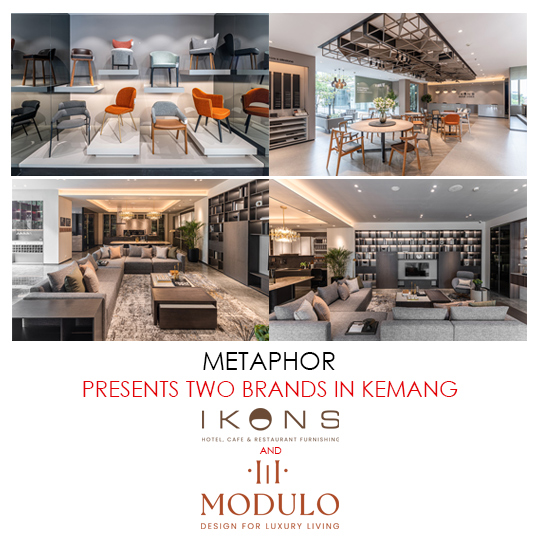 METAPHOR PRESENTS TWO BRANDS IN KEMANG: ICONS AND MODULO
Published by Sugar & Cream, Friday 23 December 2022
Image courtesy of Metaphor
The Perfect Definition of Service for Commercial and Residential Designs
The growing of restaurants and cafes as well as middle-class housing is also supported by the demand for speed with interest in local products made in Indonesia that are increasingly lively. Dan, Metaphor sebagai salah satu konsultan desain interior dan arsitektur dengan pengalaman puluhan tahun yang tak terbantahkan dalam merancang bangunan komersial,  melebarkan sayap bisnis dengan membuka showroom untuk dua jenama di kawasan Kemang, Jakarta Selatan.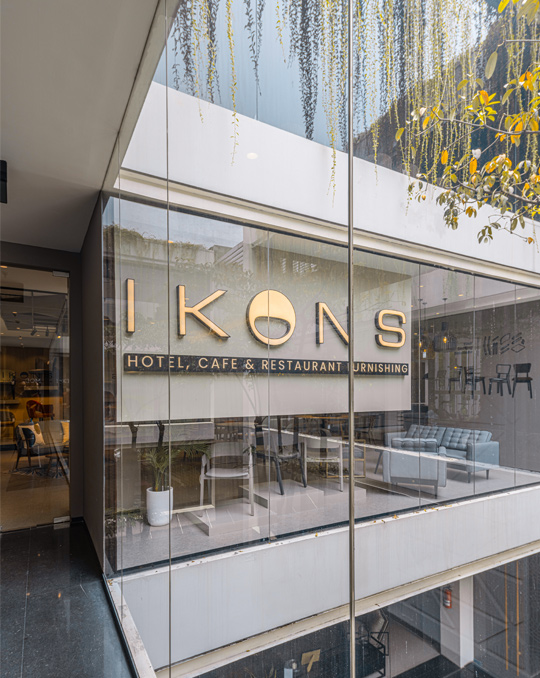 IKONS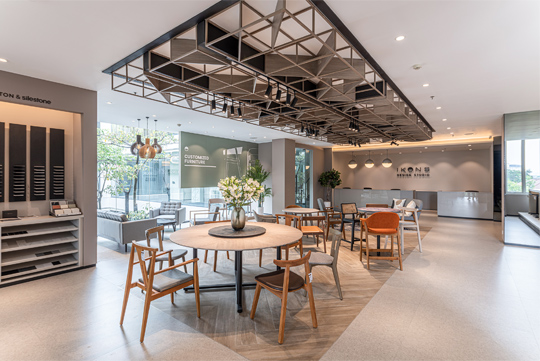 IKONS
Melalui dua jenamanya: IKONS dan MODULO, merepresentasikan desain yang berangkat dari pemahaman akan kenyamanan dari riset, pengamatan, serta pengalaman puluhan tahun mengerjakan proyek dengan beragam skala dan karakter. Kualitas tidak lagi hanya terletak pada tampilan visual dan kekuatan bahan, tetapi banyak aspek dan detail yang hanya didapat dari pengalaman.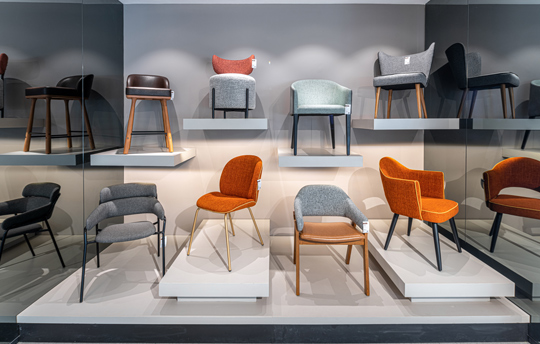 IKONS
"IKONS hadir untuk memenuhi kebutuhan akan furniture untuk hotel, café, dan restoran yang cukup tinggi. Selain itu dengan pengalaman kami merancang interior dan arsitektur untuk bangunan komersial membuat kami memiliki pemahaman yang mendalam dalam mewujudkan standar kenyamanan baik untuk pengguna maupun pengelola. Hal ini yang membuat IKONS menjadi sangat berbeda dengan produk-produk yang hanya menunjukkan kualitas visual semata," James Wijaya, Principal Metaphor menjelaskan latar belakang hadirnya IKONS.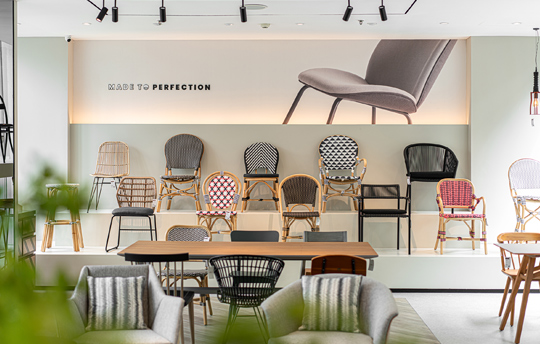 IKONS
Selain IKONS untuk memenuhi kebutuhan hotel, café, dan restoran, Metaphor juga menghadirkan showroom MODULO. MODULO merupakan perpanjangan layanan Metaphor kepada klien dengan proyek residensial: menawarkan layananan paripurna design & build. Menampilkan koleksi desain untuk hunian seperti interior kamar tidur, ruang duduk, ruang makan serta dapur, MODULO hadir menyuguhkan kemewahan desain hunian yang nyaman dan hangat. Tidak hanya koleksinya semata, tetapi MODULO juga memberikan layanan penyesuaian desain dari koleksi produk yang ada hingga design & build untuk bisa menyesuaikan dengan kebutuhan klien dan memberikan servis tepat.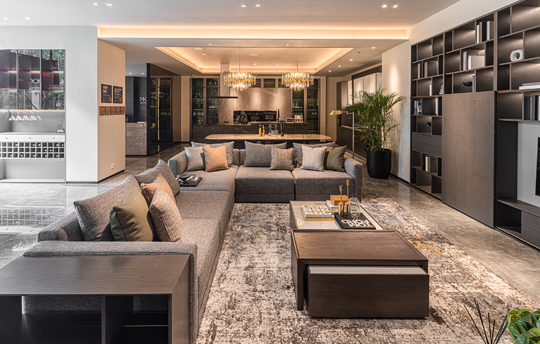 MODULO
"Selama ini kami juga mengerjakan banyak proyek residensial dan juga apartemen, sehingga ada banyak kebutuhan dan tuntutan yang harus mendapat respon desain yang proporsional. MODULO hadir untuk menjawab hal ini. Dalam konteks design&build, koleksi furnitur di sini didukung oleh layanan desain untuk bisa mendapatkan hasil paripurna yang sesuai dengan harapan klien," tambah James Wijaya.  Showroom MODULO  mendapat dukungan dari beberapa jenama interior, yaitu Zbom (wardrobe & kabinet dari Tiongkok), Bottega Artisan, Serba Antik, dan Lightvolution. Sementara IKONS  didukung oleh Cosentino, Vania, dan Leder Haus.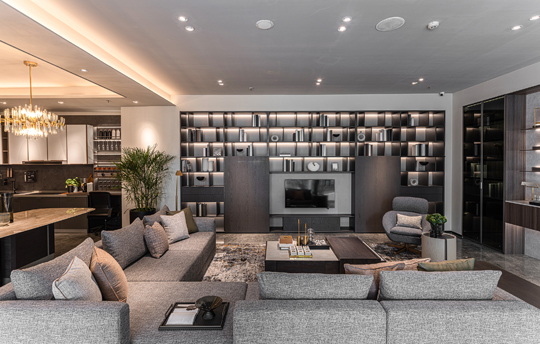 MODULO
Dalam hal ini IKONS dan MODULO konsisten menjaga keselarasan dari proses desain hingga proses build atau produksi  serta memberi layanan yang lengkap itu kepada semua klien. Produk IKONS, Metaphor memproduksi sendiri sehingga dari desain ke pembuatan prototype, riset dan pengembangan desain, hingga produksi akhirnya selalu mendapat pengawasan dari staff yang memiliki pemahaman yang sama tentang desain dan detailnya. Begitu juga MODULO, desain hunian yang dipercayakan kepada Metaphor akan mendapatkan pengawasan yang baik dan terwujud dengan kualitas yang terjaga.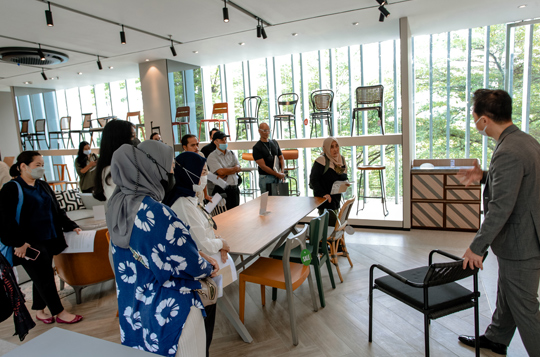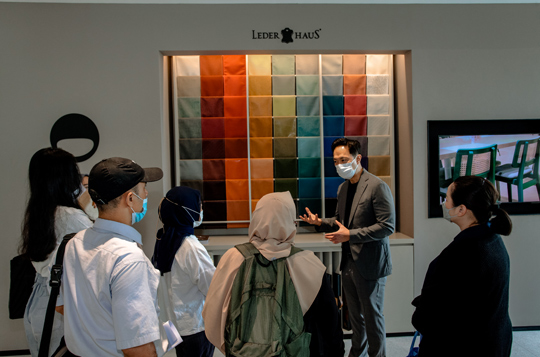 James Wijaya memberikan penjelasan saat jumpa pers di showroom ICONS