presented by

MENSWEAR KEEP MAKING IMPRINTS ON THE 15th JFW
Published by Sugar & Cream, Friday 25 November 2022
Images courtesy of JFW
Small and Selected for the Discerning Market
Stylish menswear is a relatively small category in Indonesian fashion scene, yet the handful that make it to fashion events tend to be quite promising. The few that appeared on the 15th Jakarta Fashion Week (JFW) in October is definitely worth looking into.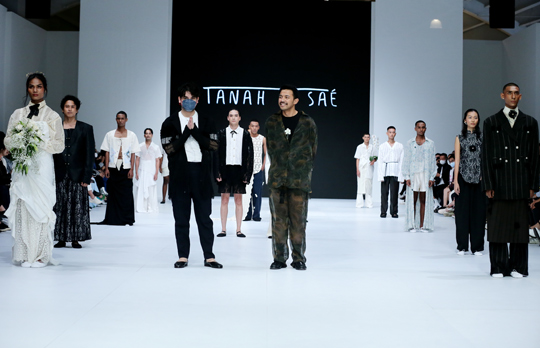 Tanah Le Sae
Tanah Le Sae is a brand created by Denniel Richard & Andika Wiradiputra only recently, yet managed to steal attention during JFW's opening day. Inspired by wedding attires from different eras including Denniel's own mother's bridal gown, the collection imbued romance and subtle sensuality. For the collection the brand used old curtains and handkerchiefs, as well as fabric deadstocks. Though cut for typical male physique, about half of the pieces weren't structured so they might suit female customers as well.


Tanah Le Sae
Upon close inspection at their JFW bazaar's booth there were rooms for improvement in finishing quality, but the collection's idea and execution were nevertheless wonderful. Let us hope both the creative forces behind Tanah Le Sae would continue the explorations so the promising future would come true.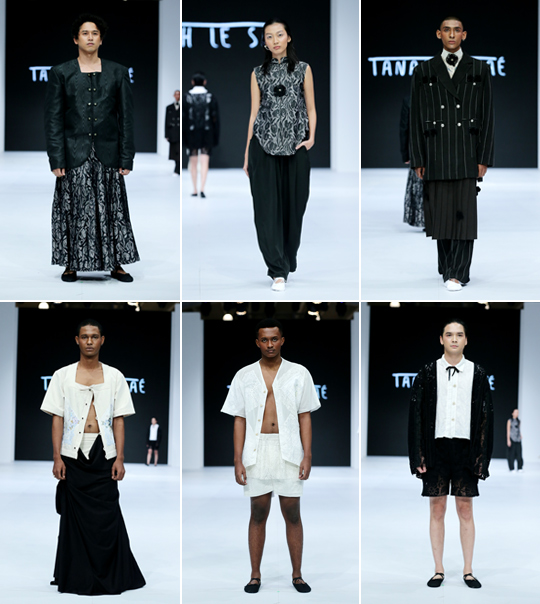 Tanah Le Sae
The story of Hartono Gan is the other way around. Having designed womenswear for a dozen of years, only now he found the confidence to design menswear. During the press conference the designer described his learning process in striking the balance between curvy female and H-shaped male anatomies so his menswear-based collection would also flatter women.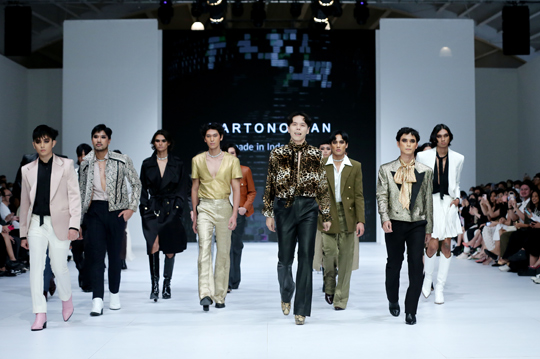 Hartono Gan
Drawing inspirations from the 1970s when men were more flamboyant, Hartono Gan Homme sent vivacious male models down the runway in pussybows, shiny fabrics, and platform footwear that the finale reminded me of the first half of movie Bohemian Rhapsody.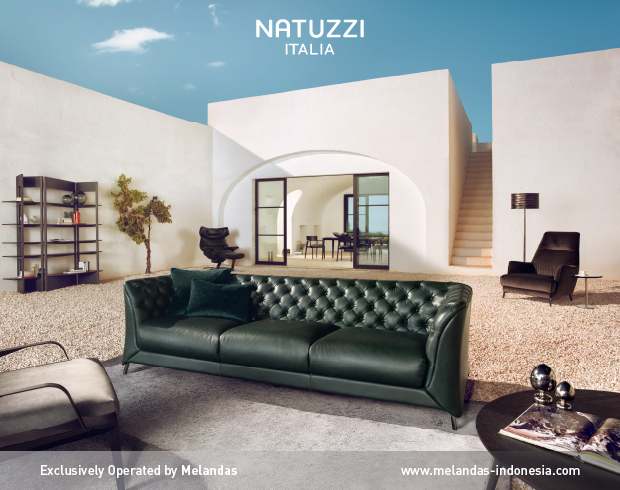 Presented by Melandas Indonesia
What's more interesting is the fact that, when asked at the press conference, both designers admitted while they presented collections that might only find buyers among creative or very adventurous men, their bread and butter still came from custom orders of classic menswear. Perhaps that largely explains why stylish menswear remain small in Indonesia– men in general tend to be conventional in dressing up.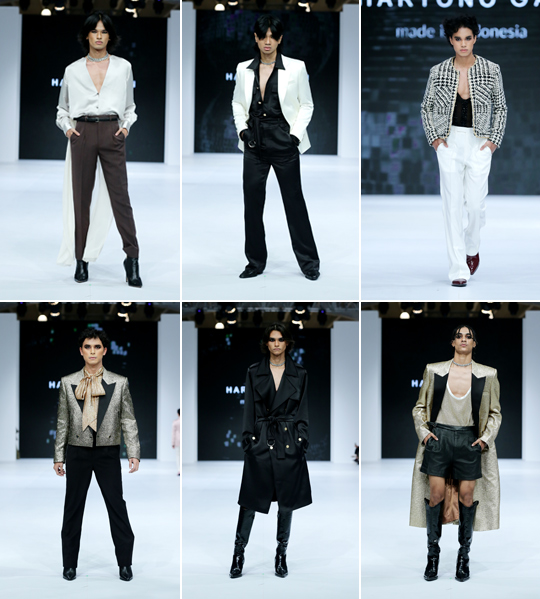 Hartono Gan
Last but not least is the 1st runner-up of JFW 2018's Menswear Competition, Temma Prasetio, and the six students from vocational schools across East Nusa Tenggara whom he coached through the province's handicraft board (Dekranasda NTT).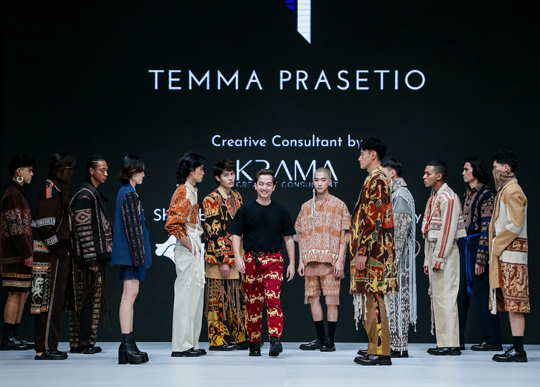 Temma Prasetio
Dekranasda NTT had participated in JFW before, but this year's menswear part deserves a praise. Each of the six students coached by Temma Prasetio presented a look and by the time the second look hit the runway it was clear why they were chosen to open the show. The designs were clean and stylish, showcasing the richness of heritage handwoven (tenun) of East Nusa Tenggara without being fussy. For students yet to graduate from a highschool-level school, this was a great undertaking.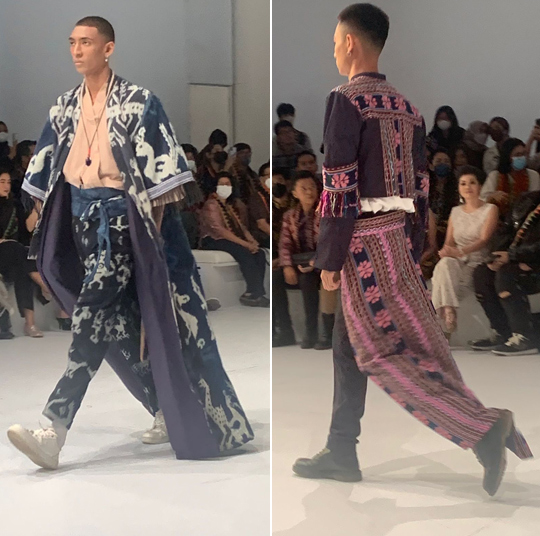 Temma Prasetio
Temma Prasetio himself didn't disappoint. Clever patterns and smart fabric selection brought out a collection of blazers, chemises and pants that's current and versatile.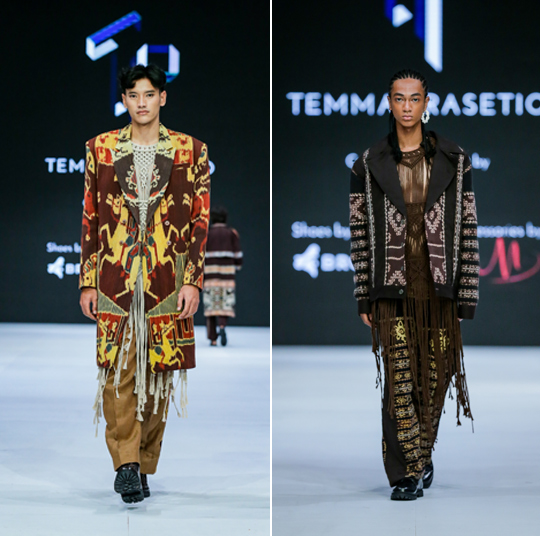 Temma Prasetio
Stylish menswear may not yet travel far into the Indonesian daily lives, but the ones appearing at the 15th Jakarta Fashion Week certainly selected interesting choices for the discerning market. (Lynda Ibrahim)