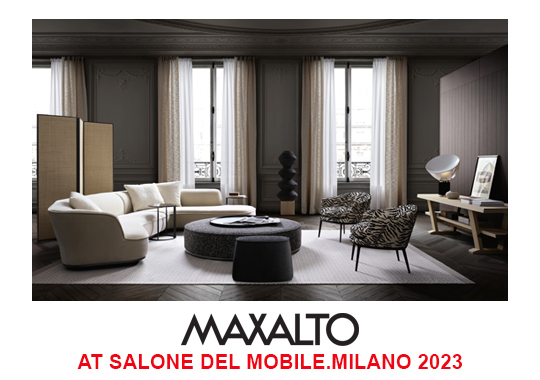 presented by
MAXALTO AT SALONE DEL MOBILE.MILANO 2023
Published by Sugar & Cream, Wednesday 03 May 2023
Images courtesy of Maxalto
Ce n'est pas une collection
Maxalto for the first time at the Salone del Mobile in Milan.
The stand set up within Rho Fiera, designed together with art director Antonio Citterio as a gallery, covers 600 m2 and covers iconic products from the brand of high-end furniture in a narrative that unfolds between past and future.

Maxalto a B&B Italia Group brand offering a complete range of furniture marked by sophisticated elegance and the "modern classic" spirit of its collections, is participating for the first time in the Salone del Mobile in Milan (scheduled from 18 to 23 April), turning the page on its own narrative in which two new sofas, Arbiter and Lilum, stand out.
After the previews in January in Paris, the brand is a key player at the Salone with a stand of more than 600 m2 designed by art director Antonio Citterio as a "gallery". In fact, the stand consists of a series of separate rooms, made extraordinary by high luminous walls of rice paper, in which the brand's most iconic products dialogue with fine objects and works of art.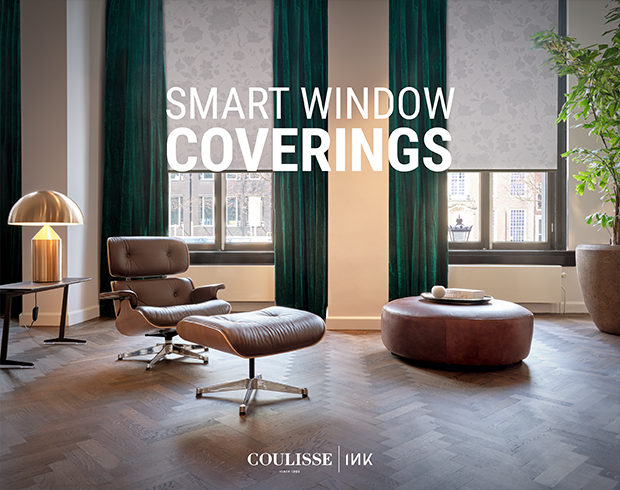 Presented by Coulisse | INK
Therefore, what is presented this year is not a "collection", because the new pieces designed by Citterio fit seamlessly into the catalogue, interacting with its elements, often in a surprising assonance of opposites thanks to original, organic forms that contrast with the more formal ones of the Déco aesthetic.
Evolution that looks towards the future while being inspired by the past. This year, Maxalto relaunches the original logo of the 70s, reaffirming and enhancing its identity and confirming the independence of a brand born to stand out, unmistakably yet without any clamour. Originally developed as a jigsaw puzzle in different kinds of wood, the logo returns to stand out on a deliberately restricted selection of textile and non-textile products all set to become icons of an ageless style.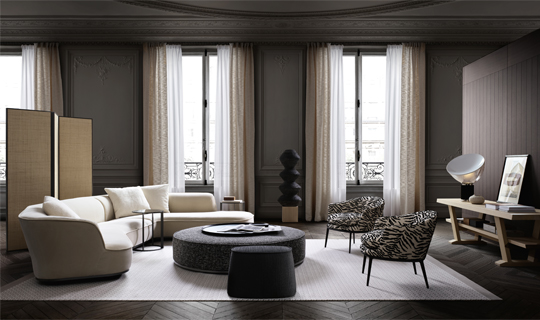 "We are very proud of this first, historical presence of the Maxalto brand at the Salone del Mobile," says Gilberto Negrini, Chief Executive Officer of B&B Italia Group, which includes the brands B&B Italia, Maxalto, Arclinea, and Azucena.
"This year is an essential year for the brand. In January we presented our new collection in Paris, and in February we announced the entry of a new General Manager with the goal of imprinting the growth of the brand with an international presence. This historical participation in the trade fair marks the crowning achievement of past efforts, as well as an important opportunity to enhance the Maxalto brand. A brand that shows, with its mix of creativity and practicality, that aesthetics and elegance are values that are as practical as they are philosophical and which continue to be the most authentic representation of Made in Italy in the globalised world," Negrini continues.
New Maxalto products for 2023 will also be displayed in the store at Via Durini 14, where the products will be presented in domestic settings.
MILANO DESIGN WEEK – Via Durini 14, Milano
MAXALTO SALONE DEL MOBILE
Fiera Milano Rho  –  Pavilion 2 I Stand C 11 D12
Art Direction: Antonio Citterio
Project Coordination: Studio Tronconi
Set design: Juma
Styling: Simona Silenzi