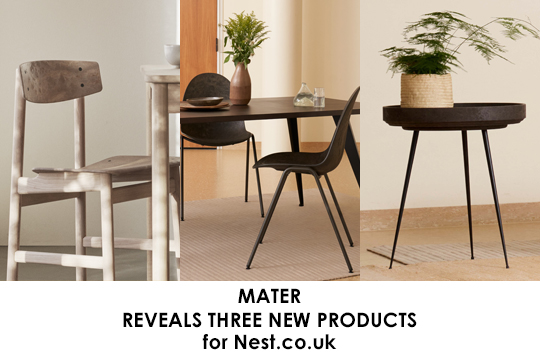 presented by
MATER REVEALS THREE NEW PRODUCTS
Published by Sugar & Cream, Tuesday 05 July 2022
Images courtesy of Mater for Nest.co.uk
Conscious Design
Didirikan di Kopenhagen, Mater menjadi jenama desain yang sadar dan etis, dengan menciptakan furnitur dan pencahayaan yang berfokus pada keberlanjutan sosial dan lingkungan. Desain Mater memiliki estetika Skandinavia yang khas dan minimalis. Semua desain jenama dibuat dengan bahan yang bersumber secara berkelanjutan atau etis, 'dibeli' bersama oleh craftsmanship expert.
Didorong oleh pendekatan ekonomi sirkular jenama untuk produksi, Mater telah mengembangkan rangkaian material baru yang revolusioner yang mereka beri nama MCM. Mater Circular Materials (MCM) dibuat menggunakan proses produksi yang mengambil bahan limbah berserat dan mendaur ulangnya menjadi bahan komposit unik yang dapat dicetak untuk membuat furnitur baru. Teknik ini memungkinkan daur ulang limbah industri secara efisien sekaligus mengurangi emisi karbon, alih-alih membakar limbah. Hasilnya menjadi bahan yang sangat mudah dibentuk dengan tekstur yang sangat mirip dengan batu atau marmer.
"Our goal is for our existing furniture collection to move from being sustainable to being circular."  – Henrik Marstrand, Founder of Mater –
Materi ini menjadi dasar dari tiga peluncuran produk baru Mater,  so let's find out!
Borge Mogensen Conscious Chair
Awalnya dirancang pada 1958 oleh desainer dan arsitek furnitur Denmark terkemuka, Børge Mogensen dan Esben Klint, Borge Mogensen Conscious Chair merupakan contoh luar biasa dari desain klasik abad pertengahan. Mewakili wawasan dan keahlian unik dari dua desainer Denmark, kursi ini sangat sederhana namun fungsional. Sekarang diluncurkan kembali untuk pertama kalinya dengan bahan yang berbeda dari aslinya, Mater telah menambahkan sentuhan berkelanjutan ke bentuk klasik. Dengan rangka kayu FSC, kursi dan sandaran dibuat dari Mater Circular Materials, komposisi inovatif yang menggabungkan kopi atau limbah kayu dengan limbah plastik industri, memberikan permukaan kursi yang menarik dan unik. Material & finishing: FSC solid oak atau beech frame. Backrest dan seat  dikonstruksi dari pilihan  Mater Circular Material, salah satunya Coffee Waste (70%, Plastic Waste, 24% coffee shells and 6% recycled fibreglass) atau  Wood Waste (70% plastic waste, 20% wood waste and 10% recycled fibreglass).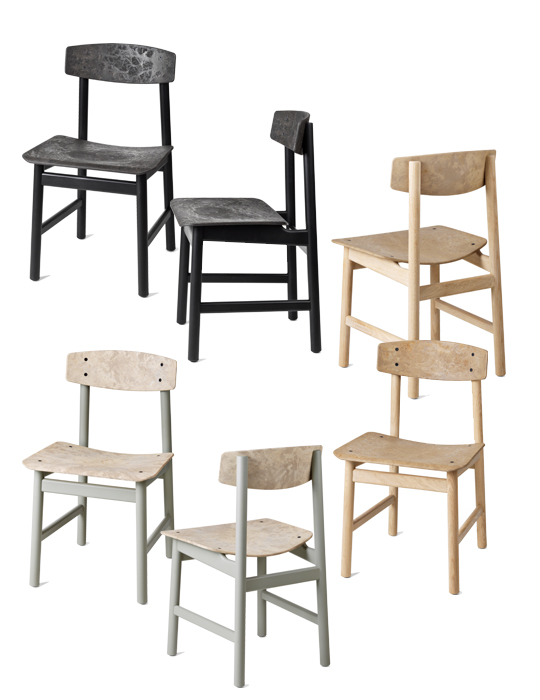 Borge Mogensen Conscious Chair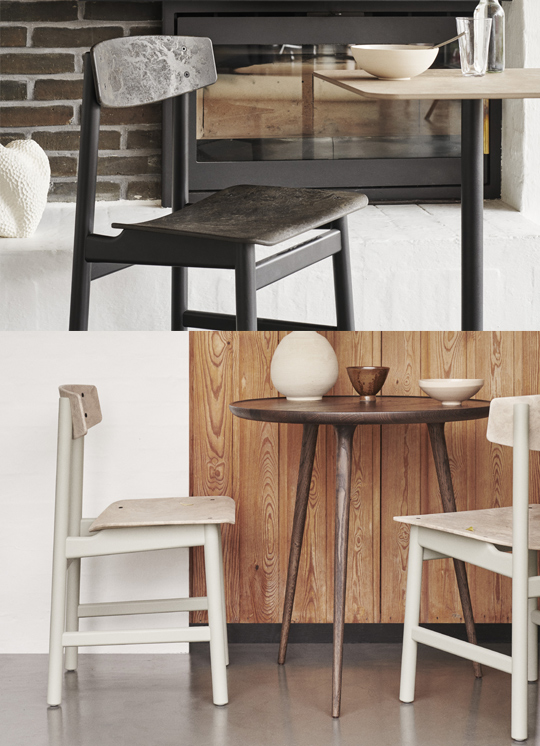 Borge Mogensen Conscious Chair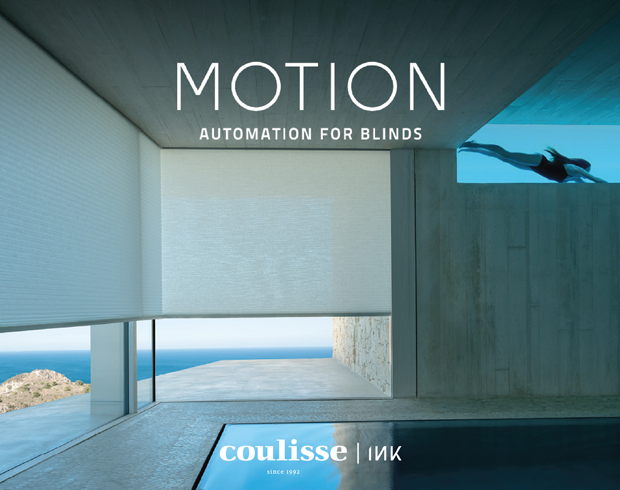 Presented by Coulisse | INK
Eternity Sidechair
Eternity Sidechair merupakan kursi susun yang dirancang oleh Space Copenhagen dari bahan limbah – kursi pertama yang diproduksi menggunakan Mater Circular Material. 'Cangkang' dari kursi ini terbuat dari bahan limbah berbasis serat yang didaur ulang dari produsen kopi Denmark BKI Kaffe dan limbah plastik dari Grohe. Karena sifat bahan yang didaur ulang, kursi ini memiliki tekstur dan tampilan yang unik. Material dan finishing: Powder-coated metal frame with seat shell terbuat dari  70% Plastic Waste, 22% coffee shells, dan 8% recycled fibreglass.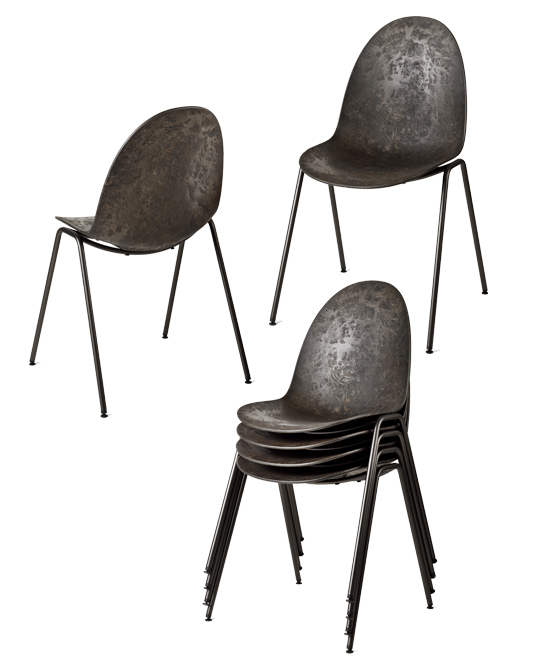 Eternity Sidechair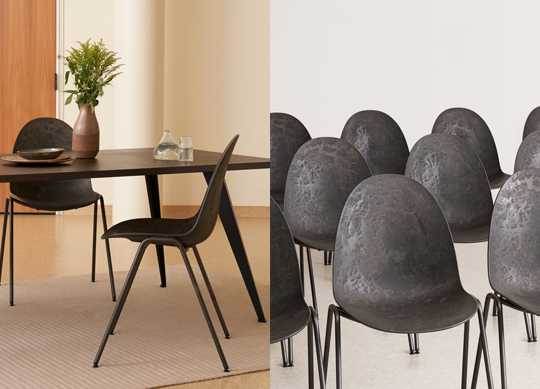 Eternity Sidechair

Bowl Table Waste Edition
Edisi terbaru dari Bowl Table Waste terbuat dari Mater Circular Materials dan memiliki keknologi inovatif memungkinkan jenama untuk mendaur ulang bahan limbah berbasis serat dengan sampah plastik yang didaur ulang. Bowl Table Waste Edition dirancang untuk 'dibongkar', yang berarti bahwa desain tersebut memungkinkan setiap komponen dalam bentuknya yang paling murni untuk didaur ulang ke dalam lingkaran produksi baru. Meja ini tersedia dalam tiga versi. Material dan finishing:  tersedia dalam Coffee Waste Light dan Coffee Waste Dark (70% Plastic Waste and 30% coffee shells) atau Wood Waste Grey (70% Plastic waste and 30% wood waste).(DB)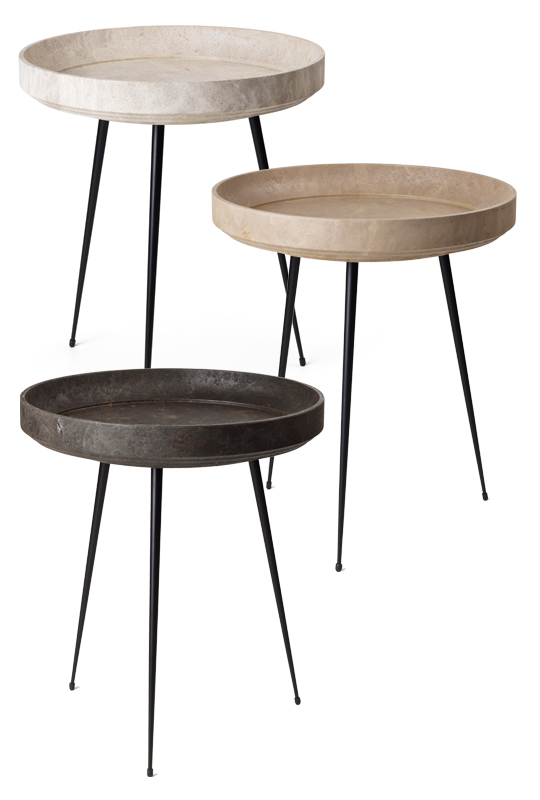 Bowl Table Waste Edition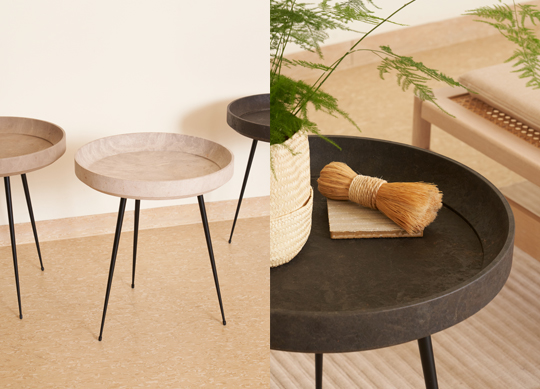 Bowl Table Waste Edition