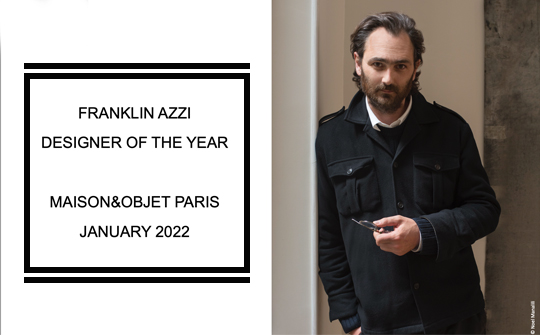 presented by

MAISON&OBJET'S DESIGNER OF THE YEAR: FRANKLIN AZZI
Published by Sugar & Cream, Thursday 06 January 2022
Text & Images courtesy of Maison&Objet
Exhibition Of "RETRO FUTUR" At Maison&Objet 2022
At each edition, Maison&Objet* names a Designer of the Year, celebrating the work of the most outstanding talents in the international design and decoration scene. Having been unable to present his installation after receiving the accolade in September 2020, Franklin Azzi will now take centre stage at the March 2022 edition with "RETRO FUTUR", an immersive exploration of his creative process.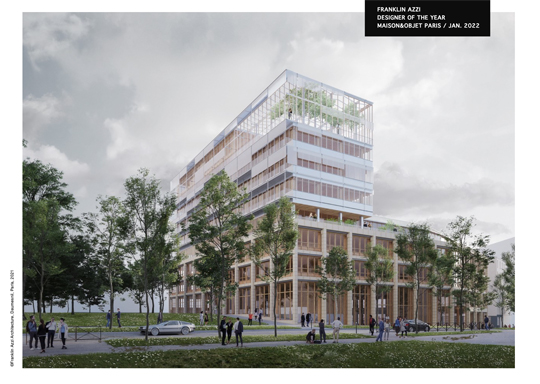 Working out of his Parisian agency, which was created in 2006, Azzi develops a cross-disciplinary approach that draws on a potpourri of perspectives and disciplines. By relentlessly sparking a dialogue between architecture, interior design, design and modern art, and with the backing of his dedicated endowment fund, he hones a talent for design and creation that embraces all scales and spaces.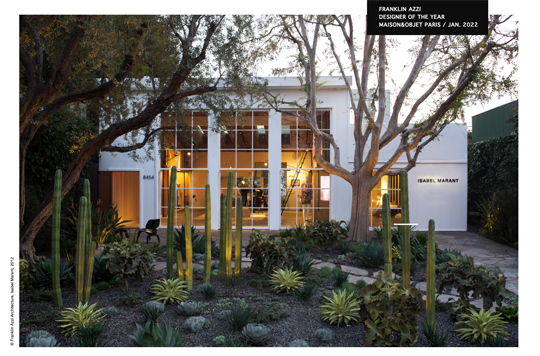 From the kind of urban microarchitecture embodied by the Eiffel Kiosque and its prefabricated structure, to towers in Dubai and Paris, and not forgetting the refurbishment of existing structures such as the Alstom warehouses in Nantes, his work is underpinned by a quest for sustainability tailored to meet users' needs. Turning his back on formal style, Azzi develops architecture that is both minimalist in its aesthetic and maximalist in its multi-faceted functionality and environmental quality, resolutely advocating a return to 'common sense'. He walks firmly in the footsteps of philosopher and urban planner Paul Virilio, the exploratory thinker and creator of whom he was once a student.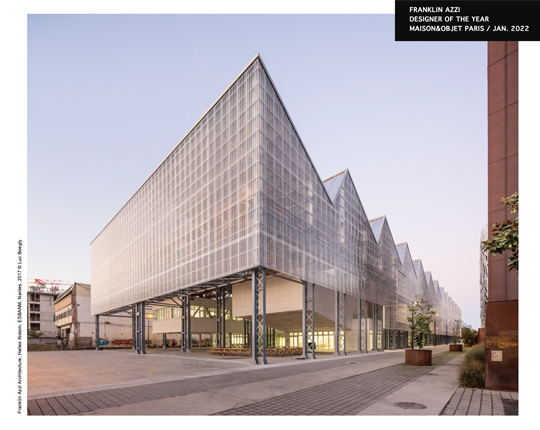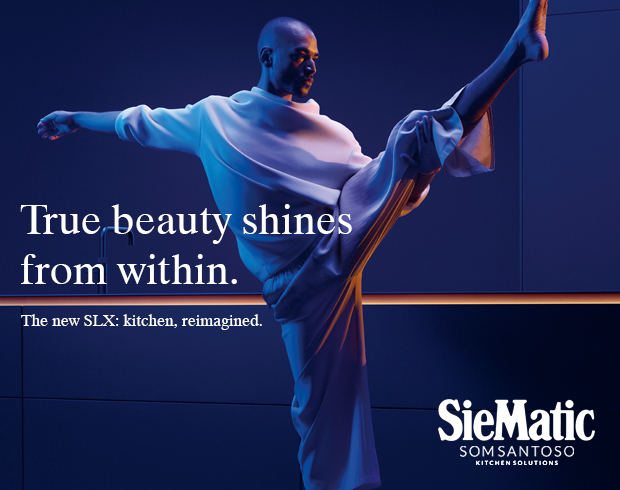 Presented by Som Santoso
"RETRO FUTUR"
RETRO FUTUR is an artistic installation that explores the creative processes of the future using tools from the past, echoing the way in which Franklin Azzi approaches his work as an architect.
The immersive RETRO FUTUR installation stages the architect's day-to-day activities via a digital, modular and pared-back table in black lacquered metal: it diffuses, across a series of screens, a selection of basic and traditional tools specific to the trade (set square, rotring pen, tracing paper, light table, etc.) as well as the various items required each day when developing a project: architectural models, materials, sketches, etc.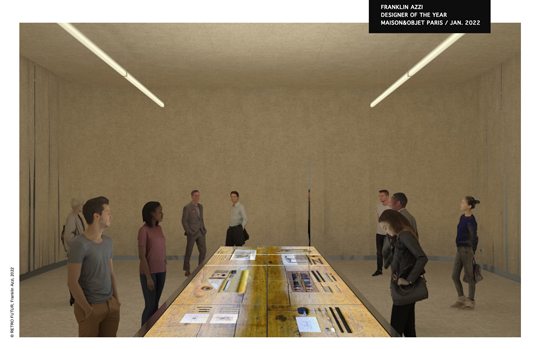 Static and moving images appear in succession, showcasing the manual techniques the architect employs in conjunction with his latest creations.
Strapping made from strips of upcycled industrial felt separates the object from the rest of the lounge. As Joseph Beuys (1921-1986) was keen to convey, felt is an outstanding natural material that can help retain heat, a source of energy that served as a veritable creative driver for the German artist's work.
The space itself is entirely upholstered with felt, including the ceiling, creating an acoustic bubble that fosters concentration. The slatted curtain, meanwhile, invites visitors to enter and exit the installation at will. The durable and natural felt, which is manufactured in France by Le Feutre, imbues the space with an intimate, calming vibe.
The installation resolutely embraces the retro futurism* trend that is sweeping through the creative arts (design, architecture, cinema, literature, fashion, etc.), and is one of the sources of inspiration underpinning the agency's overall approach. It is characterised by a fusion of imagery that sees progress and science-fiction pictured in the past with a view to seeing all futuristic aspects of the present become retro-futuristic over time.
Azzi's architecture is never intentionally decorative, echoing the iconic film Blade Runner (Ridley Scott, 1982), whose central theme revolves around the issues surrounding identity, ultimately becoming a metaphysical quest and challenging the very notion of humanity.
The tote bag Franklin Azzi has designed for Maison&Objet 2022 shines a light on his multi-faceted approach and his project-style methodology. Alongside his historical analyses, his scrutiny of materials and his examination of the original matrix, the architect draws inspiration from iconographic accumulation. This almost compulsive creative process sees all senses and subjects being freely explored, allowing him to break out of the mould and better grasp the challenges of the here and now.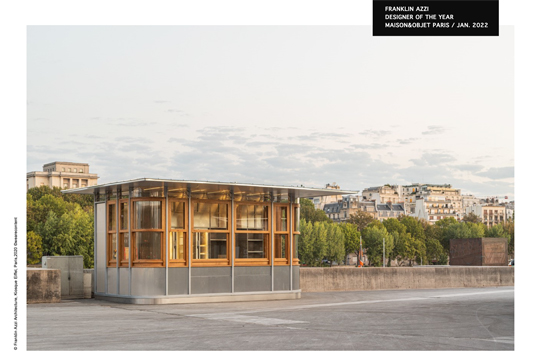 Having grown up as part of the "sampling" generation fed on a multidisciplinary diet of references, Franklin Azzi has learned to digest, assemble and reassemble over and again to adapt to each context. Relentlessly reinventing his approach, the architect continually seeks to fuse his influences. The chosen design pays tribute to some of his preferred sources of inspiration, including military functionalism which can be seen in certain objects and furnishings he has been collecting for years and that never leave his side. His chromatic and typological research resulted in the choice of a timeless symbol, the target, which sits against a background of the M&O trade fair's iconic Pantone 485 C red.
His take on the tote bag delivers a simple, effective and universal manifesto rooted in playful and incisive design.