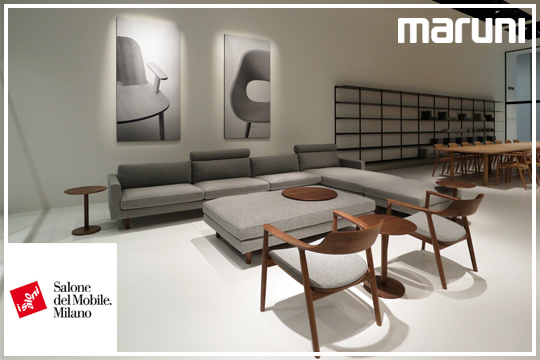 presented by

M A R U N I @ S A L O N E D E L M O B I L E 2 0 1 9
Published by Sugar & Cream, Tuesday 21 May 2019
Text by Dinda Bestari, image courtesy of Maruni
Presents a new concept stand
Selasa, 9 April yang lalu, Maruni menghadirkan konsep stand terbaru di Salone del Mobile 2019 yang dirancang oleh Naoto Fukusawa sebagai Art Director S.Project, 'mengaburkan' batas-batas antara lingkungan rumah dan kantor. Dan di stand ini juga bersamaan dengan acara perayaan karya ikonis HIROSHIMA Sofa dan MALTA Table oleh Naoto Fukasawa dengan versi ukuran besar, serta  peluncuran karya terbaru dari Jasper Morrison.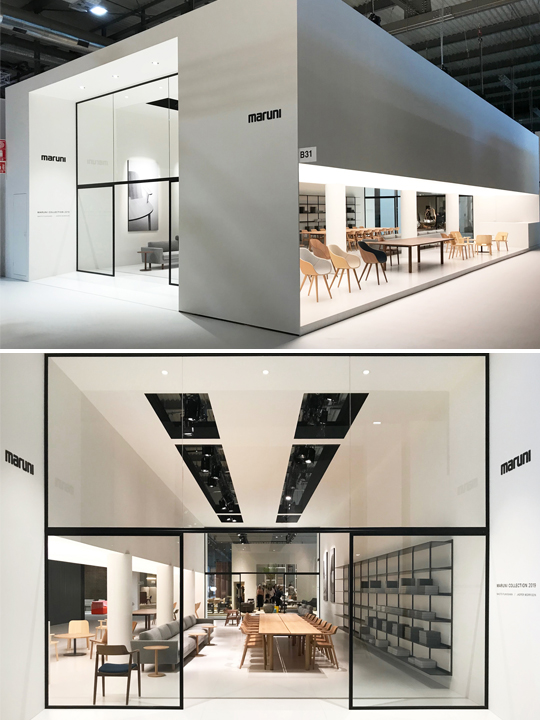 Stand ini dirancang bertujuan untuk menciptakan gambaran akan lingkungan gaya hidup canggih yang terdiri dari elemen arsitektur, seperti permukaan kaca besar dan kolom silinder di tengahnya. Dengan desain dudukan mengekspresikan ruang berkualitas tinggi yang 'mengaburkan' batas antara lingkungan rumah dan kantor.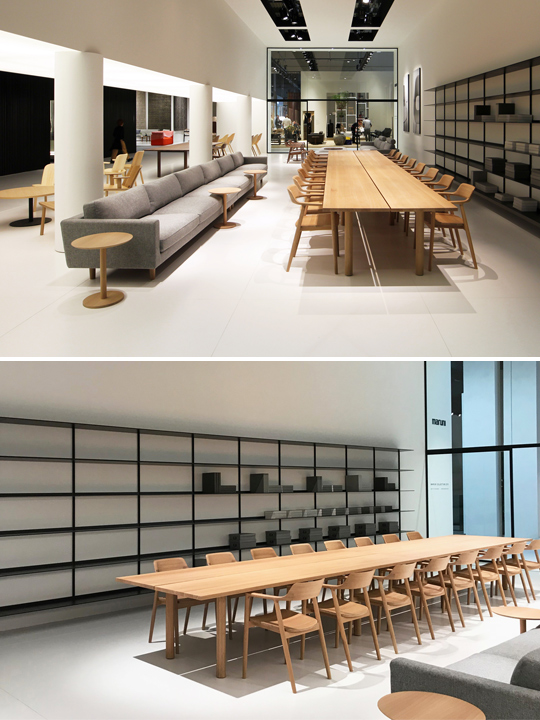 Berlangsung di S.Project, stand Maruni ini menyajikan koleksi furnitur terbaru, termasuk Roundish Arm Chair oleh Naoto Fukasawa dan Fugu Chair oleh Jasper Morrison. Ruang ini juga didedikasikan untuk MARUNI edisi terbaru dengan produk berukuran besar, seperti HIROSHIMA Sofa, dengan panjang hingga 6 meter, dan MALTA Table sepanjang 6,4 meter. Dua karya desainer asal Jepang Naoto Fukasawa ini, juga hadir dalam berbagai ukuran dan kombinasi yang cocok untuk di kantor maupun di rumah.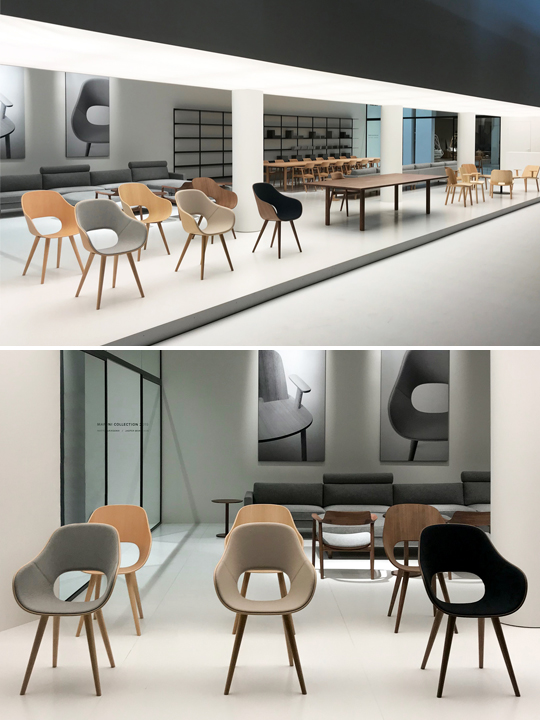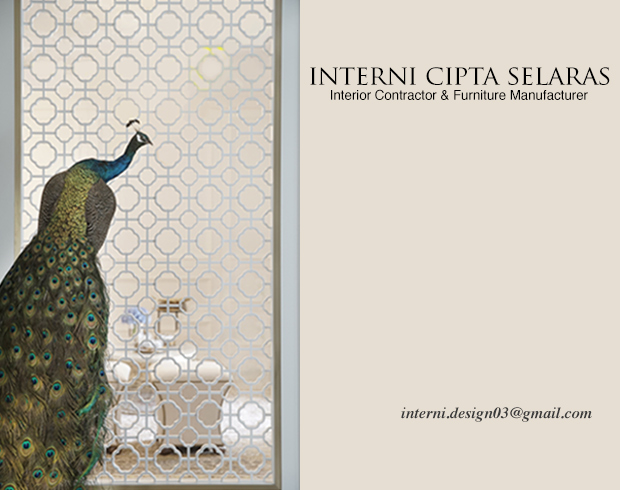 Presented by Interni Cipta Selaras
NEW PRODUCTS FOR 2019
Roundish Arm Chair (Cushioned) by Naoto Fukasawa
Roundish Arm Chair yang dirancang oleh Naoto Fukasawa ditandai dengan sandaran, lengan dan kursi berada dalam satu, bentuk terpadu, dan juga didukung dengan sebuah bantal tipis untuk dudukan telah ditambahkan pada kursi ini, memberi rasa nyaman yang optimal.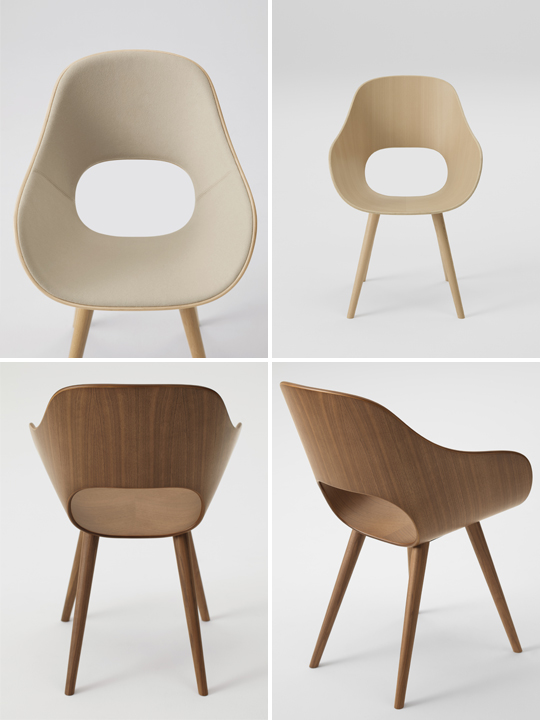 Wide‐Type HIROSHIMA Sofa by Naoto Fukasawa
Sebuah chaise longue telah ditambahkan ke lini HIROSHIMA Sofa sebagai item pelengkap yang dapat 'melebur' dengan sempurna dengan berbagai skenario gaya hidup.

MALTA Dining Table by Naoto Fukasawa
Meja kayu solid sepanjang 6,4 m ini adalah mahakarya sejati. Meja ini perwujudan dari teknik finishing Maruni untuk permukaan halus yang indah. Dapat diletakkan di kafe, restoran, dan ruang pertemuan, atau bahkan untuk area pribadi Anda, atau diletakkan di manapun yang Anda inginkan. Meja ini juga sempurna untuk memperindah lounge dan bar hotel.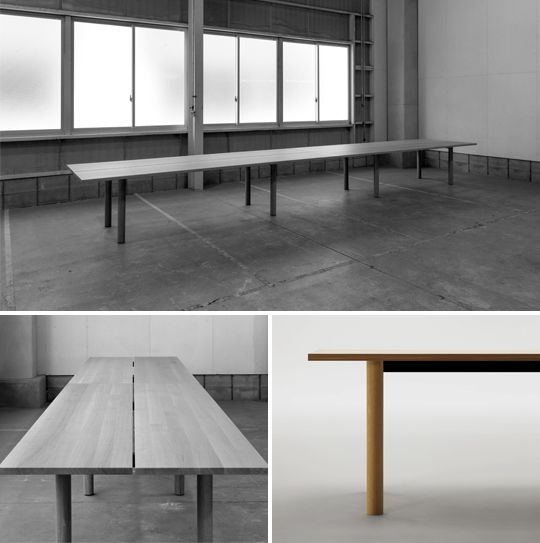 Naoto Fukasawa comments:
"The uses and applications of spaces are no longer strictly defined. There are also no more divisions between different categories of furniture, like between office and dining room chairs or between different types of sofas. This is because our modern era requires high‐quality spaces and furniture that fits into our various lifestyles. We have created a booth that responds perfectly to the needs and trends of this modern era."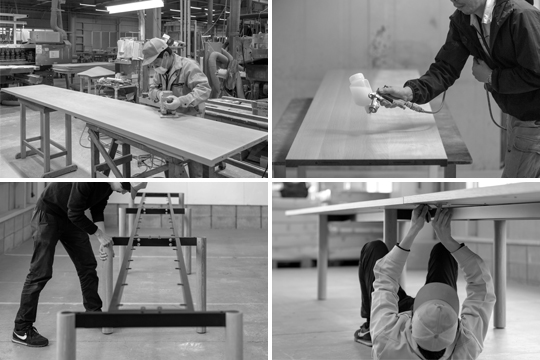 Fugu Chair by Jasper Morrison
Fugu Chair yang dirancang oleh Jasper Morrison merupakan kursi kayu solid, dibuat dengan halus membentuk permukaan yang melengkung indah dengan menggunakan teknologi canggih yang dikenal sebagai Maruni Wood Industry.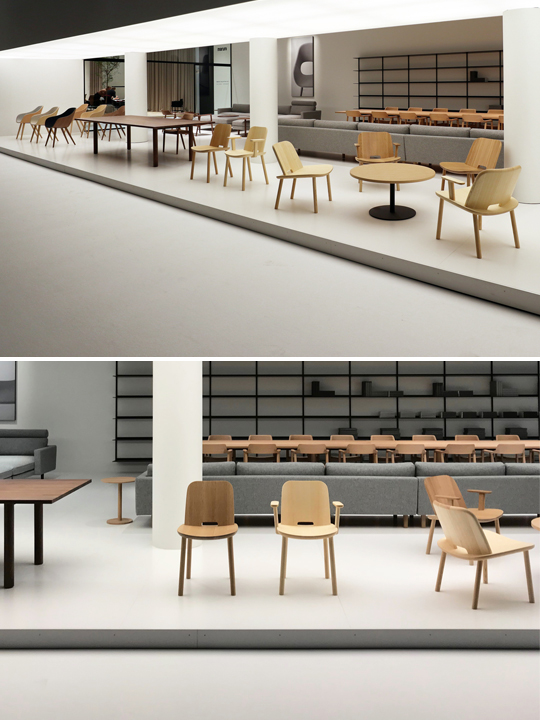 Jasper Morrison comments:
"The Fugu dining chair extends the family from lounge chairs to the table. The goal has been the same, to achieve a level of comfort with solid wood seat and back so that no upholstery is needed, maintaining the pure lines and the expression of a single material purposefully arranged."
For 2019, Melange Nap by Kvadrat
Desainer: Akira Minagawa, 97% wol, 3% nilon
Melange Nap adalah bahan tekstil pelapis wol yang memiliki karakteristik  kedalaman warna yang luar biasa dan detail yang mengejutkan. Dibuat dengan benang unicolored dan melange, menciptakan pola grafis titik-titik kecil yang bermain di permukaannya. Volume detail yang muncul dari permukaan Melange Nap tergantung pada kontras antar benang. Beberapa dari warna yang lebih gelap hampir tampak tidak berwarna sedangkan yang lain memiliki tampilan multi-warna yang menarik.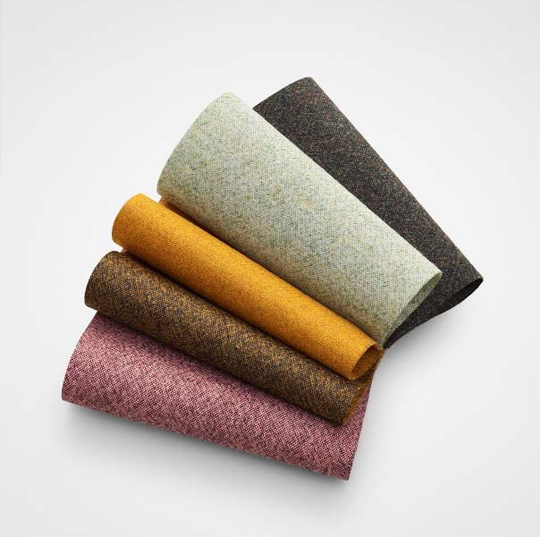 Akira Minagawa:
"Melange Nap transforms an interior into 'scenery' within its space. The color compositions are inspired by six elements from the natural world: Forest, Sun, Ocean, Minerals, Earth, and Dune. Each expression of the textile harmonizes with its surroundings in an individual way, while creating a sense of the peace that comes from nature."