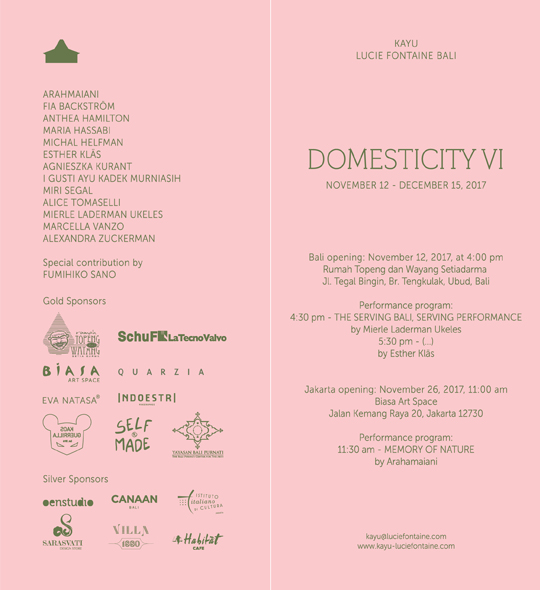 Lucie Fontaine's Bali – Domesticity VI
Published by Sugar & Cream, Friday 10 November 2017
Text by JW, Images by Lucie Fontaine Bali
Bali – Rumah Topeng & Wayang : November 12 – December 11, 2017
Jakarta – Biasa Art Space : November 26 – December 15, 2017
Why It Matters to You
Kayu adalah cabang bergengsi Lucie Fontaine di Bali. Pameran bertajuk 'Domesticity VI', Kayu akan menampilkan pencapaian kreativitas terkini dari 13 perupa dari berbagai latar belakang. Pameran ini sebelumnya telah sukses digelar dibeberapa kota internasional yaitu Prague, Stockholm, Miami, New York.
Artists
Arahmaiani, Fia Backström, Anthea Hamilton, Maria Hassabi, Michal Helfman, Esther Kläs, Agnieszka Kurant, I Gusti Ayu Kadek Murniasih, Miri Segal, Alice Tomaselli, Mierle Laderman Ukeles, Marcella Vanzo dan Alexandra Zuckerman.
Perupa wanita Indonesia Arahmaiani akan mementaskan sebuah pertunjukan seni dalam pameran ini.
The Background
Memamerkan berbagai karya seni berhubungan dengan sesaji dan mengeksplorasi peran perempuan dalam konteks budaya dan sosial termasuk menyelidiki hubungan atau ketiadaaan korelasi antara seni rupa kontemporer dan ruang domestik.
SAVE THE DATE ;
November 12 – December 11, 2017 : Bali di Rumah Topeng & Wayang [The House of Mask and Puppet]
November 26 – December 15, 2017 :  Jakarta – Biasa Art Space