Sebuah hunian sudah sejatinya mengemban fungsi sebagai sanctuary. Menjadi tempat untuk menuai ketenangan. Inilah yang direfleksikan oleh konsep rumah yang terletak di Surabaya: Urban Serenity.
Interior Designer : Ronald Humardani
Architects : Ronny Imran & Arnold Intan (Madex Prima + AIGI)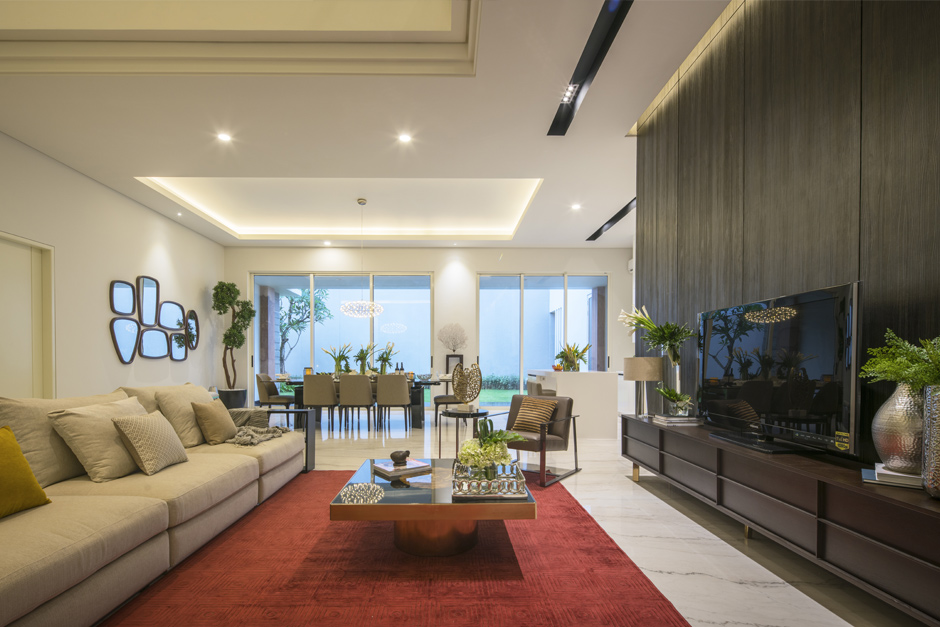 The Main Living Room
"Sebuah tempat untuk melarikan diri dari kesibukan kota dan bersantai setelah hari yang melelahkan," ujar desainer interior Ronald Humardani yang mengorkestrasi tatanan interior hunian dua lantai dengan ketinggian ceiling 3.3 m. "Menonjolkan kenyamanan dan relaksasi dengan sentuhan atmosfer alami." Dan ini dicapai melalui penggunaan finish natural seperti marmer, kayu, dan batu alam.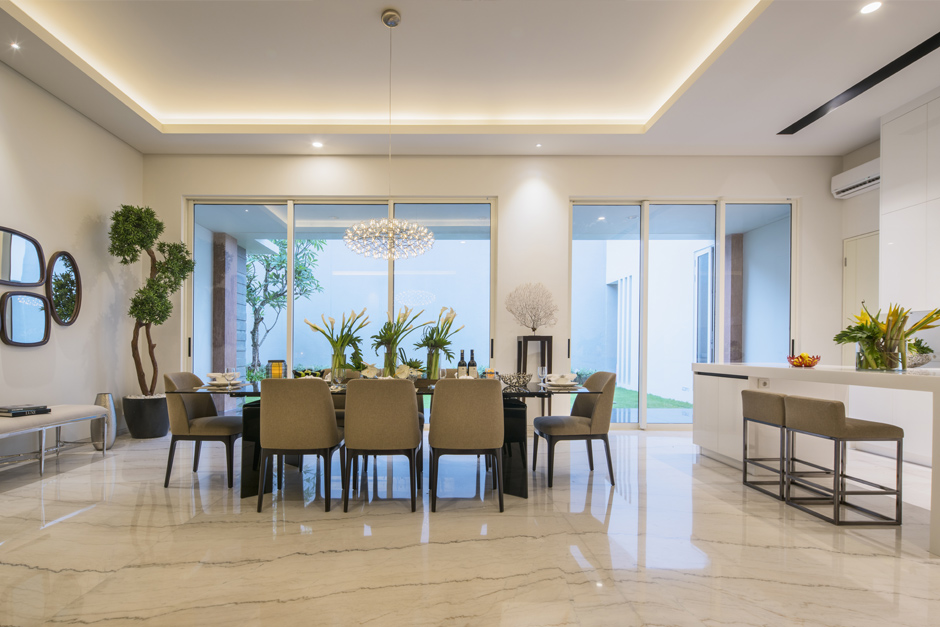 The Dining room Integrated with the living room and the main kitchen
Nuansa yang rileks terbangun dari kesederhanaan yang diaplikasikan pada layout dan furnitur, namun tetap menyembulkan keunikan dan karakter tersendiri di tiap-tiap ruangan. Tidak dipungkiri bahwa kemewahan juga menyelubungi hunian ini dengan penggunaan marmer Italia, ragam furnitur kreasi desainer, dan aksesori interior bertaraf high-end.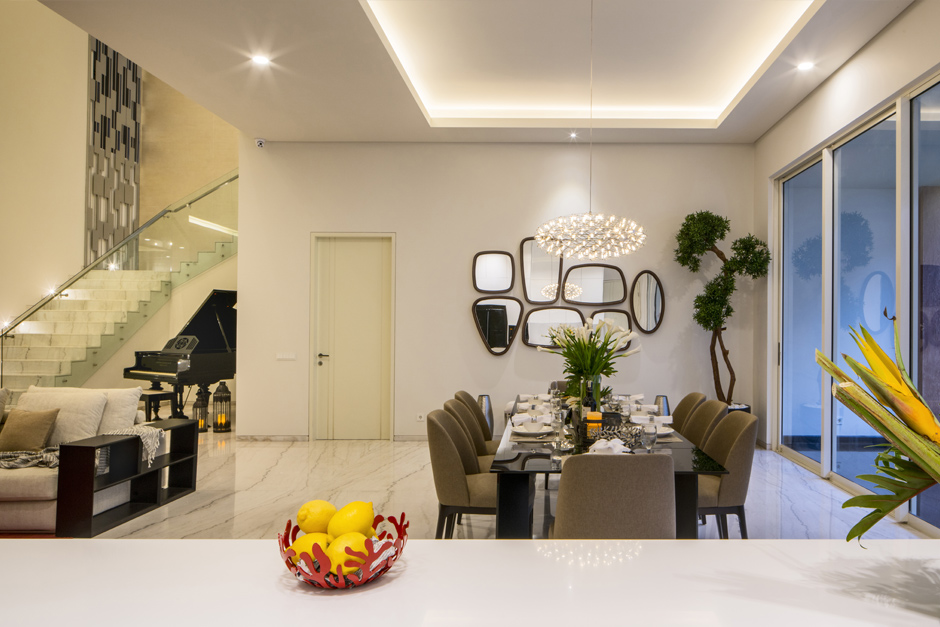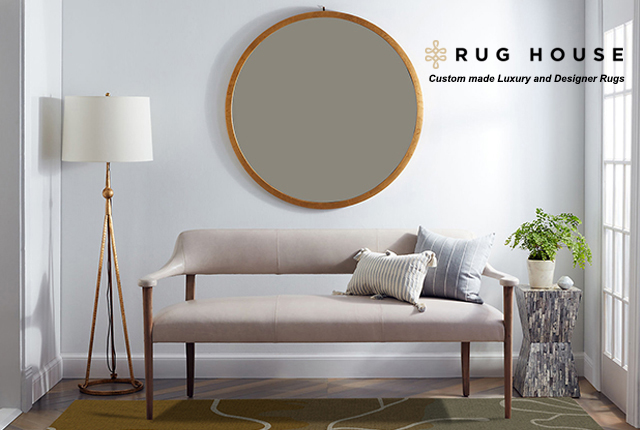 Presented by RUG HOUSE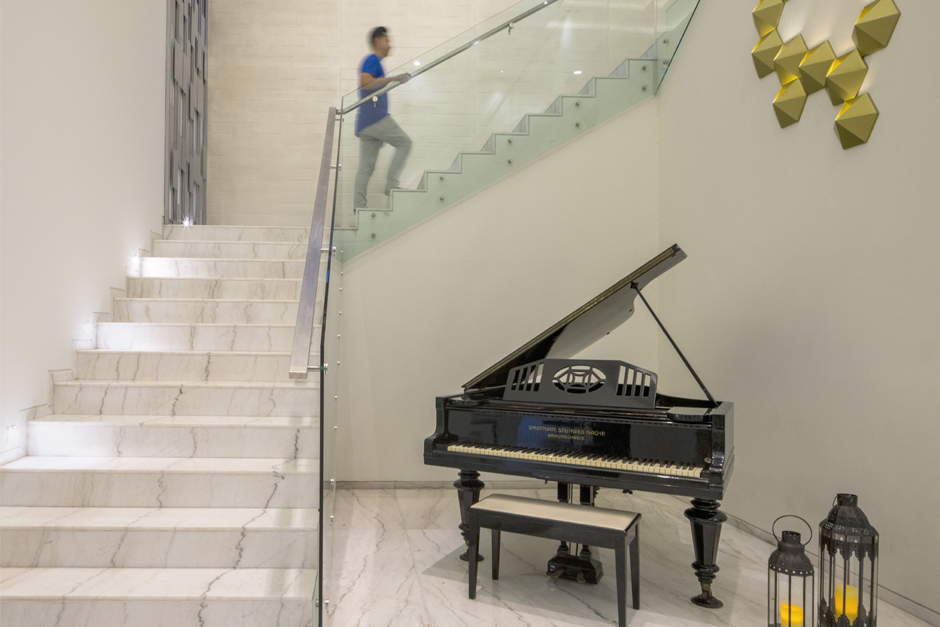 The staircase connecting to the 2nd floor
Meski demikian, menurut Ronald, kenyamanan disumbangkan oleh cara sang pemilik mengisi keseharian rumah bersama keluarga dengan memaksimalkan setiap elemen interior yang ditata sedemikian rupa untuk menyeimbangkan sisi estetika dan fungsional.
The living room inside the master bedroom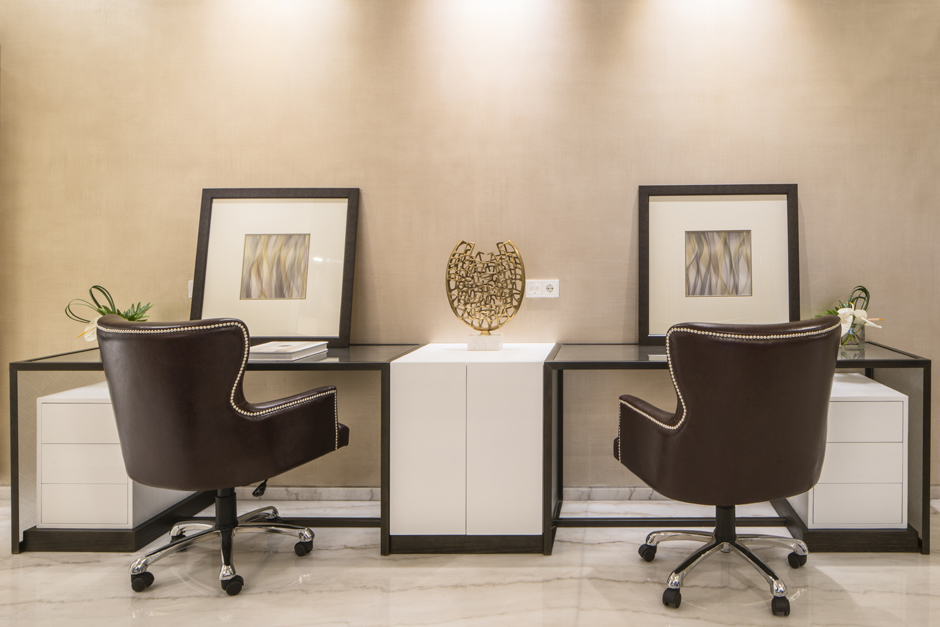 The working desks inside the master bedroom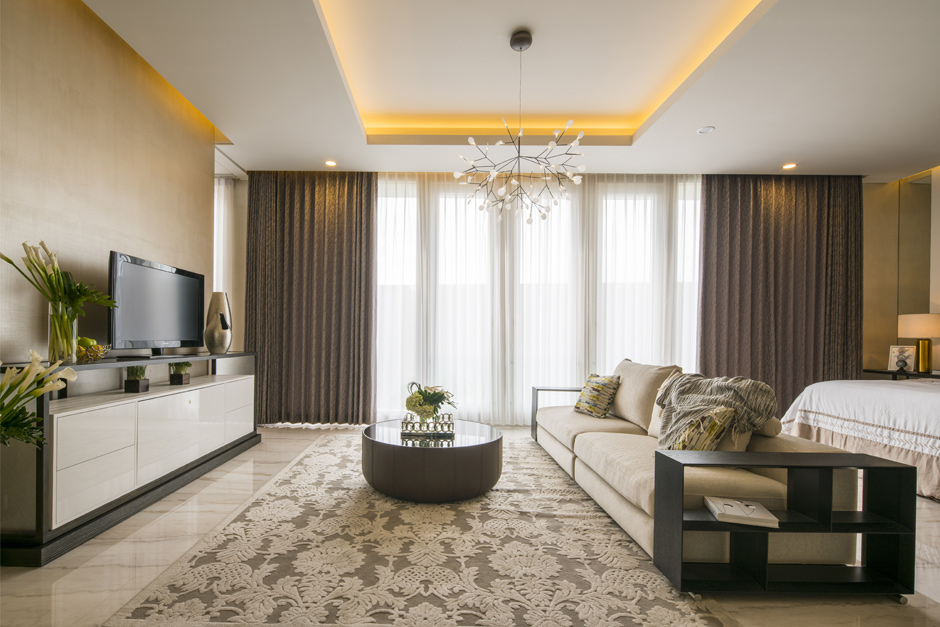 The living room inside the master bedroom
Tampil sebagai focal point dalam atraksi interior adalah lampu gantung Moooi nan memukau di area makan. Saat berada di area walk-in closet, kita tiba di hidden gem dari rumah ini, dengan lemari berkapasitas 40 pintu yang menjadi wow factor.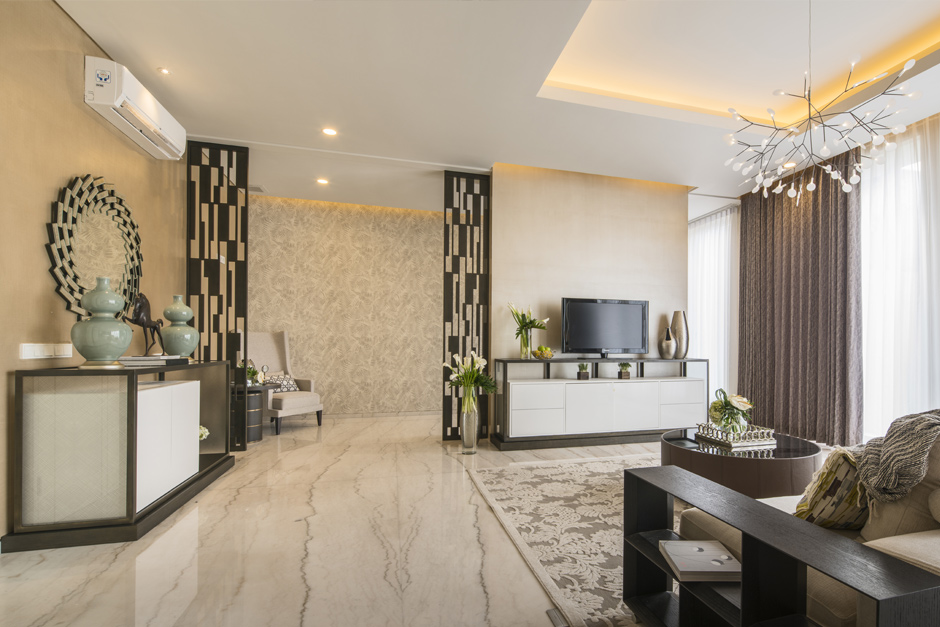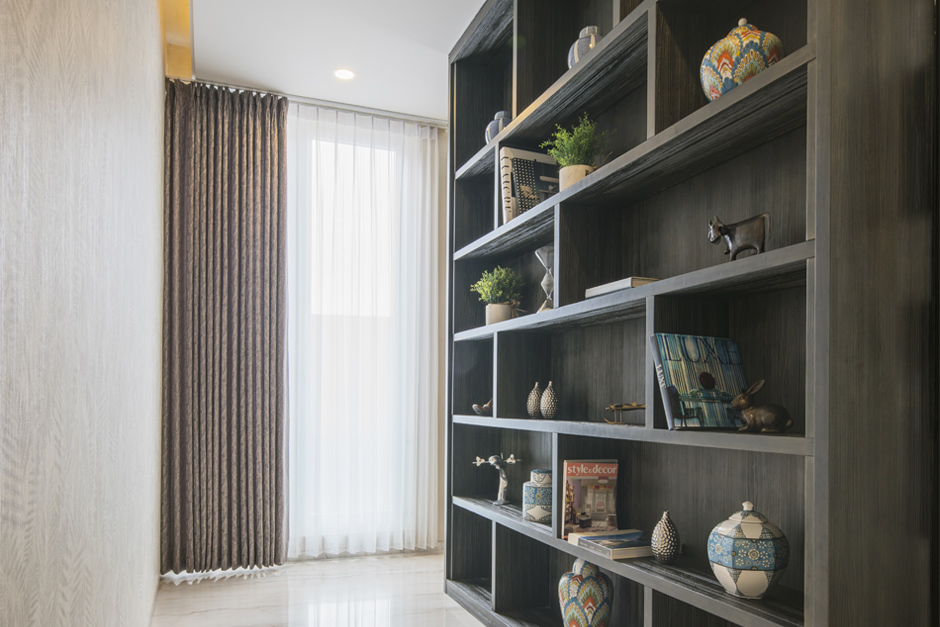 The Library room part of the master bedroom
Dari ruangan-ruangan yang ada, kamar tidur utama mengguratkan kesan tersendiri bagi Ronald. "Ruangan seluas 200 m2 ini bukan sekadar tempat untuk beristirahat, tetapi juga dapat mengakomodasi penghuninya untuk melakukan berbagai aktivitas. Terdapat area tidur, sarana untuk bekerja, area hobi (perpustakaan dan pusat kebugaran yang keduanya berskala kecil), pantry kecil, dan tentunya, lemari 40 pintu yang menciptakan suasana butik di kamar."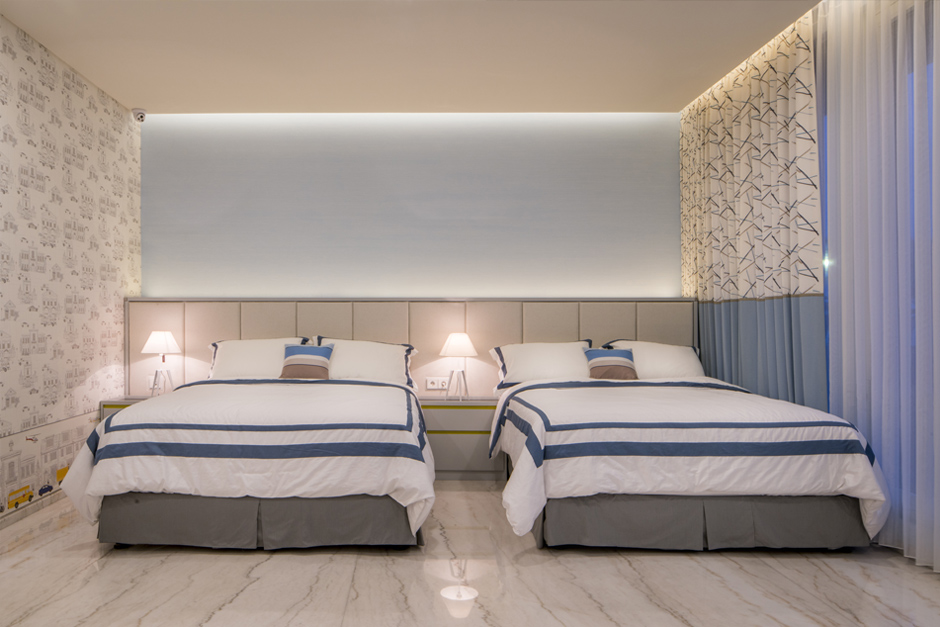 The children bedroom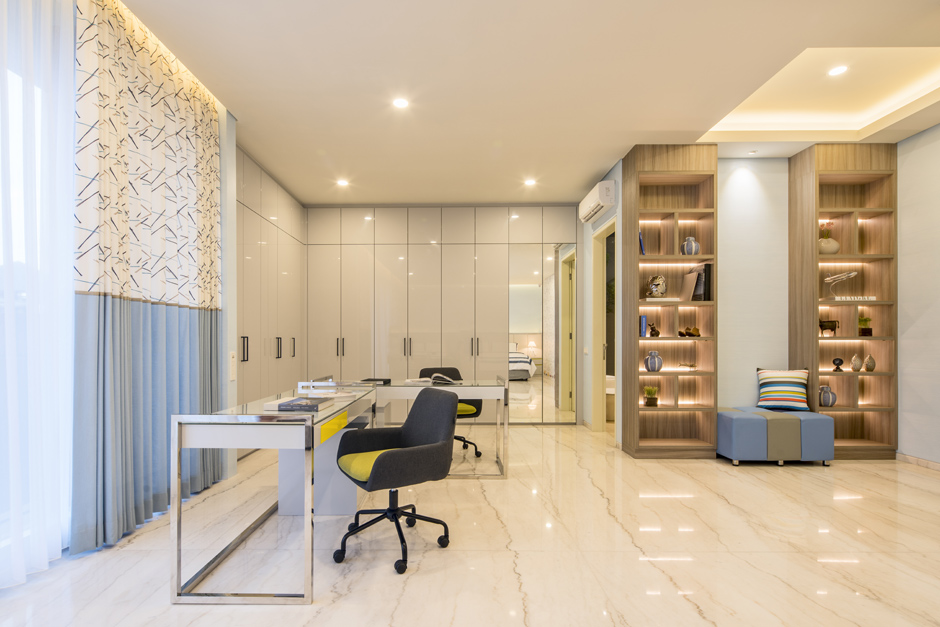 Wardrobe by Toto in the children bedroom
Bagi Ronald, sangat penting untuk menaruh perhatian lebih pada proporsi dan massa. Proporsi furnitur yang dipilih harus sesuai dengan massa ruangan sehingga tidak terjadi ketimpangan, lebih menyenangkan untuk dipandang, dan menciptakan suasana hati yang baik. Hal sederhana, namun bisa memiliki dampak yang besar, yang bisa Anda terapkan di kediaman Anda.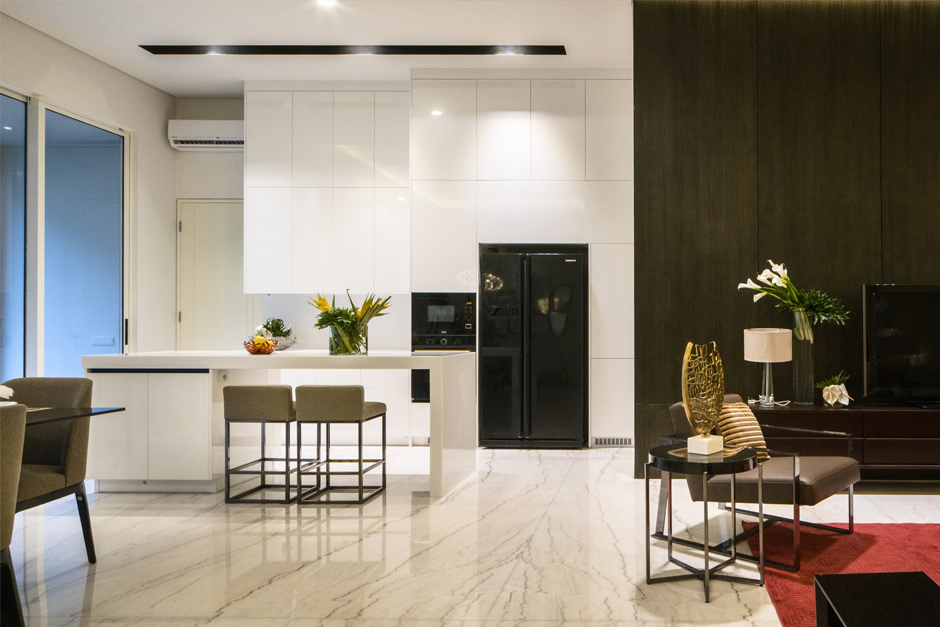 The main kitchen by Toto.
Luas bangunan: 850 m2
Luas tanah: 1000 m2
Furnitur: Forme, Vastu Home
Kitchen & wardrobe: Toto
Aksesori interior: Registry Fine Collection
Fabric: Bellosta Gallery
Lighting: SAS Lighting
Wallpaper: wall treatment by Nova Colors
Wall paneling: Nippo Tech
Flooring: marble by Lifestone
Jumlah kamar tidur: 5
Jumlah kamar mandi: 6
Jumlah dapur: 2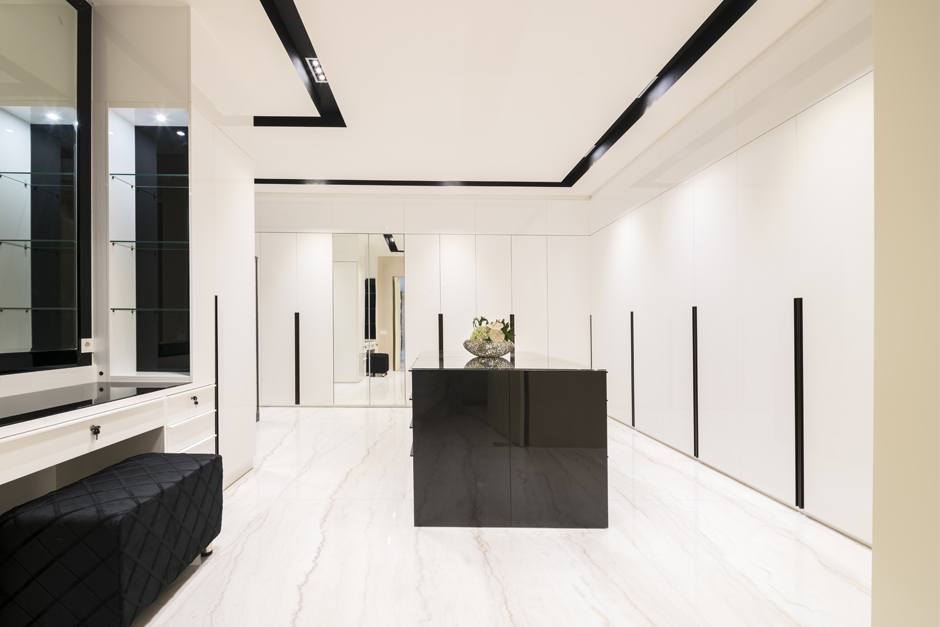 The 40 doors wardrobe by Toto. Located inside the master bedroom.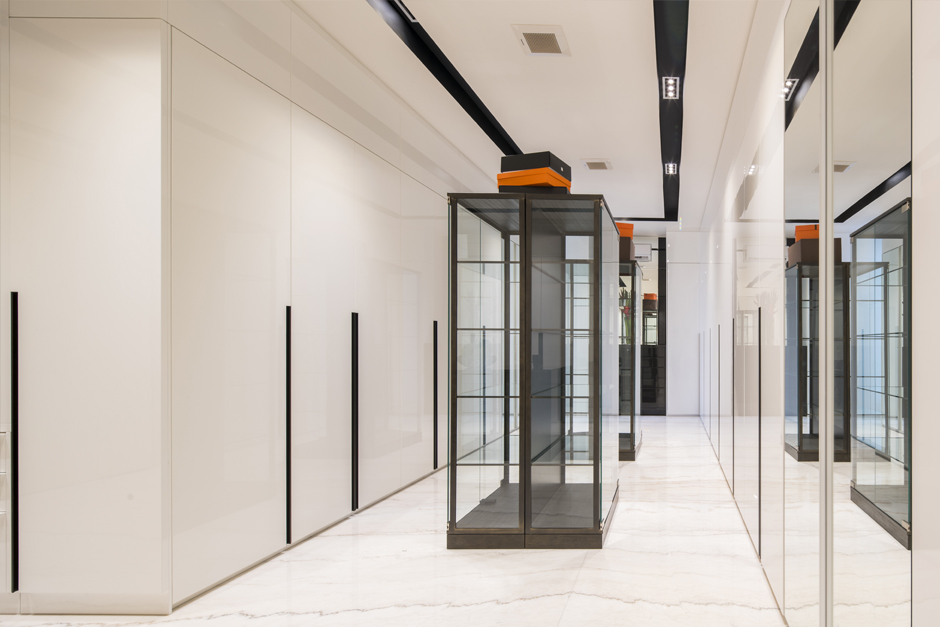 The wardrobe area by Toto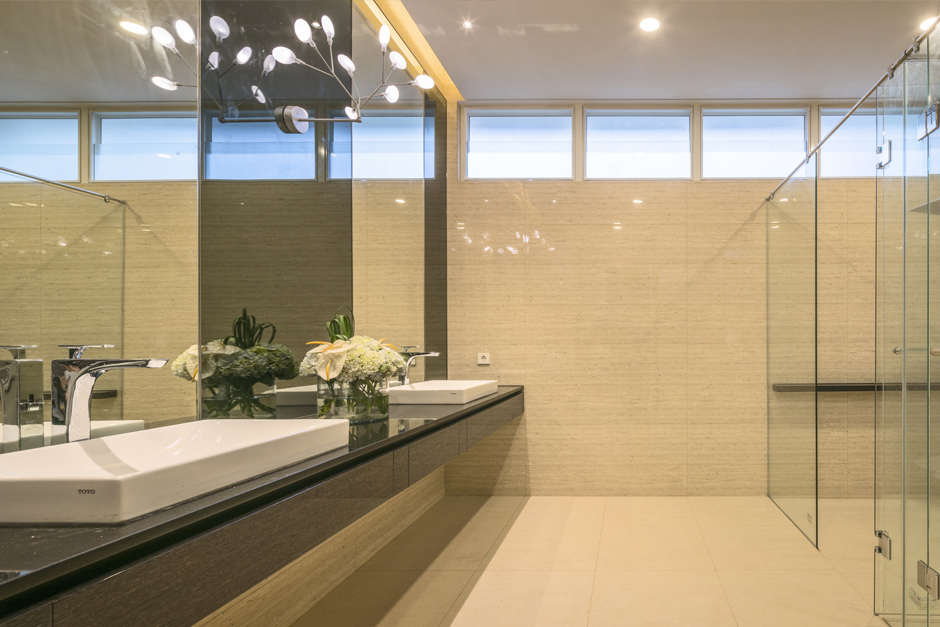 The main bathroom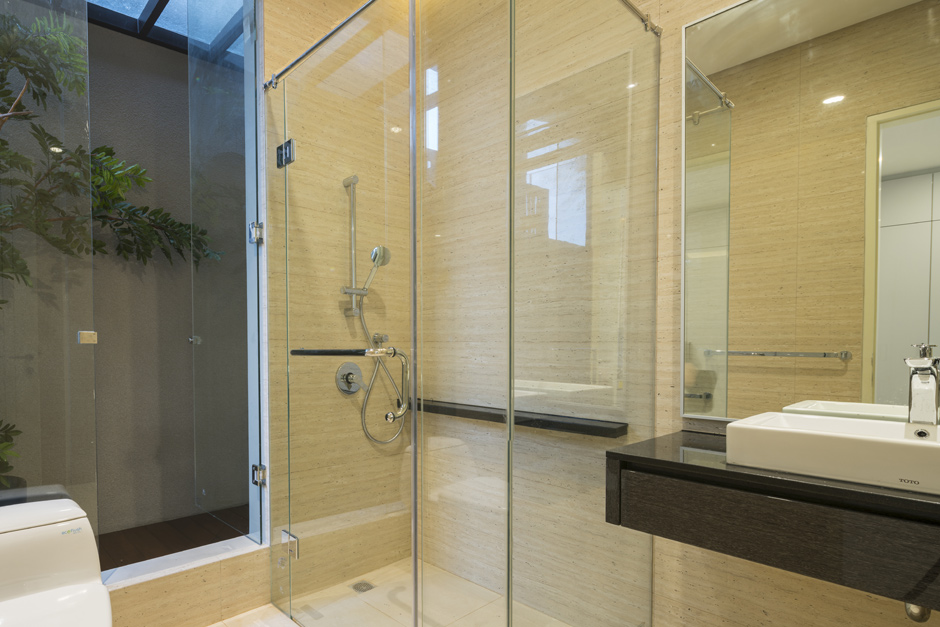 The bathroom part of the master bedroom.