Last Defender by Piet Boon
Published by Sugar & Cream, Friday 14 October 2016
Land Rover
Setelah 68 tahun sejak perkenalannya, Land Rover menghentikan pembuatan model 4×4 Defender bulan Januari tahun 2016 ini. Merayakan akhir dari suatu era bukanlah perkara kecil, apalagi melibatkan mobil yang sudah menjadi ikon brand tersebut. Salah satu model terakhirnya dirancang eksklusif oleh Piet Boon, desainer dari Belanda. Hasilnya? Last Defender, interpretasi kontemporer dari mobil legendaris tersebut.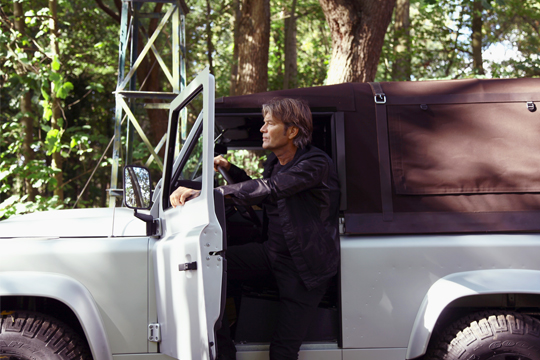 Kolaborasi spesial antara Land Rover dan Studio Piet Boon sudah dimulai sejak tahun 2006. Sejak saat itu, Piet Boon sudah mendesain berbagai edisi khusus bagi Land Rover, termasuk dua model Defender. Kali ini, terinspirasi dari kisah "Tin Tin in the Congo", bagian dari The Adventures of Tin Tin, Piet Boon membawa kembali kejayaan alumunium yang dipopulerkan oleh model awal Defender yang ikonik. Semua materi yang tidak original dihilangkan dari kendaraan ini, dan diganti dengan coating Pure Aluminum, atap kanvas cokelat dan detail stainless steel.
"Defender adalah mobil yang menakjubkan, timeless dan ikon sejati. Suatu kehormatan bagi saya untuk mendesain salah satu modelnya yang terakhir, kesempatan sekali seumur hidup. Desain The Last Defender memperingati desain original mobil ini dan merayakan sejarah dari model yang luar biasa," kata Piet Boon.
Selain badan mobil, Pure Aluminum juga digunakan untuk melapisi pintu dan penutup mesin dengan warna yang sama. Aksen stainless steel menjadi detail pada lampu depan, grill dan air intakes. Kombinasi ini tidak berhenti di luar, melainkan bisa ditemui juga di interior mobil, dari mulai tempat duduk sampai bagian dalam pintu. Tak dapat dipungkiri, The Last Defender by Piet Boon sukses menjadi "one of a kind". (AL)