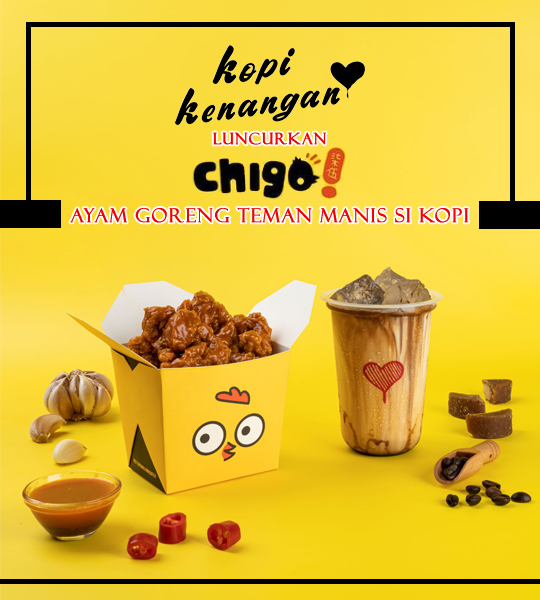 presented by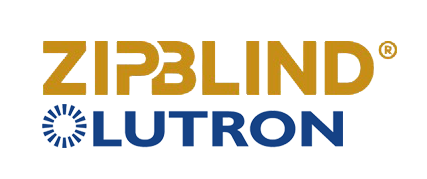 Kopi Kenangan Luncurkan Brand Chigo : Ayam Goreng Teman Manis Si Kopi
Published by Sugar & Cream, Friday 26 February 2021
Text by S&C, images courtesy of Kopi Kenangan
Ayam Goreng : 7 Variasi Saus & 5 Variasi Sambal
Kopi Kenangan terus buat kenangan-kenangan baru. Mengawali 2020 hadir Chigo, ayam goreng teman manis untuk Kopi Kenangan Anda. Kombinasi unik dan andalan baru bagi para foodies and kopi antusias.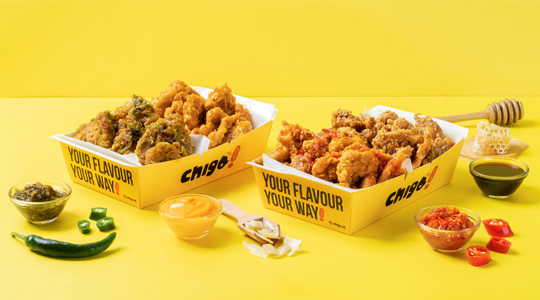 Chigo – Creamy Cheese, Sambal Ijo, Sambal Geprek, Asian Honey Soy
Peritel grab and go kopi lokal ini terus bergerak dinamis dan kini resmi merambah ke industri makanan dengan meluncurkan ayam goreng berlabel Chigo. Kopi dan ayam goreng?, kenapa tidak. Bran Chigo menawarkan ayam goreng sebagai pendamping manis ketika Anda menikmati hidangan Kopi Kenangan. Kelezatan ayam goreng Chigo ditingkatkan  melalui 7 variasi saus dan 5 variasi sambal sebagai kombinasi unik untuk memuaskan indra kecap Anda.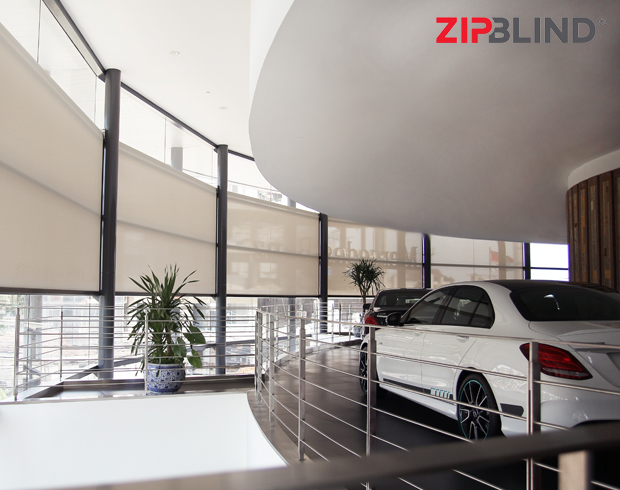 Presented by Zipblind
Nah, penasaran? Tunggu apalagi, silahkan meluncur ke gerai terdekat.
"Kami ingin mengambil tantangan untuk membuktikan bahwa, meski kopi dan ayam goreng tampak seperti kombinasi yang ganjil, kedua hal ini dapat membuat Anda ketagihan," ujar James. "Kombinasi kopi dan pizza biasa ditemukan di Amerika, begitu pula kombinasi ayam goreng dengan bir (Chimaek) yang terdapat di Korea Selatan. Hal ini menjadi inspirasi kami untuk menemukan kombinasi makanan dan minuman unik yang sesuai dengan lidah Indonesia," jelas James Prananto, CBO dan Co-Founder Kopi Kenangan.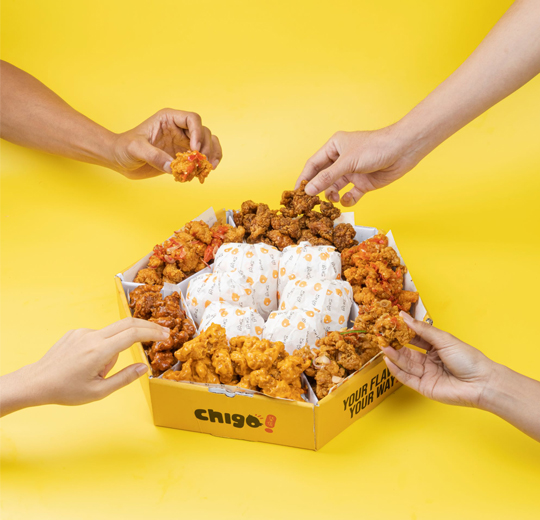 Chigo – Party Pack