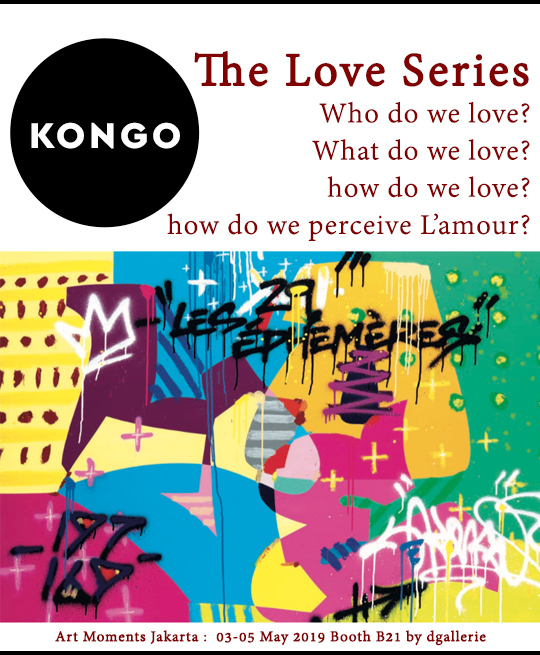 presented by

Kongo's Exhibition in Art Moments Jakarta by dgallerie
Published by Sugar & Cream, Friday 03 May 2019
Curatorial Text by Karen Rubenstein Lorato, images courtesy of dgallerie
Art Moments Jakarta :  03-05 May 2019 Booth B21 by dgallerie
City of Jakarta is celebrating art this week at Sheraton Grand Jakarta, Gandaria City Hotel from 03 May to 05 May 2019. Come and witness global famous art works from Li Chen, Heri Dono, Kongo, Mr, Kaws and many more.
Kongo aka Cyrill Phan is one of the renowned artists who will present his latest graffiti paintings as well as two huge sculptors made of  mixed media on fiberglass. Curated by Karen Rubenstein Lorato, the exhibition is under dgallerie.
Here is the curatorial text by Karen R Lorato.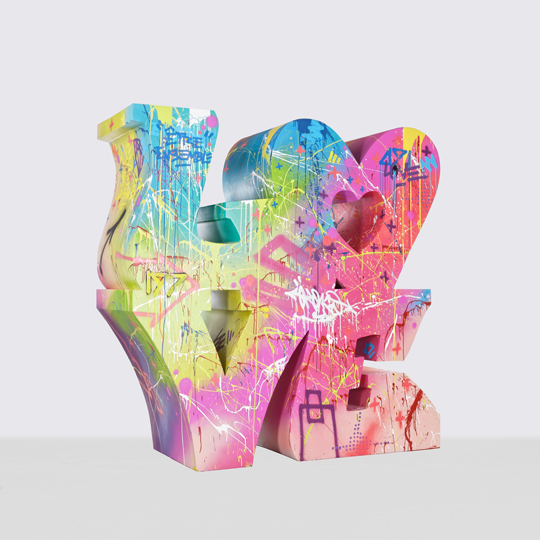 Être Ensemble, mixed media on fiberglass, 200 x 200 x 75 cm, 2019
"Your life is your message to the world, make sure it's inspiring." -Jean Michel Basquiat
Love is the answer. Friendship, respect, thoughtfulness is
Kongo's message to the world.
Look and smile.
Absorb the optimism; share the sentiment…
LO VE and unite.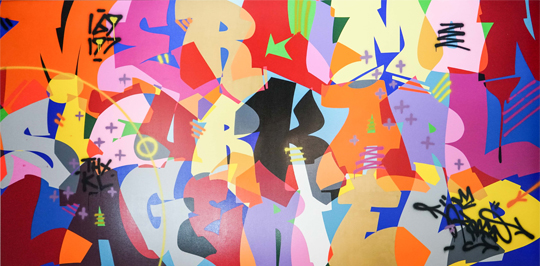 Merci Karl, mixed media on french linen, 200 x 400 cm, 2019
"Une speciale pensée pour mon ami… @bientot♥️"
"A special thought for my friend… farewell" – Kongo
In November 2018, Karl Lagerfeld asked Kongo to create some artwork for the Chanel "Metiers d'art" Collection 2019. He invited Kongo to his studio on Quai Voltaire to paint and work. Karl would visit to check on Kongo's progress. Together, they would talk about art, life and inspiration, the two men formed a friendship and a meeting of minds.
Their collaboration will soon be revealed in the upcoming Chanel collection where Kongo's artwork is stamped all over classic handbags and jackets. The collection is a mix of references, a mix of high fashion and street style art as well as references to historic Egyptian imagery; utterly new and original!
In this painting, Kongo simply pays homage to the great designer, mentor and friend; Karl Lagerfeld.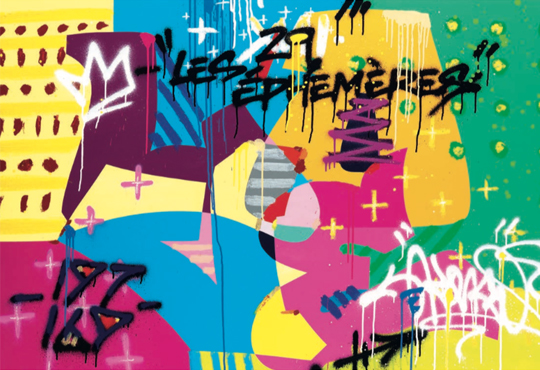 Les Éphémères, mixed media on french linen, 87 x 127 cm, 2017
The Love series
Who do we love?
What do we love?
how do we love?
how do we perceive L'amour?
For kongo 'love' becomes 'LOVE' in all capitals and vibrant, woven colours! LOVE takes over his canvases as he wishes it would take over the world! kongo's love series, is not brooding, dark or self indulgent but rather a shout out to embrace all the positive charms, subtleties and joy of this complex emotion that binds all human kind.
"Love is our true destiny. We do not find the meaning of life by ourselves alone—we find it with one another." Thomas Merton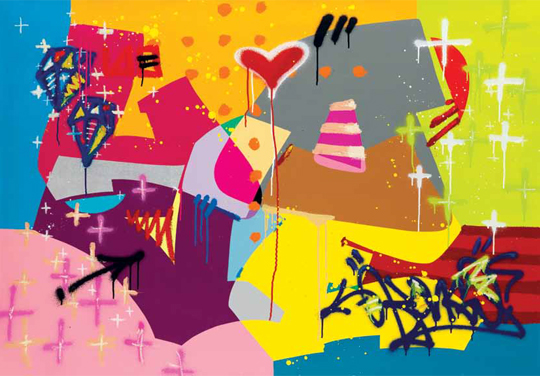 Bonbon, mixed media on french linen, 87 x 127 cm, 2017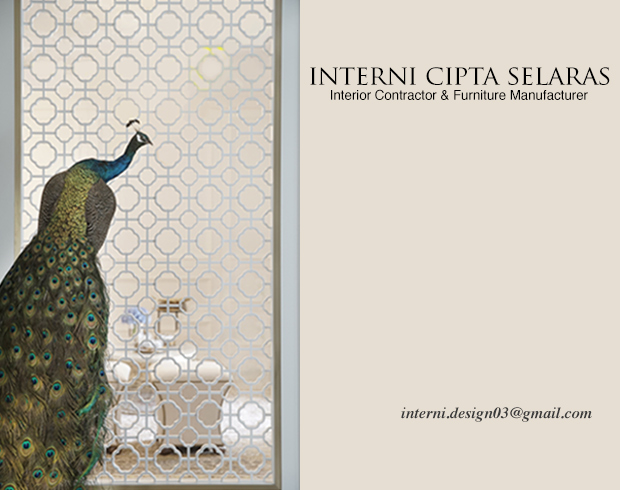 Presented by Interni Cipta Selaras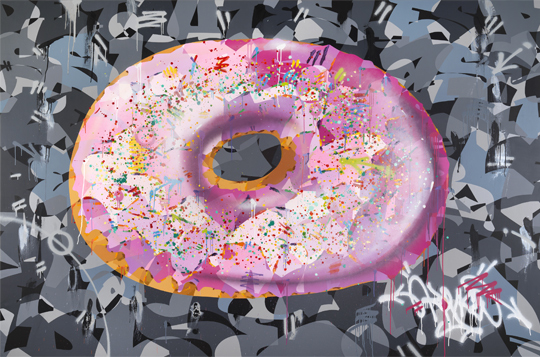 Donut Rose, mixed media on french linen, 200 x 300 cm, 2019

Gourmandise Series
"De toutes les passions, la seule vraiment respectable est la gourmandise."
"Of all the passions, the only respectable truth is the gourmand." –Guy de Maupassant, Amours et Primeurs 1881
In this series of delicacies and graffiti painted larger than life, larger than the most insatiable of appetites, Kongo sugars the canvas with his weakness for gateaux et donuts! But it is the playful concepts of greed and pleasure, the Gourmand and the Gourmet that he is inspired by.
This is an homage to the writer Guy de Maupassant and all who are thrilled by a passion for consumption of the sweet and delicious temptations in life; the Gourmand who cannot control himself and the Gourmet who aspires to degree of perfection, even in a common donut or cupcake!
At once Kongo is thoughtful, intellectual and humorous, able to convey that Alice in Wonderland cunning and joy; on the box of cake was written, "EAT ME" enticing all to taste, test and grow a little bigger with the experience!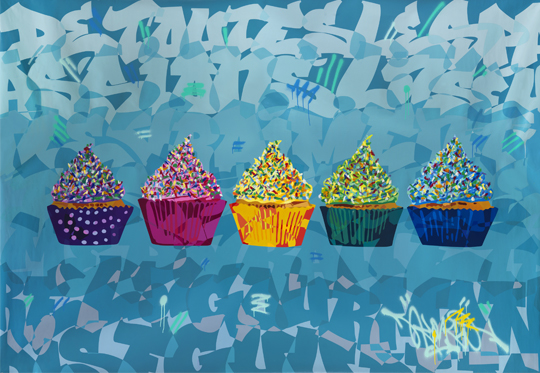 Les Cinq Cup Cakes, mixed media on french linen, 206 x 306 cm, 2019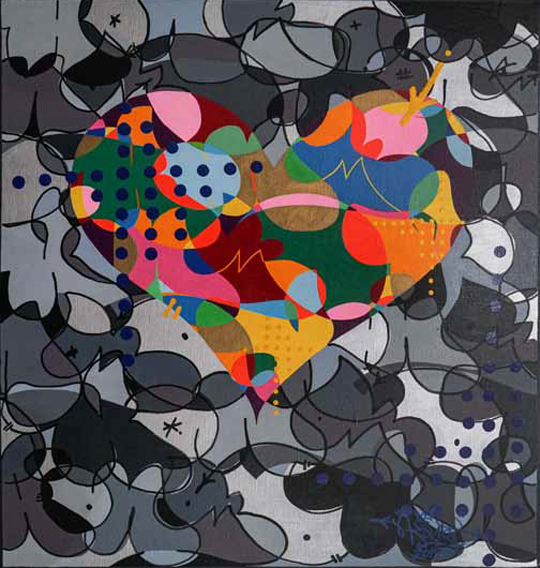 Les Nuits Fauves, mixed media on french linen, 82 x 76 cm, 2019
"Le coeur a ses raisons, que la raison ne connait pas."
"The heart has its reasons which reason knows nothing of…." -Blaise Pascal
Perhaps in the crazy world that we live in, we have lost the art of listening to our heart, our intuition and the benevolence of generosity. Perhaps the simple image of a heart can remind the world that sadness and hatred are not what we are here for but our raison d'être is truth, kindness and love and the desire for happiness; the truth that beats in everyone. Kongo paints from the heart, hoping to share the message of optimism. "I paint above all to be happy."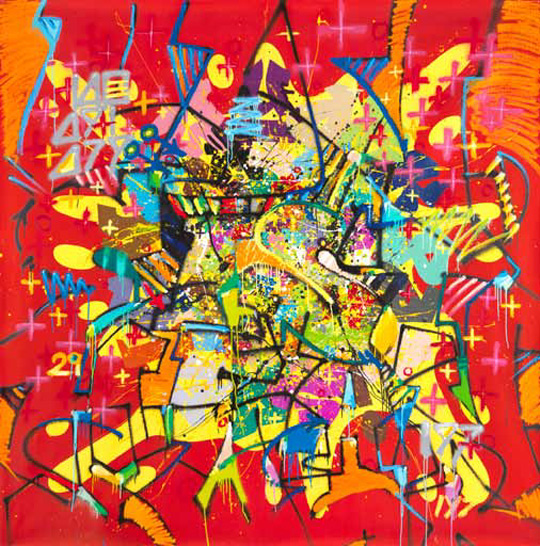 L'amour Passionnel, mixed media on french linen, 198,5 x 198,5 cm, 2017
"The Passionate Love" is a canvas full of palpable frenzy and colourful energy.
This is a red, pink orange fervour splashed with yellow ardour and Kongo's graphic signature of quick, zealous brushstrokes. This canvas is a heated exploration of Love, capturing a seemingly impulsive moment of extreme intensity.

Bitcoins, mixed media on french linen, 230 x 330 cm, 2018
Fat letters, bright colours and energetic markings imprinted upon a large canvas are the currency of Cyril "Kongo's" oeuvre. A French- Vietnamese artist whose bold, stylised works and passions spill out of him much like code running and flashing on a computer screen. This could be the first Block Chain Graffiti!
The "Anti-conformist" plays with notions of art and economics, a tangle of messages and codes, ticking around the canvas for the contemporary culture of the 21st Century to 'mine' what they will!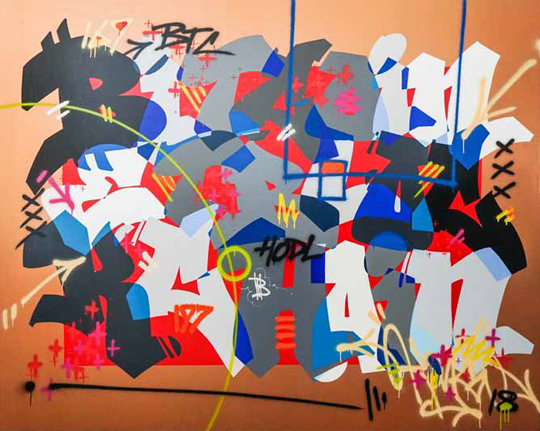 Blockchains, mixed media on french linen, 230 X 280 cm, 2018
Artistic gold is what Kongo has cleverly and creatively produced with his innovative "Crypto Currency" series!
His art, much like Bitcoin, is an underground, antiestablishment, non-corruptible, democratic concept. The graffiti movement itself has been a revolutionary and liberal art movement; out there in the public domain for everyone to see, scrutinise and speculate upon!
Kongo has touched upon so many contemporary issues with his 'set value' series of 12 Cryptomonnai! Ideas of value, tangibility, visibility versus the invisible and calculating the subjective! Will gold always be the standard that all intrinsic value rests upon? Or can provocative artists and innovative economists change our concepts forever?