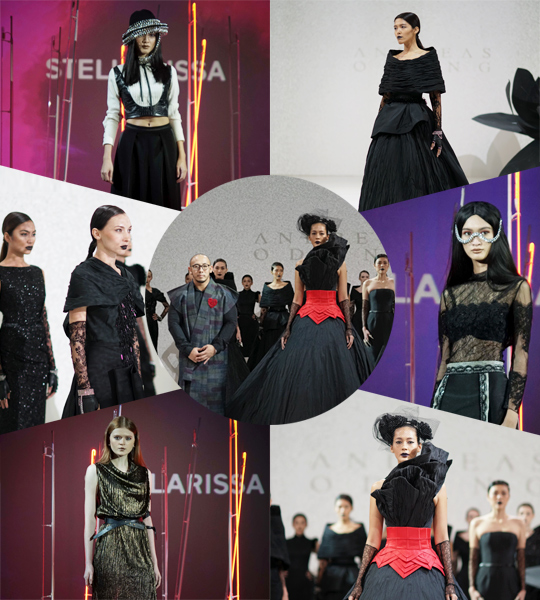 IPMI: The Sexy Thirty
Published by Sugar & Cream, Wednesday 30 November 2016
Text by Lynda Ibrahim,  Photography courtesy of IPMI
Stella Rissa and Andreas Odang
When I was growing up thirty was considered "mature" enough to no longer remain sexy. That notion has thankfully changed. These days, thirty, even forty, is considered the new sexy.


Rockandrolla by Stella Rissa
The association for Indonesian fashion designers, abbreviated to IPMI, certainly proves it on their 2017 Trend Show this year through their latest members, Stella Rissa and Andreas Odang. Selected from the crop of rising young talents, both designers managed to serve up sexiness with class and a tad of panache.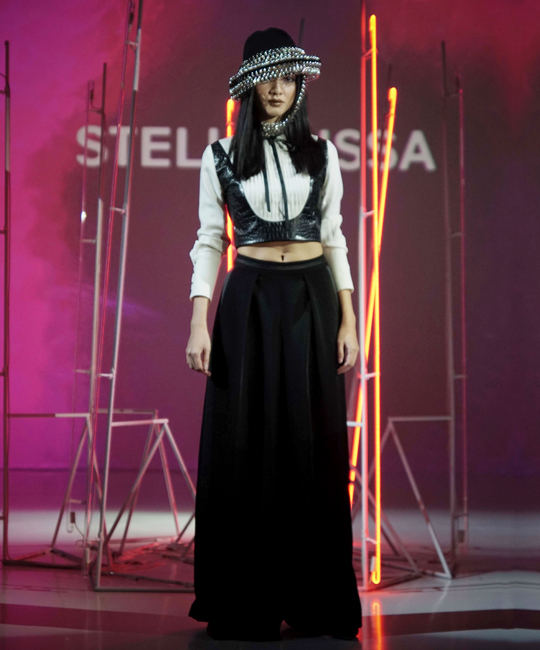 Rockandrolla by Stella Rissa
Drawing inspirations from colorful heiress-philanthropist Daphne Guinness and sensual model-actress Carmen Dell'Orifice for her upscale Studio Collection label, Stella Rissa sends down the runway a collection full of lace, silk, and tulle. Employing those three materials could've easily gone frilly, or even a bit twee, but the silhouettes were mature. Waists were defined, bosom and derriere were highlighted, and legs were shown tastefully. There was no mistaken that the collection was designed for grownup women—women who are already in control of their sex appeal, like women in their thirties.


Rockandrolla by Stella Rissa
I liked how Stella Rissa balanced how much skin to show and how to balance the overall look—like simple spaghetti straps for bare shoulders paired with delicate lace that grazes the calf, or demure high-necked white shirt mixed with leather at bottom. The rock-and-roll eccentricity was further punctuated through the metal accessories that were styled on models' head and face.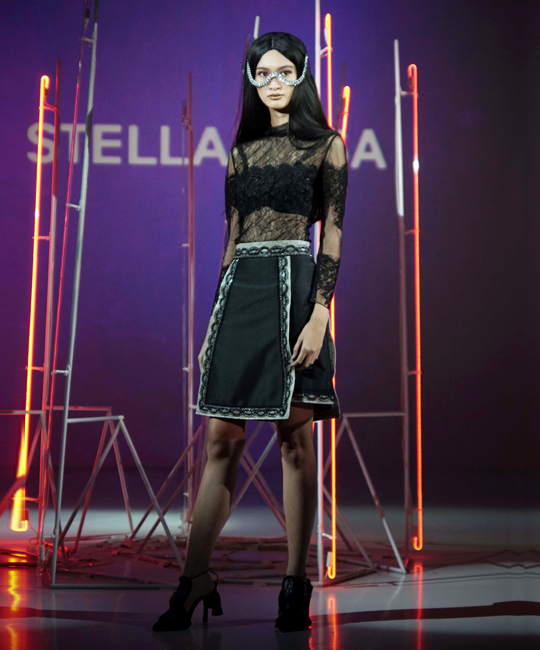 Rockandrolla by Stella Rissa
As for Andreas Odang, rooted in classic cocktail dresses and evening gowns, at a glance seemed to have drawn inspiration from the lovely flower magnolias. But his magnolias were black, as they were inspired by death, and its petals had textures that were inspired by painting strokes. If Andreas Odang wanted to show that there is an underlying beauty in the palpable stillness that defines death, he got it right. It will have to be women, not girls, who can carry this particular collection—women who've experienced darkness and remained walking tall in confidence, the main ingredient for sexiness, as his models showed.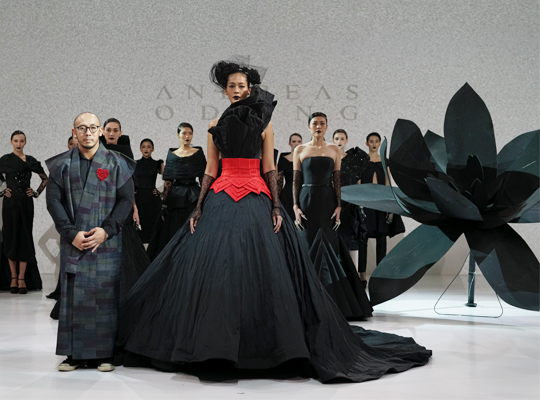 Black Magnolia by Andreas Odang
As theatrical as the show was, the collection managed to distance itself from becoming costumes. Categorized as demi-couture, the production borrowed a lot from couture methods, yet the finished products are as easily worn as ready-to-wear. And as Odang used a lot of taffeta, jacquard, and duchesse satin, it's a premium ready-to-wear
collection nevertheless.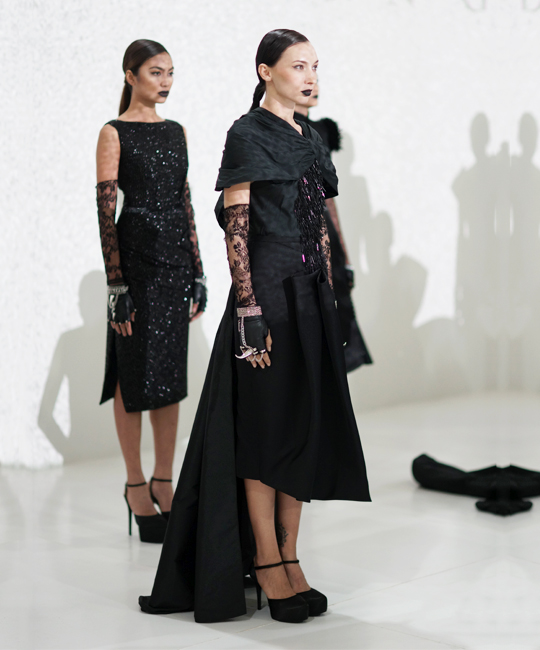 Black Magnolia by Andreas Odang
My favorite part of the presentation was the touch of scarlet red waist sash on the finale, homage to the red heart-shaped brooch worn against black wardrobe that was the costume de rigueur for IPMI members during the 2017 Trend Show to portray its theme of love.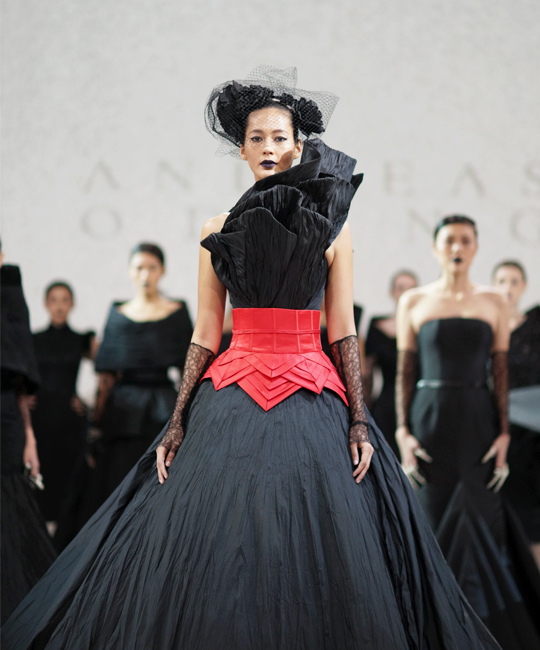 Black Magnolia by Andreas Odang
Congratulations to IPMI for entering into the age of sexiness, and congratulations to Stella Rissa and Andreas Odang for showing how they earned the inductions through the confident presentations. Thirty is really the new sexy.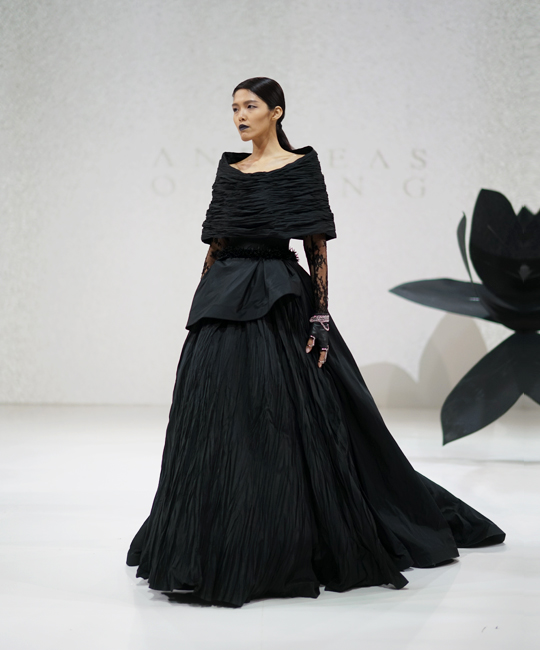 Black Magnolia by Andreas Odang