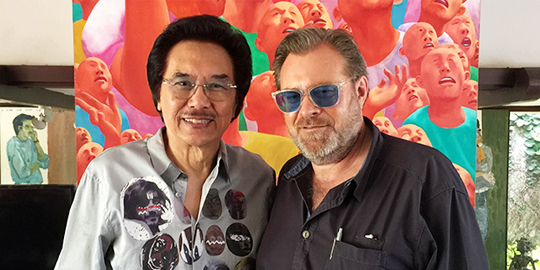 Indonesia: The Heart of Asia's Most Vibrant Collecting Scene Part #6
Published by Sugar & Cream, Friday 05 August 2016
Text and Images courtesy of Art Stage Jakarta
Lorenzo Rudolf In Conversation With Deddy Kusuma
Deddy Kusuma is one of Indonesia's leading, internationally recognized art collectors. An architect born and based in Jakarta, Deddy is in the real estate business. He is President of the Art Stage Jakarta Board of Art Patrons.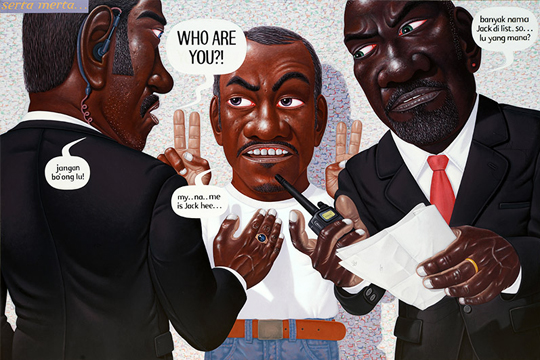 Nyoman Masriadi. Serta Merta (2013) Acrylic on canvas. 200cm x 300cm.
LR : Deddy, we've been friends for a long time, you were the one who introduced me to Indonesia. From the beginning, I was impressed that you are not only a collector, but above all, an advocate and promoter for Indonesian art. What makes Indonesian contemporary art so special?
DK : It's not only contemporary art of Indonesia, it's all of Indonesian art – modern and contemporary. When I started to go abroad to look at art and I saw how Chinese art had gained momentum and popularity in the international art market over the last 20 years, I began to reflect on the state of Indonesian art. I saw that the price of Indonesian art was very low and nobody cared about presenting and packaging it professionally to promote it globally. I know the quality of Indonesian art. It's very good! So I felt that it was up to us, the collectors who love art, to help Indonesian art go international. Even 10 years ago, when I organised a big party for you, I already declared that Indonesian art should go international.
LR : In 2010, you even organised, coordinated and especially financed a huge exhibition of Indonesian contemporary art at the Grand Palais in Paris. Is that the role of a collector?
DK : It was you who gave me the chance to do this in Paris, one of the cultural centres of the world. I only took this opportunity to promote Indonesian art because that's my passion, that's my dream. The world should recognize and experience the strength of Indonesian art. Indonesia is very behind in terms of infrastructure, and the government does not spend much money to promote Indonesian art internationally. Given the situation, we as Indonesians, as art lovers, as collectors, should assume this responsibility.
LR : How did your love for art start?
DK : Nobody pushed me into it, neither my family nor my friends influenced me. But maybe it is also because of my educational background. I was trained as an architect, so we have some kind of affinity for art. It was really a natural feeling from the bottom of my heart, maybe it's in my DNA. When I started 35 years ago, in the 1980s, I started with buying just nice landscapes. Slowly, I began to gain a deeper understanding of more complex works and it made me crazy about art.
In the early 90s when the auction houses started in Singapore and even in China, I would go to the auctions every year – Christie's, Sotheby's, Guardian, Poly –  and then later to galleries and art fairs, to pick up something I love during each visit. That's the story. From 1990 until now, it's been over 20 years!
LR : The biggest part of your collection is Indonesian, but it also has a lot of international and Chinese artists. Why China?
DK : China because my ethnicity is Chinese, and I know Chinese culture. My collection is 60% Indonesian, because I'm living here, I'm Indonesian. 20% is maybe Chinese and the other 20% is from the rest of the world.
LR : Coming back to Indonesia, is there one specific artist whose work you feel very close to? 
DK : I knew S. Sudjojono, one of the masters of Indonesian modern art, in the early 1980s. In 1982, I visited his studio and chose two pieces, one of them is now really famous. I saw many beautiful works of beautiful women, but I was attracted to this one – Siip Dalam Segala Cuaca (Fit Under Any Condition). It might seem ugly to others and so totally different from the rest of his paintings – the painting shows a man riding a bicycle, tossing his cigarette on the ground. I sensed a hidden meaning behind the painting, and that made it special to me.
LR : What about the younger generation?
DK : Among the younger generation, there is Masriadi. It is a long story. I first saw his work in a catalogue in 1999, and was very touched – there was a new style and meaning behind the works, so I bought two. At the time they were about USD$1000. I started buying his works at exhibitions, galleries and auctions, even if they were expensive. Some people complained that I was buying too many, it was not good for the art market. But if I like it, I feel I should buy it.
LR : You're not only a buyer of Masriadi, you are his friend. I have an impression that you seem like a father figure to him too.
DK : He is a good friend, I've known him a long time. He is hardworking, and quite an introvert – not very open with people. I do my best to support him – we've even travelled together to China to visit the studios of his favourite artists, Zhang Xiaogang and Yue Minjun. Today, Masriadi is known in China, Europe, Taiwan, USA and people are buying his works. Just last week, he had a solo show in New York where all his works were sold. And he's only in his 40s!
LR : Masriadi must have learned from you, he supports and fosters artists too.
DK : He understands that young artists in Indonesia have no chance to exhibit in galleries. So he started Rumah Toko (Ruko) in Jogjakarta where young artists can show their works. I was proud to be the guest of honour at the opening of the first exhibition there.
LR : Thank you, Deddy.