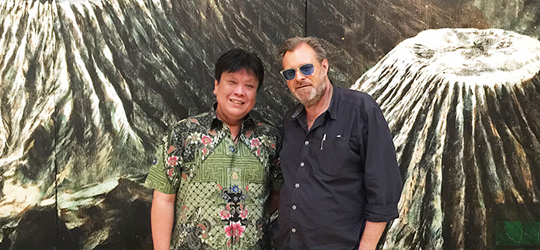 Indonesia: The Heart of Asia's Most Vibrant Collecting Scene Part #5
Published by Sugar & Cream, Wednesday 03 August 2016
Text and Images courtesy of Art Stage Jakarta
LORENZO RUDOLF IN CONVERSATION WITH PRASODJO WINARKO
Prasodjo Winarko, 48, is a director in the property and metal industry. He hails from the Sampoerna tobacco dynasty, and belongs to a family of distinguished art patrons. The USC graduate started collecting art in 1993, with a special focus on paintings. He is a member of the Art Stage Jakarta Board of Young Collectors.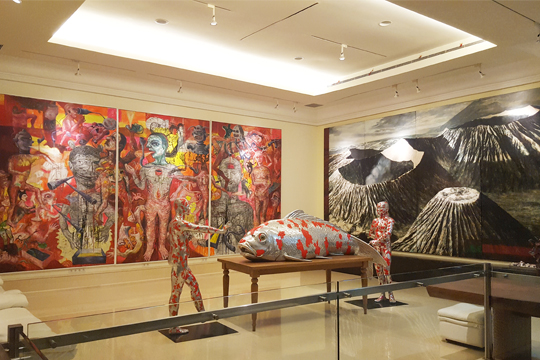 In parallel with the premiere of Art Stage Jakarta which will take place for the first time in Jakarta from August 5-7, 2016 at Sheraton Grand Jakarta, Lorenzo Rudolf , President of Art Stage of Singapore and Art Stage Jakarta have conducted several conversations with prominent art collectors from Indonesia. The conversation is to lead further understanding about Indonesian arts, the artists and as well as the collectors.
Here is the exclusive conversation between Lorenzo Rudolf and Prasodjo Winarko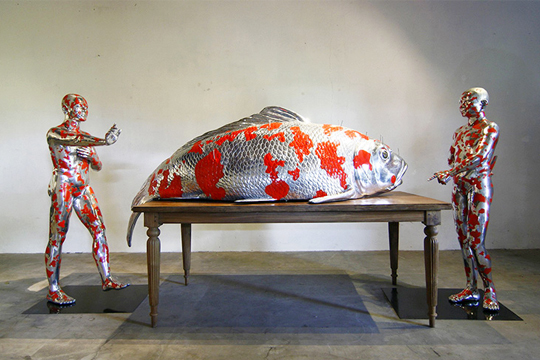 Entang Wiharso. Feast Table (2012) Mixed Media. 400 cm x 300 cm.
LR : You come from an old and prominent family here in Indonesia, with many relatives who support and collect art. Was it your family's history and background that nurtured your interest in art?
PW : It was actually my grandfather, Mr. Liem Seng Tee, who owned Theatre Sampoerna, the first theatre in Indonesia with an international performance programme that featured stars like Charlie Chaplin. Second generation, my second aunt played the piano and took lessons from Bobby Chan. In the next few generations, Mr. Soenarjo Sampoerna was the first of us who entered the art scene as a collector, and I followed him.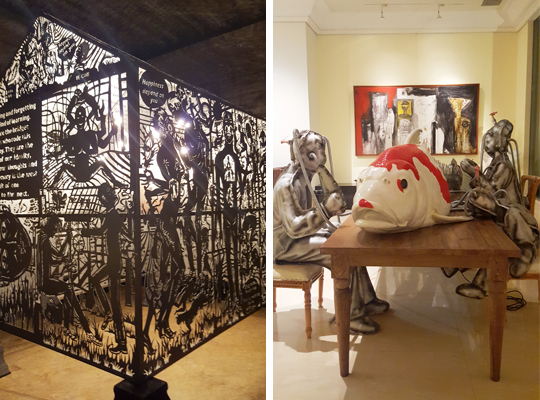 LR : When you became actively interested in art, was it the contemporary scene or works by the old masters of Indonesia that attracted you?
PW : I like to collect artists of my era, the ones still living. It would be impossible for me to compete or to have a collection that's as good as an older collector's, because I didn't live in the same era when the old master artists were practicing. I can maybe have one or two really good Affandi or Sudjojono pieces, but to form a good collection would be difficult.
LR : But did it ever cross your mind to have something like an Affandi?
PW : Yes, I am interested in buying some good Affandi or Sudjojono works, but I just feel the collection would never be able to compare to the likes of Mr. Alex Papadimitriou.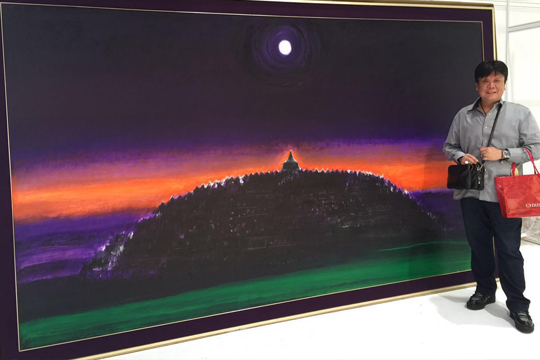 LR : Who was the first artist you bought by yourself? Do you still remember?
PW : The first artist? Yes of course, Nyoman Gunarsa! I bought my first painting two months after I got married.
LR : Perhaps because you had your own walls!
PW : Yes, my own house to display art.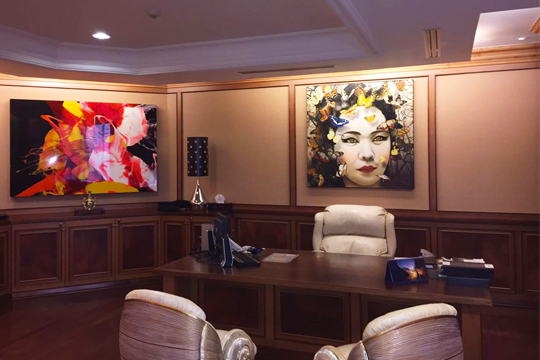 LR : You have a very comprehensive contemporary Indonesian collection, but there are two artists that feature dominantly – Mangu Putra and Entang Wiharso. Why? What did you find special about Mangu Putra and Entang Wiharso?
PW : Before Mangu Putra became a famous artist, we were already friends, so maybe there was a kind of emotional attachment. As for Entang, his work left quite an impression on me, so I started making an effort to follow and collect.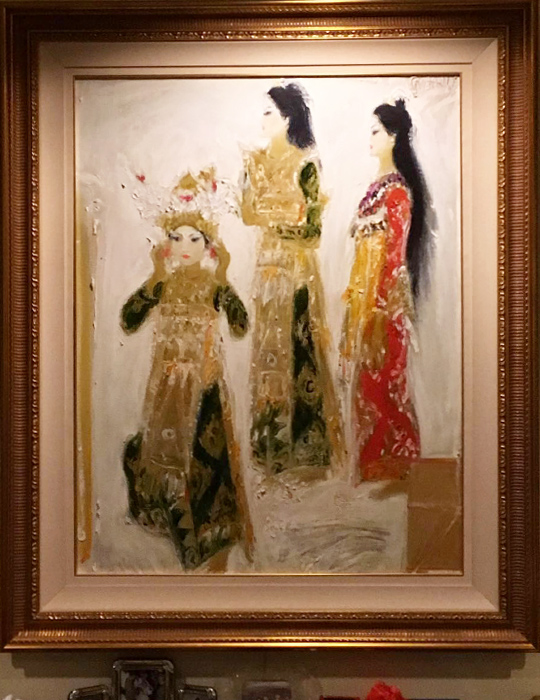 LR : Entang Wiharso is one of Indonesia's most internationally renowned artists, and has exhibitions all over the world. When did you start collecting his work, and what makes him unique?
PW : I bought my first Entang painting at an auction back in 2002. I think he has a different approach to his work, a kind of trademark that makes his work unique, it's not something I see in many other Indonesian artists.
LR : To dig deeper, is it the work itself or the personality of Entang that makes it special?
PW : I know Entang personally too, but I knew him first as an artist, I started with the work. I was very impressed by it, especially when I learned more about his installation pieces, and started to understand the themes and ideas behind his work.


LR : Looking around at your collection, we see many Chinese artists too. Is expanding toward international artists the next step for you as a collector?
PW : I own 700 paintings from more than 200 artists, but the fundamental idea was to focus my collection on Indonesian artists; in case my children are not interested in art, I can donate the paintings to the public so that the younger generation of students and art lovers can have an opportunity to learn and explore Indonesian contemporary art.  Looking ahead, I might start to build an international collection because it is important to build a dialogue between international and Indonesian art.
LR : My dear friend, you're not even 50, and you have 700 pieces. You might reach 2000 pieces in 10 years! Where will you put them all? Do you plan to build a museum?
PW : Yes I plan to build maybe a 3000 – 5000 square metre museum, maybe two or three stories, to share art with the people of Indonesia, maybe have some international art events there.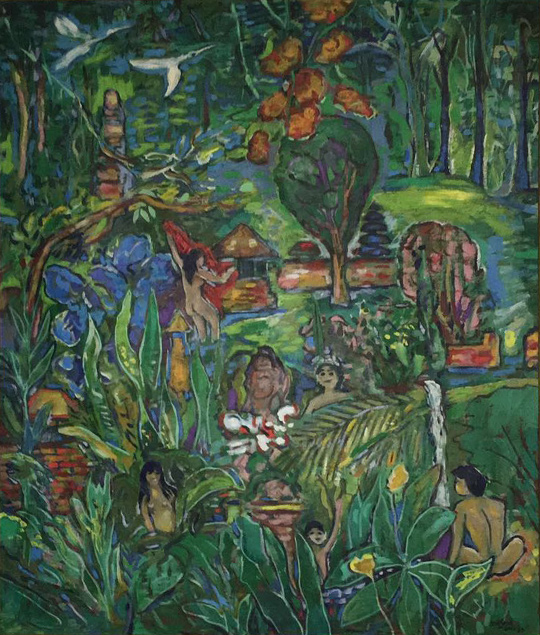 LR : I think that's important, because Indonesia has a lot of great art, but not enough museums. A lot of collectors are starting to build museums, if you look at Haryanto (Adikoesoemo) with Museum MACAN. And you told me about your dream with Frank Gehry!
PW : (laughs) My dream is to build something like the Guggenheim Museum Bilbao. I really appreciate Frank Gehry's architecture. When I was in Los Angeles, I saw many Frank Gehry designs, like the Walt Disney Concert Hall – that was impressive too.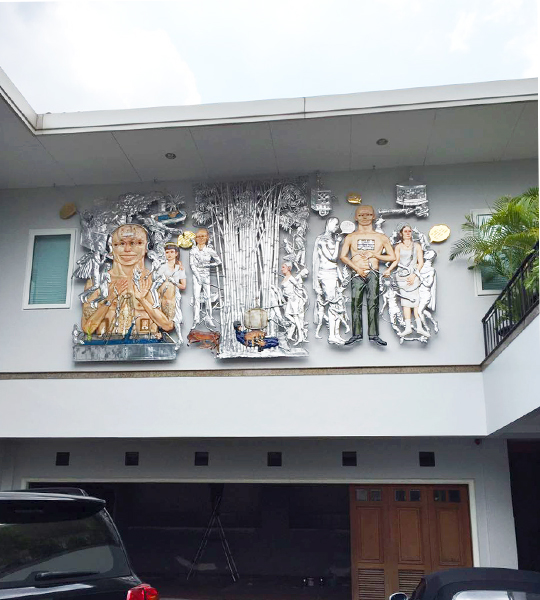 LR : When do you plan to build this museum?
PW : My goal is for it to be done between 10-20 years from now. I don't want something ordinary, I want time to carefully plan, because I want it to be an iconic location for international events and special exhibitions.
LR : Thank you.