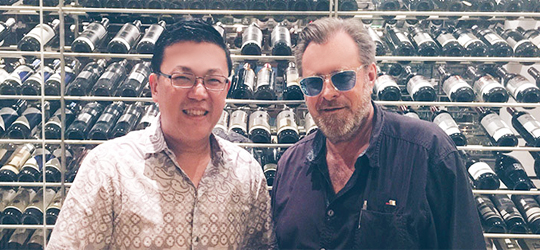 Indonesia: The Heart of Asia's Most Vibrant Collecting Scene Part #4
Published by Sugar & Cream, Wednesday 03 August 2016
Text and Images courtesy of Art Stage Jakarta
LORENZO RUDOLF IN CONVERSATION WITH TOM TANDIO
Tom Tandio is one of Indonesia's leading young collectors of contemporary art. He works in the automotive industry, and has been a passionate collector since 2007. He also started an Indonesian contemporary art foundation called IndoArtNow.com. Tom is President of the Art Stage Jakarta Board of Young Collectors.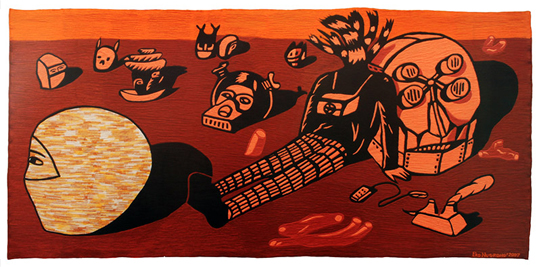 Eko Nugroho. Land of Heads (2007) Embroidery. 68cm x 145cm.
In parallel with the premiere of Art Stage Jakarta which will take place for the first time in Jakarta from August 5-7, 2016 at Sheraton Grand Jakarta, Lorenzo Rudolf , President of Art Stage of Singapore and Art Stage Jakarta have conducted several conversations with prominent art collectors from Indonesia. The conversation is to lead further understanding about Indonesian arts, the artists and as well as the collectors.
Here is the exclusive interview conversation between Lorenzo Rudolf and Tom Tandio
LR : Tom, as an important collector in Indonesia today, many young collectors look up to you. How did you get into art, and more specifically, how did you get into contemporary art?
TT : My sister in law introduced me to art in 2007. I started visiting many galleries, and realised I had a lot to learn about art, especially from more experienced people in the art world. Over time, I got to know curators, and eventually they introduced me to the artists. I enjoyed hanging out with the artists, finding out more about their work, their art practices, the ideology behind their works. That's how I started collecting.
LR : Does your collection have a special direction or generational theme?

TT : Yes, many Indonesians collect modern art, whereas I started with contemporary art. I was not that interested in modern art when I first began, because as a young collector, I had limited budget compared to the more established collectors. I also feel more connected to contemporary art because they relate to and resonate better with my life, my era, my time. As a young collector, I feel a moral responsibility for my art collection to reflect attitudes and voices that are prevalent in my generation. As for my collection, I always collect art that challenges my perspective and world view and gives me a different view of life.
LR : How big is your collection? How many pieces do you have?
TT : (laughs) It's a secret. But to be frank, I've never counted.
LR : Do you focus only on Indonesian contemporary art, or are you also interested in other contemporary art of the same generation?
TT : In the beginning, before I collected Indonesian art, I started with Chinese contemporary art because at the time, it was gaining a lot of attention. However, it was very hard to meet with the curators and artists in China because most of them are like superstars. I live in Indonesia and my access to Indonesian curators and artists is just easier. Through this, I realise that collecting art is a very personal thing and has a lot to do with access to information and artistic productions.  So, I eventually shifted my entire focus from Chinese to Indonesian art. I also started collecting art from Southeast Asia in the last 2 -3 years, like Filipino, Singaporean and Malaysian artists.
LR : What do you think makes this generation of Indonesian contemporary art so special?
TT : In the contemporary art world of today, we don't draw distinctions based on geographical origins as much. I think Indonesian contemporary art, especially of this generation, embeds the globalised world through ideas and issues. With modern art, it was more about Indonesian history.
LR : The Indonesian contemporary collector scene is like a big family – all of you know each other, and constantly discuss and exchange ideas amongst yourselves. This is quite unique. Countries with such a strong scene are not usually so interactive. Can you tell us more?
TT : This is a very interesting issue. I think Indonesia is a country where visual arts, as a whole, does not receive much support from the government. A number of senior collectors have started museums or foundations to promote art. Lots of young collectors often go beyond their role as collectors. For example, I have a friend who promotes Indonesian contemporary art overseas through introducing artists to international curators and galleries. I got really inspired by what I saw, and so in 2010, I started an art foundation called IndoArtNow.com which archives Indonesian contemporary art exhibitions from all over the world. The goal is to share Indonesian contemporary art amongst friends and art lovers. Today, the site has become a resource for researchers. We even have video profiles of artists, so visitors to the site can understand their artistic practices and get to know them better even without meeting them in person.
LR : Is there an artist that you're close to, whose work features prominently in your collection?
TT : Yes, all my friends know that I'm a very big fan of Eko Nugroho. He's an artist whose work resembles a similar visual category to graffiti, street art. His work comments on the social behaviour of Indonesian society. Behind the work, I really like how he includes the community, in his village and around the location of his studio, in the production process of his art. It changed my perspective of how an artist goes beyond representing himself and involves a whole community of people in his creative process. I think that's what brought me close to the artist. Do check out his project on Wayang Bocor!
LR : Thank you, Tom.