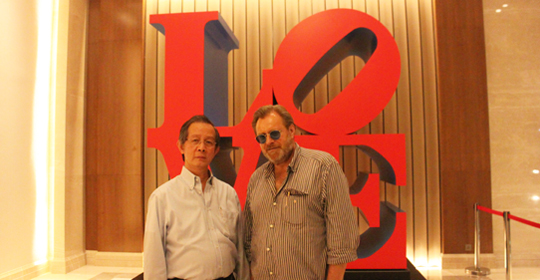 Indonesia: The Heart of Asia's Most Vibrant Collecting Scene Part #2
Published by Sugar & Cream, Friday 22 July 2016
Text and Images courtesy of Art Stage Jakarta
LORENZO RUDOLF IN CONVERSATION WITH ALEX TEDJA

Alex Tedja is Chairman of the Pakuwon Group and an avid collector who believes art should be accessible to the people. Next month, one of his properties, the Sheraton Grand Jakarta Gandaria City, will host the inaugural edition of Art Stage Jakarta, Indonesia's first premium art fair of international format, from 5 – 7 August 2016.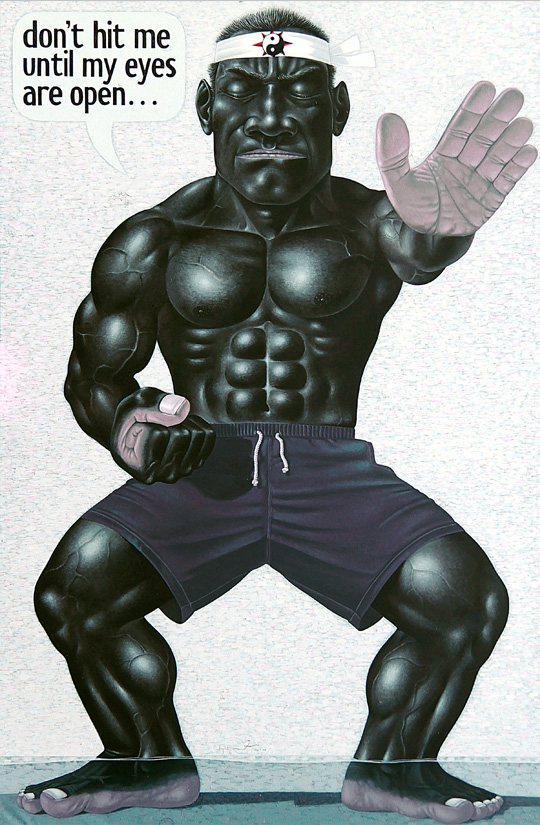 I Nyoman Masriadi, 2012, Prepare, acrylic on canvas, 200x300cm (resize 75%).
LR : Alex, you're one of Indonesia's leading collectors, with a few hundred pieces in your collection. How did you start? What made you fall in love with art?
AT : I just like it. It's hard to explain, and there's no need to complicate it – it's just a feeling that takes root, and you know. My family didn't have a part in it, it was mostly a personal passion. I started collecting paintings in the late 80s, mainly Chinese brush strokes because I took a strong liking to it. I was also influenced by friends, like I've got a friend in Hong Kong who collects lots of great Chinese brush paintings, and that evolved over time. Slowly, we went into oil paintings, and that's how I started buying both Chinese and Indonesian oil paintings.
LR : Did your interest in Indonesian oil paintings pick up at the same time as Chinese oil paintings?
AT : They started at almost the same time, around the early nineties. Before that, I had a period of not doing anything, not collecting, because I was just too busy. When I started again, it was oil. Each time, it evolves. Contemporary was not yet popular, it only gained momentum in the early 2000s, so it was mostly Modern art then.
LR : It's clear that contemporary art today manifested from Modern art, even though they are two completely different worlds. What was your first step as you transitioned from one world to the other?
AT : I didn't have an interest in contemporary art specifically, I just know what I like when I look at art. It's quite personal. Some people say it's a good investment, but I don't think about whether the price will go up, it's not my main concern. I mean, obviously it's good if it rises in value, but that's not a key factor that drives me to buy.
LR : You started collecting art in the nineties – it must be a real passion today if you have amassed a few hundred pieces after 25 years. Do you collect with a special direction in mind? After China, is your focus mainly on Indonesia, your country's own artists?
AT : I've actually slowed down a lot on Chinese paintings in the last five years, because the price has gone up to unreasonable levels. So I concentrate more on Indonesian art, because it's my country, my culture. I also buy a little bit of Southeast Asian. As a collector, I'm glad that so many Indonesian artists are gaining recognition overseas. Some of them are even represented by international galleries in the UK, USA, Taiwan, Korea, Japan. You can now see them in large cosmopolitan cities like New York.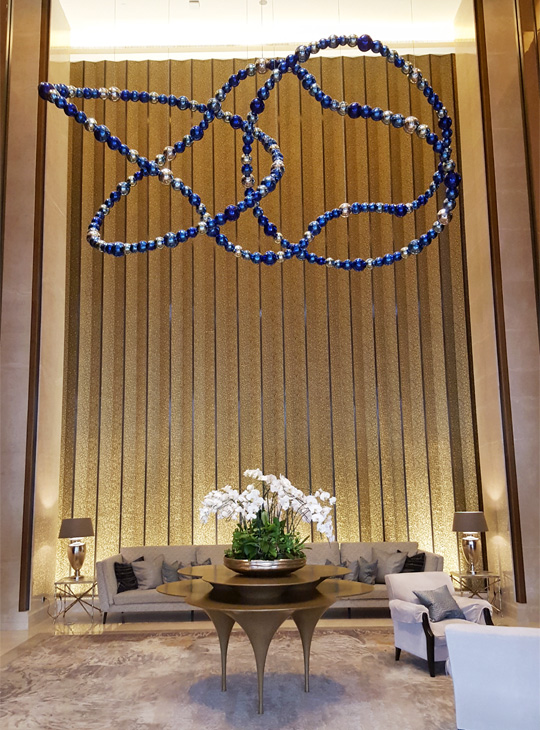 Jean – Michel Othoniel artwork seen inside the Grand Sheraton Jakarta's lobby. Coutesy of www.sugarandcream.co 
LR : Is there an artist in Indonesia that you feel particularly connected to?
AT : Not to the artist personally, but in terms of work, I do quite like Masriadi actually. His work is infused with a unique character, and most of his paintings have subtle messages. He's someone that's really found his own way of expression.
LR : What about other Indonesian artists?
AT : I also like Handiwirman [Saputra], he's had interesting periods of development in his body of work, and I look forward to each progression and transformation. I also selectively collect Rudi Mantofani.
LR : Do you follow these artists?
AT : Not really. I've seen their new work, but my decision to buy is never influenced by chronology. It doesn't matter to me whether the work I'm looking at is old or new, it's just an intuitive feeling for me whether I like it and wish to own it. Most importantly, the art has to be good, and the artist's name holds some meaning.
LR : Lots of collectors everywhere in the world, especially in Indonesia, enjoy being close to artists. You're someone who seems to want and need a certain distance from them. Why?
AT : Honestly, I just have no time to cultivate friendships with them – it's not that I don't want to be close to them, I actually would like to be close to them, I just don't have the luxury of time to nurture these relationships.
LR : You don't only collect Indonesian art, you also have a lot of important Western artists in your collection like [Jean- Michel] Othoniel, [Robert] Indiana, etc. Can you tell us more about that?
AT : I bought those pieces to display in public areas so that people can know more about art. Sometimes when I see a piece, I can envision it perfectly in a place where people can enjoy it. Ichwan Noor's 'Beetle Sphere' is a great example of that. If there's a good piece that makes great public art, whether it's painting or sculpture, I'll buy it.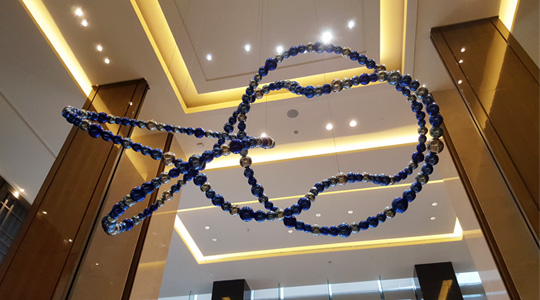 Jean – Michel Othoniel artwork seen inside the Grand Sheraton Jakarta's lobby. Coutesy of www.sugarandcream.co 
LR : You have malls and hotels, and you place top art pieces everywhere – are you building an education of sorts, to give something back to the public because there are not a lot of museums in this country?
AT : Exposing art to the public can be an education, but it can also be for enjoyment. When I see people taking pictures with the artworks, I feel happier. I want to share this experience with them.
LR : There are many hotels who position themselves as art hotels, filled with bad art but designed to look arty. You, on the other hand, built a five-star hotel that's not just exclusive but has a top art collection to match – it's not mere decoration, it's so much more than that.
AT : Well, I believe that the quality of art displayed in the hotel should match the hotel's standards. In the case of a five star hotel like the Sheraton Grand Jakarta, we definitely want to be showing top-notch artworks.
LR : Wouldn't the next logical step to be to open a private museum?
AT : Building a private museum is a very time-consuming endeavour. Maybe one day, but not now.
LR : You're very experienced in the art world – you travel a lot, and I often see you at art fairs and auctions. If someone new who wants to enter this fascinating world of Indonesian art asks for your advice on how should they start collecting, what would you tell them?
AT : I think that's very difficult to answer because it's so personal and unique to the individual. I do talk to friends sometimes, we exchange opinions about the artwork, but at the end of the day, the collector has to make a choice. Everybody may have different likes and dislikes, but they should learn to cultivate their own opinion, because it takes time to understand yourself and how you feel about art.
LR : Thank you, Alex.