Indonesia: The Heart of Asia's Most Vibrant Collecting Scene Part #1
Published by Sugar & Cream, Thursday 21 July 2016
Text and Images courtesy of Art Stage Jakarta
LORENZO RUDOLF IN CONVERSATION WITH DR. OEI HONG DJIEN
In parallel with the premiere of Art Stage Jakarta which will take place for the first time in Jakarta from August 5-7, 2016 at Sheraton Grand Jakarta, Lorenzo Rudolf , President of Art Stage of Singapore and Art Stage Jakarta have conducted several conversations with prominent art collectors from Indonesia. The conversation is to lead further understanding about Indonesian arts, the artists and as well as the collectors.
Art Stage Jakarta will be Indonesia's window to the international art world, juxtaposing the best of the country's modern and contemporary art with important selected exhibitors from Southeast Asia, Asia Pacific and the West (Perrotin, Pearl Lam, Mizuma, Sullivan & Strumpf, Finale, Wei Ling, etc). Many Indonesian galleries will have special presentations and top Indonesian artists have created special works for the fair and a museum-like exhibition curated by leading Indonesian curator Enin Suprianto which will showcase masterpieces from important Indonesian private collections. Many international collectors, curators and art lovers have announced their attendance.
Dr. Oei's name is synonymous with his passion for art and impressive art collection housed in his privately built OHD Museum. Born in a small town in Central Java called Magelang, he studied to be a doctor but ended up joining his family business in the tobacco industry. Here is the conversation between Lorenzo Rudolf with Dr. Oie Hong Djien.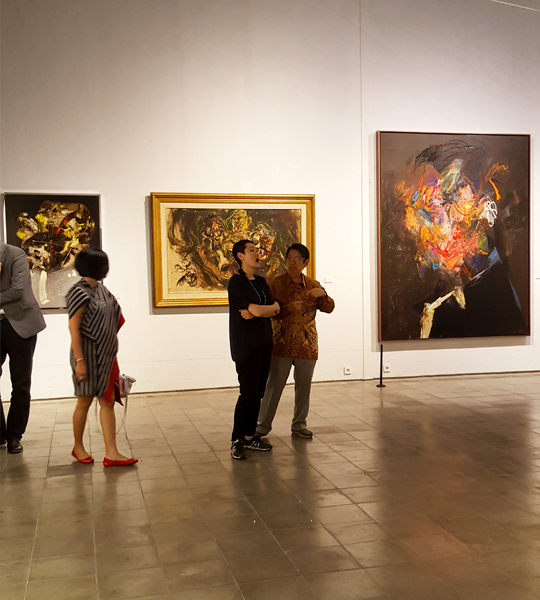 Courtesy of www.sugarandcream.co

LR : We've known each other for a long time, and you're one of the most famous collectors in Indonesia today. You help put Indonesia on the art map. What sparked your love for art?
OHD : It's actually a long story. I was already exposed to art since early childhood, because I lived in a house with paintings on the walls. Collecting is different though. I bought my first painting in
1965 after graduating from medical school. It was an insignificant piece, not counted as collecting, but I still keep it today. I was fortunate to be residing in Magelang, which was very close to the art centre of Indonesia, Jogja. All the Old Masters came from there – Affandi, Hendra, Sudjojono, etc. If had not been living in Magelang, I definitely wouldn't be where I am in terms of art today.
LR : How did you first connect with these artists?
OHD : At that time, there were no collectors in Magelang. But as soon as the artists knew you were buying art, they would all come to you. Affandi would always drop by whenever he was passing through Magelang. Especially the young artists, who needed financial aid to continue their Fine Art studies.
LR : I'm sure the Old Masters needed support at the time, but not many people were aware of the quality of their works. What was it about their art that touched you and inspired your passion?
OHD : Maybe it was my family background, but I had a much older cousin at the time who had studied art in Bandung and then read art history in Holland; she eventually went on to become one of Indonesia's first art critics.I was also mentored by a good friend who studied painting under Sudjojono. When I was personally acquainted with all the artists like Affandi and Widayat, they became like teacher figures to me. That's why I always say I'm like an honorary alumni of ISI (Indonesian Institute of the Arts, Yogyakarta) because my knowledge came directly from the artists who taught there.
LR : The next step after falling in love with art is to become a collector, which is very different because it requires a certain focus and conviction. Can you share your journey with us?
OHD : It was a gradual process; I didn't start out wanting to be a collector. It grew from love, and like the infatuation phase, collecting became an addiction that never stopped. The artists also
encouraged me to build a museum because they wanted their works to be displayed for others to see. This was the early nineties. It was not realised for a while because my liquidity was in the red from buying art most of the time. I don't think anyone but the artists knew that. (laughs)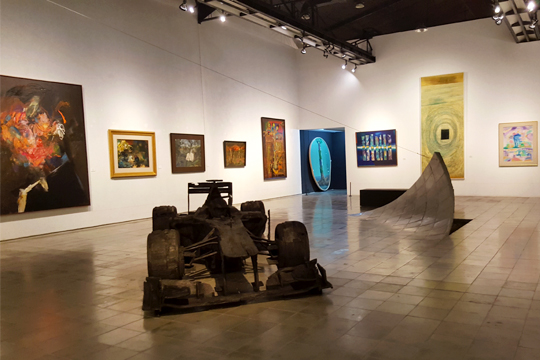 Courtesy of www.sugarandcream.co
LR : Who, among the Old Master artists of Indonesia, impressed you most?
OHD : I never had the chance to meet Hendra Gunawan, because he was in prison and then he passed away shortly after, but he is highly respected amongst the artists. Affandi is a great human being, very kind and warm, good heart and a low profile. He was always helping younger artists, bringing them to me and introducing me to their works. When I was older, I developed a close friendship with Widayat. I learned a lot from him about art, and slowly, he came to accept my opinions too.
LR : When did you finally open your first museum?
OHD : I opened the first building in 1997, it will be its twentieth anniversary next year. But even before that, my house was always open – everybody knew about my collection.
LR : What's impressive and unique about you as a collector is how your interest in art has developed beyond your own generation and grown toward younger artists. You've gone from mostly Modern art to becoming a serious patron of the young scene. Let's take the Jendela Group, for example – you're like a godfather to them. How did this development come about?
OHD : I think the circumstances just made it possible, mainly because of the proximity of my house to Jogja. These young artists, they need so much support. Back then, no one really collected! I asked all my friends, the big collectors in Jakarta, and they mostly said no. They told me I was collecting junk, to which I replied, "But I like the junk." (laughs)
LR : Are you selective in your support for these young artists? Do you look for quality in the work or do you simply provide help where needed?
OHD : I've always been selective, because I believe that if you simply support without a specific approach, you might end up hurting the artist's career. They might think their work has already made it by virtue of being acquired, and won't be driven to work hard and create better art. There was a point where some artists disliked me because I refused to collect their works, but if I say yes to everyone, my house will become nothing more than a storage space.
LR : Yes, but that's the role of a collector – he must stand up for his own identity. As one of the renowned patrons of many stars in today's Indonesian contemporary art world, is there an artist that has struck you with having great potential, whose art you foresee will become a legendary?
OHD : The Jendela Art Group is my favourite because I knew them from the very beginning, when they were students at ISI, and the collective did not exist yet. I bought two works by Rudi Mantofani at a group show after his first semester at ISI. At the time, he was planning to leave the sculpture department but the sale of his works convinced him to stay. Later on, whenever I was in Jogja I would visit the Jendela studio and buy pieces that caught my eye. We are all still friends now.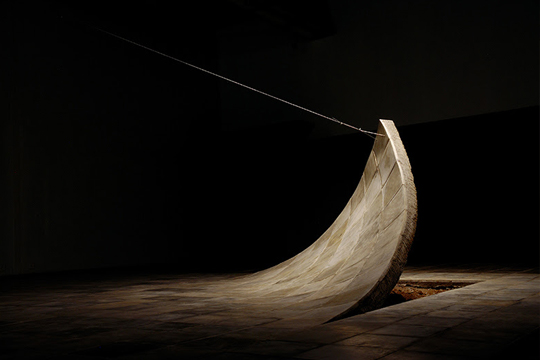 Looking at the Earth (2012), Rudi Mantofani, Cement, wire. 600 x 150 x 600 cm.
LR : The art scene in Jogja is a true community of artists who live near each other and constantly support each other. This is the only place I know where this behaviour is displayed so authentically. It's a choice they made, since many of these artists were not born in Jogja but decided to settle here to work on their art. How do you explain it?
OHD : I think there's a historical explanation. Back then, Sukarno was a great art patron. When the Dutch re-invaded Indonesia after independence, he moved to Jogjakarta, and artists everywhere followed him. They all felt strongly about reclaiming independence from the Dutch, which forged a strong spirit of togetherness amongst those in Jogja. After reclaiming independence, they founded the art school (ISI). There were also sanggars (informal art schools) for those who could not get into the formal school. Sukarno and Hendra Gunawan played a very significant role in all of it, and that same spirit still lives there today.
LR : Jogja is also known as a centre for art production for the older generation of artists. We can say conversely that the younger generation of artists are much more rooted in Bandung. Do you think that the strength of the older group of artists is an obstacle for the rise of the younger generation?
OHD : That's not really the case. There are definitely two streams – you have the Jogja group, and the Bandung group which are more conceptual, more rational. If there was any polemic between the two in the past, it's no longer so, but you can observe the subtle distinctions in my ongoing exhibition 'Sapiens Free', which juxtaposes Jogja and Bandung artists in cross-generational contexts.
LR : If I were a collector with no prior knowledge of the Indonesian art scene, who are the young artists I should check out and consider collecting?
OHD : That's a difficult question to answer – the "young" generation is not so young anymore, to start with Masriadi would be too late because he's so expensive now. We have very talented artists like Eko Nugroho, photography artists like Angki Purbandono, installation artists like Indieguerillas, but there are also even younger artists which are starting to go back to a more emotional style, like Erizal who does semi-abstract art with strong brushstrokes. He's the youngest artist featured in my exhibition, and many people still don't know him; he's not even in ArtJog. And then there's Dipo Andi, Gusmen Heriadi, Riduan, many more. In times like this, when the market is down, it's a blessing in disguise. We need these periods because during the boom, you hardly see anything fresh and new. What emerges amidst an environment of uncertainty will astonish you.
LR : Thank you.