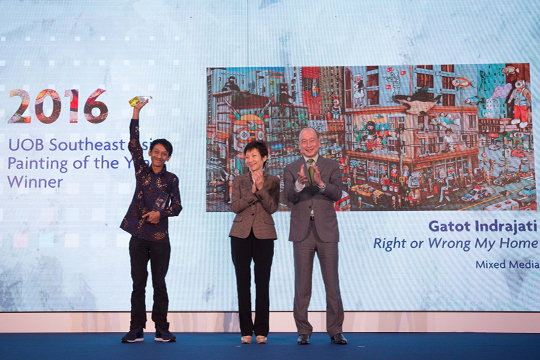 Indonesia Artist Won UOB Southeast Asian Painting of the Year
Published by Sugar & Cream, Wednesday 23 November 2016
Gatot Indrajati's "Right or Wrong is My Home"
Untuk ketiga kalinya, seniman asal Indonesia berhasil memenangkan kompetisi bergengsi UOB Southeast Asian Painting of the Year. Gatot Indrajati sebelumnya telah memenangkan 2016 UOB Indonesia Painting of the Year melalui lukisannya "Right or Wrong My Home", yang kental bernapaskan nuansa patriotisme Indonesia.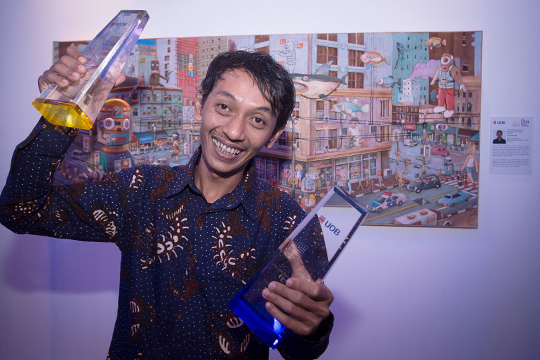 United Overseas Bank (UOB) mengumumkan pemenang kompetisi seni lukis UOB Southeast Asian Painting of the Year, yang berhasil diraih oleh seniman asal Indonesia, Gatot Indrajati. Kemenangan ini membuat Indonesia sebagai negara pertama yang memenangkan kompetisi tersebut sebanyak tiga kali berturut-turut.
Lukisan karya seniman berusia 36 tahun yang berjudul 'Right or Wrong My Home' atau dalam bahasa Indonesia berjudul 'Benar atau Salah tetap Rumah Saya' memukau para dewan juri yang terdiri dari berbagai pakar seni ternama di Asia Tenggara. Para juri memuji inovasi Gatot dalam menggunakan kayu, yang merupakan media seni tradisional di Indonesia, dan melukiskannya untuk menciptakan karya seni kontemporer yang menarik.
"Saya terinspirasi oleh semangat rakyat Indonesia untuk negaranya dan bagaimana sikap mereka melekat menjadi identitas bangsa Indonesia. Saya ingin karya lukis saya menunjukkan rasa semangat patriotisme, dan saya bangga dapat kembali mewakili Indonesia di pentas regional di Asia Tenggara dan memenangkan kompetisi ini", kata Gatot.
Kompetisi UOB Painting of the Year merupakan kegiatan tahunan yang diselenggarakan di empat negara di Asia Tenggara. Dewan juri tingkat regional terdiri dari perwakilan dari masing-masing negara: Bapak Agung Hujatnikajennong, kurator independen dan dosen di Fakultas Seni Rupa dan Desain di Institut Teknologi Bandung di Indonesia; Bapak Choy Chun Wei, seniman kontemporer ternama Malaysia; Ibu Dr. Bridget Tracy Tan, Direktur Institute of Southeast Asian Arts and Art Galleries, Nanyang Academy of Fine Arts di Singapura; dan Bapak Amrit Chusuwan, seniman dan juga Dekan di Faculty of Painting, Sculpture and Graphic Arts, Silpakorn University di Thailand.
Lukisan pemenang dari kompetisi 2016 Painting of the Year akan dipamerkan di UOB Art Gallery, berlokasi di UOB Plaza 1, 80 Raffles Place. Pameran berlangsung dari tanggal 11 November 2016 hingga February 2017. (AL)