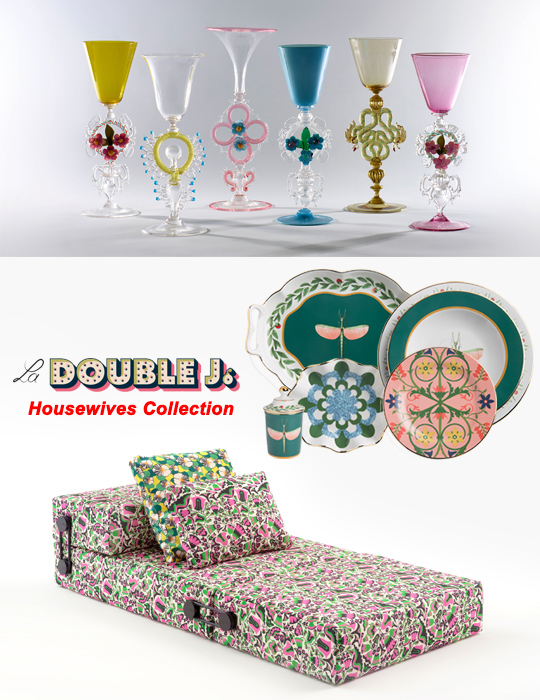 Housewives Collection by La DoubleJ
Published by Sugar & Cream, Friday 27 April 2018
Text by Astrid L, Images courtesy of La Doublej
Celebration of Cultures, Design and Fashion.
Salone del Mobile menjadi ajang La DoubleJ untuk melansir rangkaian produk terbaru yang tergabung dalam Housewives Collection. Berkolaborasi dengan tiga brand historis Italia, La DoubleJ turut tenggelam dalam pesta artistik yang memesona dalam butik fashionnya.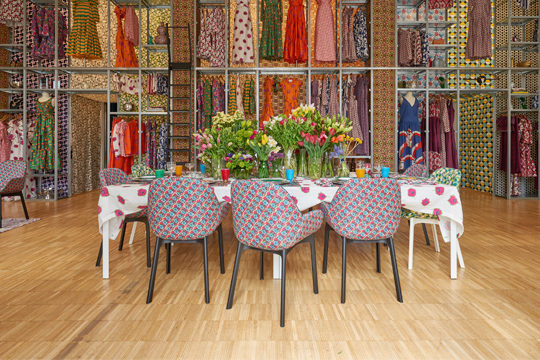 Showroom set
Tahun ini merupakan tahun yang istimewa bagi La DoubleJ, ditandai oleh kolaborasi dengan tiga brand Italia: glassmaker dari Venesia, Salviati; produsen porselen, Ancap; serta ikon desain kontemporer Milan, Kartell.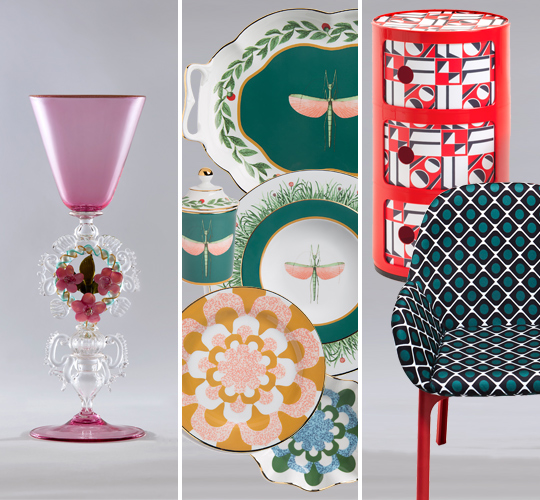 Tipetti, Libellula, Kartell X La DoubleJ

Ancap telah membuat tableware berkualitas tinggi di Verona sejak 1964. Kali ini, La DoubleJ menambahkan tableware dan aksesori rumah dengan desain print yang khas, termasuk piring, espresso cups, mugs dan serving tray. Koleksi "Libellula" ini terinspirasi dari ilustrasi botani klasik tahun 1895, dengan pigmen warna hijau, turquoise dan salmon pink pada porselennya. Dinner set hadir dengan desain bunga poppy, capung serta rumput hijau, melambangkan musim semi yang ceria. Sedangkan piring dessert tampil memukau dengan motif mix and match antara floral dan grafik dalam warna biru dan peach.


Libellula
Perhentian berikutnya adalah pulau Murano di Venesia, tempat Salviati – produsen glassmaking terkenal dunia- menelurkan karya-karyanya. La DoubleJ mereproduksi enam limited edition piala historis dari abad ke-19. Dikenal sebagai tipetti, piala ini dipilih khusus oleh J.J. Martin, Creative Director La DoubleJ, dan dihidupkan kembali melalui proses yang tak lekang oleh waktu. Setiap piala memiliki ketinggian yang berbeda-beda dan dibuat dari kaca otentik Murano. Keenam desain ini adalah The Dragon dengan warna amber, The Sun dalam warna lemon transparan, The Zig Zag dari kristal, The Turquoise yang tidak transparan, The Rose dengan dekorasi bunga mawar, serta The Ringa Pendant dengan border warna pink.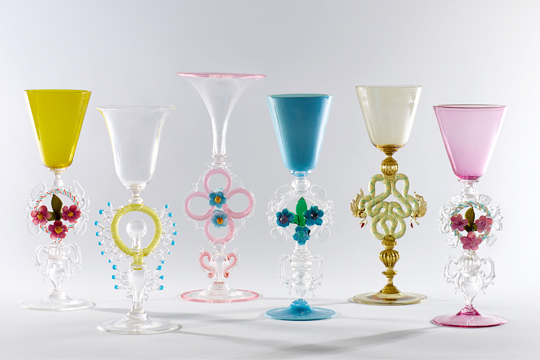 Tipetti
La DoubleJ kembali berkolaborasi dengan Kartell, mereproduksi ulang beberapa koleksi sebelumnya termasuk produk ikonik dengan print vintage dari arsip Mantero's Lake Como. Kolaborasi ini merupakan perkawinan sempurna antara label La DoubleJ yang terkenal dengan motif vintage yang warna warni dengan pesona kontemporer furnitur plastik (polycarbonate) dari Kartell.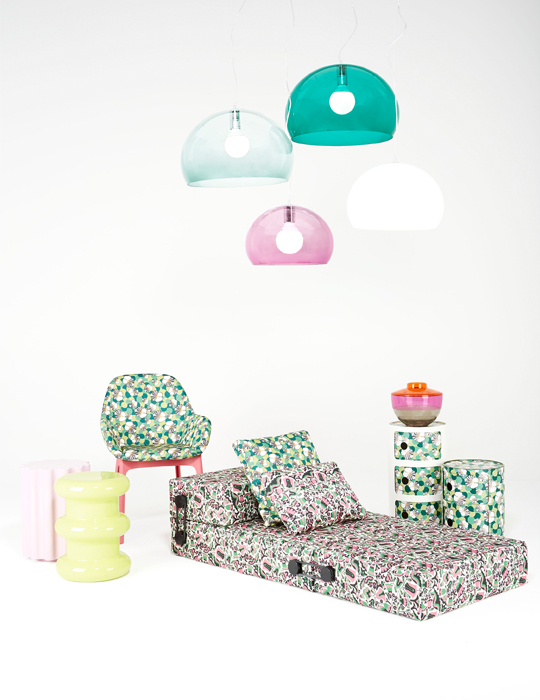 Kartell X La DoubleJ
Old School Sunday Supper
Untuk merayakan peluncuran Housewives collections, La DoubleJ mengadakan Old School Sunday Supper pada tanggal 15 April lalu, yang menjadi pre-Salone del Mobile bash. Bekerja sama dengan nama-nama terkenal di dunia gourmet seperti Gherardo Gaetani dell'Aquila d'Aragona serta Paolo Parisi, La DoubleJ berusaha menyajikan yang terbaik bagi tamu-tamunya, menjadikan acara ini salah satu yang paling ditunggu-tunggu dalam rangkaian Salone del Mobile.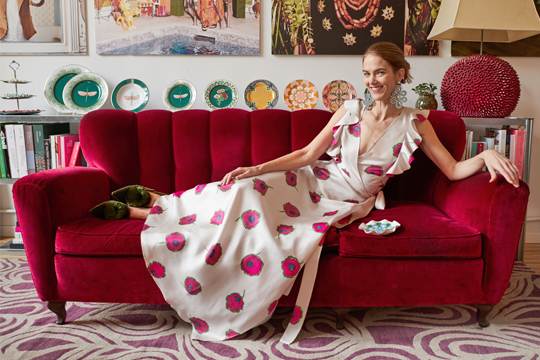 J.J. Martin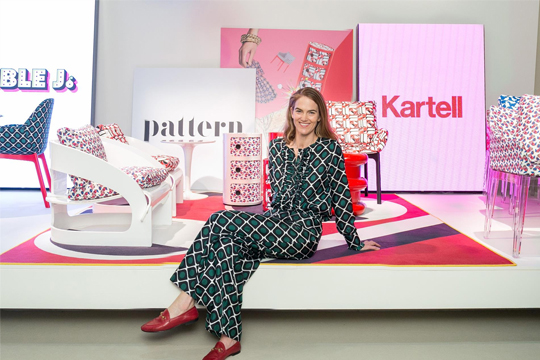 J.J. Martin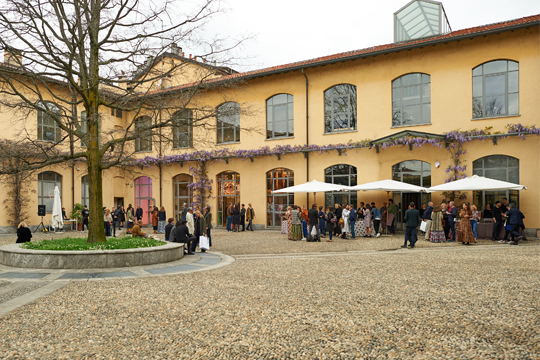 Old School Sunday Supper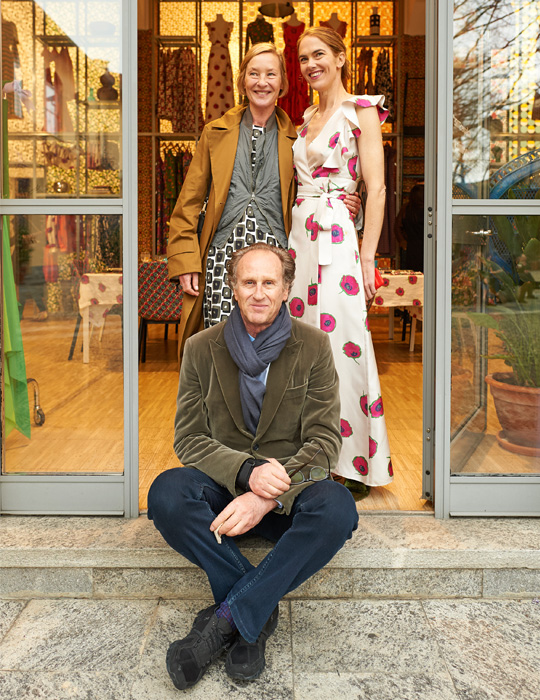 JJ Martin, Matteo Thun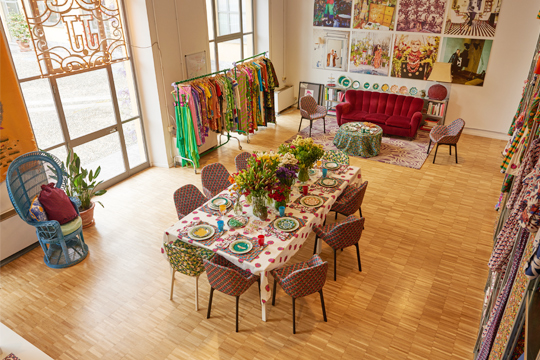 Showroom set