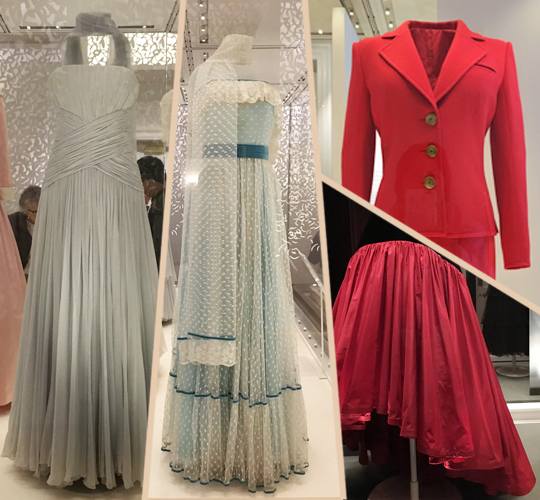 Honored in London: Diana and Balenciaga
Published by Sugar & Cream, Wednesday 11 October 2017
Text by Lynda Ibrahim, Images Courtesy of Lynda and Balenciaga
Diana's Fashion Story and Balenciaga's Shaping Fashion
She was born The Honourable Diana Spencer on 1961 in Norfolk, the youngest daughter of Edward Spencer, Viscount Althorp. When Diana was 14 her father inherited the 8th Earl Spencer title, so her title changed into Lady Diana Spencer. Upon marrying Prince Charles, heir to the British throne, she was granted the highest title among many Charles held and thus became Her Royal Highness Princess of Wales. Whatever formal title she held, she was the world's most recognizable "Diana" since she wedded the Prince of Wales in 1981. Upon her death in 1997 she was arguably the world's most photographed woman, and the infatuation carried on to present time. The British monarchy, perhaps having learned a lesson or two on public relations since, seized up the continued fascination and threw an exhibition this year at Kensington Palace, Diana's former residence, at the 20th anniversary of her untimely demise.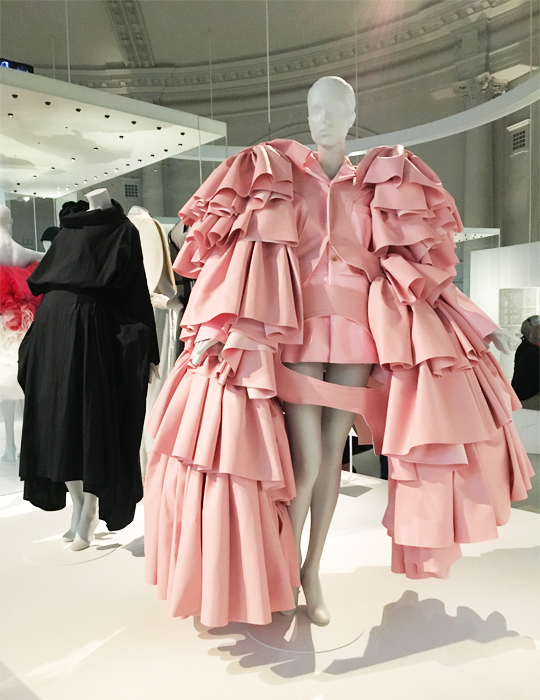 Balenciaga
"Diana: Her Fashion Story" is ensconced on Kensington Palace's 2nd floor with four other exhibitions on other important royal family members, such as the legendary Queen Victoria. The bench on the corridor towards the stairs to the exhibition is decorated with throw pillows embroidered with Diana's profile, as well as her daughter-in-law Kate Middleton's. At the entrance hall guests are greeted by selected portraits of Diana and quotes from public figures throughout the years. There are 25 dresses on display, mostly made-to-measure kind, dating as far back as the teal-colored gown with white pointelle overlay and matching shawl by Regamus the teen debutante Diana wore in Althorp House. It's interesting to observe the wardrobe from her early married years; the dresses often have frills, show a bit of girlish flair, or come in one-dimensional pastels. True, 1980s style might've had something to do with it, but I think it's also because Diana was still finding her fashion footing.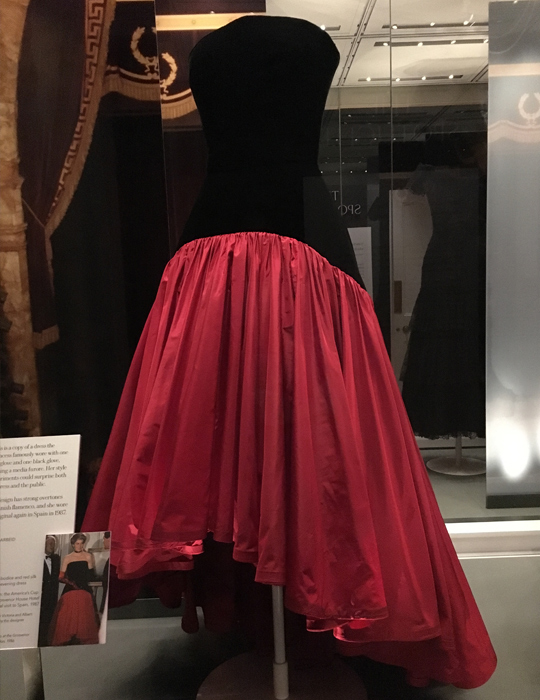 Lady Diana

A good example of this awkward tryout was when Diana wore a hat on top of a flower-festooned hair at her first official Ascot presence (the clothes weren't exhibited but you could catch the image on The Story of Diana documentary premiered earlier this year). The fact that Diana was blessed with a great figure and gorgeous face saved her from the danger of looking dowdy in those early years. As Diana matured so did her fashion. For example, to respect the host on her official visit to Saudi Arabia, Diana's crepe silk gown featured long sleeves and resplendent appliques of Saudi's national bird falcon. In an ode to Japan's flag, Diana arrived for her visit in red-and-white polkadots. Her increasing fashion confidence was also apparent in her favoring unadorned 2-piece suits in her later years. Complemented with simple jewelries and pumps the elegant suits didn't restrain mobility or divert attention from the important issue at hand, like the cream suit and spectator pumps she donned to meet Mother Teresa, yet they clearly were more fashion-conscious than the 2-piece ensemble she'd worn for her 1989 visit to Jakarta. A pale pink suit and the red one she had on for the AIDS charity event could be found in the exhibition.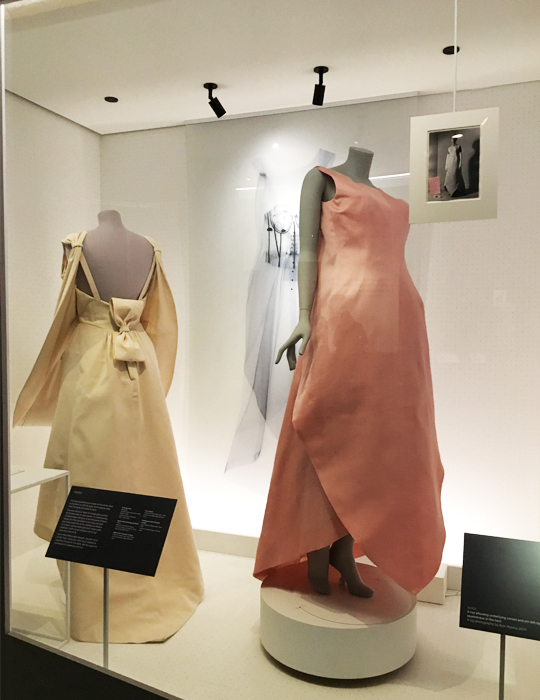 Balenciaga
For those eager to see fancy frocks, there are plenty to salivate upon. The Victor Edelstein's ink blue ballgown Diana wore dancing with John Travolta in the White House is there, the Murray Arbeid's flamenco-inspired evening dress is displayed along with the glass-beaded cocktail sheath designed by Catherine Walker for the charity dress auction Diana did with Christie's in New York just months before her tragic car crash. In fact, a handful of dresses in the exhibition were on loan from museums that might've obtained the dresses from that famous auction. Arrived wearing Diana's Memorial Rose tartan scarf that I got in Scotland six years ago, I enjoyed the exhibition including the framed designer sketches with Diana's handwritten notes—yet I left feeling I would've loved to see more of the iconic dresses. I was looking forward to view the purple-red ensemble Diana wore to sit forlornly on the Taj Mahal bench, the sequined lavender gown for the state dinner in Korea right before their separation, or the sexy little black dress for a lavish dinner party after the separation. I suppose the organizer consciously avoided sensitive moments in Diana's life.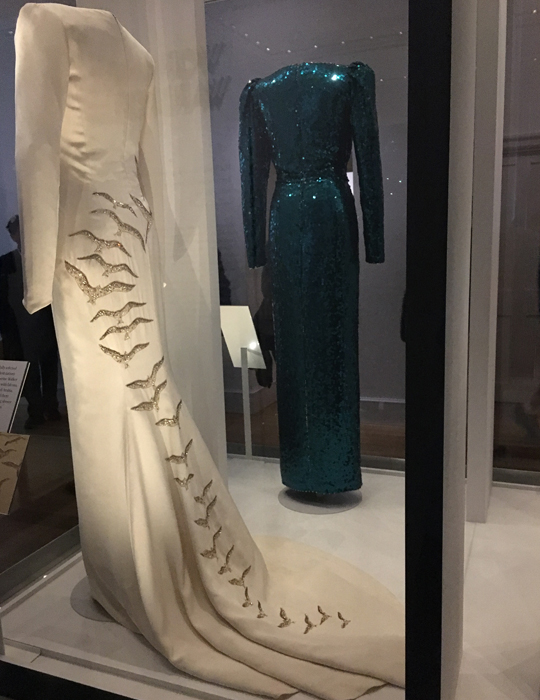 Lady Diana

All in all, it is a good exhibition for Diana's admirers, fashion diehards, or both. After the exhibition one can also visit Diana's Memorial Fountain and Diana's Memorial Children Playground, or stroll along Diana's Memorial Walk, all of which are conveniently located in the adjacent Hyde Park. Another fashion exhibition to attend in London these days is "Balenciaga: Shaping Fashion" at the Textile-Fashion wing of Victoria and Albert Museum. The first ever exhibition of Balenciaga's works in the UK, held to mark the centenary of his first fashion house in San Sebastian and the 80th anniversary of his first Paris-based fashion house. Displayed grandly on two levels, the exhibition used classic displays, multimedia presentations, and direct engagements through on-site sketching and origami. There were mixed reviews about the exhibition, yet I personally enjoyed it. It couldn't have been easy to chronicle the robust journey of a designer as accomplished as Cristobal Balenciaga, the couture master whom other luminaries– Hubert de Givenchy, Christian Dior, Andre Courreges, to name a few–  accredited as mentor or inspiration.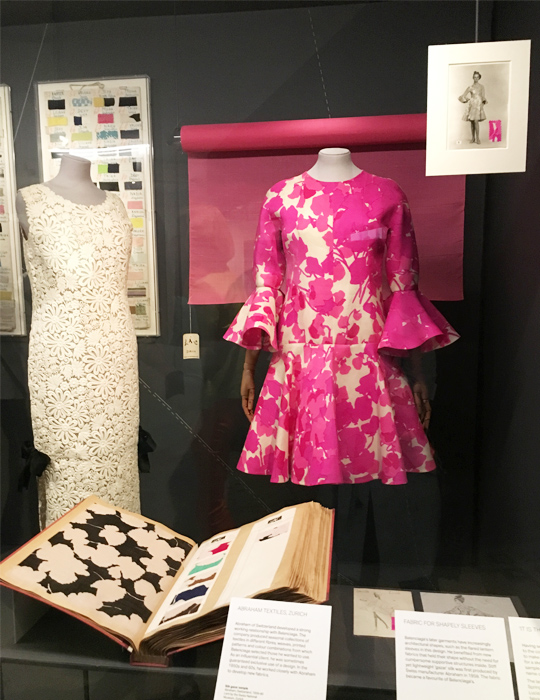 Balenciaga
True to the meaning of haute couture, the Spanish Basque designer dedicated his designs to the mastery of pattern and precision of execution. His designs were bold and grand, yet not to turn the wearers into mere spectacles. Class and grace emanates from each exhibited design; imposing and chic, instead of a passing trend. The wearers wouldn't be just making a grand entrance to the party; they'd be the ones holding court during the entire party. His iron discipline for pattern-making was legendary, regaled in videotaped testimonials and showed brilliantly by his famous one-seam jacket displayed at the exhibition's interactive section. Pattern for the jacket is laid out in a piece of paper, and visitors can follow the instruction to craft their own one-seam jacket. While busily crafting mine I marveled at the genius thinking that went behind such pattern.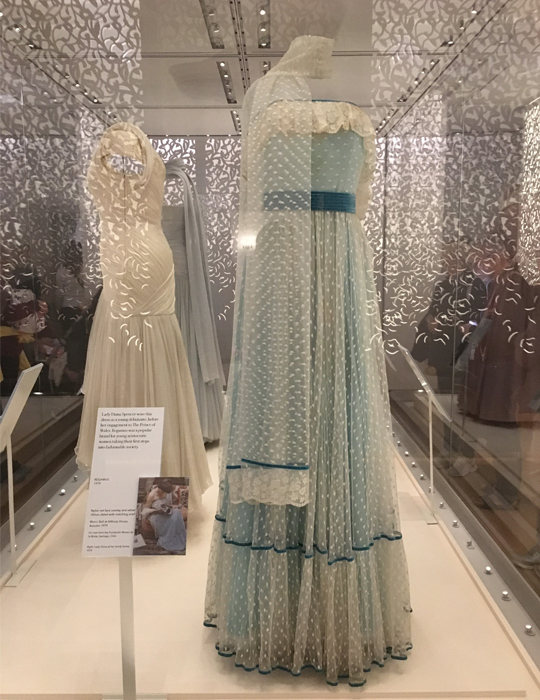 Lady Diana
His attunement towards fabrics was almost stoic– Balenciaga famously believed that the fabric should decide what design to make with, pushing him to be explorative and open to new technology. In his later years his designs became more architectural, pretty much an art, nevertheless without resorted to becoming decorative or suffering the utmost fitness to the wearer. The discipline and focus made his designs the real couture, at the time when haute couture was still the backbone of fashion business.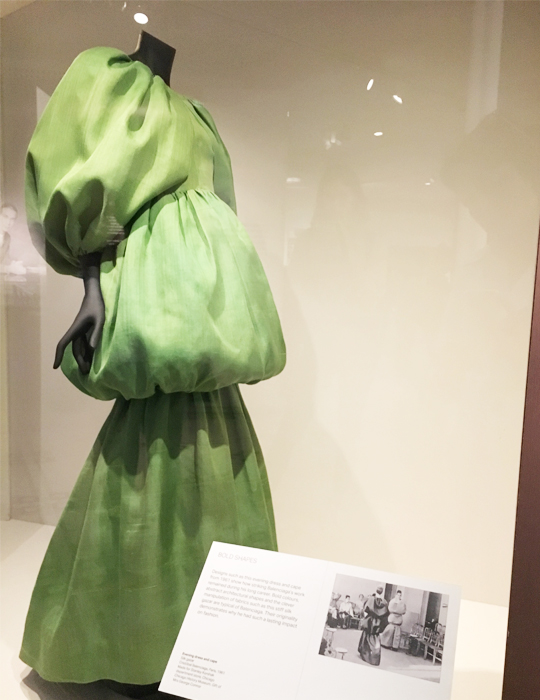 Balenciaga
Many movie stars and aristocratic women, such as Marquesa de Llanzol whose daughter was interviewed for one of the multimedia presentations, became loyal clients, some of whom refused to wear other designer's clothes since falling in love with their first Balenciaga. A socialite client famously requested to be buried in a Balenciaga dress. When Parisian couture was badly hit after the World War II Balenciaga continued to flourish thanks to his growing American clientele, such as Elizabeth Parke Firestone, wife of the heir of Firestone tire business.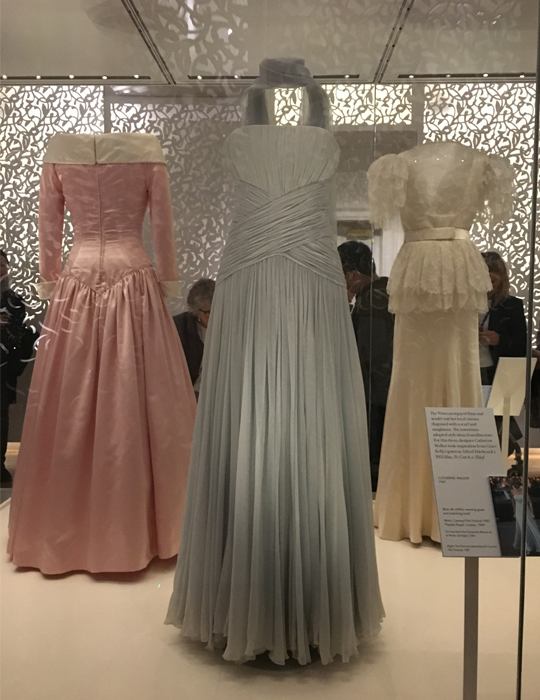 Lady Diana
Balenciaga's business sensibility was shown by the establishment of Eisa, his boutique chain in his homeland Spain. Staffed by his trusted employees and extended family members, Eisa took inspirations from Balenciaga's biannual Paris shows for their more affordable Spain-based productions. Styles were made more conservatively in accordance to the General Franco ruling era, and fabrics were often sourced locally in response to war rationing.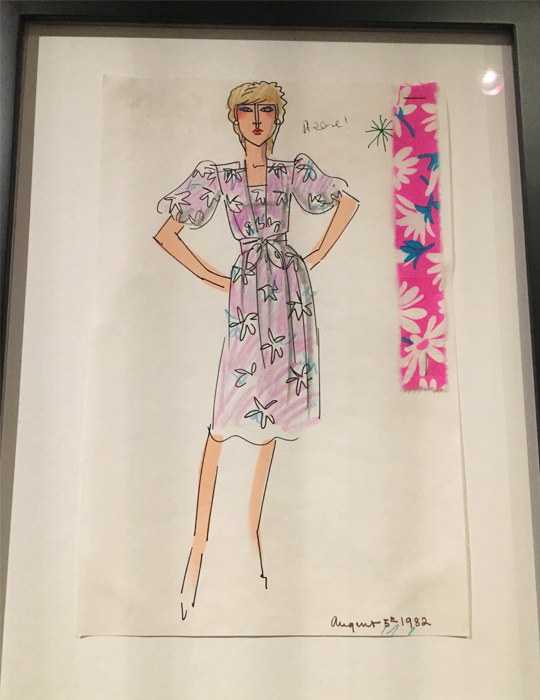 Lady Diana
Other business model, a common practice at the time, was to license some of his designs to high-end department stores in Europe and the US to copy for a certain number. Some of his most loyal and rich clients used all of these sales channels so they'd always have Balenciaga wardrobe ready even when they went on holidays.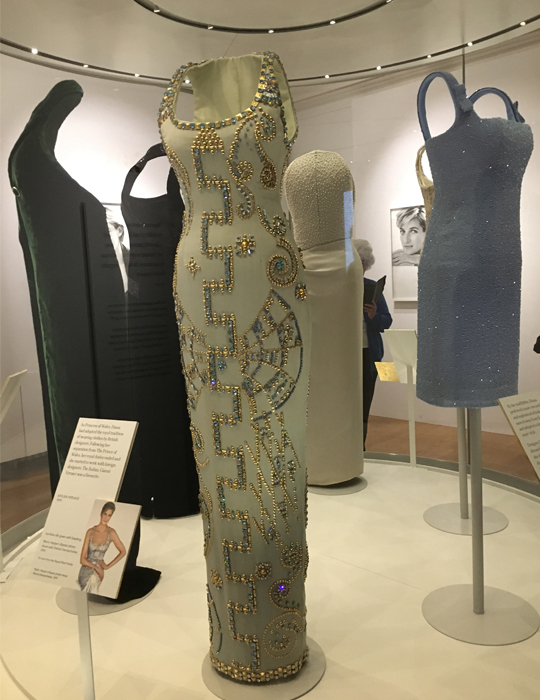 Lady Diana
Couture may be a sunset business, even in Paris, yet Balenciaga's legacy lives on, paraded proudly on the 2nd floor by designs created decades afterwards by major designers who cited him as inspiration. There are works by Courreges, who'd worked in pattern department for Balenciaga, next to Mary Quant's—two designers who were attributed to the invention of miniskirts. There is one-piece-cloth dress by Issey Miyake as well as Yohji Yamamoto's mantra of listening to the fabric; both were nods to Balenciaga's methods. Givenchy's ethereal couture is featured alongside Rei Kawakubo's architectural shapes; both bearing telltales of Balenciaga's magic.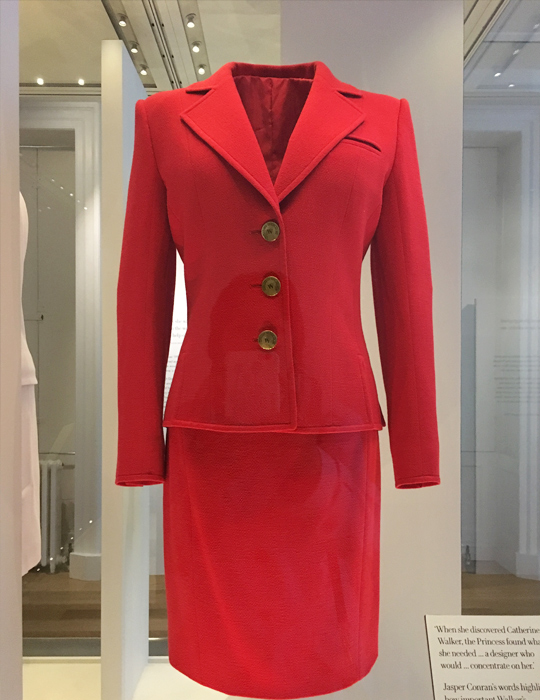 Lady Diana
London's fashion scene has long been known for its high-street quirkiness, yet this year, through these two exhibitions, London showed that it can, too, play a gracious host to honor designs of grandeur and legacy of haute couture.