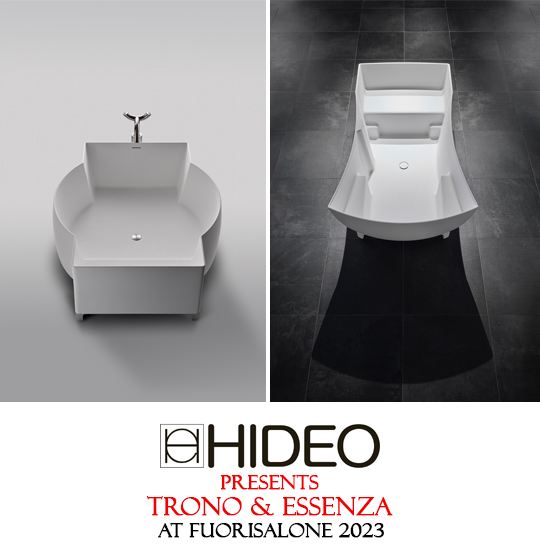 presented by

HIDEO PRESENTS TRONO & ESSENZA AT FUORISALONE 2023
Published by Sugar & Cream, Thursday 20 April 2023
Images courtesy of Hideo
TR-1620/Trono & ES-1600/Essenza by Hideo Shimizu
Two new freestanding bathtubs (Trono & Essenza) designed by Hideo Shimizu will be the stars of Fuorisalone 2023. Two high-end products, conceived as luxury furniture, ideal to indulge in a long and pleasant moment of relaxation.


Trono
The model TR-1620 / Trono (162x137xh59 cm) alternates two curved walls with two tilted square walls for one upright seating position and another fully extended position, for one or two people at a time. The comfort and free use is further complemented by complete safety while entering and exiting the tub.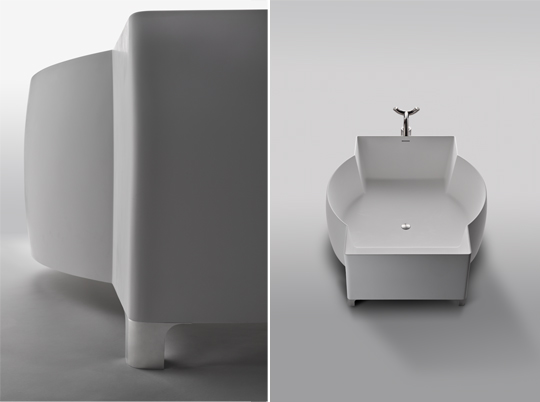 Trono
An absolute novelty is the model ES-1600 / Essenza (160x95xh62 cm), which, with its dynamic and enveloping shape, represents the essence of comfort granted by the step, armrests and footrests that perfectly support the body.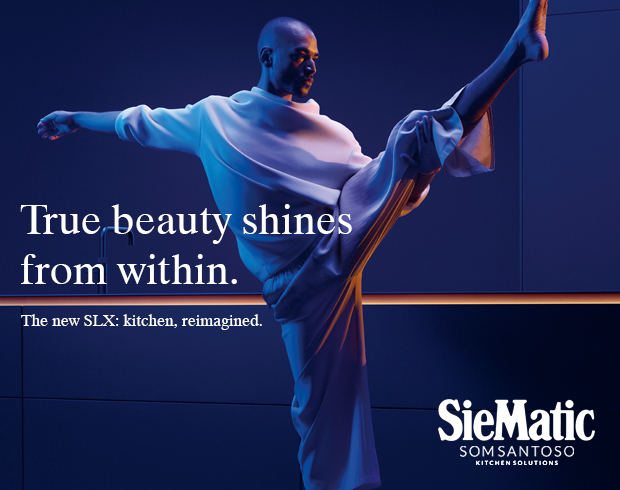 Presented by Som Santoso
Driven by a search for beauty, designer and founder of the brand, Hideo Shimizu, asserted himself on the global market with a collection of freestanding bathtubs connoted by curvy, soft and fluid lines, each conceived as a piece of luxury furniture, a one-of-a-kind sculpture designed to yield maximum relaxation and comfort during use.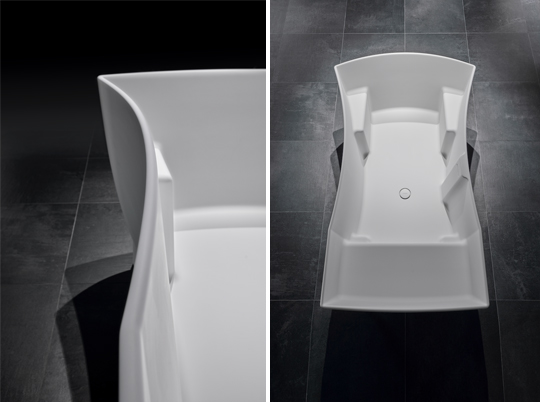 Essenza
As the previous models, the new bathtubs made of CRISTALPLANT® BIOBASED® Active present a matt white texture and are equipped with every comfort to grant users an experience of immersion into the warm water that goes beyond ablution and ascends to a private moment of relaxation where you can indulge in reading or calm conversation with the person of your choice.