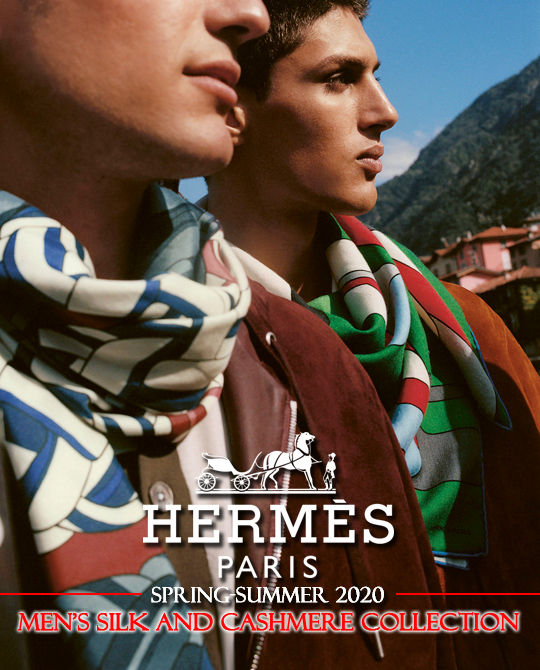 presented by

Hermès Spring-Summer 2020 Men's Silk and Cashmere Collection
Published by Sugar & Cream, Thursday 11 June 2020
Text by S&C, images courtesy of Hermès
The Prestigious Complements for Men
Apakah pria boleh mengenakan shawl? Dunia fashion yang kian 'genderless' justru menguatkan bahwa shawl dari masa ke masa adalah aksesori komplemen yang tidak lengkang waktu bagi pria. Seperti yang turut diperlihatkan oleh Hermès dengan koleksi terbarunya khusus berbahan silk dan cashmere. Selain motif terbaru, warna-warna vibran sebagai komplimen yang pas untuk musim ini, ada sebuah kejutan: double face.
Berikut jajaran koleksi sutra dan cashmere terbaru dari Hermès yang merefleksikan semangat dalam merayakan musim semi dan panas 2020 untuk pria.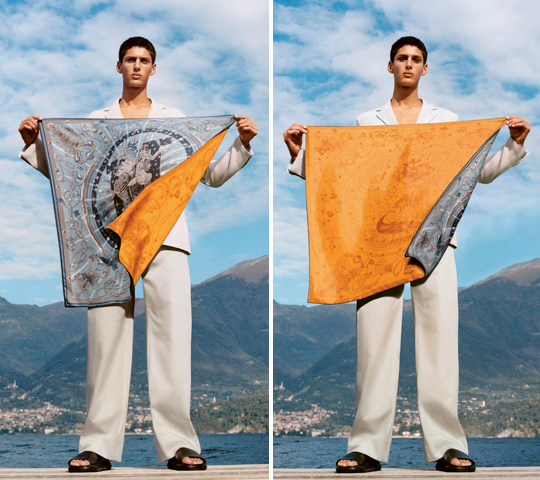 C'est La Fête Double Face Scarf 90 in Silk Twill
Sejarah baru bagi Hermès menghadirkan sebuah syal dengan wajah ganda (dua desain berbeda). Syal C'est la fête menampilkan satu sisi dengan monokrom oranye dan sisi lainnya menampilkan warna. Syal ini dirancang oleh desainer Daiske Nomura.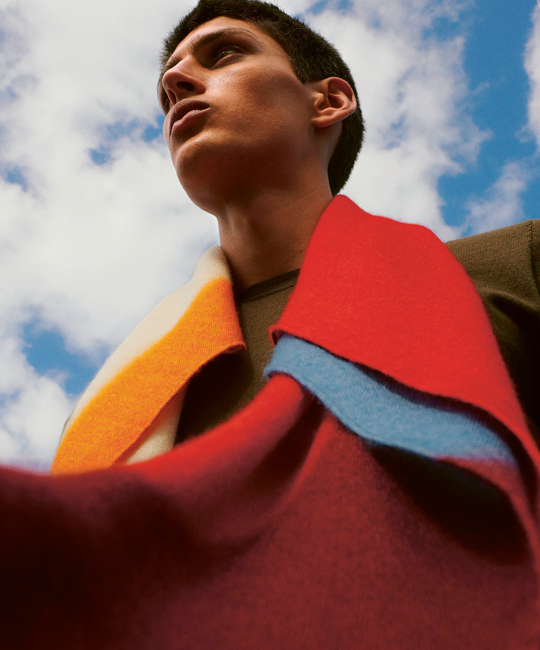 Scarf 100 in Cashmere
Keunikan dari kasmir ini adalah perwarnaannya dilakukan di Nepal oleh para pengrajin lokal. Setiap tepi syal dicelupkan kedalam bak warna yang berbeda. Alhasil, setiap syal adalah one-of-a-kind atau unik. Syal ini dikomplimen dengan printed tanda tangan.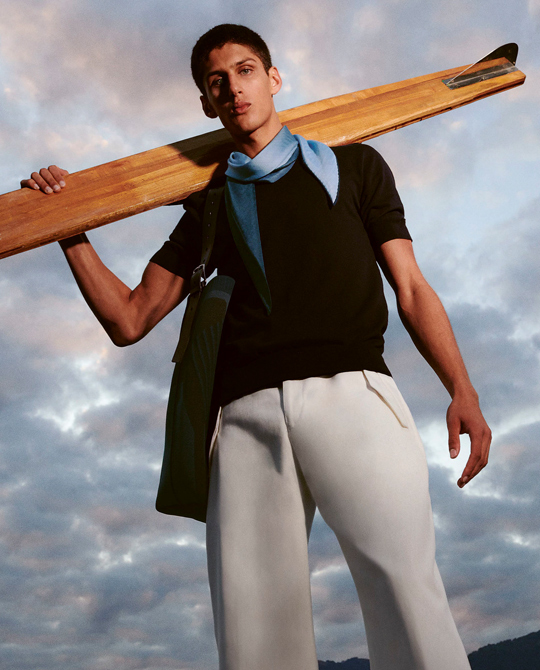 Slim Losange in Cashmere And Silk
Ringan dan berbentuk jajaran genjang yang ramping, hadir dengan ukuran terbaru. Bentuknya yang partikular bisa dikomplimen sebagai penutup leher dengan ujung dibiarkan tergantung bebas atau disimpulkan.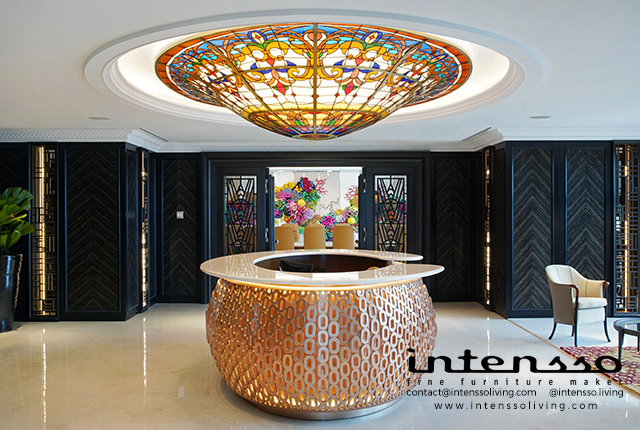 Presentted by Intensso Living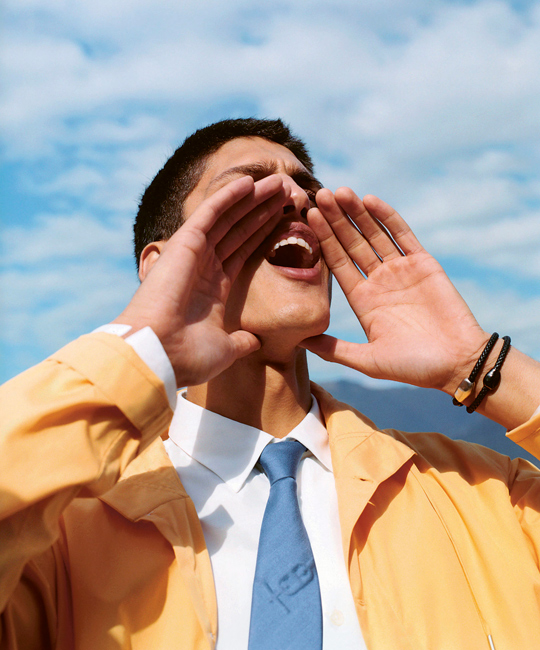 7 Cm Chevron Tie in Embossed Silk
Sebuah dasi  sutra sederhana yang di komplimen dengan motif timbul rantai jangkar dengan teknik sulam tradisional.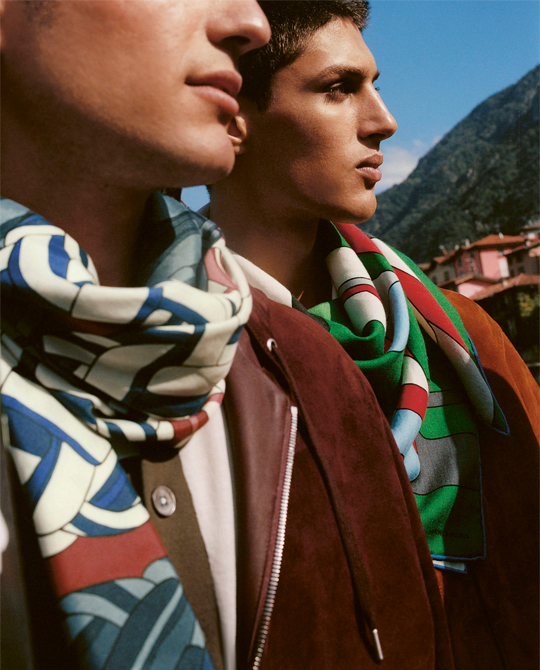 Hermès Football Club Scarf 100 in Cashmere And Silk
Rancangan grafis Anne-Margot Ramstein menampilkan eleganitas grafik kaki pemain sepak bola.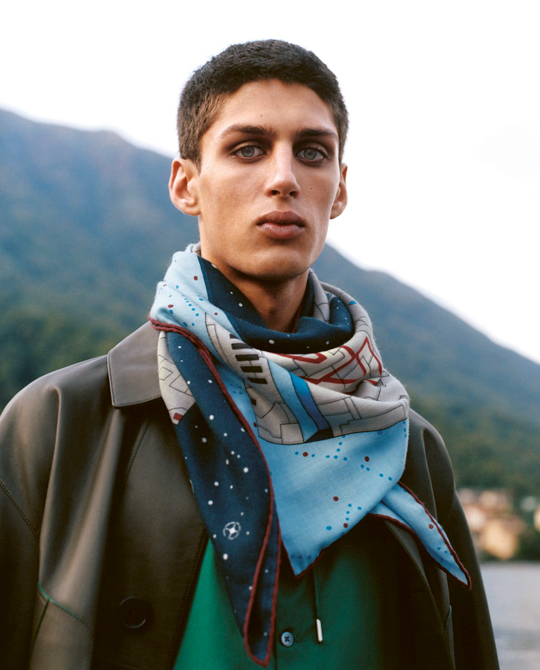 Hermès Odyssey Scarf 100 in Cashmere And Silk
Desainer Daiske Nomura menciptakan pesawat ruang angkasa berbentuk seperti H yang terbang melewati planet Merkurius, nama lain Hermès dalam mitologi.