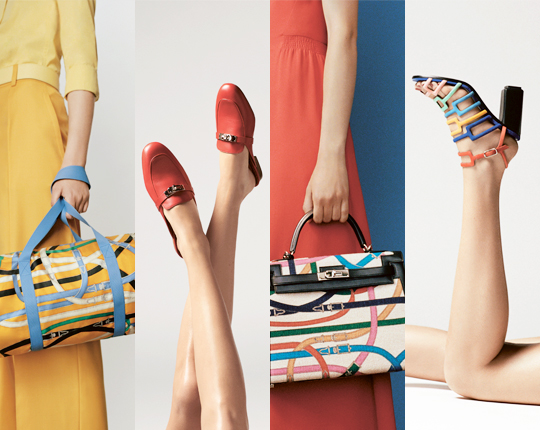 Hermès Shoes and Bags for Spring/Summer 2017
Published by Sugar & Cream, Thursday 09 March 2017
The Cheerfulness of Spring/Summer 2017
Hermès kembali memanjakan pencinta fashion, kali ini melalui koleksi sepatu dan tas untuk musim semi dan panas 2017.
Untuk keterangan lebih lanjut mengenai Hermès Shoes and Bags for Spring/Summer 2017 bisa menghubungi Hermès Indonesia melalui Masari Group.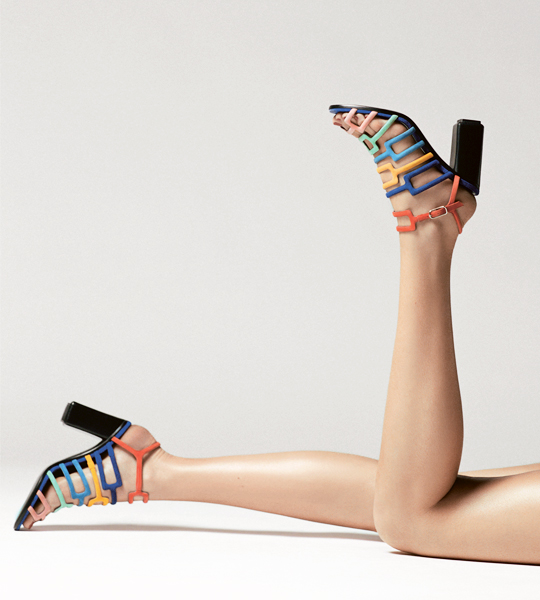 Sandal in multicoloured suede goatskin
Keceriaan musim semi dan musim panas yang hangat terasa lewat koleksi tas berbentuk box yang ukurannya cocok digunakan untuk kerja di siang hari maupun pergi ke acara semi formal di malam hari. Dilengkapi dengan rantai metal, tas ini semakin mudah untuk dipakai saat traveling. Koleksi ini tersedia dalam bahan kulit biasa maupun kulit eksotik, dengan paduan warna unik seperti copper, poppy-orange dan peacock blue pada seri Octagone, atau print Cavalcadour pada Kelly Sellier. Desain yang minimalis, modern namun timeless ini menjadi daya tarik utama koleksi tas Hermès untuk Spring/Summer 2017.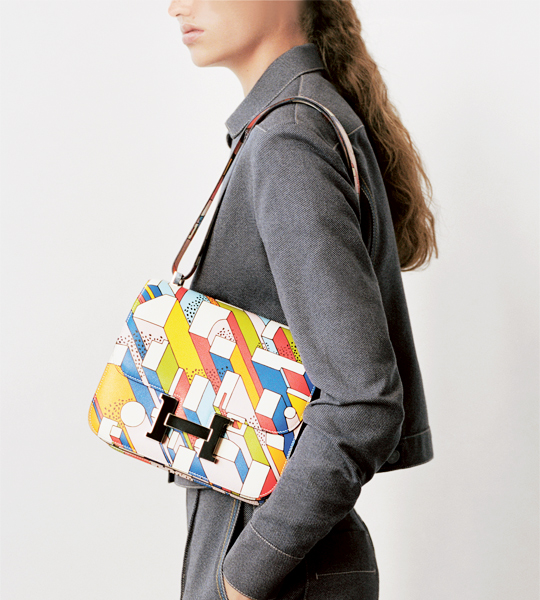 Constance bag in white Swift calfskin with On a Summer Day print
Selain itu, Verrou bag juga ditampilkan kembali dengan tambahan straps, brass hardware serta bahan calfskin. Sedangkan yang menjadi highlight dari koleksi kali ini adalah tas miniatur dengan rantai, baik untuk dibawa sendiri maupun dikaitkan pada tas favorit Anda yang berukuran lebih besar. Pouches mungil dan dompet dengan tali rantai bahkan bisa dikalungkan di leher Anda sebagai aksesori. Simpel, mudah dibawa-bawa dan fleksibel untuk acara hangout malam hari.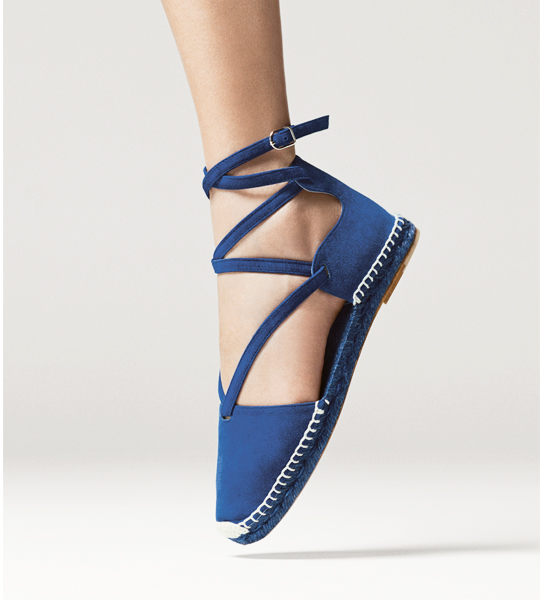 Espadrille in sapphire-blue suede goatskin
Nuansa warna-warni juga tampak dari koleksi sepatu Hermès, yang didominasi oleh sandal dengan aksen panel dari bahan scarf, serta sneakers rajutan yang bergaya santai. Chunky block sandals dan classic riding boots yang sudah di-revamp, turut meramaikan koleksi musim semi dan panas ini. (AL)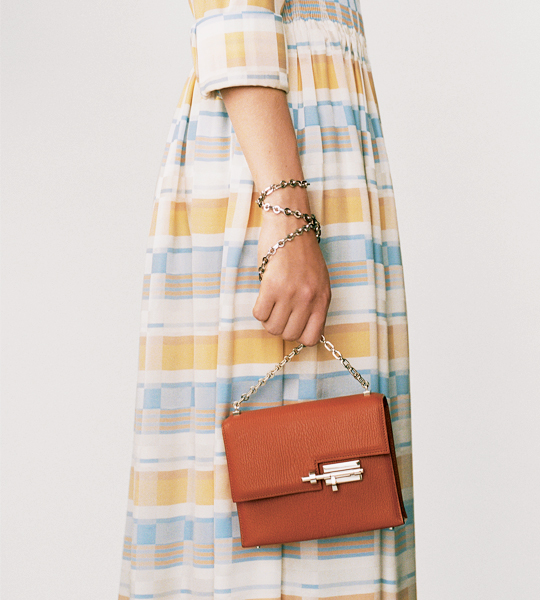 Verrou Chaine mini bag in copper Mysore goatskin


Sandal in cotton canvas with Iris print and sorbet-pink calfskin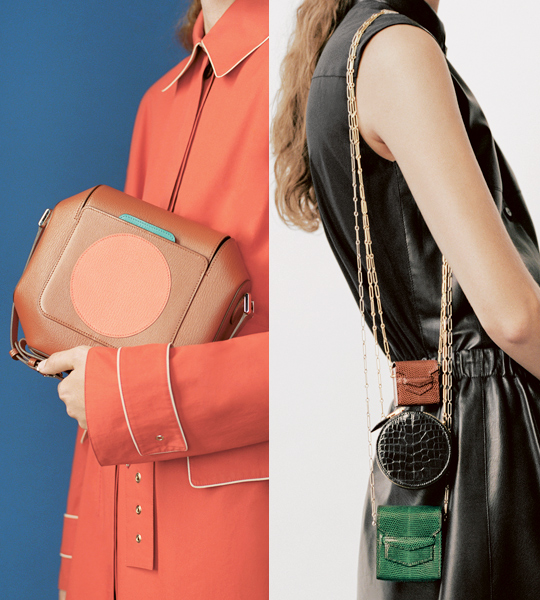 Ocktagone bag in copper, poppy-orange, peacock-blue Mysore goatskin, strap in copper Mysore goatskin & Precious 46 mm micro-bag in Etruscan polished lizard, chain in yellow gold, Precious 83 mm micro-bag in navy-blue polished crocodile, chain in yellow gold, Precious 70 mm micro-bag in mid-green polished lizard, chain in white gold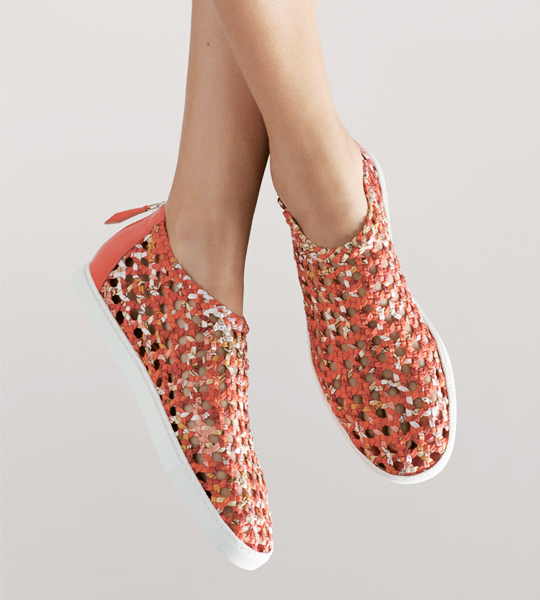 Sneaker in woven silk with poppy-red Cavalcadour print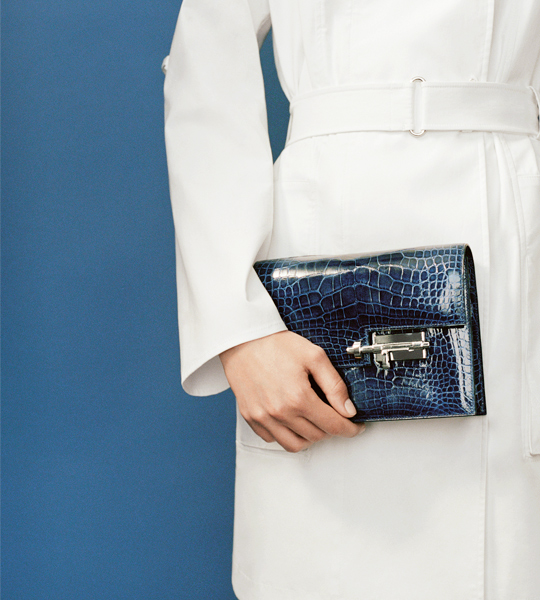 Verrou clutch in sapphire-blue polished crocodile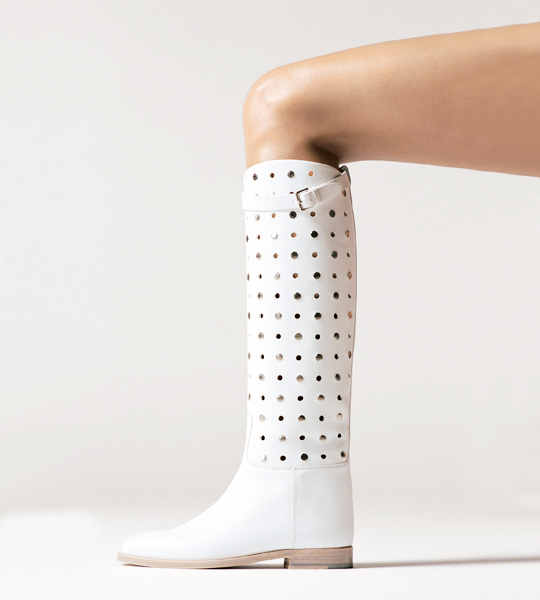 Boot in perforated white calfskin and saddle nails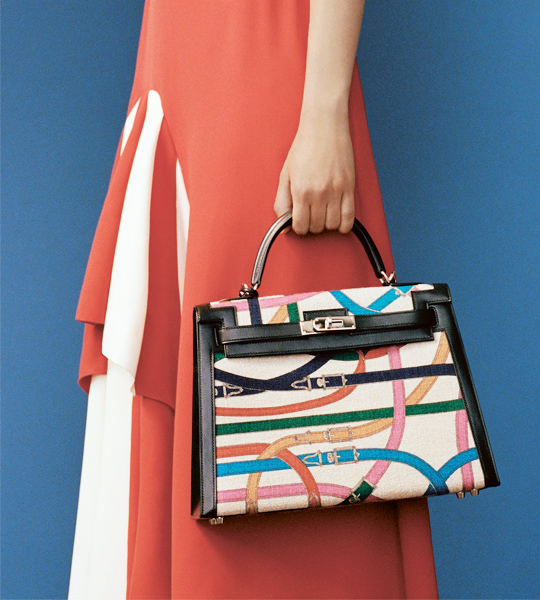 Kelly Sellier bag in camp canvas with Cavalcadour print and black Evercalf calfskin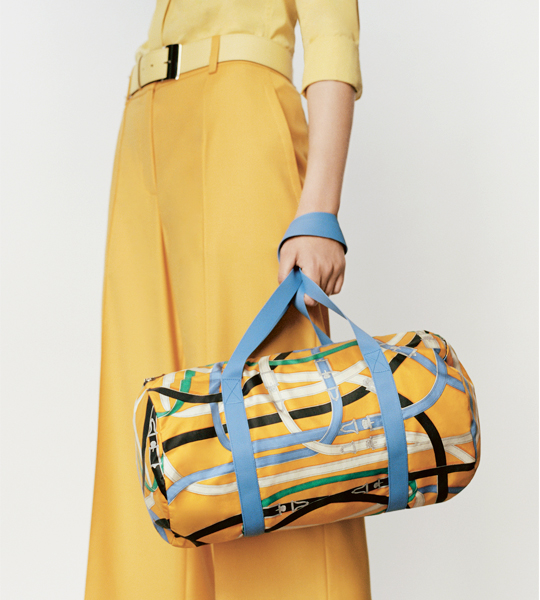 Small Airsilk duffle bag in Tech-silk with golden-yellow Cavalcadour print, paradise-blue strap