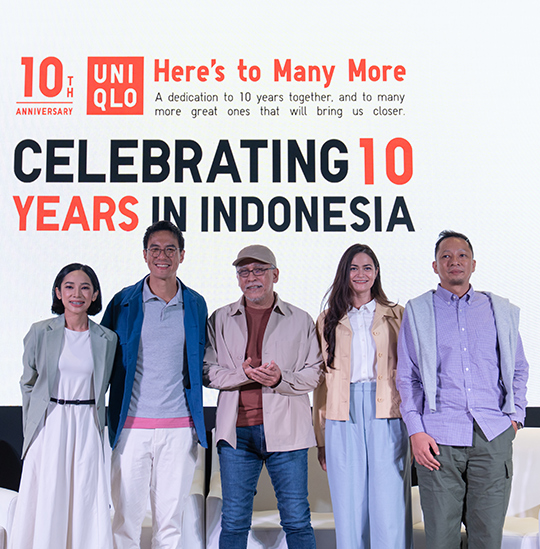 presented by

'HERE'S TO MANY MORE', SELEBRASI 10 TAHUN UNIQLO INDONESIA
Published by Sugar & Cream, Friday 09 June 2023
Images Courtesy of Uniqlo Indonesia
Celebrating 10 Years in Indonesia
Sudah 10 tahun Uniqlo menemani masyarakat Indonesia sejak pertama kali hadir di Lotte Shopping Avenue, Ciputra Mall World 1 Jakarta, tahun 2013 lalu. Selebrasi yang mengusung tema "Here's to Many More" ini menghadirkan beragam program dan koleksi baru.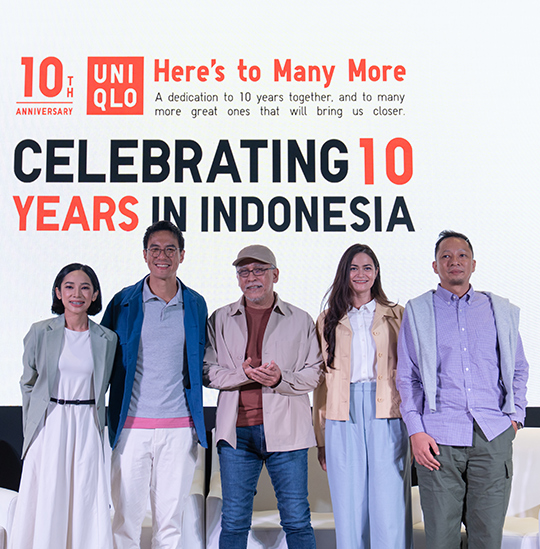 Lisqia Lalantika-Marketing Manager UNIQLO Indonesia, Daniel Mananta, Iwan Fals, Sabai Dieter, Ringgo Agus Rahman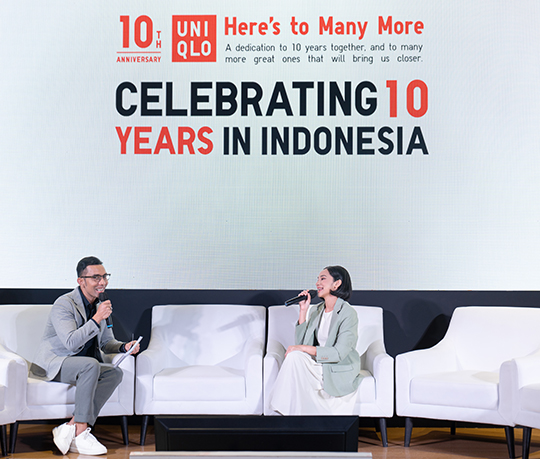 Lisqia Lalantika, Marketing Manager UNIQLO Indonesia dalam acara konferensi pers UNIQLO 10th Anniversary _ Here's To Many More
Di momen 10 tahun ini, Uniqlo menghadirkan koleksi UT edisi terbatas yang menampilkan Mickey Mouse dengan pakaian tradisional Bali dan Madura. Ada juga UTme! Sebagai layanan kustomisasi t-shirt dan totebag untuk para pelanggan membuat desain sesuai keinginan masing-masing melalui UTme! Corner di gerai Uniqlo Indonesia terpilih. Melalui UTMe!, Uniqlo menyediakan desain terbatas yang berkolaborasi dengan Gojek, Indomie, dan Tolak Angin. Selain itu, hadir special offers untuk berbagai koleksi LifeWear dan special tote bag yang bisa didapatkan selama periode seberasi hingga 8 Juni 2023.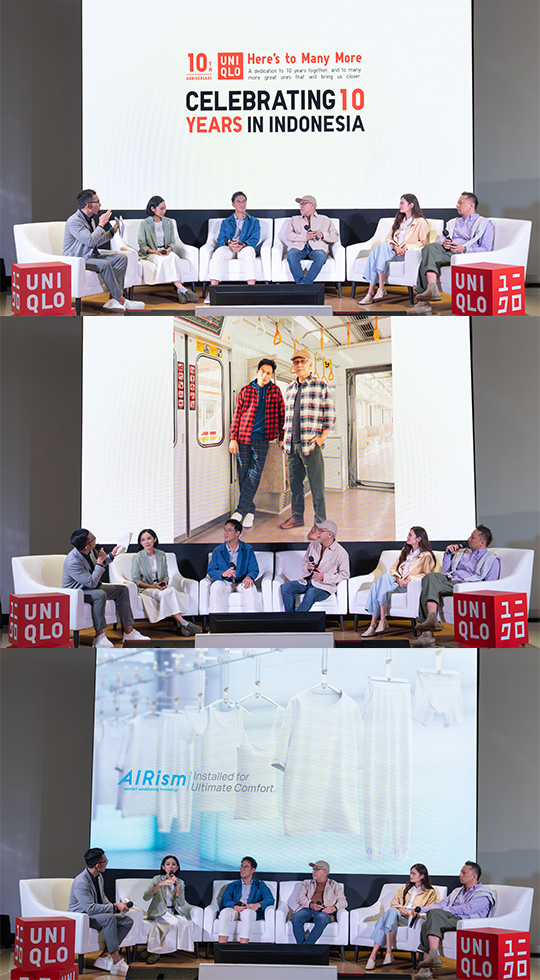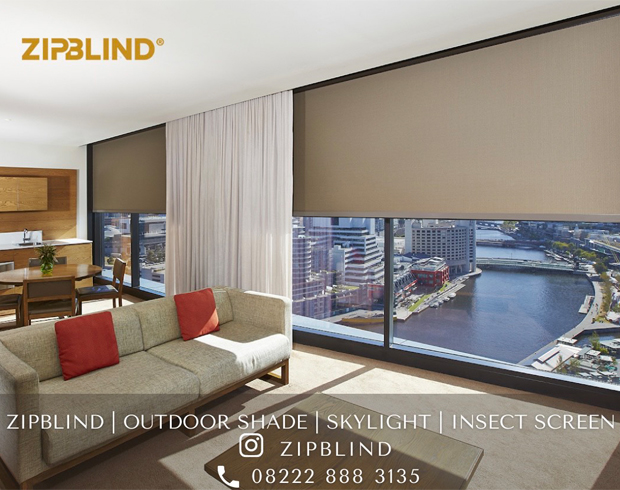 Presented by Zipblind
Selama 10 tahun Uniqlo hadir di Indonesia dengan filosofi LifeWear yang diciptakan sebagai misi untuk membuat hidup menjadi lebih nyaman dengan pakaian berkualitas namun dengan harga terjangkau, dan memenuhi definisi pakaian baik dari sudut pandang lingkungan. Uniqlo juga beradaptasi mengikuti perkembangan teknologi dan berinovasi dengan menyediakan pakaian yang dapat menunjang aktivitas masyarakat sepanjang hari dengan kenyamanan terbaik, diantaranya AIRism dan Heattech.


Koleksi dengan teknologi UV Protection


UT Special Edition _ UT Mickey Go Local
Sudah terdapat 62 gerai Uniqlo di seluruh Indonesia serta dua gerai terbaru di Mall Ciputra Tangerang dan One District at Puri yang mengusung konsep terbaru. "Sejalan dengan pesan yang ingin kami sampaikan yakni Here's To Many More, perjalanan UNIQLO tentunya tidak akan hanya sampai di sini saja. Kami akan terus berkomitmen untuk lebih mengakomodir kebutuhan masyarakat dari sisi teknologi, koleksi yang lebih lengkap, bahan yang lebih berkualitas dan lebih nyaman, akses yang lebih banyak dan mudah bagi semua orang untuk bisa menikmati koleksi LifeWear kami serta kualitas hidup yang lebih baik bagi semua orang. Selamat menikmati persembahan dari kami di momen 10 tahun ini sebagai apresiasi kami untuk Anda semua," ujar Lisqia Lalantika, Marketing Manager UNIQLO Indonesia. (AP)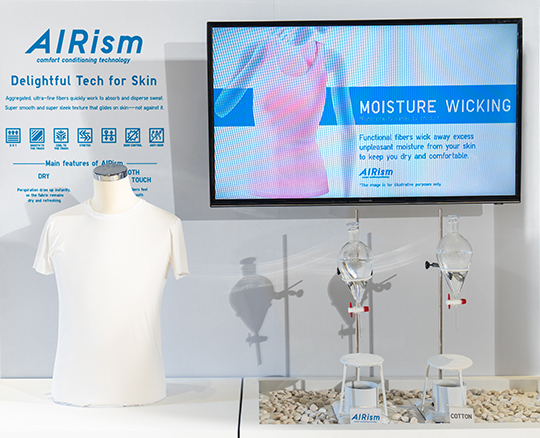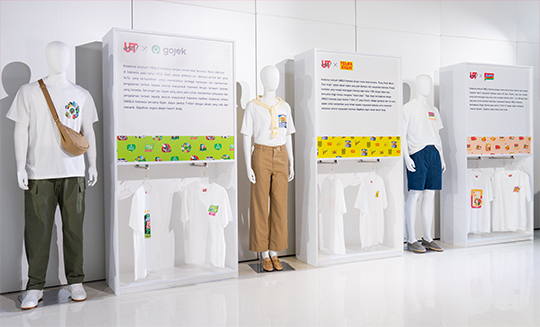 UTme! Collaboration dengan Gojek, Tolak Angin dan Indomie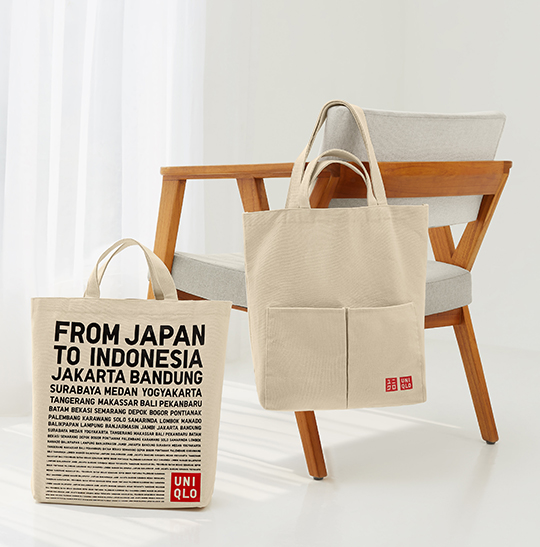 Special Tote Bag 10th Anniversary