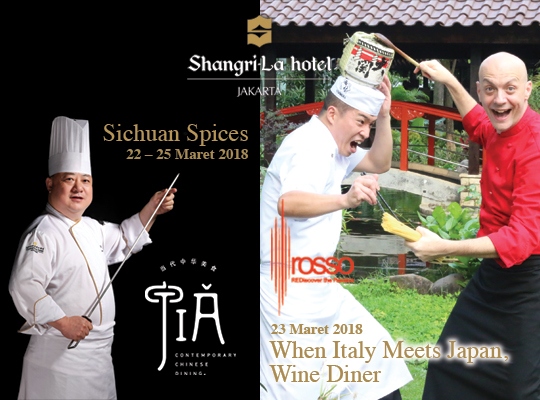 Shangri-La Hotel Jakarta – New Promotions at JIA & Rosso
Published by Sugar & Cream, Friday 09 March 2018
Text by Auliya Putri, Images Courtesy of Shangri-La Jakarta
A Way To Enjoy The End of This Season
Selalu ada cara menarik untuk menikmati pergantian musim. Seperti jalan-jalan menyelusuri kota atau sekedar menyantap hidangan istimewa dari sebuah restoran.
Ada Shangri-La Hotel Jakarta bersama kedua restorannya menawarkan promo khusus untuk Anda. Dimulai JIA Restaurant, selama empat hari penuh dari 22 – 25 Maret 2018 memanjakan Anda para pecinta masakan khas Cina. Dipersiapkan langsung oleh juru masak Chef Rick Du, Anda akan menikmati kreasi kuliner Sichuan yang kaya rasa dan aroma.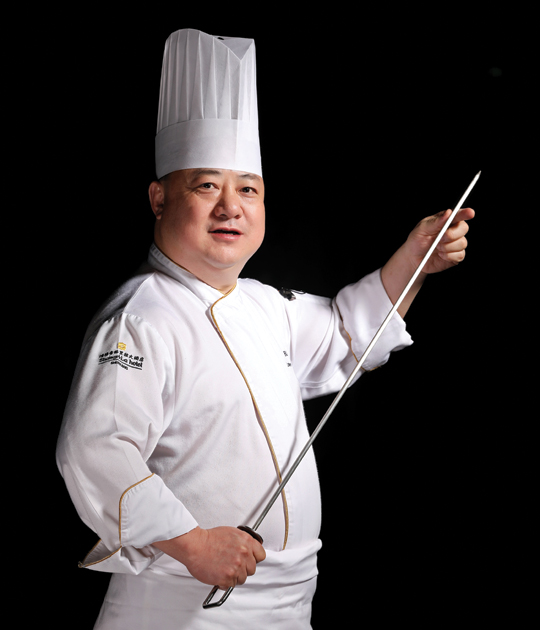 Chef Rick Du
Ragam menu yang disajikan pun sangat beragam. Ada Sichuan Sesame Spare Ribs with Sweet and Sour Sauce, Sichuan Pepper Beef Tendon, Abalone Mushroom in Fragrant Spicy Roast Sauce, Sichuan Stewed Beef Brisket with Spicy Dumpling dan Chilled Spring Water Okra. Lalu dari bagian hidangan laut, Anda bisa mencicipi menu Sichuan Hot and Sour Soup with Fish Maw, Sichuan Style Grouper Fish Soup, Sichuan Braised Shrimp Balls with Chilli and Vegetables dan Baked Cod Fish with Sichuan Pepper and Onion.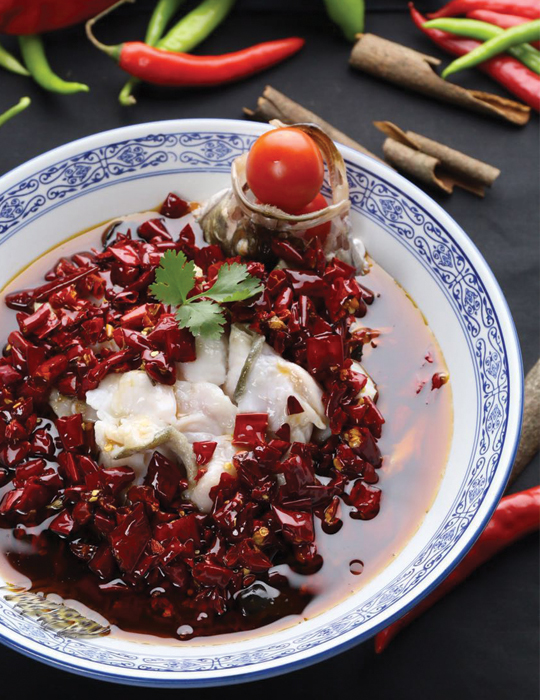 Sichuan Style Grouper Fish Soup
"Tim kuliner JIA ingin memperkenalkan cita rasa masakan Sichuan yang kaya rasa agar tamu dapat merasakan sisi lain dari masakan Chinese, dimana Sichuan juga merupakan salah satu masakan Chinese yang sudah mendunia." Ujar Executive Chinese Chef Shangri-La Hotel Jakarta, Christopher Chai.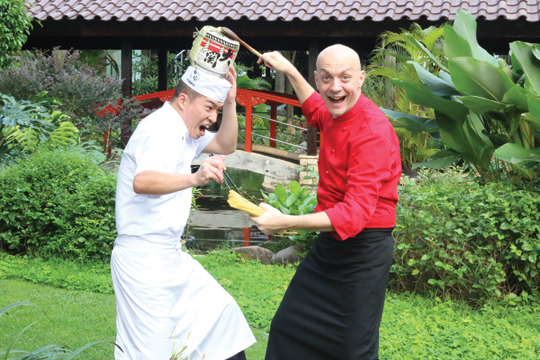 Chef Naotaka Tokuhisha & Chef Gianfranco Pirrone

Lalu bersama Rosso, Anda diajak untuk menjelajahi pengalaman kuliner yang lain dari biasanya. Dengan juru masak baru, Chef Naotaka Tokuhisha yang berkolaborasi dengan Rosso Italian Chef Gianfranco Pirrone, membawa Anda ke dalam kombinasi unik dari cita rasa terbaik budaya Timur dan Barat. Menggabungkan kuliner a la Italia dan Jepang menjadi satu di atas meja Anda dalam hidangan malam pada tanggal 23 Maret 2018. Set menu ini akan dipasangkan dengan pilihan wine terbaik dari Luis Felipe Edwards.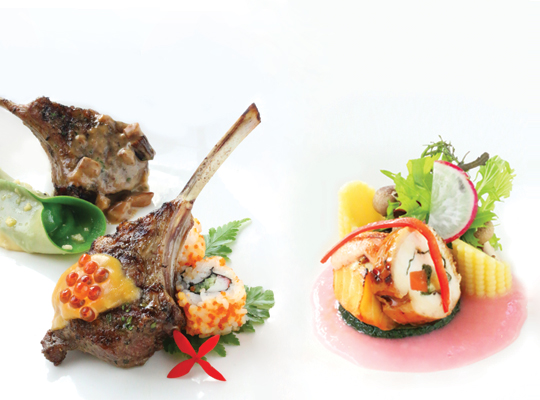 Italy Meets Japan
Adapula menu yang ditawarkan ialah Tartare di Tonno (Marinated Yellowfin Tuna Tartare) dan Hamaguri to Tamago Tofu no Osuimono (Orient Clam and Egg Tofu Clear Soup topped with Kizami Yuzu) untuk hidangan pembuka. Madai no Mentaiko to Tori no Sakura Yaki (Red Sea Bream Fish with Spicy Cod Sauce and Chicken Thigh with Cherry Blossom Sauce), Risotto allo Zafferano e Aragosta (Saffron Risotto with Lombok Lobster, Toasted Almonds and Beetroot Puree), Costine d'Agnello Raviolo al Formaggio e Tartufo (Grilled Lamb Chops with Porcini Mushroom dan Jumbo Ravioli with Cheese and Truffle Essence) dalam pilihan menu utama. Sedangkan pada hidangan penutup, ada Vanilla Panna Cotta and Green Tea Cheesecake.
Untuk informasi lebih lanjut dan pemesanan tempat, sila menghubungi (021) 2922 9999, email ke rosso.slj@shangri-la.com atau akses situs http://www.shangri-la.com/jakarta/shangrila/dining/.