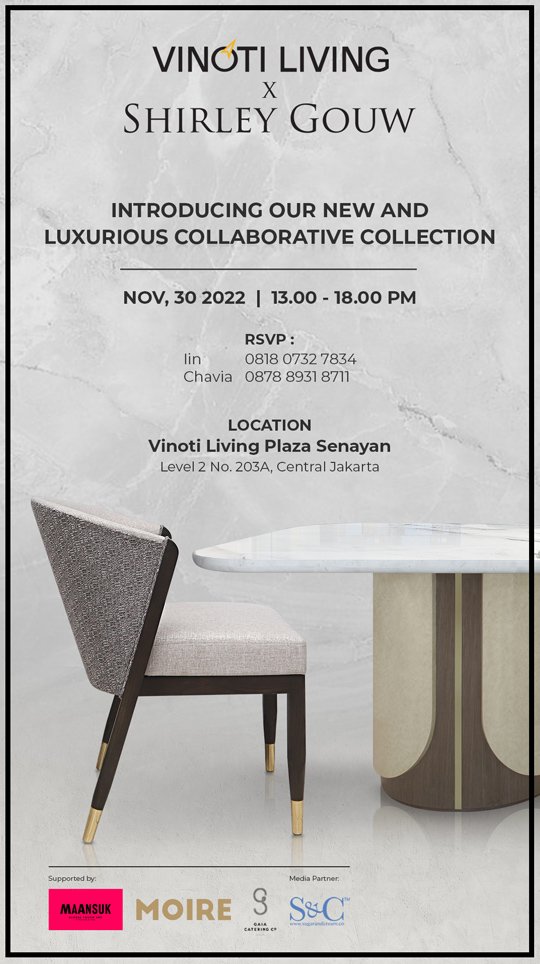 presented by

VINOTI LIVING: VINOTI LIVING X SHIRLEY GOUW COLLECTION
Published by Sugar & Cream, Monday 28 November 2022
Images courtesy of Vinoti Living
Introduction Of New & Luxurious Collaborative Collection
Didirikan di Jakarta pada tahun 1999, Vinoti Living telah dikenal dengan furnitur retail dan aksesoris rumah berkualitas tinggi ke seluruh Indonesia. Selain tersedia beberapa cabang di Pulau Jawa, Sumatra dan Bali, Vinoti Living juga menyediakan sarana penjualan melalui 'online'. Vinoti Living terus giat berinovasi mengikuti laju perkembangan desain dan tren dalam dunia interior dan aksesoris.  Di penghujung tahun ini, Vinoti Living akan merilis koleksi terbaru berkategori premium (mewah) hasil kolaborasi dengan desainer interior ternama Jakarta yaitu Shirley Gouw.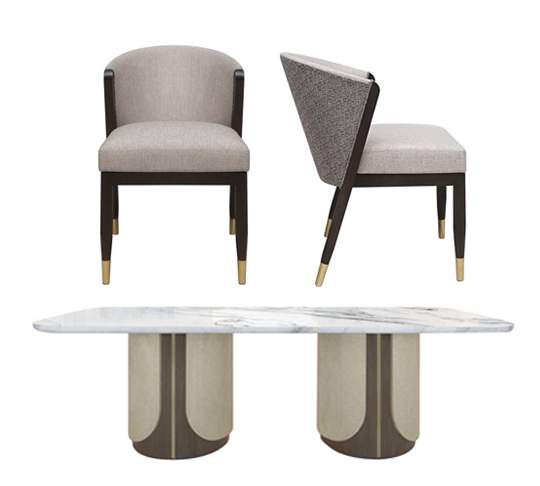 Dining Chair & Dining Table
Acara     :  INTRODUCTION OF NEW & LUXURIOUS COLLABORATIVE COLLECTION: VINOTI LIVING X SHIRLEY GOUW
Waktu   :  Wednesday, November 30, 2022 (Strictly by invitation only)
Lokasi    : Vinoti Living Plaza Senayan, Level 2 No 203 A, Plaza Senayan, Jakarta.
*Strictly by invitation only
"Vinoti Living memilih Shirley Gouw untuk koleksi terbaru yang merupakan hasil kolaborasi pertama kami ini karena kami merasa memiliki kesamaan gaya desain. Sebelum ini kami bekerjasama dengan Shirley Gouw untuk proyek show unit ST Regis yang menjadi titik tolak dari proses kolaborasi kami dengan Shirley Gouw dalam mengembangkan koleksi terbaru kali ini," jelas Ibu Halistya Pramana, Presiden Direktur Vinoti Living. 
"Koleksi kali ini memiliki proporsi yang nyaman. Tidak terlalu besar, tidak terlalu kecil. Saya memadukan bahan fabric yang muted tetapi bertekstur dengan perpaduan kontras gelap terang material veneer, kayu, dan brass sehingga menghasilkan komposisi visual yang calming, elegan, dan timeless," jelas Shirley Gouw pendiri Shirley Gouw Interior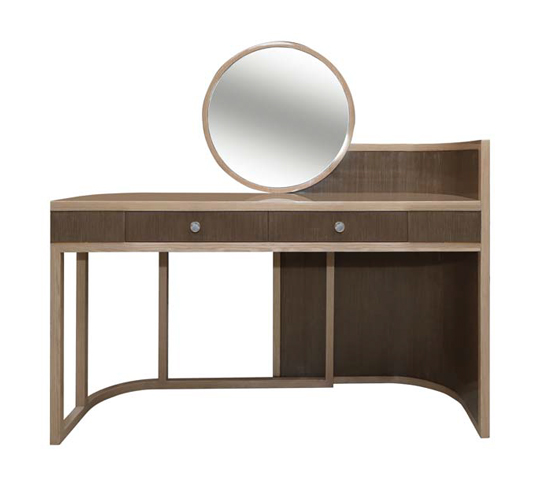 Dressing Table


Presented by Interni Cipta Selaras
Sejumlah koleksi dengan elevasi kemewahan yang dirancang oleh Shirley Gouw akan menempati sebagian besar area showroom Vinoti Living di Plaza Senayan. Elevasi kemewahan hasil kolaborasi ini menandai momen baru bagi Vinoti Living memasuki jajaran berkatogeri premium di furnitur retail Indonesia khusus buatan Indonesia.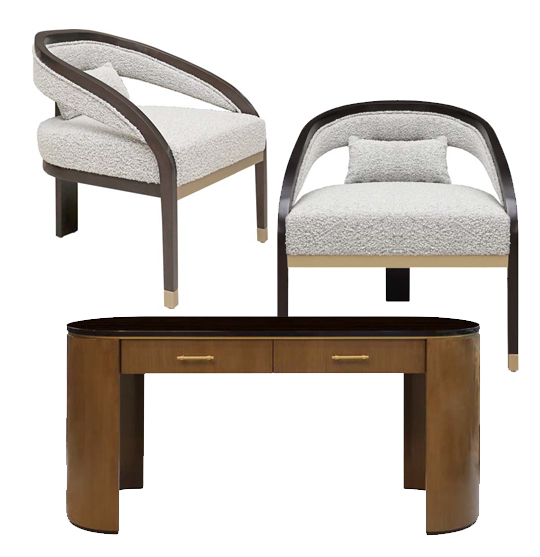 Writing Chair & Writing Desk
Come and explore the new and luxurious collaborative collection by Vinoti Living X Shirley Gouw.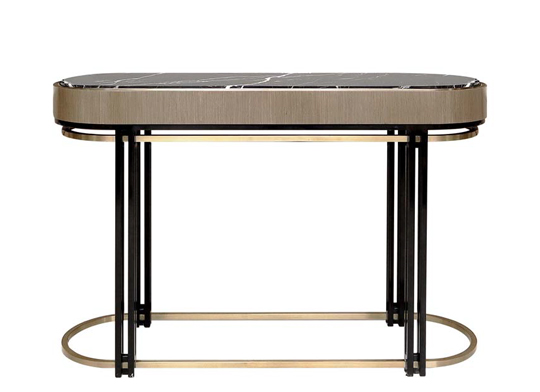 Console Table Behind 3 Seater Sofa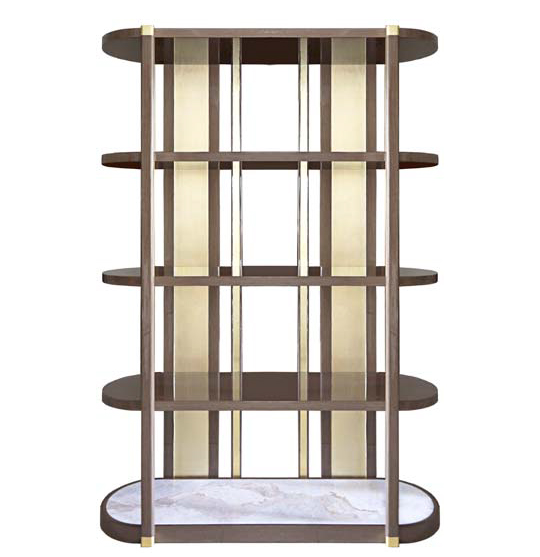 Bookself