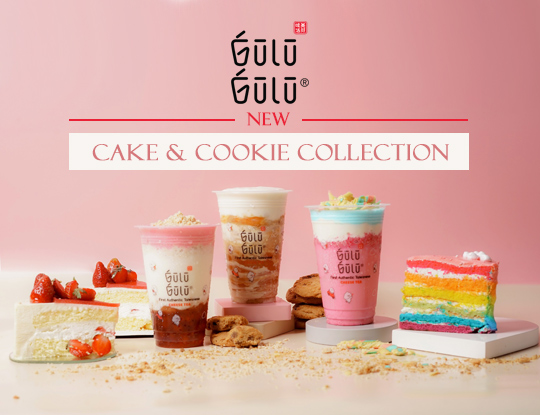 presented by

GULU GULU – NEW CAKE & COOKIE COLLECTION
Published by Sugar & Cream, Monday 15 November 2021
Text by Dira Rohmatun, images courtesy of Gulu Gulu
Kreasi Terbaru Sepotong Kue dalam Bentuk Minuman yang Menawarkan Kelezatan & Kebahagiaan
Bayangkan cita rasa perpaduan sepotong kue dan kukis dalam bentuk minuman praktis di satu gelas! Gulu Gulu, menghadirkan tiga kreasi minuman baru dengan cita rasa kue-kue popular yang menggiurkan. Dalam kreasi terbaru Cake & Cookie Collection, ketiga minuman lezat mampu memberikan rasa bahagia tersebut ialah Rainbow Cheesecake, Raisin Cookie, dan Santa In the Snow. Diracik dengan kreativitas tinggi menggunakan bahan-bahan berkualitas, koleksi minuman ini ditawarkan dengan harga terjangkau mulai dari Rp21.000 per cup.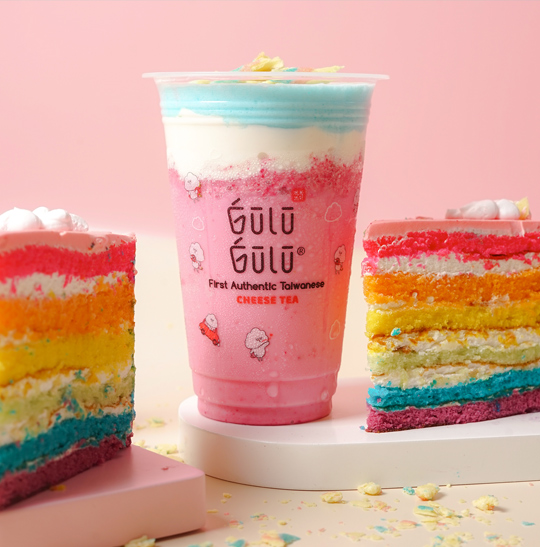 Rainbow Cheesecake
"Inspirasi di balik Cake & Cookie Collection dari Gulu Gulu ini bukan hanya cita rasa kue, tetapi juga bagaimana kue adalah sajian yang selalu memberikan rasa bahagia ketika dinikmati," ungkap Adhi Putra Tawakal, Head of Marketing, Sour Sally Group. "Lebih dari itu, kue adalah simbol dari kebahagiaan itu sendiri. Kue selalu hadir di dalam berbagai momen bahagia yang kita bagi bersama keluarga dan teman, baik itu perayaan hari ulang tahun, pernikahan, atau momen istimewa lainnya. Dengan Cake & Cookie Collection ini, kami ingin konsumen dapat menikmati momen bahagia kapan saja, dimana saja, dan bersama siapa saja, dengan harga yang terjangkau," tutur Adhi lebih lanjut.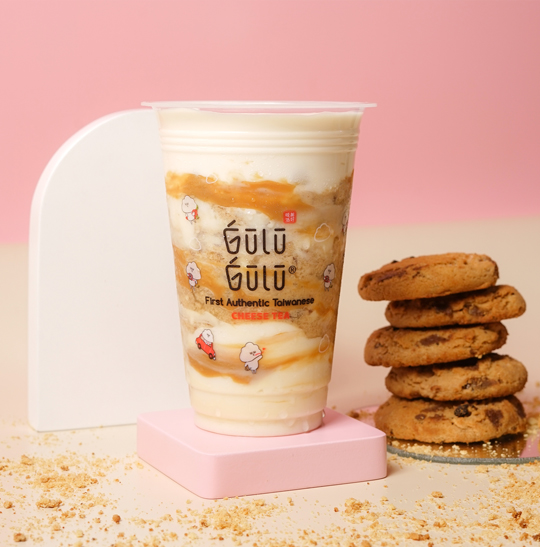 Raisin Cookie
Tidak hanya menyuguhkan perpaduan rasa yang fantastis, kreasi minuman Cake & Cookie Collection juga memiliki tampilan yang memukau dan sangat Instagrammable. Rainbow Cheesecake memiliki aneka warna serupa pelangi yang dihasilkan dari perpaduan remah red velvet, Blue Curacao, sirup lemon, dan coconut foam. Kemudian, untuk Anda penggemar cookies dapat mencoba Raisin Cookie yang terbuat dari cookie dough, Mur Raisin, dan cheese foam dengan paduan warna yang menggiurkan. Sementara itu, untuk para penggemar stroberi akan dimanjakan oleh Santa In the Snow yang diracik dengan strawberry cheese foam, vanilla oats, white boba, dan susu dengan tampilan yang tampak segar.


Presented by Interni Cipta Selaras
Terasa lezat bukan? Kreasi Cake & Cookie Collection dapat Anda beli di gerai Gulu Gulu terdekat maupun lewat layanan pesan antar daring di GoFood, GrabFood, ShopeeFood, dan Traveloka Eats. Jangan lewatkan juga beragam promosi menarik untuk pembelian Cake & Cookie Collection yang dapat Anda lihat di media sosial Instagram dan TikTok @gulugulu.id.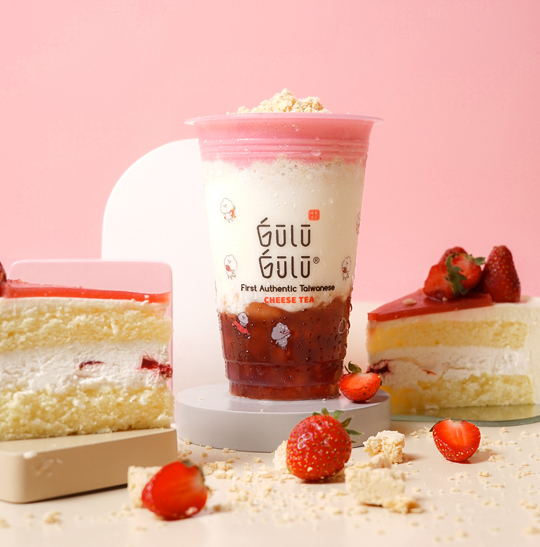 Santa In the Snow