Great Things Come to Those Who Cheer at Oktoberfest!
Published by Sugar & Cream, Friday 05 October 2018
Text by Anggita Dwinda Saraswati, Images Courtesy of Hotel Indonesia Kempinski
Hangover Brunch, 3 – 6 October 2018
Bicara tentang bulan Oktober, pasti tak lepas dari konotasi 'Oktoberfest' yang sudah begitu mendunia. Tak terkecuali di Indonesia, di mana festival yang pertama kali diadakan untuk merayakan pernikahan Putra Mahkota Ludwig I dan Putri Thérèse Saxony-Hildburghausen di Jerman pada tahun 1810 ini menjadi ajang yang ditunggu-tunggu tiap tahunnya.
Turut memastikan agar tradisi ini terjaga, Paulaner Bräuhaus sebagai satu-satunya genuine microbrewery di Indonesia akan mengadakan ajang Oktoberfest ke-4 tahun ini. Kali ini, perayaan akan dilakukan dalam nuansa tradisi "Anstich", di mana satu liter pertama dari Oktoberfest Bier yang diseduh khusus dan disajikan oleh brewmasters kelas dunia, juga satu-satunya dari Indonesia, Arie Susanto. Bahan-bahan untuk minuman spesial ini telah diimpor dari Munich dan diseduh di microbrewery Hotel Indonesia Kempinski Jakarta.

Seperti di tahun-tahun sebelumnya, dan kembali lagi atas permintaan khalayak ramai, uber-fest ini akan mendapat sentuhan autentik Bavaria dengan hadirnya folk band Edelweiss Power, yang datang khusus dari Jerman untuk menghibur para tamu dengan berbagai games, musik tradisional, serta tentunya lagu-lagu favorit sepanjang masa. "Hanya berdasarkan permintaan yang datang dari pencinta Oktoberfest saja, rasanya bisa dipastikan acara tahun ini harus lebih meriah lagi dibanding tahun lalu," kata Vinu John, Director of Food & Beverages Hotel Indonesia Kempinski Jakarta. "Tradisi unik di mana para pramusaji mengenakan pakaian tradisional lederhosen dan dirndl, kemudian adanya tong-tong bir yang seakan tiada habisnya, wurst dan pork knuckle yang menggiurkan, belum lagi nyanyian dan dansa sampai pagi, semuanya meramaikan Oktoberfest," lanjutnya.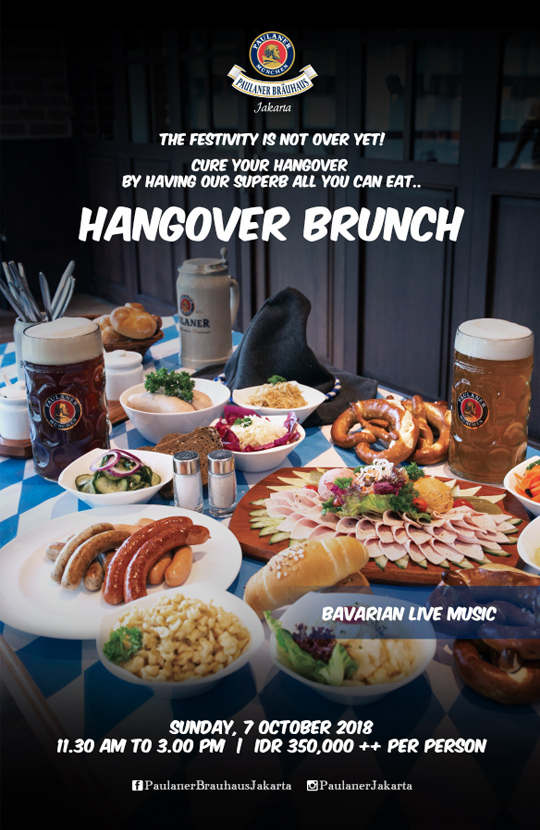 Tak sabar ingin menghilangkan penat dan berpesta semalaman? Langsung datang ke Paulaner Bräuhaus antara 3–4 Oktober, di mana Anda bisa menikmati makanan, free-flow Paulaner beer, entertainment, mug Oktoberfest Jakarta, serta garansi reservasi kursi untuk Rp800.000++ atau 5–6 Oktober, di mana Anda bisa menikmati semua hal tersebut plus free-flow Oktoberfest Bier.
Tunggu apa lagi? Prost!