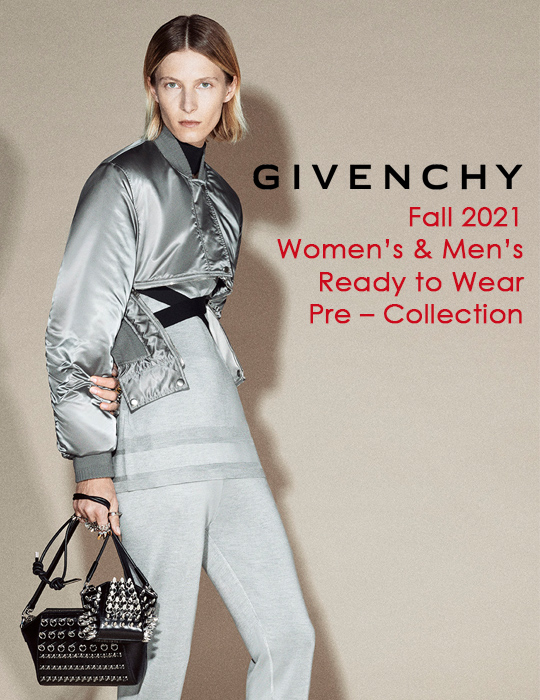 presented by

Givenchy Fall 2021 Women's & Men's Ready to Wear Pre – Collection
Published by Sugar & Cream, Tuesday 19 January 2021
Text by Dinda Bestari, Image Courtesy of Givenchy
Strident and Subtle
Mengawali debutnya untuk Givenchy, Mathew M. Williams menyuguhkan koleksi yang kontras, mulai dari tampilan yang ''menyolok" maupun halus untuk musim Fall 2021 kali ini.  Terlihat gaya klasisisme dan subversi memainkan peran memfokuskan area tradisional dalam tailoring, knitwear dan leather, yang di mana merupakan hasil eksperimen dari kode dan teknik agar ketiga elemen tersebut mudah diaplikasikan pada koleksi pria dan wanita. Bermain dengan keindahan monokromatis dalam penampilan mereka, warna hitam klasik, putih –  abu-abu perak kontras dengan warna buah zaitun, merah – nuansa merah muda terlihat sedikit provokatif dalam konotasinya.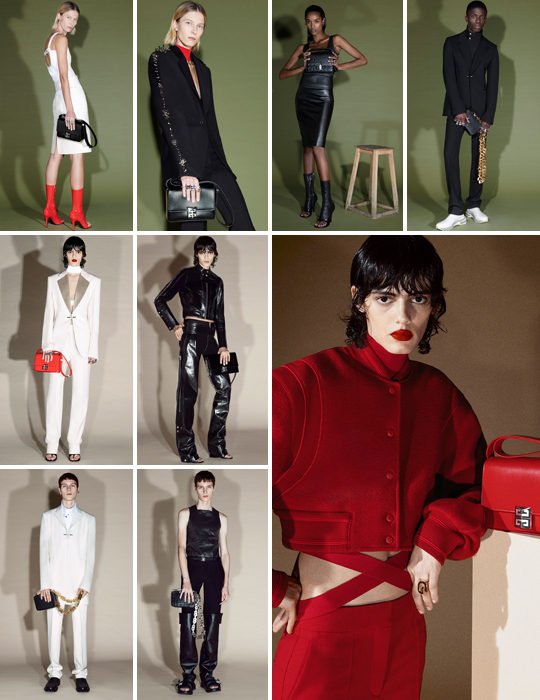 Kemewahan yang anggun melalui bahan dan metode yang digunakan, kemudian ditemukan pada berbagai pilihan gaya, baik formal maupun informal, klasik, dan lebih radikal.

"Ultimately, what I am trying to do in the Givenchy collections is reflect today's world. I appreciate certain material experimentation and an intense contrast in clothing that could only be achieved and exist now. At the same time, we embrace tradition, the techniques of the salon, and timelessness; these distinct elements are not mutually exclusive. The clothing is not disposable or dictatorial, instead, we want it to become central to a person's sense of their own style, and build each season. It's an idea of more personal luxury, of simultaneous formality and informality, construction and comfort; it's the luxury of people wearing clothes, not clothes wearing people."
–  Matthew M. Williams, Creative Director, Givenchy –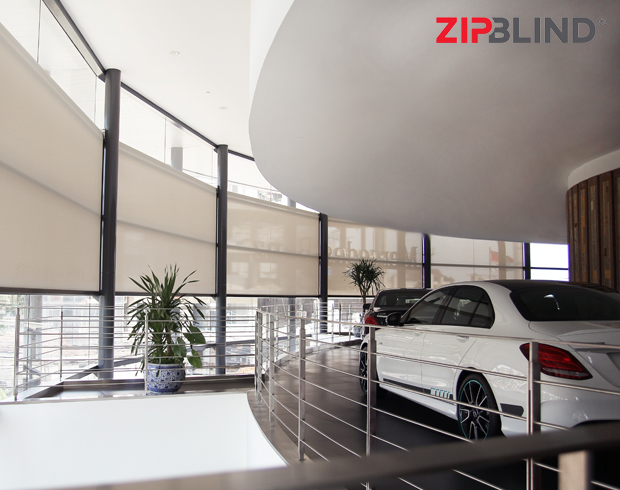 Presented by Zipblind
Pola dasar dari koleksi ini sekali lagi hasil eksperimen dengan proporsi yang berdampingan dalam siluet, menyatukan ide-ide dari desain salon dan jalanan di perkotaan. Hal ini terlihat dalam motif  repetitif, di mana Jackets Echo MA 1 Bombers, Varsity – ,sebuah evening boleros Signature, serta Sculptural Jersey  demi menciptakan bentuk yang murni, indah, dan praktis, yang dapat kita temukan pada detail kancingnya. Di sini, hardware untuk menjadikan perhiasan sebagai tema utama Williams pada  koleksi wanita dan pria di musim ini.  The New 4 G Emblem Bag  juga memiliki pendekatan yang kuat dan dekoratif dapat dilihat pada hardware untuk koleksi wanita dan pria. Sikap terkonstruksi terhadap monogram Givenchy diwujudkan dalam guipure lace, sebuah motif yang memperkuat kesan kerajinan tangan tradisional yang menonjol dalam koleksi tersebut.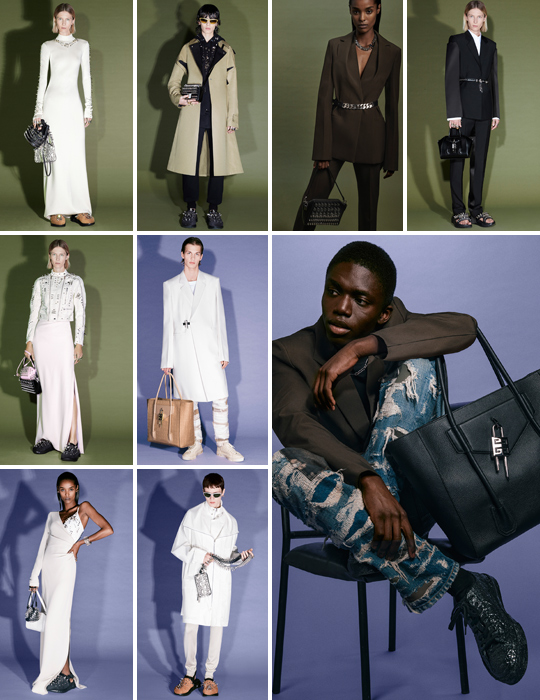 Ide tentang 'second skin' digunakan secara luas, terutama dalam penggunaan sutra untuk wanita dan pria, dirancang untuk kenyamanan dalam sensasi berliku mengalir melalui koleksi ini terutama dalam tailoring. Hal ini juga ditemukan pada leather pieces, di mana kemudahan  struktur namun ketidaksesuaian kasual, semuanya ikut bermain. Pada gilirannya, leather footwear lebih terintegrasi sepenuhnya ke dalam siluet, terutama dalam penggunaan leather boots yang tinggi. Kenyamanan tidak terlupakan pada footwear, dengan sol yang diformulasikan menggunakan teknik terbaru yaitu TPU (Thermoplastic Polyurethane, sebuah ''jembatan" antara karet dan plastik). Ada juga kelanjutan dari Marshmallow Slide dengan comfortable recovery style sole digabung dengan bahan baru, alami, dan lebih formal.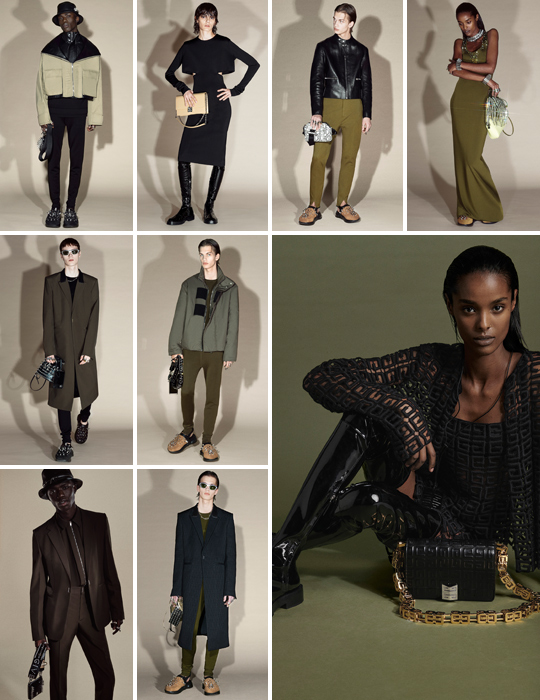 Berkolaborasi sekali lagi dengan fotografer Heji Shin, Williams mempersembahkan pandangan Givenchy yang demokratis serta menyeluruh. Di sini, fokusnya adalah model yang mengenakan pakaian tersebut berlawanan dengan pakaian yang dikenakan orang – tidak hanya ada satu wanita Givenchy atau satu pria Givenchy, tapi banyak, dan masing-masing membawa karakter dan rasa gaya mereka sendiri  ke dalam rumah mode ini.