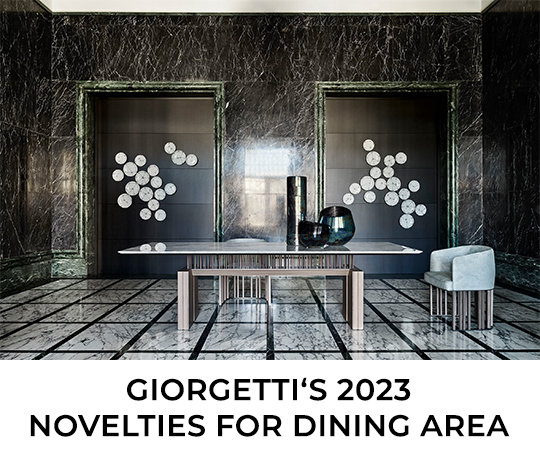 presented by

GIORGETTI'S 2023 NOVELTIES FOR DINING AREA
Published by Sugar & Cream, Thursday 14 September 2023
Images courtesy of Giorgetti
An Elevated Functionality & Style For Your Ultimate Dining Room.
With the 2023 collection, Giorgetti presents a new range of products designed precisely for living and furnishing the dining area, creating a welcoming and elegant atmosphere.
Proposals that through quality, care and tailoring promote the value of experience, emphasizing the role of design in improving the quality of life.
The dining area is the heart of domestic conviviality which is an important area to welcome guests. Here are some new novelties for dining area in 2023.
Giorgetti is officially available at Prodotti Indonesia, contact: 0811-8113-7333 (WA) or www.prodotti-id.com.
G-CODE- table by Dante O. Benini e Luca Gonzo
G-Code Table comes to light from an architectural approach: 'The concept started from a journey in the United States, looking at the brush of the courtesy kit. I imagined it becoming the structure on which a Tabletop rests. The idea was that of an architecture, with this brush becoming the supporting beam of a large Top,' explains Dante O. Benini.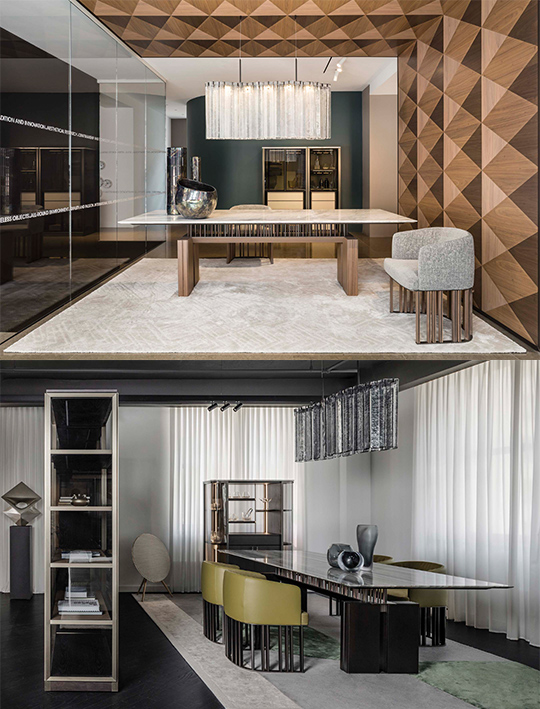 The desk is characterized by a walnut structure and an interplay of solids and voids, thanks to the central part composed of 158 metal rods, in three different diameters and hand-painted in three different colors pewter, bronze and brushed champagne, which support the top and lighten and refine its design, as well as the top with the scarped edges.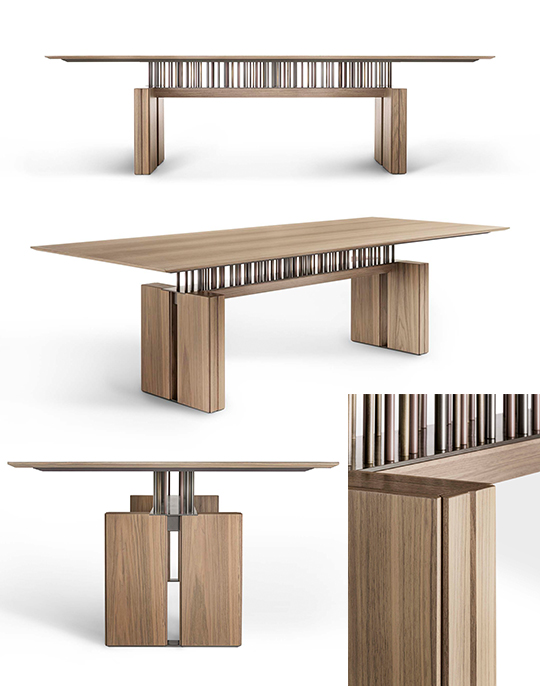 G-CODE- table by Dante O. Benini e Luca Gonzo
Characterized by a wide top in Canaletto walnut or marble, it is a product designed to welcome conviviality. The C-shaped base is distinguished by grooves in the front with 90° Scarpiana work in the vertical edges of each leg.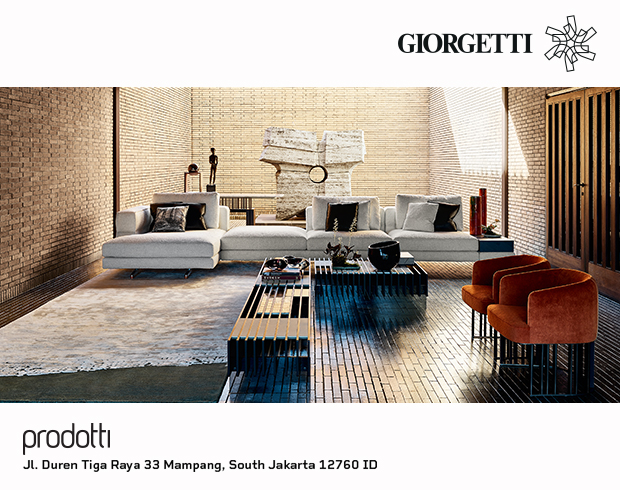 Presented by Prodotti Indonesia
Special Edition MIZAR table by Roberto Lazzeroni
In the 2023 collection, Giorgetti presents a special edition Mizar table with a round top in Labradorite granite from Madagascar, with its magnificent iridescent shades of blue and green, and a base in cast bronze. The base was hand-painted in a green-blue oxide colour to echo the colourful reflections of the top. The Mizar table, designed by Roberto Lazzeroni, becomes the protagonist of spaces with an extremely elegant and refined design.


Special Edition MIZAR table by Roberto Lazzeroni
The exceptional Mizar table is available in a limited edition of just 12 pieces (to be sold exclusively in the new showroom in via della Spiga in Milan) – is the ideal bridge between the world of design and that of fine art and collectables.
Watch Giorgetti's a new chapter in the "Places to live": The 'Dining" here:

HERO – chair and armchair by Carlo Colombo
Eastern-inspired, the new HERO armchair by Giorgetti designed by Carlo Colombo stands out for its refined and elegant design.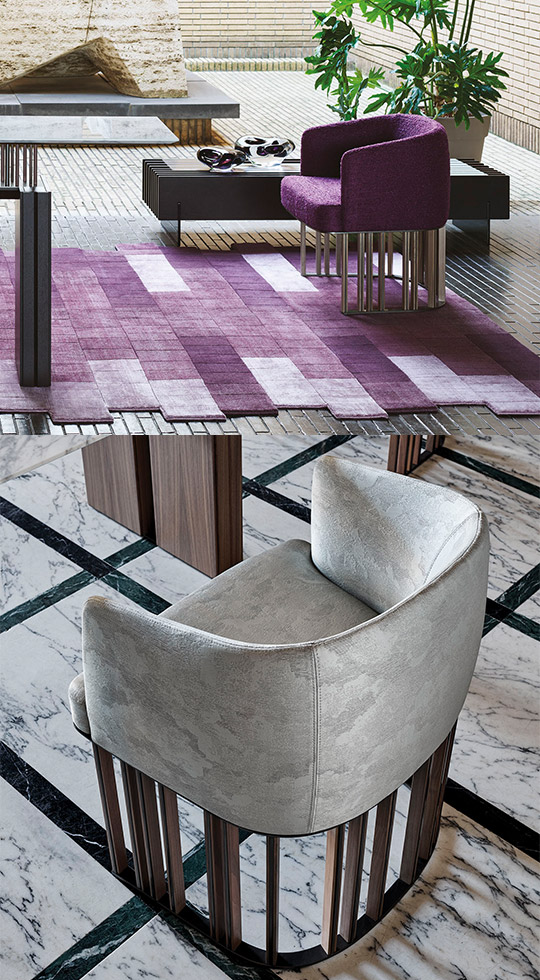 The main body of Hero, with its curved and enveloping shape, highlights the unique design of the base which combines twenty vertical metal slats covered in wood, showcasing sophisticated workmanship and the company's cabinet-making skills.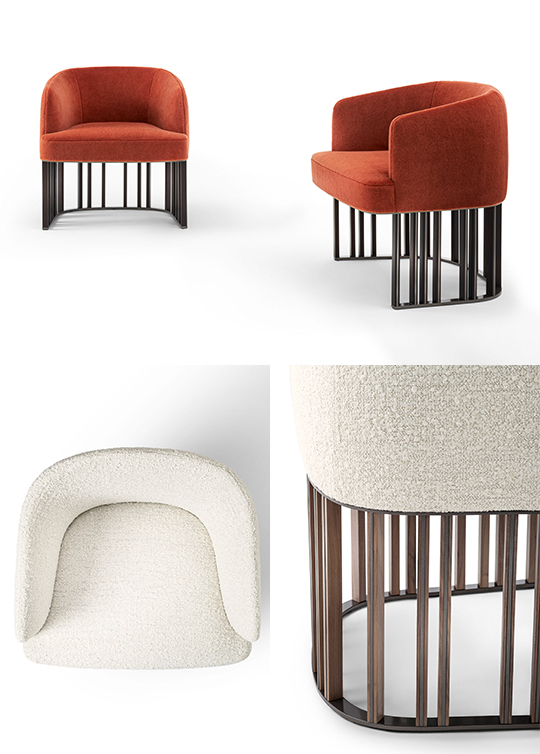 HERO – chair and armchair by Carlo Colombo
Like light pillars supporting the seat, these elements create a striking graphic impact that renders the armchair lightweight and attractive, while at the same time ensuring great stability and comfort. The volume of the piece makes it appear suspended and it lends itself to being placed in living spaces as well as business environments.
CALATHEA – armchair by Roberto Lazzeroni
Elegant and cosy, Calathea is the new chair designed by Roberto Lazzeroni. It stands out for its sensual design and careful canneté construction, as well as the quilting on the backrest that makes it a small work of upholstery.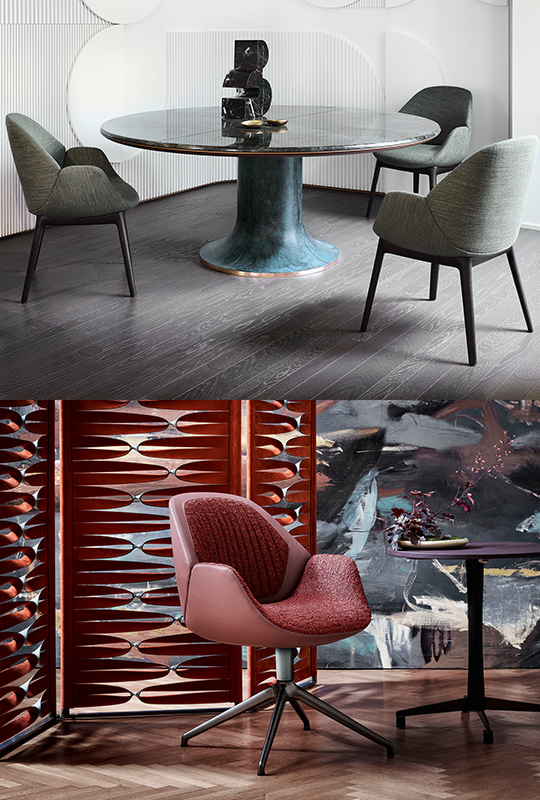 CALATHEA – armchair by Roberto Lazzeroni
Versatile and flexible, the Calathea armchair is an extremely feminine, organic-looking object thanks to its soft shapes, balanced proportions and enveloping lines. The Calathea armchair is perfect for use in office spaces and meeting rooms as well as at home to create a home office or to complement a dining table. There are two available bases: swivel base with four painted aluminium spokes or with four ashwood legs, which lend the seat an entirely different look.
LUNARIA – small armchair by Roberto Lazzeroni
Lunaria comes to life from its big sister Selene, born in 2015 from the pencil of Roberto Lazzeroni. Picking up on its unmistakable soft, minimalist shapes, the small armchair evolves in 2023, both in aesthetics and comfort terms. Softly welcoming and at the same time sculptural, Lunaria adapts perfectly to all types of dining. The internal padding, in flexible polyurethane foam in different densities, and the enveloping shape of the backrest are ergonomically designed to invite relaxation by guaranteeing comfortable and correct support.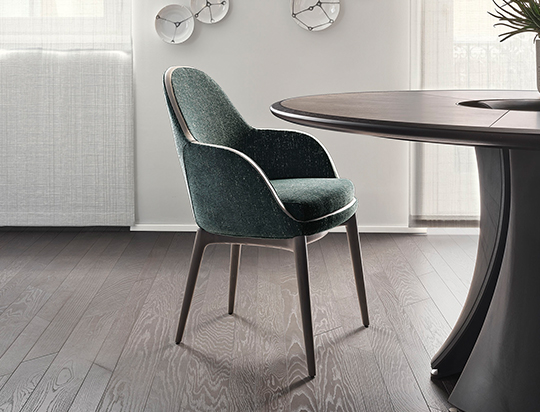 The small armchair is now also presented underlining the material encounter, no longer focusing on the total look: the upholstery, available in monocolour or bicoloured, with the outer part in leather and the inner part in fabric or leather, also with a leather profile, is combined with legs in solid ash wood.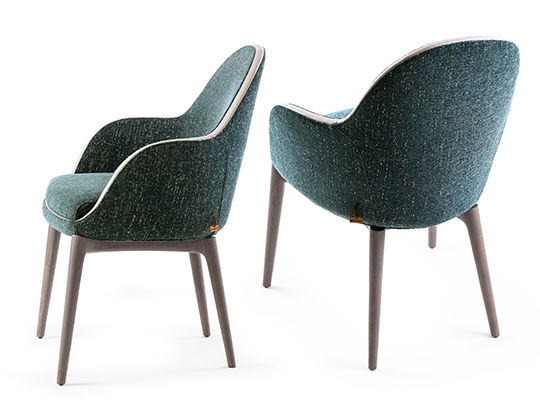 LUNARIA – small armchair by Roberto Lazzeroni
SKIRT – stool by m2atelier
The new SKIRT stool comes to life with the distinguishing hallmark of M2Atelier, the design studio of Marco Bonelli and Marijana Radovic. Based on a creative approach that nonetheless references the 1960s, Skirt is distinguished by its flowing shape, like a soft line drawn on a sheet of paper.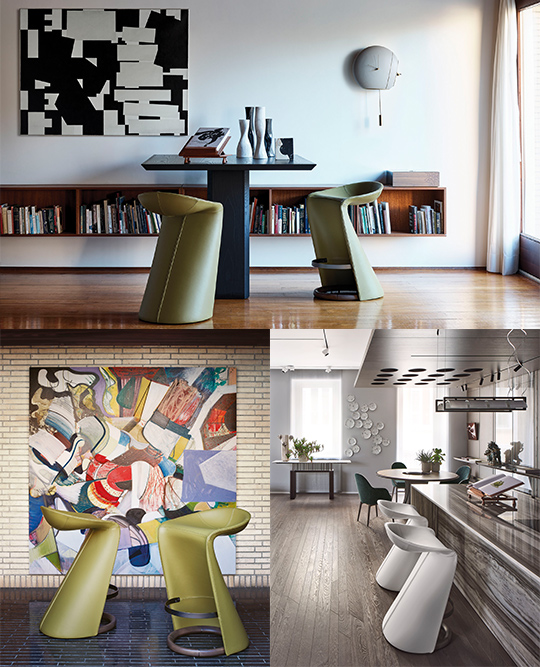 Enveloping and elegant, the stool, completely upholstered in leather with visible stitching accompanying its profile, the full proportions at the back are inspired by the silhouette of a skirt, hence the name, while topstitching accompanies the edges.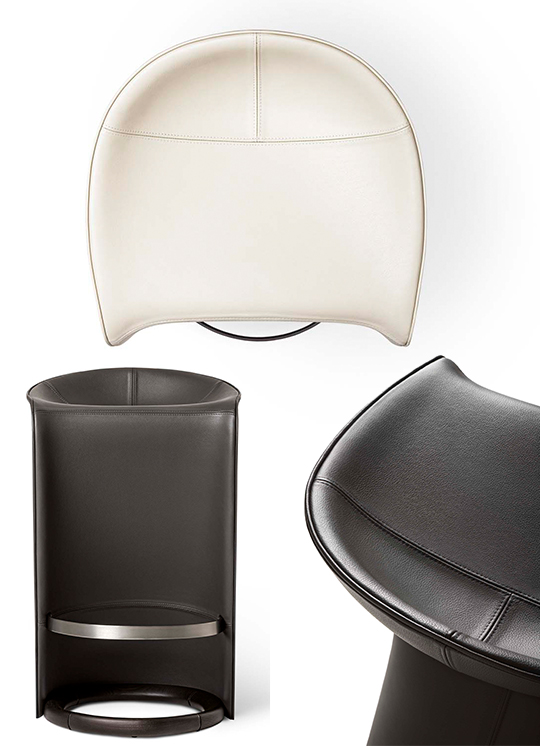 SKIRT – stool by m2atelier
The ring-shaped base in solid ash wood resembles a rigid, durable hoop skirt to provide volume and structure. A design with a versatile soul that focuses on comfort and functionality, created to suit the needs of the hospitality industry while remaining ideal even as part of domestic spaces.
FLOEMA – plates by Roberto Cambi
The Atmosphere collection is further enriched by a few creative pieces, such as FLOEMA, a project by artist Roberto Cambi. A sculptor, painter and master glass blower, Cambi specialises in ceramic artwork.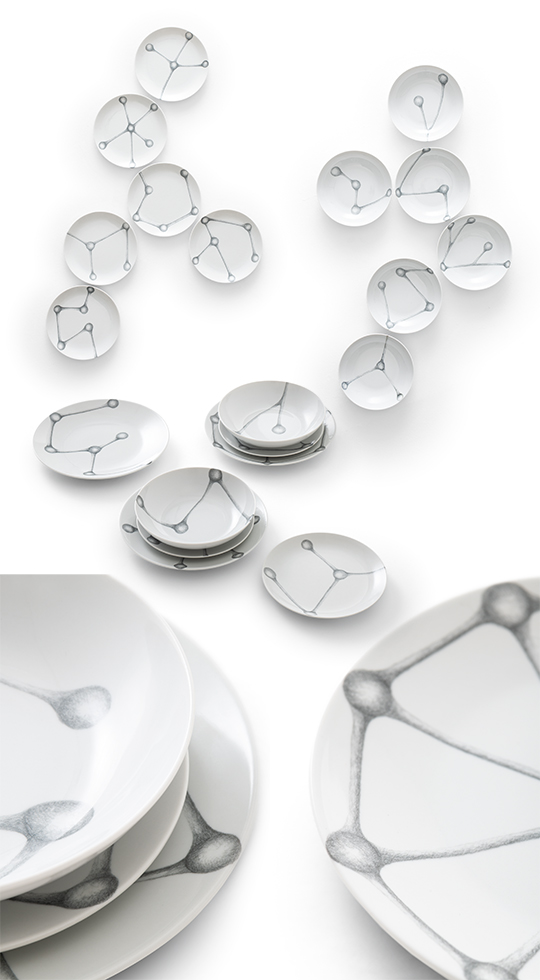 FLOEMA – plates by Roberto Cambi
With Giorgetti, he has experimented with new creative frontiers, giving life to a collection of white porcelain plates glazed with vegetal patterns inspired by the world of botany. Particles and elements joined in a chain and in groups branch off and form the body and structure of a plant. Created through the application of digital decals with plotter cutting, the set consists of 6 dinner plates, 6 soup plates and 6 dessert plates.