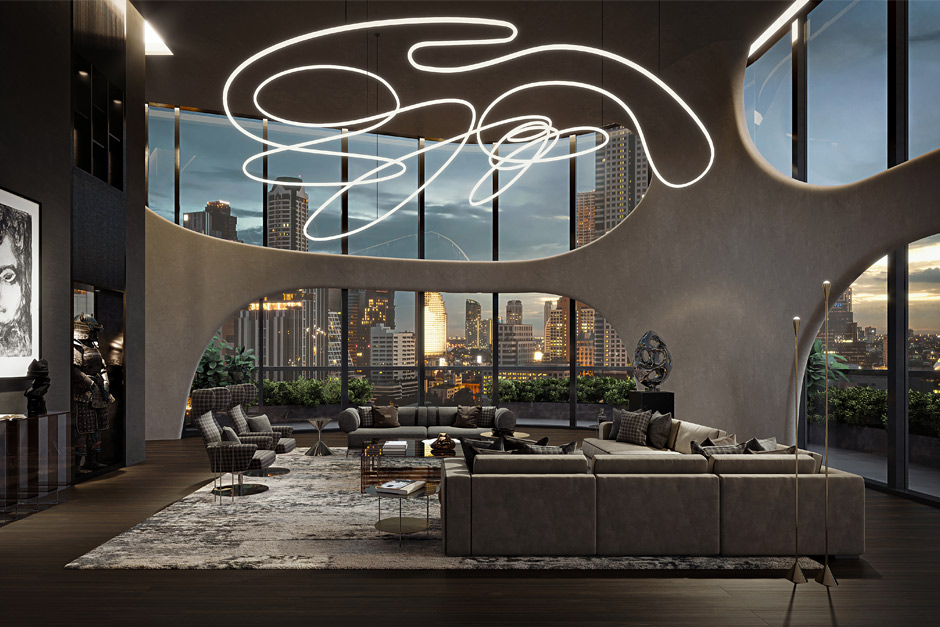 The Magnificient Living Room furnished by Gianfranco Ferré Home Collection : Phoenix Sofa & Jenga Coffee Table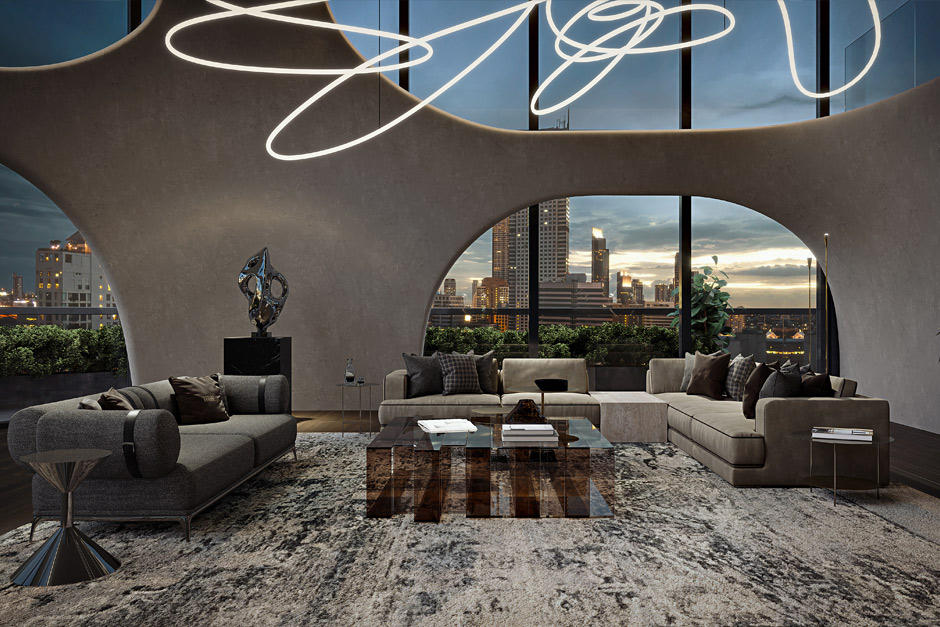 Furnished by Gianfranco Ferré Home : Phoenix Sofa & Jenga Low Table
Recently ONIRO Group proudly introduces a gallery-like penthouse in Singapore, the financial capital of Southeast Asia, a 360 degrees views laboratory where different artistic and cultural influences meet. An exclusive penthouse displays selected artworks with the furniture furnished by Gianfranco Ferré Home.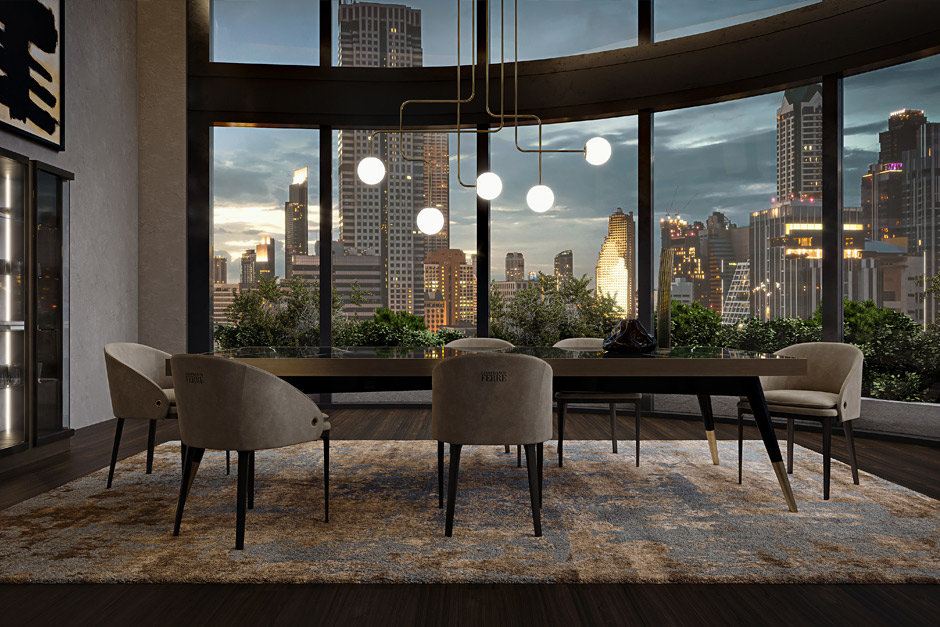 The Dining room furnished by Gianfranco Ferré Home : Mayfair Dining Table, Rio Chair & Douglas Chandelier
In this bright and harmonious penthouse, the gallery owner's sense of beauty is expressed in the balance between elegance, comfort and eclecticism. In the wide living area, an airy and light-filled environment dominated by a color palette played on the combination of grey tones, two iconic sofas from the Gianfranco Ferré Home collection dialogue to create a comfortable and inviting relaxation and conversation area. The Phoenix sofa, with its vintage charm that refers to the icons of the past, enhances the metropolitan style of the context and matches perfectly with the contemporary charm of the Flair sofa. The Jenga coffee table, with its pure volumes and essential lines that are expressed in the alternation between glass blocks of different colors, completes the composition.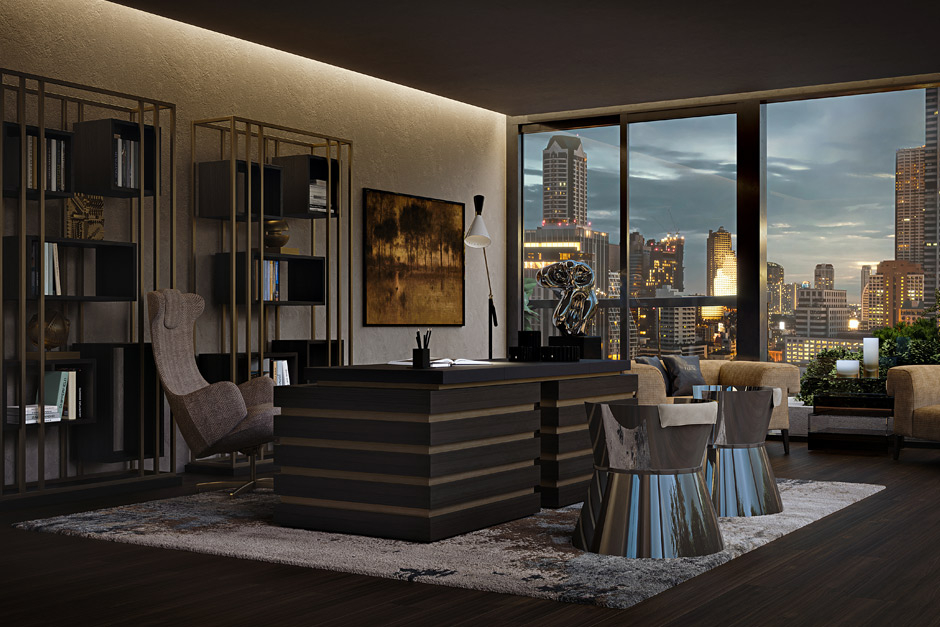 Furnished by Gianfranco Ferré Home : Sean Desk & Krugan Executive Chair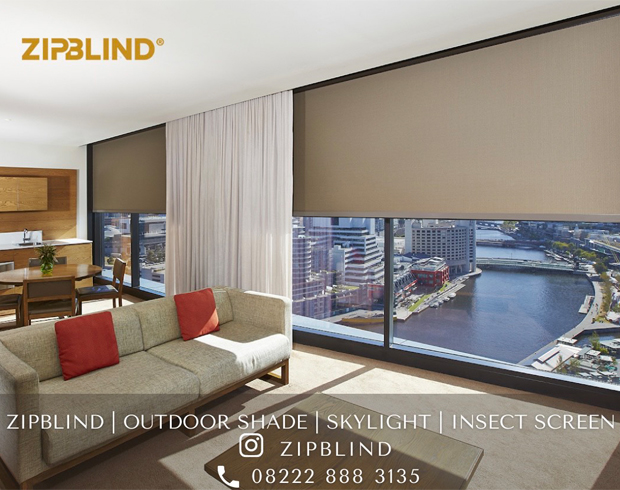 Presented by Zipblind
A true contemporary and cosmopolitan refuge, the bedroom celebrates art and beauty through the warm tones of the fabrics and carpets, which range from grey, to brown, to beige with a touch of mustard yellow. The charm of the paintings and sculptures and the incomparable view of the metropolis enhance the refined aesthetic. Protagonist of the setting, the bed of the Wynwood line, with its solid and compact volume, combines comfort and beauty and is characterized by a headboard covered in houndstooth fabric, a reference to the world of men's fashion, and a storage compartment that confirms its functional qualities. A small working area overlooking the city skyline is recreated through the discreet presence of the Wynwood desk, characterized by essential lines and a sophisticated design.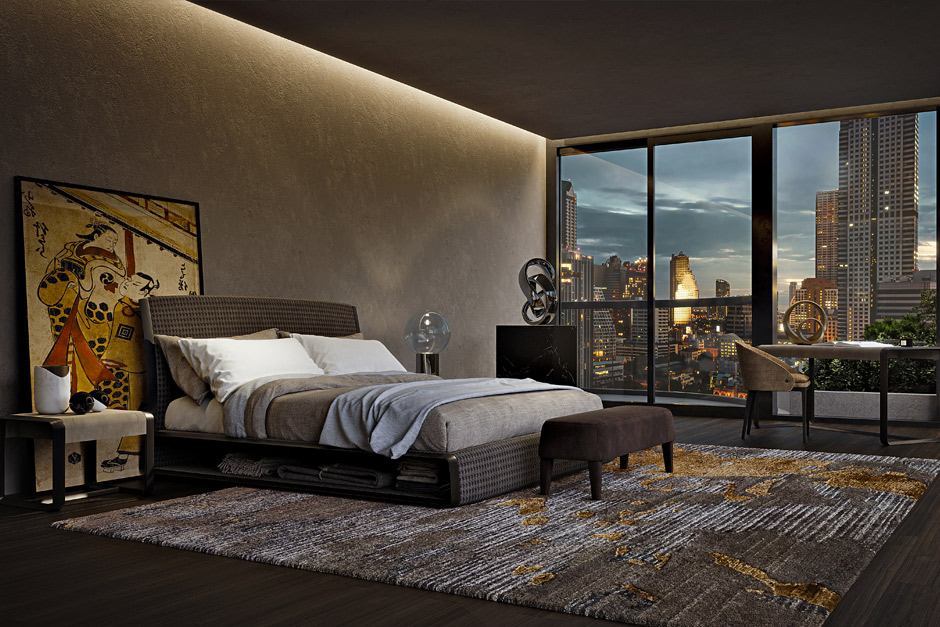 The bed of the Wynwood line & The Wynwood desk
Vintage charm and sophisticated allure distinguish the dining room with Mayfair dining table as main protagonist. Characterized by a top in precious Sahara Noir marble and thin legs that recall the 1950s, the table is combined with Rio chairs, featuring an elegant silhouette and clean lines. The Douglas chandelier with a bronzed brass structure and ground glass lampshades completes the ensemble with its Mid-century appeal, illuminating the area dedicated to conviviality with a warm light.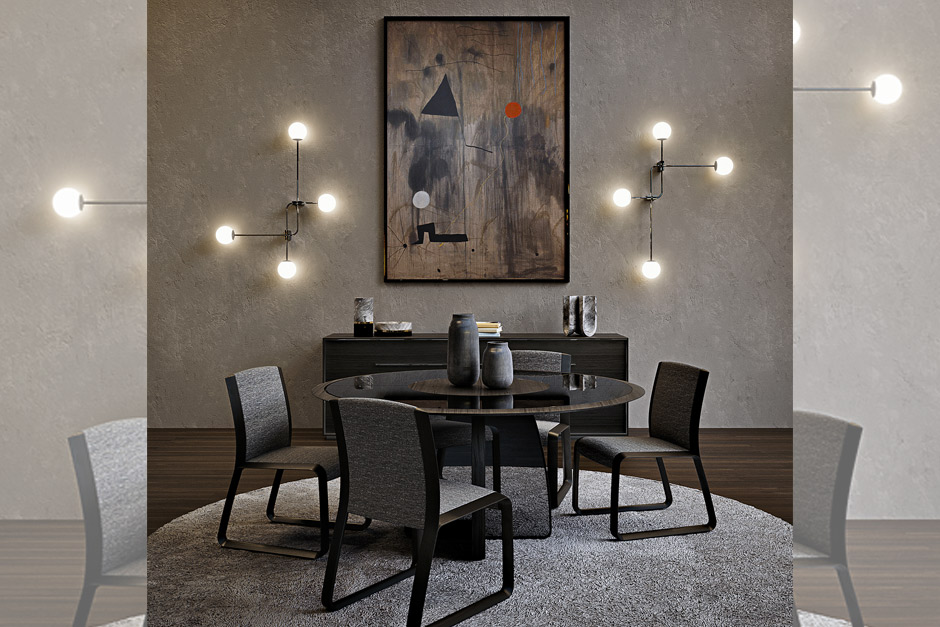 In keeping with the style of the entire house, even the impressive office area is at the same time elegant, functional and comfortable. The Sean desk plays the leading role in the setting: made of smoke grey stained Tay wood, it is characterized by the presence of bands with a bronzed finish and by a leather-covered top that lends the desk a feeling of softness. It is combined with the Kurgan swivel chair, an original reinterpretation of the classic ergonomic office chair.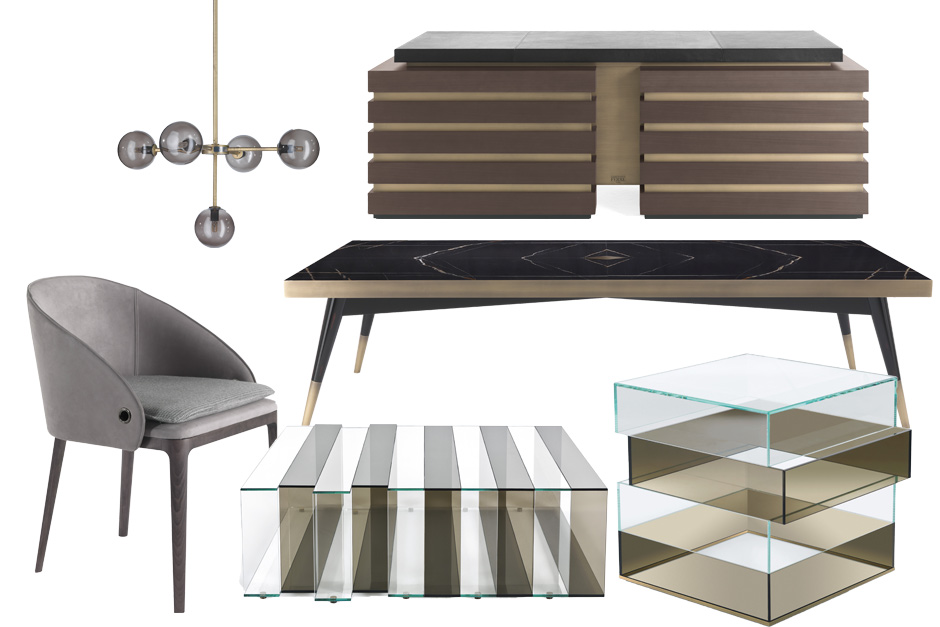 DOUGLAS chandelier | SEAN desk | MAYFAIR dining table | RIO chair | JENGA low table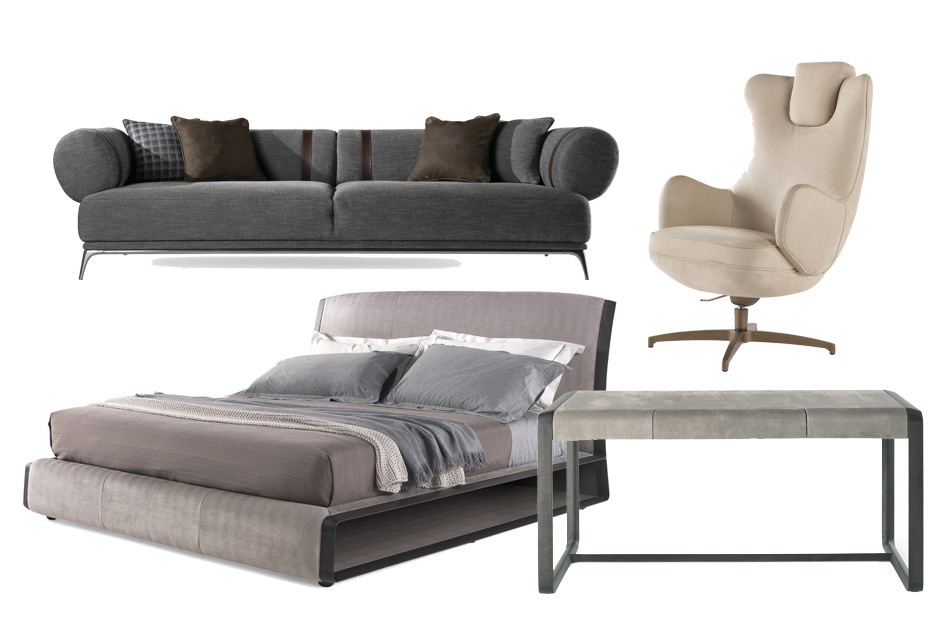 PHOENIX sofa | KURGAN executive chair | WYNWOOD bed | WYNWOOD desk