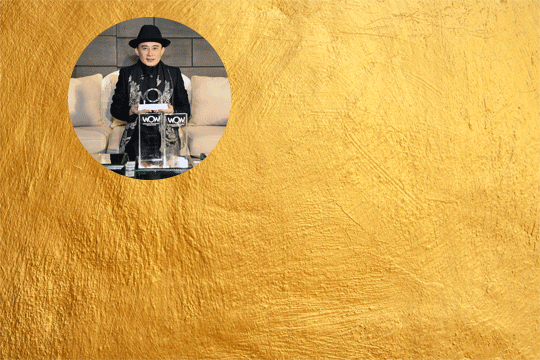 From Beauty to Victory
Published by Sugar & Cream, Tuesday 21 November 2017
Text by JW, Images Courtesy of Tim Muara Bagda
Rinaldy A Yunardi – The Top Winner of World of WearableArt(WOW), Wellington.

Melalui dua karya yang memukau, Encapsulate dan Cosmos, desainer aksesori kenamaan Indonesia, Rinaldy Yunardi, meraih tiga penghargaan di ajang kompetisi desain prestisius World of WearableArt di Wellington, Selandia Baru. Kehebatan Rinaldy Yunardi, atau yang kerap dipanggil Yungyung, dalam mendesain aksesori memang tidak perlu diragukan lagi. Selama lebih dari 20 tahun, Rinaldy melahirkan berbagai kreasi dengan kreativitas dan estetika yang dipacu ke titik maksimum.
Dan kini, lampu sorot semakin menerangi dirinya. Dalam ajang World of WearableArt (WOW), karyanya yang bertajuk Encapsulate berhasil keluar sebagai juara umum dengan memenangkan The Supreme WOW Award yang merupakan penghargaan tertinggi. Tidak hanya itu, Encapsulate juga menyabet juara I untuk kategori Open (Section Award).
Selain Encapsulate, Rinaldy juga mengharu biru perhelatan WOW lewat satu karya lainnya, Cosmos, yang terpilih sebagai juara I untuk kategori Avant-Garde (Section Award). Untuk pencapaian ini, Rinaldy berhasil menyisihkan tidak kurang dari 104 karya finalis dari 122 desainer yang berasal dari 13 negara.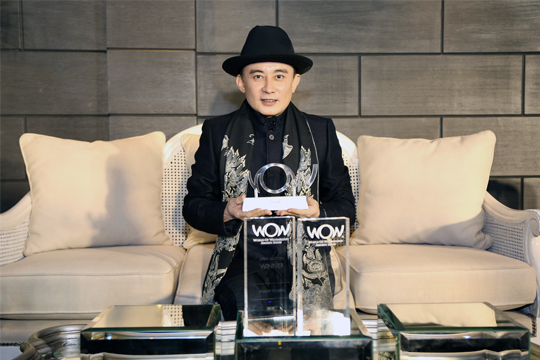 Rinaldy A Yunardi

Encapsulate terinspirasi dari keteraturan alam semesta, yang diterjemahkan ke dalam bentuk menyerupai kapsul raksasa yang terbuat dari susunan helai tali rafia dan LED. Kapsul tersebut terpotong menjadi dua bagian yang disematkan ke tubuh model. Sementara Cosmos tampil dalam rupa baju hitam dan perak yang terbuat dari kristal jala, tali rafia, dan logam dengan imbuhan hiasan kepala yang rumit serta menutupi seluruh tubuh model.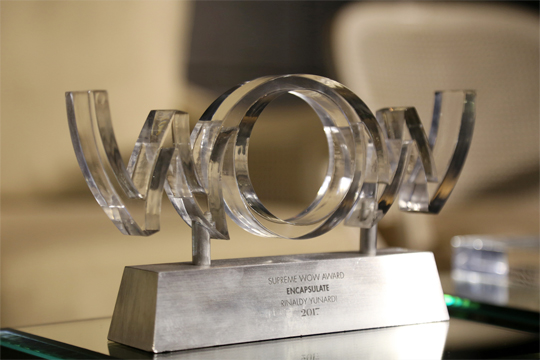 WOW yang tahun ini memasuki tahun penyelenggaraan ke 29, merupakan ajang kompetisi desain tingkat dunia yang menjadi perhatian para pecinta desain dan mampu menarik hingga 60.000 pengunjung per tahun. Karya Rinaldy akan dipamerkan di National WOW Museum yang ikonik di Nelson, Selandia Baru, mulai awal Desember 2017.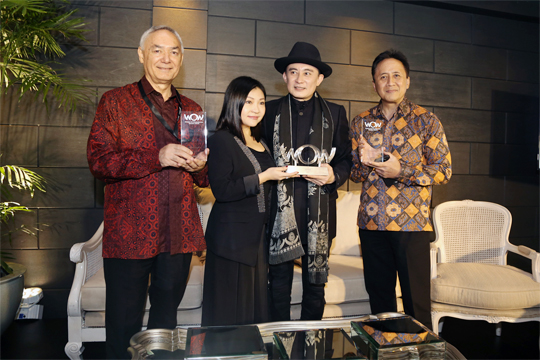 Trevor Matheson, Faye Liu, Rinaldy A Yunardi, Triawan Munat


Rinaldy A Yunardi