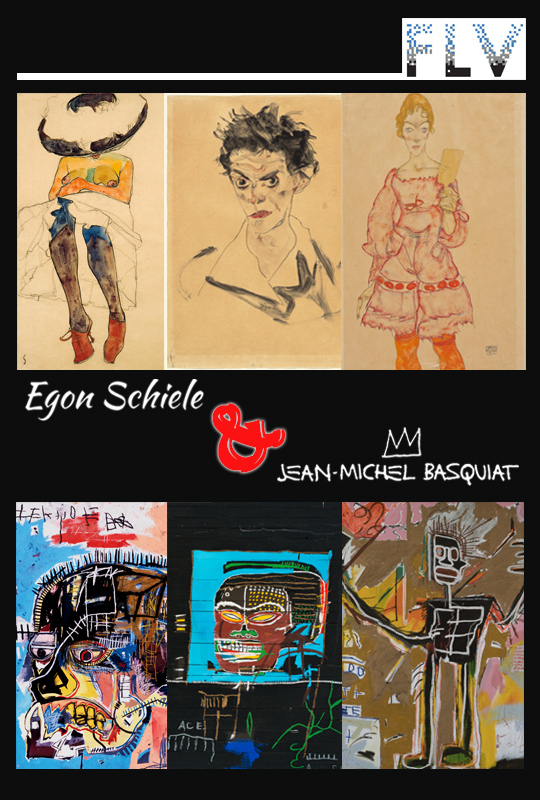 Foundation Louis Vuitton :  Egon Schiele & Jean-Michel Basquiat
Published by Sugar & Cream, Tuesday 16 October 2018
Text by S&C, Images courtesy of Foundation Louis Vuitton
Paris : October 3rd, 2018 – January 14th, 2019
Apa persaman antara seniman Egon Schiele (1890-1918)dan Jean-Michel Basquiat (1960-1988)? Bukan tanpa alasan kuat jika Foundation Louis Vuitton dengan kemegahan arsitekturnya melansir pameran karya-karya ikonis kedua seniman  dunia yang hidup berbeda jaman dan generasi tersebut.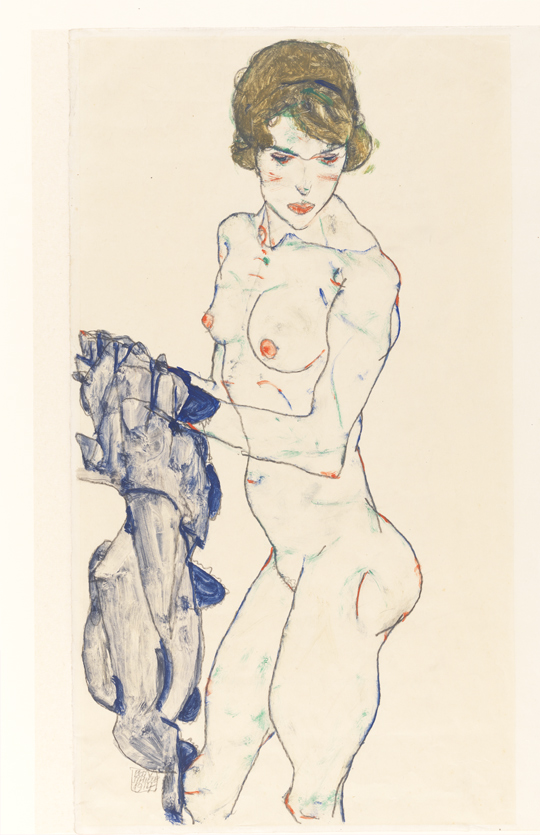 Egon Schiele – Standing Female Nude with Blue Cloth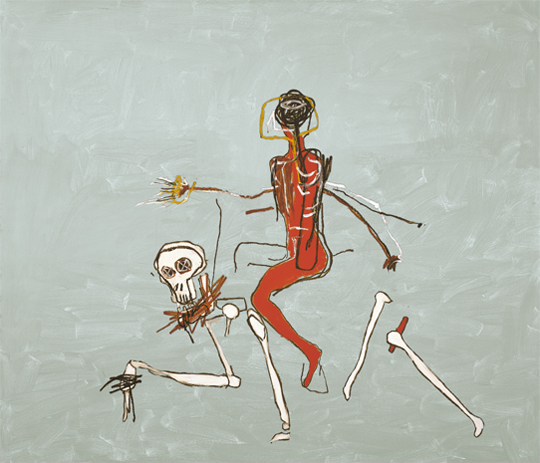 Jean-Michel Basquiat – Riding with Death 1988 Acrylic

Ini adalah pertama kalinya Foundation Louis Vuitton mengabadikan monograf kedua seniman ikonis tersebut dalam satu ajang pameran yang sama. Dengan skala jumlah koleksi (Basquiat) yang diperlihatkan, ini pameran pertama kalinya dalam perspektif sejarah seni rupa dunia.


Jean-Michel Basquiat – Pez Dispenser 1984 Arcylic an
Seniman dunia Egon dan Basquiat sama-sama berkarya dan melambung pesat dengan kariernya dalam kurun waktu singkat (kurang dari satu dekade). Karya Egon maupun Basquiat meninggalkan jejak dengan intensitas dan kedahsyatan yang permanen pada kita semua. Keduanya sama-sama mencari identitas diri melalui karya-karya dengan melawan arus atau gerakan seni rupa yang kuat dan kokoh saat itu.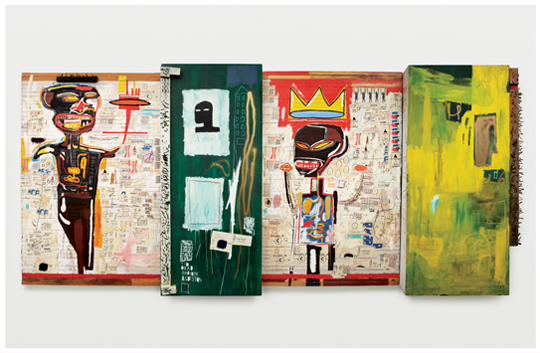 Jean-Michel Basquiat – Grillo 1984 Arcylic Oil Paper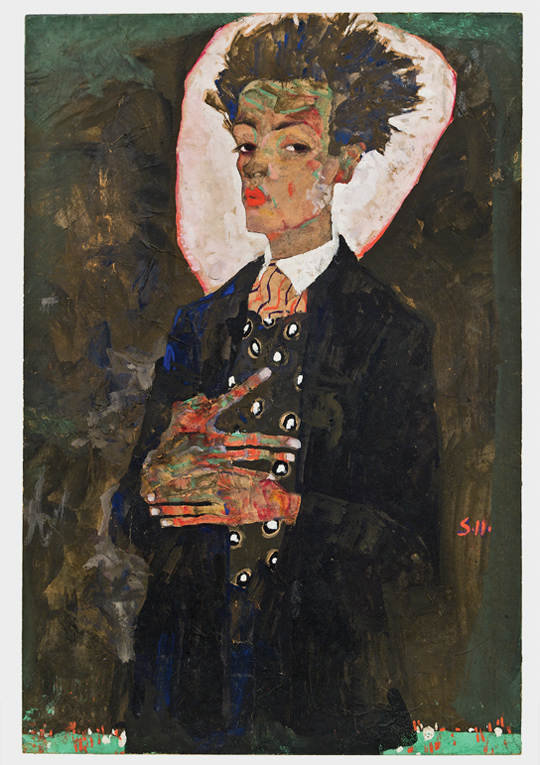 Egon Schiele – Self Portrait with Peacock Waistcoat
Pecinta seni mungkin masih ingat bahwa Darga Gallery di Bali pernah mengejutkan dengan melansir sejumlah koleksi seniman Basquiat di Bali.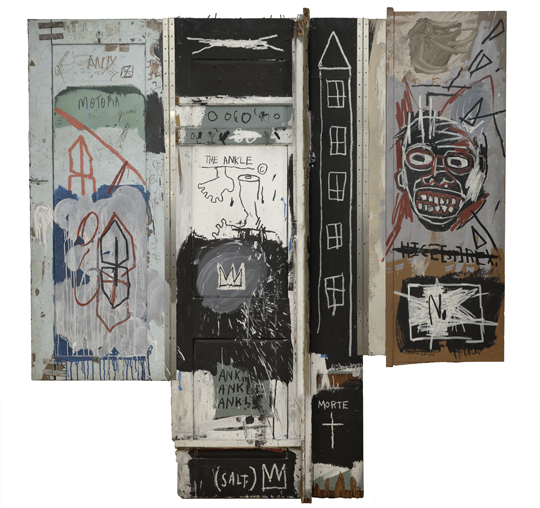 Jean-Michel Basquiat – Portrait of the Artist as a Y
Hingga kini nama dan karya kedua seniman tersebut mewakili salah satu referensi sejarah seni rupa dunia termasuk 'ikon' nyata bagi generasi baru.
Dari dua benua berbeda dan dari dua ujung berlawanan di abad 20 Wina (Egon) – New York (Basquiat), kedua seniman memperlihatkan pemberontakan, kemarahan dan perlawanan untuk dapat muncul dipermukaan tanpa harus mengikuti aliran seni yang berlaku saat itu.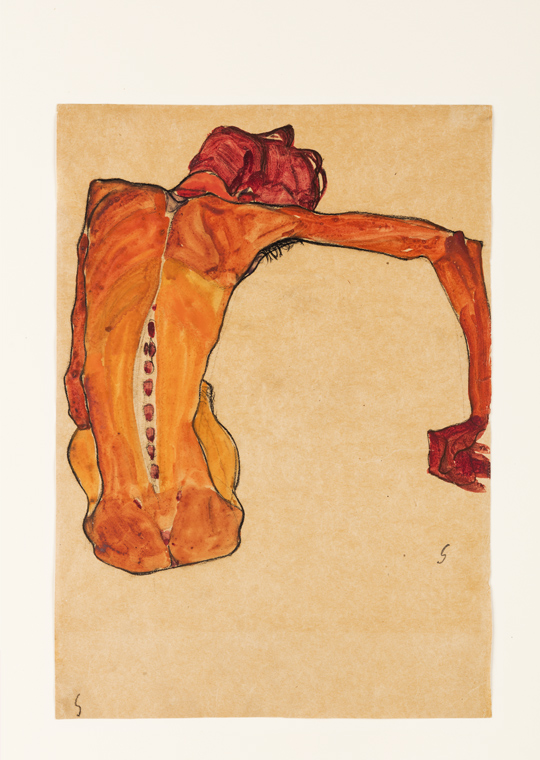 Egon Schiele – Seated Male Nude Back View 1910 Water
Egon memperlihatkan keindahan garis distorsi seolah tak terkendalikan dalam sosok figur/tubuh dengan tatapan yang sangat intens atau dalam keadaan tersiksa.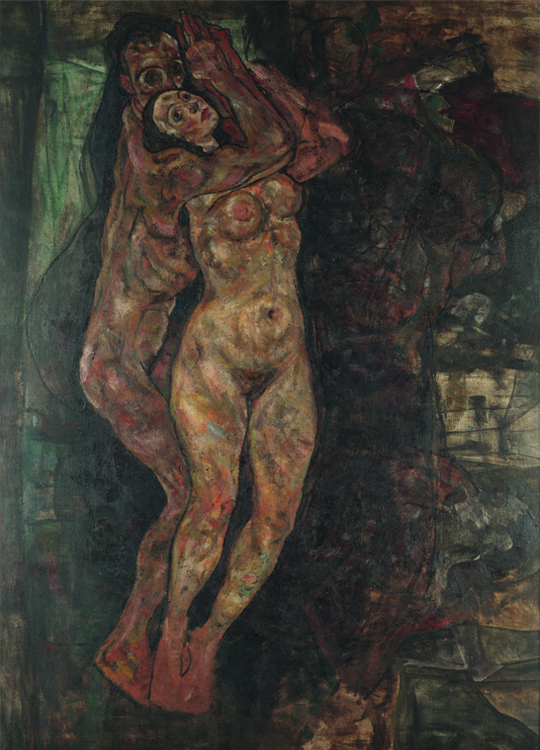 Egon Schiele – Lovers 1918 unfinished Oil on canvas
Seniman Egon berkarya disaat Wina dikenal sebagai pusat intelektual dan artistik yang ditandai oleh Secession, jugendstil dan kelahiran modernitas intelektual dan artistik yang bersemangat.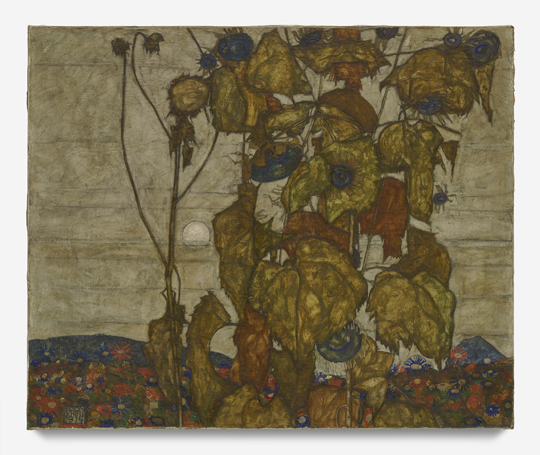 Egon Schiele – Autumn sun Sunflowers 1914 Oil on Canvas
Pameran Egon merupakan pameran seri monograph pertama dalam 25 tahun di kota Paris. Karya ikonis yang diperlihatkan termasuk:
"Self-Portrait with a Chinese Lantern" (1912), dari the Leopold Museum (Vienna), "Pregnant Woman and Death" (1911), dari the Národní gallery (Poland), "Portrait of the Artist's Wife Seated, Holding Her Right Leg" (1917) dari the Morgan Library & Museum (New York), "Standing Nude with Blue Sheet" (1914) dari the Germanisches Nationalmuseum, Nuremberg, "Seated Male Nude" (1910) dari the Neue Galerie New York, dan "Self-Portrait" (1912) dari the National Gallery of Art, Washington.


Egon Schiele – Self Portrait with Chinese Lantern Pl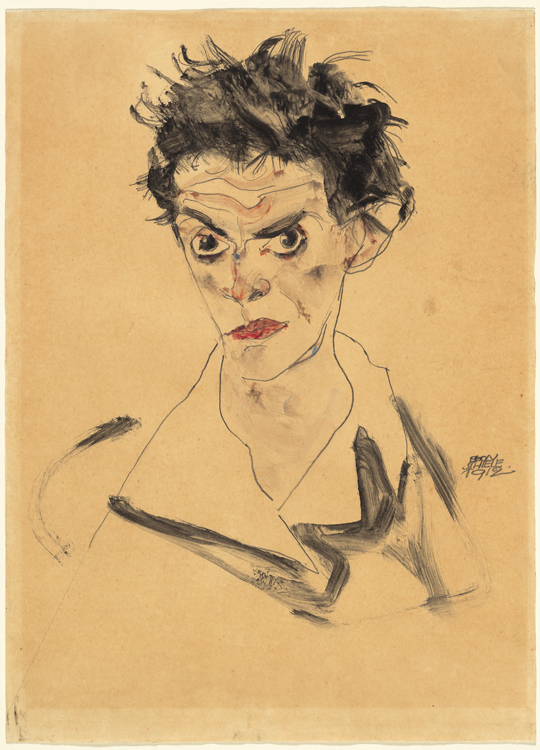 Egon Schiele – Self Portrait 1912 Watercolor over gr
Pameran juga memperlihatkan 120 karya – drawings, gouaches, and paintings – di the pool-level galleries (Gallery 1).
"Saya akan sampai pada titik di mana orang akan terkejut oleh kehebatan dari masing-masing karya 'hidup' saya", tulis Schiele.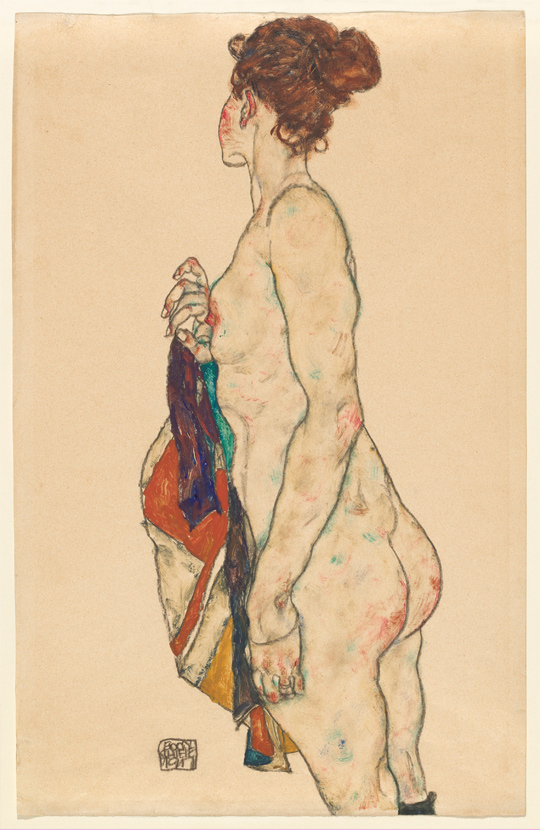 Egon Schiele – Standing Nude with a_Patterned Robe

Basquiat dengan vitalitas gerakan bawah tanah dan seni grafitinya di New York, berjuang dengan identitas diri, berjuang sebagai seorang seniman berkulit hitam, berjuang melawan hierarki praktik seni saat itu.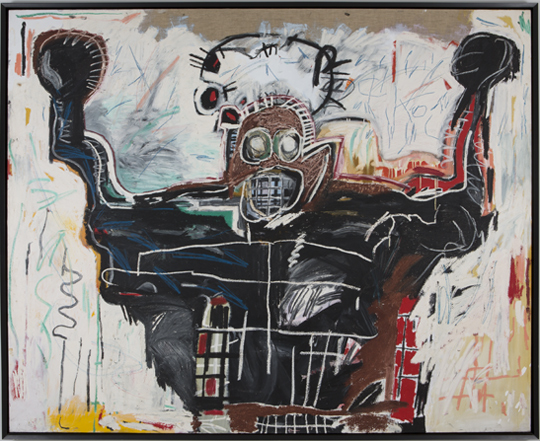 Jean-Michel Basquiat – Untitled Boxer 1982 Arcylic a
Karya Jean-Michel Basquiat, salah satu pelukis paling signifikan abad ke-20, tersebar di empat tingkat gedung Frank Gehry. Pameran ini mencakup seluruh karier pelukis, dari 1980 hingga 1988, dengan fokus pada 120 karya yang fenomenal. Mulai dari karya Heads dari 1981-1982, berkumpul untuk pertama kalinya di sini, dan presentasi dari beberapa kolaborasi antara Basquiat dan Warhol, pameran termasuk karya yang belum pernah dipamerkan di Eropa, beberapa karya penting seperti Obnoxious Liberals (1982), In Italian (1983) , dan Riding with Death (1988), serta sedikit lukisan yang jarang terlihat sejak presentasi pertama mereka selama masa hidup artis, seperti Offensive Orange (1982), Untitled (Boxer) (1982), dan Untitled (Yellow Tar dan Feathers) ) (1982).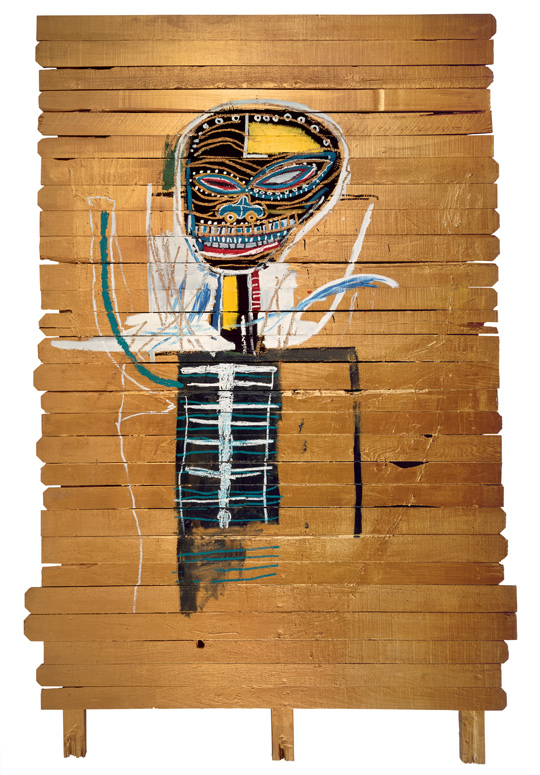 Jean-Michel Basquiat – Gold Griot 1984 Acrylic and Oil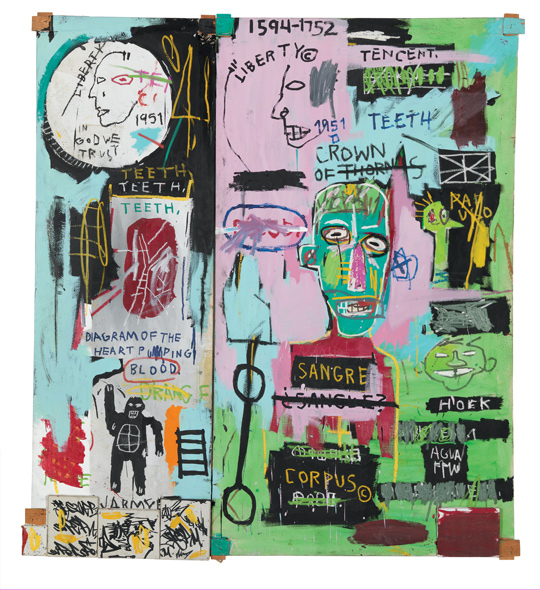 Jean-Michel Basquiat – In Italian 1983 Acrylic and o
Pameran Basquiat menempati area sekitar 2500 m² dan disusun secara kronologis serta berdasarkan kelompok-kelompok karya yang menentukan tema dan mengundang perbandingan. Bagi kurator Dieter Buchhart, "Pameran ini mengikuti karya-karyanya, mulai dari gambar pertama dan karya-karya monumental hingga cetakan, kolase, dan assemblages berikutnya, menyoroti sentuhan yang tak ada bandingannya, penggunaan kata-kata, frasa dan enumerasi, dan bantuannya pada puisi hip hop konkrit. Untuk citra pria Afro-Amerika yang terancam oleh rasisme, pengucilan, penindasan dan kapitalisme, ia menentang para pejuang dan pahlawan. ".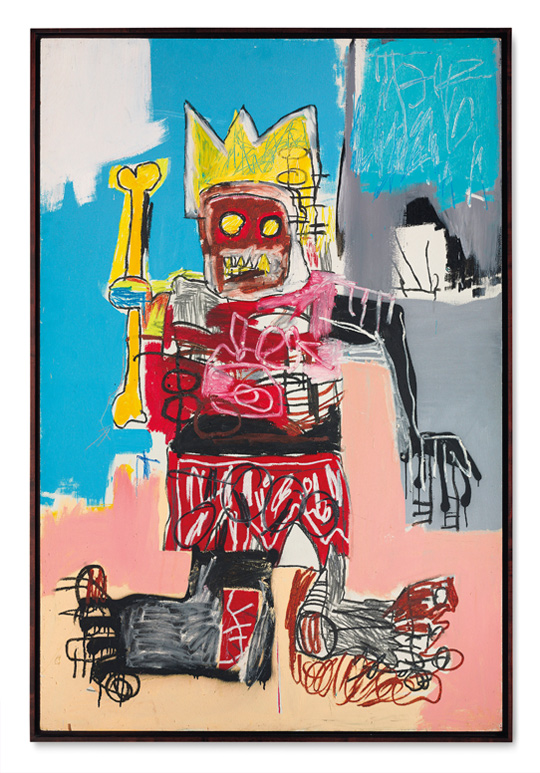 Jean-Michel Basquiat – Untitled 1982 Acrylic and Oilstic