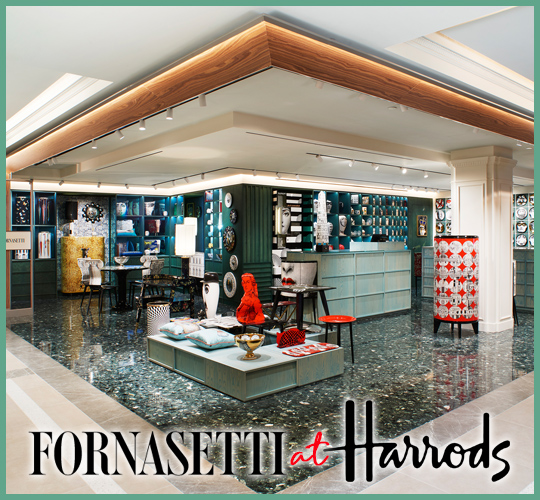 presented by

Fornasetti at Harrods
Published by Sugar & Cream, Thursday 31 October 2019
Text by Dira Rohmatun, images courtesy of Fornasetti
On the third floor of the Luxury Home Section
Untuk pertama kalinya, Fornasetti membuka gerai terbaru di London tepatnya di Harrods – salah satu department store terkemuka di dunia yang terkenal dengan berbagai barang mewah dan pelayanan ramah yang tak tertandingi – Outlet pertama di luar Italia setelah membuka 2 outlet di negeri asalnya.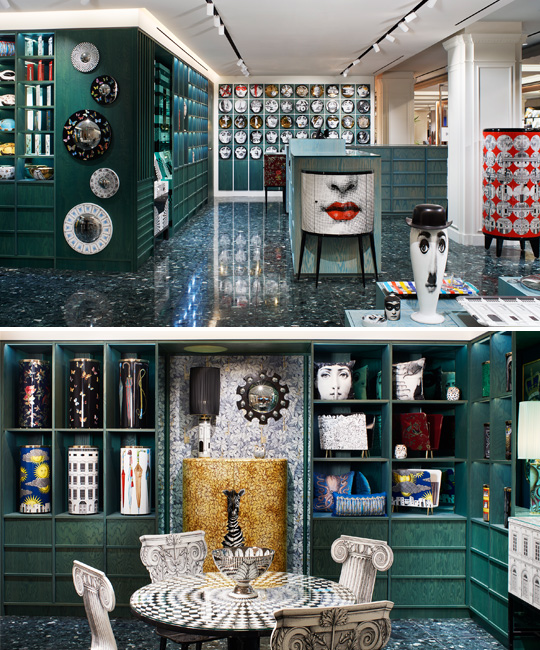 Fornasetti at Harrods
Ruang seluas 70 m2 ini didominasi warna hijau gelap nan elegan, yang didesain oleh Studio Desain Brinkworth dengan mengambil konsep dalam elemen Fornasetti visual language yaitu rhythm, repetition, dan illusion. Struktur dinding sempurna dengan palet warna yang terampil dan penataan ruang yang apik – gerai ini memiliki daya tarik magis yang menciptakan suasana Fornasetti dengan ilusi optik yang menakjubkan. Sehingga mampu menampilkan ruangan dengan interior yang mewah.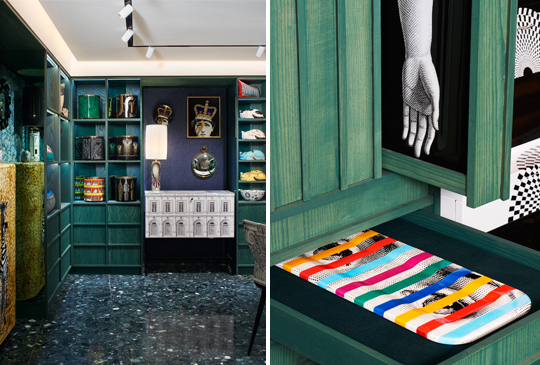 Fornasetti at Harrods
"The new store is the result of an innovative creative project. It focuses on one of the expressions of Fornasettian imagination that reflects the love of graphic design, the abstract and the optical illusions that shake up our points of reference and make proportions disappear" Artistic Director, Barnaba Fornasetti.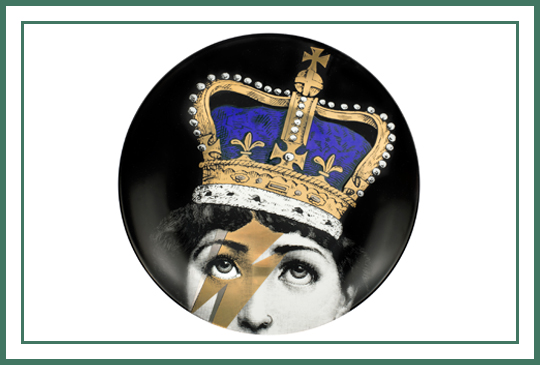 Fornasetti at Harrods – Fornasetti Plate Queen Lina
Label yang terkenal akan dekoratif buatan tangan berkualitas tinggi ini turut merayakan pembukaan gerai terbarunya dengan mempersembahkan karya spesial dalam seri "Tema e Variazioni" yang ikonik – yaitu sebuah piring yang terinspirasi dari gerakan punk di Inggris, yang memadukan wajah Lina Cavalieri yang memikat dengan simbol-simbol Inggris dari era yang berbeda. Tersedia secara eksklusif di Harrods.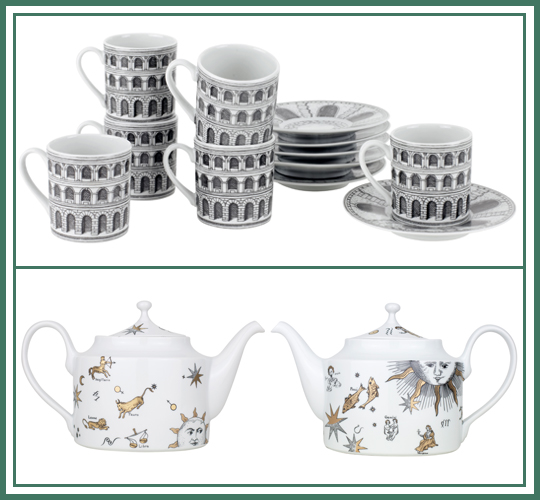 Fornasetti at Harrods – Fornasetti Set 6 Coffe Cups Architettura dan Fornasetti Teapot Astronomici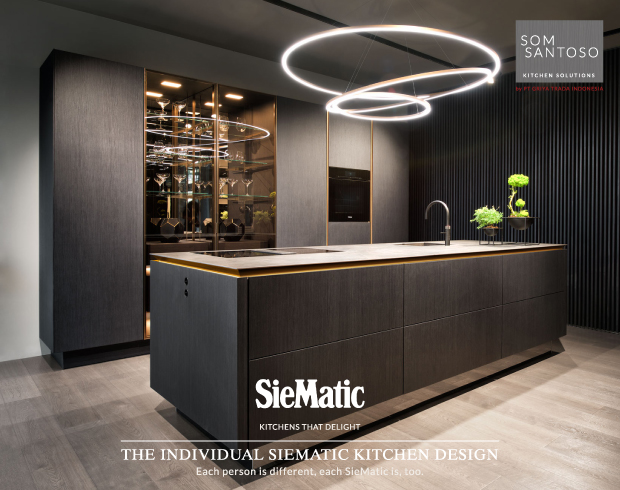 Presented by Som Santoso
Tak hanya itu, berbagai produk eksklusif Fornasetti lainnya juga dihadirkan secara khusus seperti, furniture, accessories, ceramics, wallpaper, dan home fragrances.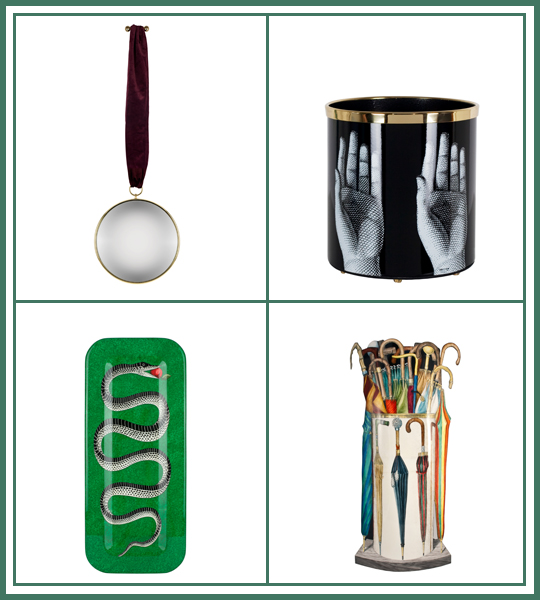 Fornasetti at Harrods – Magic Convex Mirror, Paperbasket Mani, Tray Serpente, dan Umbrella Stand Trompe L'oeil Portaombrelli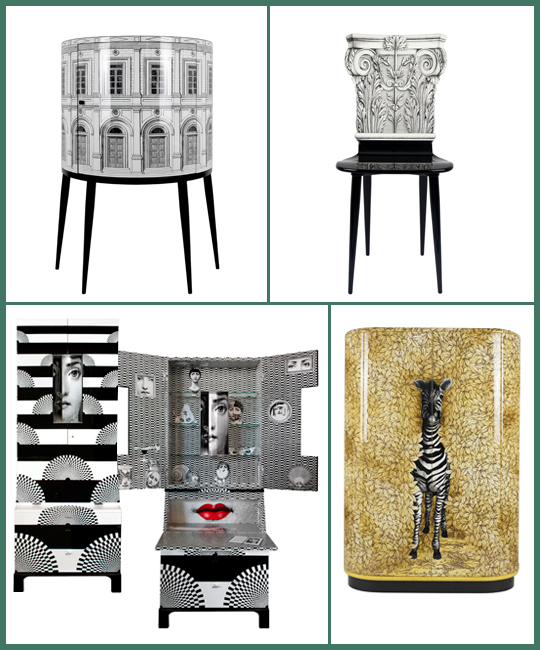 Fornasetti at Harrods – Consolle Architettura, Chair Capitello Corinzio, Trumeau Fun Fan, dan Curved Cabinet Zebra.