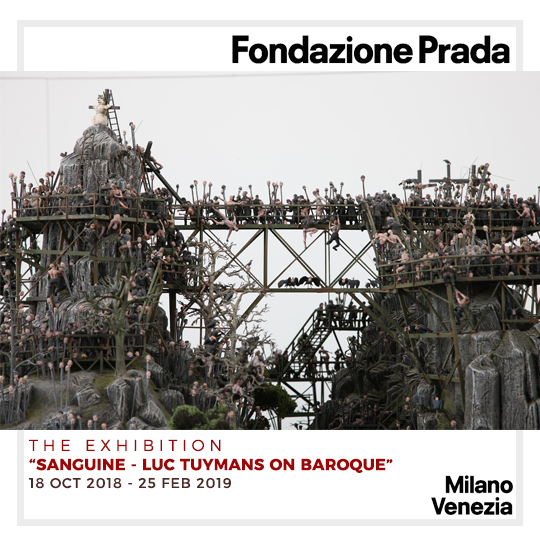 FONDAZIONE PRADA – THE EXHIBITION "SANGUINE – LUC TUYMANS ON BAROQUE"
Published by Sugar & Cream, Monday 17 September 2018
Text by Dira Rohmatun, images courtesy of Fondazione Prada
18 OCTOBER 2018 – 25 FEBRUARY 2019 IN MILAN
Ada apa dengan seni Baroque and pergerakan seni saat ini?
Institusi seni Italia terkemuka, Fondazione Prada di Milan, menggelar pameran "Sanguine – Luc Tuymans on Baroque" yang diselenggarakan pada 18 oktober 2018 hingga 25 Februari 2019. Acara yang berkolaborasi dengan M KHA (Museum of Contemporary Art of Antwerp), KMSKA (Museum of Fine Arts of Antwerp) dan The City of Antwerp akan dikuratori langsung oleh Luc Tuymans yang menampilkan 80 karya dari 62 seniman asing secara eksklusif mengenai Seni Baroque.


Jake & Dinos Chapman
Fucking Hell, 2008
Glass-fibrer, plastic and mixed media (nine parts)
Pinault Collection
Seakan menceritakan apa itu Baroque, judul dalam pameran ini bermakna seperti sebuah kata yang menandakan warna darah, tetapi juga keras dan sangat temperamen. Sedangkan teknik gambarnya, menunjukkan berbagai perspektif untuk menafsirkan karya dari Seni Baroque yang dipamerkan, di mana terdapat kekerasan, kekejaman dan dramatisasi, realisme yang dilebih-lebihkan, kemuakan dan keingintahuan, serta teror dan perasaan suka cita dalam hidup berdampingan.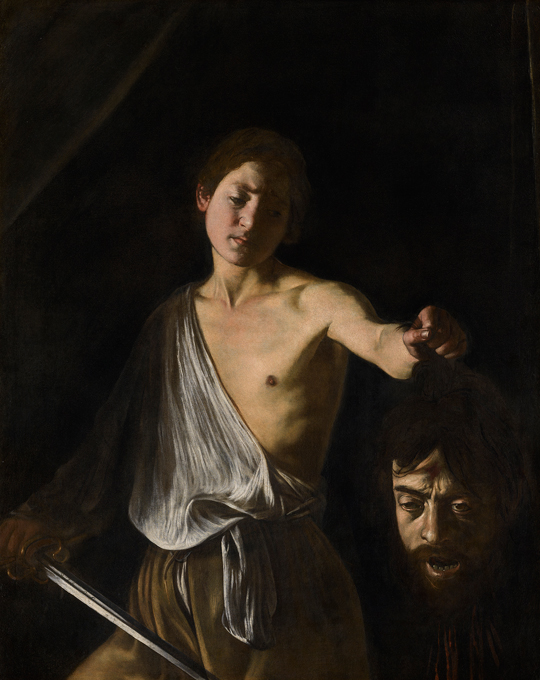 Caravaggio
David con la testa di Golia,1609-10
oil on canvas, 125 x 101cm
© Ministero per i Beni e le Attività culturali – Galleria Borghese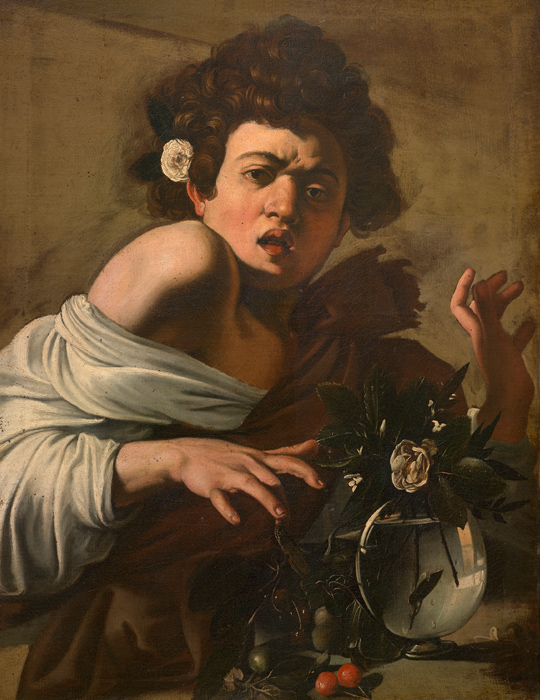 Caravaggio
Fanciullo morso da un ramarro, 1596-1597 circa
oil on canvas, 65,8×52,3 cm
Fondazione di Studi di Storia dell'Arte Roberto Longhi, Firenze
Pusat cerita pada pameran ini ialah Tuymans ingin mengajak pengunjungnya untuk mempertimbangkan kembali seni abad ke-17 ini, serta mempelajari mengenai kontemporer dengan menempatkan seniman dan peran mereka ke dalam masyarakat. Dalam Seni Baroque ini, Tuymans mengeksplorasi mengenai keaslian akan makna politik dari representasi artistik, gejolak emosi yang dihasilkan oleh seni, perayaan kepribadian sang penulis, dan dimensi internasional mengenai kancah seni.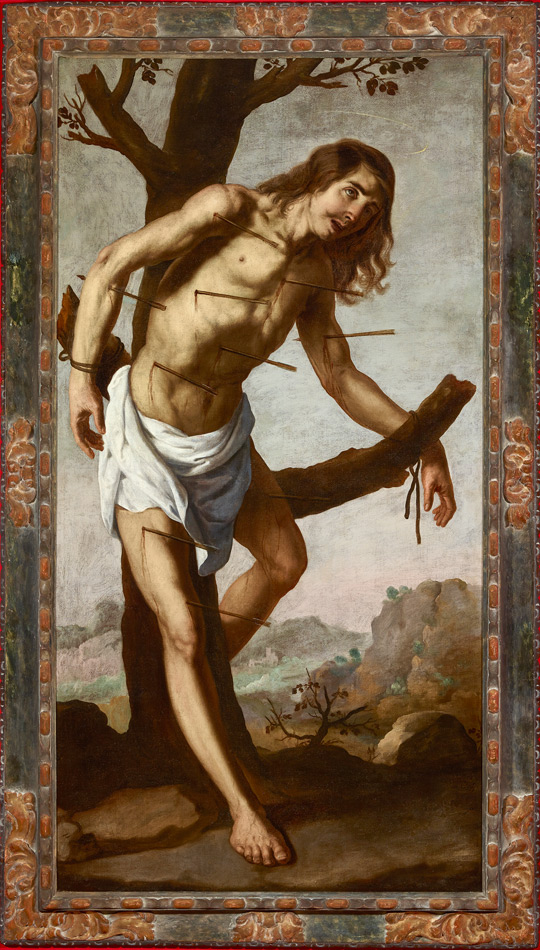 Francisco de Zurbarán
The martyr of Saint Sebastian, Ca. 1650-1655
oil on canvas, 199,7 x 105,5 cm
Private collection
Courtesy Musée national d'histoire et d'art Luxembourg
Photo: MNHA | Tom Lucas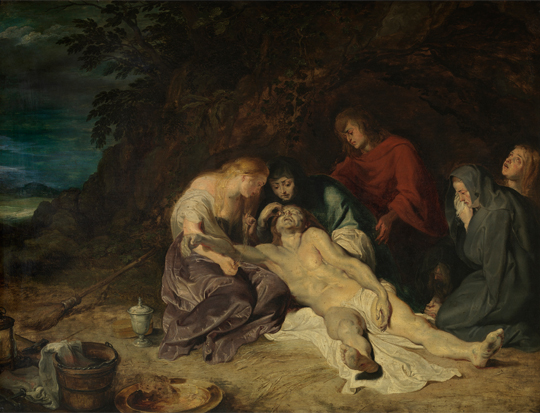 Peter Paul Rubens
The lamentation over the dead Christ with St. John and the Holy Women, 1614
oil on panel, 73 x 55 cm
Royal Museum of Fine Arts Antwerp © www.lukasweb.be – Art in Flanders vzw, photo Hugo
Maertens
Kekhasan Seni Baroque dapat diidentifikasi dalam karya-karya seniman kontemporer mengenai berbagai dramatisasi, ketegangan, semangat hidup dan keagungan, yang dirangkum dengan baik oleh Luc Tuymans dalam "Sanguine".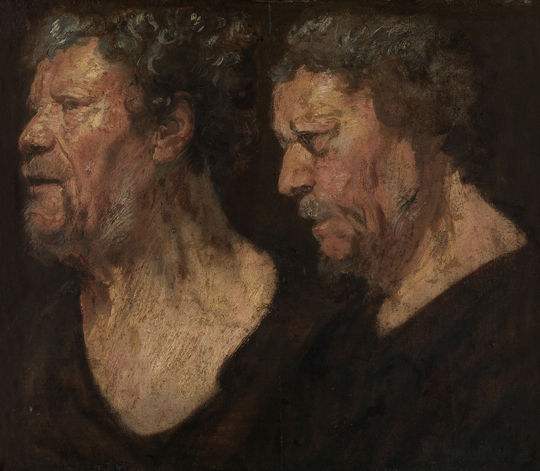 Jacob Jordaens
Studies of the head of Abraham Grapheus, 1620
oil on paper, glued on wooden panel, 52 x 45.2 cm
Museum voor Schone Kunsten, Gent, MSK
© www.lukasweb.be – Art in Flanders vzw, photo Hugo Maertens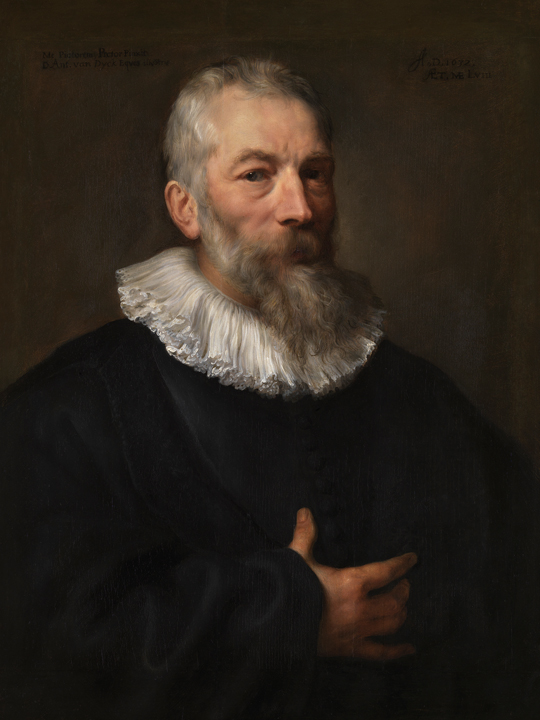 Anthony van Dyck
The painter Marten Pepijin, 1627-1932
oil on panel, 56.0 x 72.0 cm
Royal Museum of Fine Arts Antwerp © www.lukasweb.be – Art in Flanders vzw, photo Hugo
Maertens
Karya-karya seniman pada era seni Baroque seperti Caravaggio, Guido Cagnacci, Andrea Vaccaro, Anthony van Dyck, Jacob Jordaens, Francisco de Zurbarán, Johann Georg Pinsel dan banyak lainnya hadir sebagai penanda adanya pengaruh seni Baroque pada beberapa seni kontemporer saat ini.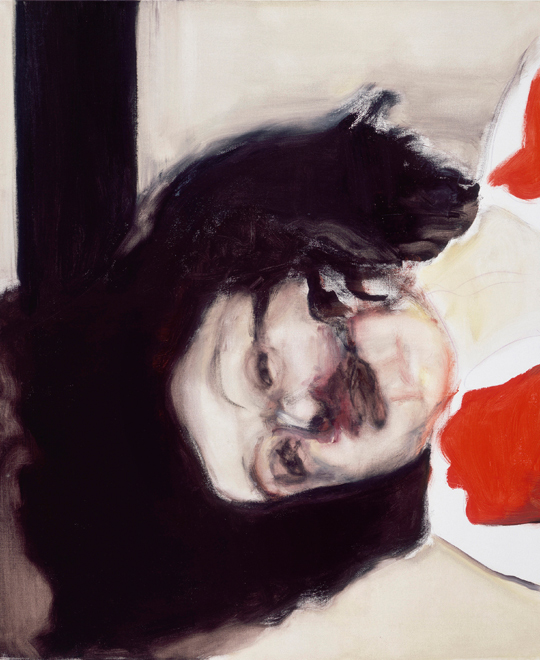 Marlene Dumas
Dead Girl, 2002
oil on canvas, 130.49 x 109.86 cm
Los Angeles County Museum of Art (LACMA)
Purchased with funds provided by the Buddy Taub Foundation, Jill and Dennis Roach,
Directors (M.2003.1).
© 2018. Digital Image Museum Associates/LACMA/Art Resource NY/Scala, Firenze



Kerry James Marshall
Vignette #2.75, 2008
acrylic on polyvinyl, 186 x 155 cm
The Art Institute of Chicago
Dari lukisan, gambar sketsa, fotografi, patung hingga instalasi dan video ditampilkan semuanya. Termasuk karya yang memiliki daya visual dan ikatan emosi yang kuat seperti Fucking Hell (2008) karya Jake & Dinos Chapman, Nosferatu (The Undead) (2018), instalasi video karya Javier Téllez, Thanatophanies (1955–95), seni litografi karya On Kawara, Sleeper (2007–08) karya Michaël Borremans, The Lamentation over the Dead Christ (1614) karya Michaël Borremans dan banyak lainnya ditampilkan. Sebuah pameran terkurasi dengan kuat untuk memperlihatkan pengaruh seni Baroque pada seni kontemporer saat ini.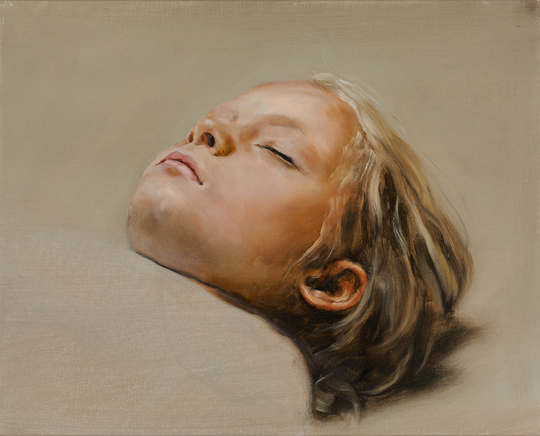 Michaël Borremans
Sleeper, 2007 – 2008,
oil on canvas, 40 x 50 cm
Courtesy Zeno X Gallery, Antwerp
Photographer: Peter Cox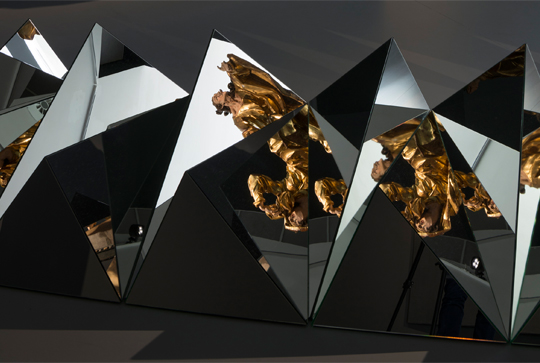 Carla Arocha and Stéphane Schraenen
Circa Tabac (detail), 2007
Courtesy the artists
Pameran "Sanguine" menampilkan juga karya-karya seni Baroque lainnya dari Nick Andrews, Carla Arocha dan Stéphane Schraenen, Fred Bervoets, Adriaen Brouwer, Pavel Büchler, Vaast Colson, Thierry De Cordier, Willem de Rooij, Cornelis de Vos, Zhang Enli, Marcel Gautherot, Isa Genzken, Joris Ghekiere, David Gheron Tretiakoff, Franciscus Gijsbrechts, Pierre Huyghe, Jonathan Johnson, Zlatko Kopljar, Dominik Lejman, Ives Maes, the Master of the Annunciation to the Shepherds, Bruce Nauman, Nadia Naveau, Vanja Radauš, Tobias Rehberger, Alex Salinas, Yutaka Sone, Henri Storck, Pascale Marthine Tayou, Piotr Tolmachov, Dennis Tyfus, Jan VanImschoot, Jan Vercruysse, Michaelina Wautier dan Jack Whitten.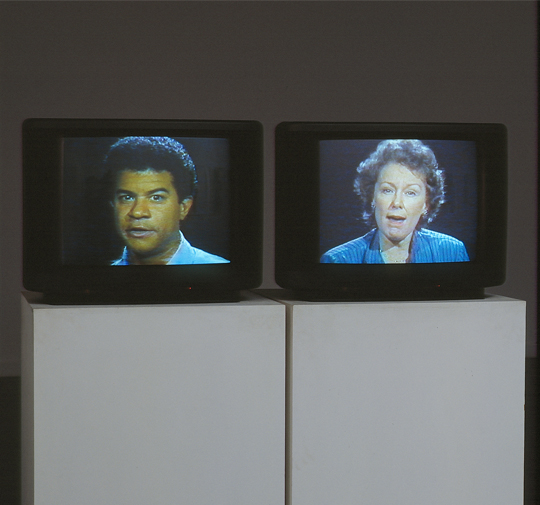 Bruce Nauman
Good Boy, Bad Boy, 1982
dvd, digital betacam, 2 monitors, 2 players
Collection M HKA – Museum Of Contemporary Art Antwerp / Collection Flemish Community, Antwerp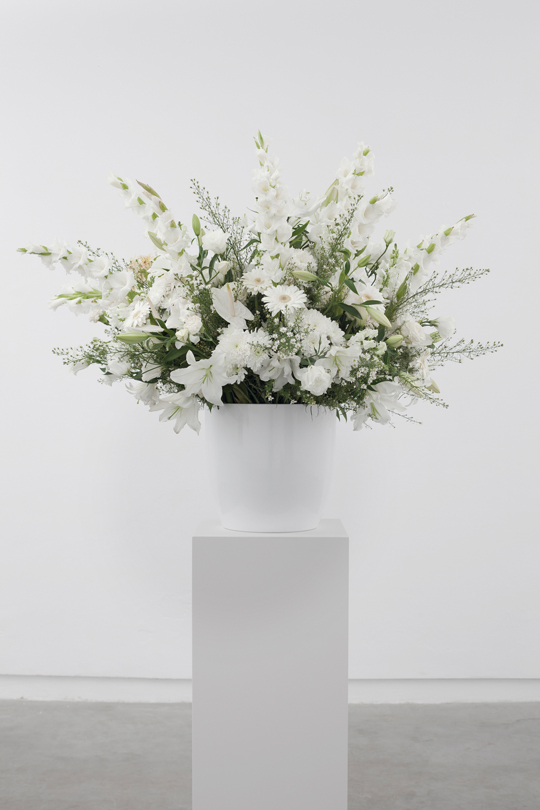 Willem de Rooij
Bouquet IX, 2012
Spherical flower arrangement, 10 different sorts of white flowers, white ceramic vase,
diameter: 100 cm
Courtesy Galerie Buchholz, Berlin/Cologne/New York
Photo: Szymon Roginski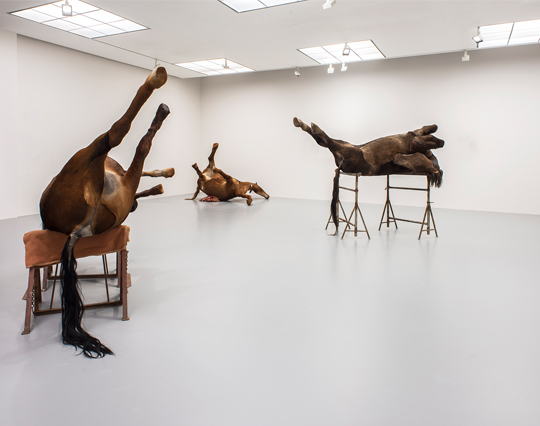 Berlinde De Bruyckere
In Flanders Fields, 2000
horse skin, polyester, metal, plastic, blankets
Collection M HKA – Museum of Contemporary Art Antwerp / Collection Flemish
Community, Antwerp