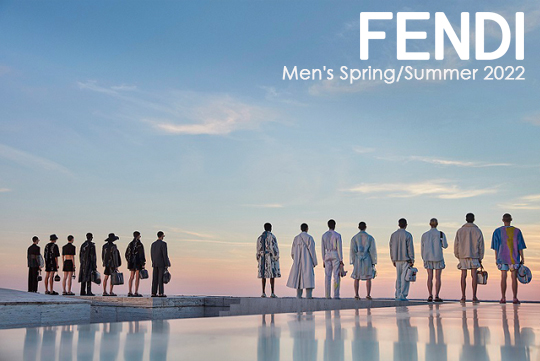 presented by

Fendi Presents Fendi Men's Spring/Summer 2022
Published by Sugar & Cream, Thursday 08 July 2021
Text by Dinda Bestari, Image courtesy of Fendi
An Ode To Roman Skyscape
Pantulan yang dihadirkan layaknya seperti menyaksikan dunia dari atas menginspirasi Fendi Men's Spring/Summer 2022, di mana alam bertemu dengan daya tarik abadi monumen Roma, serta palet warna lembut mengingatkan keindahan dari langit Romawi.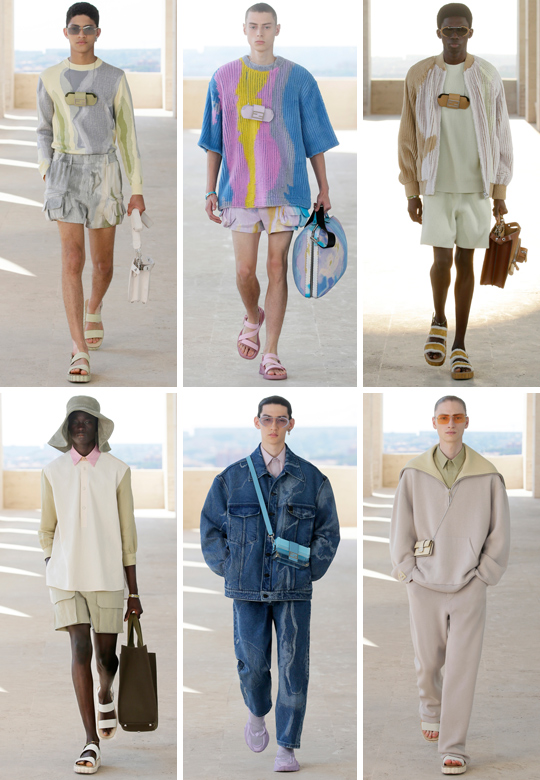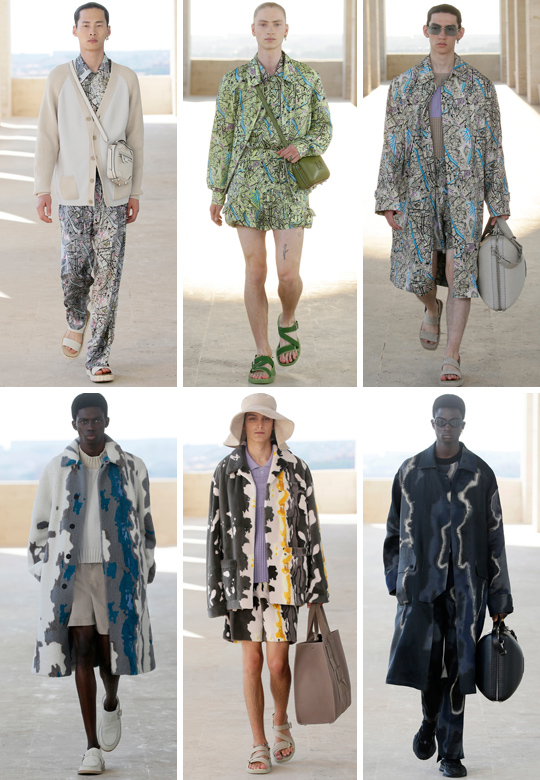 Dalam gaya khasnya, Silvia Venturi Fendi menyampaikan keanggunan dan modernitas yang didasarkan pada sedikit minimalis—contoh nyata dari fashion Italia sejati. Bergerak menuju langit kota yang cerah, berlokasi di headquarter Fendi, Palazzo della Civiltà Italiana di Roma, monumen bersejarah berbentuk kubus yang dilapisi lengkungan simetris sempurna di seluruh eksterior, di sanalah para model memeragakan koleksi Fendi Men's Spring/Summer 2022.  Model mengungkapkan arsitektur Rasionalis bangunan dalam tikungan dan belokan yang tepat saat hari memudar menjadi malam dan headquarter Fendi menjadi hidup dalam pertunjukan cahaya yang spektakuler. Lanskap terhampar dalam pemandangan 360° menuju tujuh bukit Roma, pegunungan Apennine, dan pemandangan Laut Mediterania. Alam dan arsitektur melebur menjadi kanvas spektakuler berwarna lembut.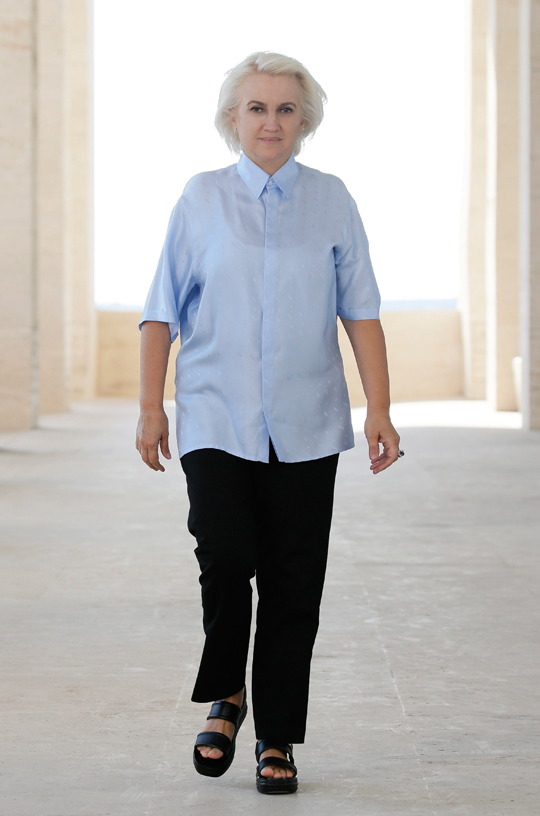 Silvia Venturini Fendi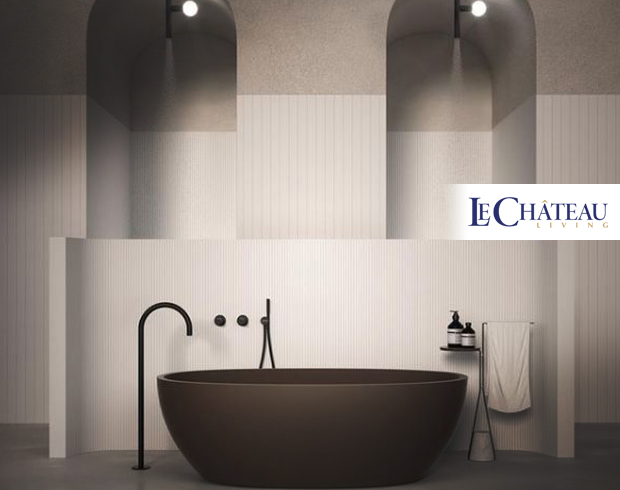 Presented by LeChateau Living
Disutradarai oleh Nico Vascellari, film koleksi Fendi Men's Spring/Summer 2022 menjadi sebuah ode kemegahan untuk lanskap Romawi dengan penghormatan kepada kiasan sinema fiksi ilmiah awal. Serta dibuat oleh komposer Italia,  Alessandro Cortini, film ini disertai dengan komposisi elektronik 9 menit dengan menampilkan synthesizer tracks yang terinspirasi oleh perjalanan antarbintang dan perspektif baru tentang latar monumental seperti yang terlihat dari atas.
Simak video runway Fendi Men's Spring/Summer 2022 di sini
"How you see things – and from where you see them – has never been more important. Our singular point of view in this period has modified our perception of the world – and mine has become so linked to what I see from the arches and the rooftop of our building. It is almost like a bird's eye view of Rome from here. The colours and the perspective are always changing – the soft palette of the Roman sky across the day is so beautiful and I wanted it to be a focal point of this collection." – Silvia Venturini Fendi, Artistic Director of FENDI Accessories and Menswear –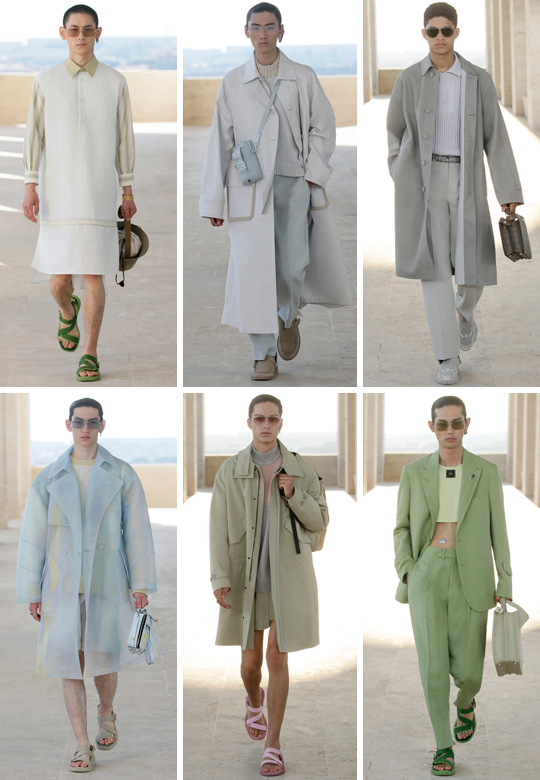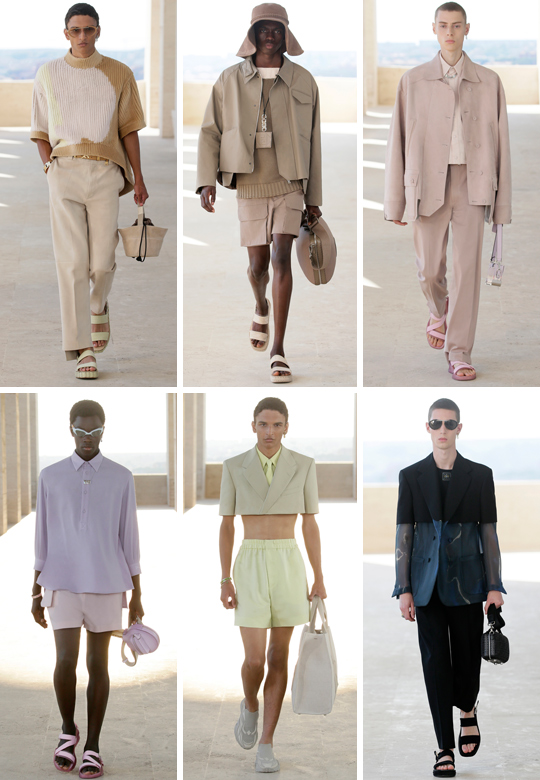 Tampilan koleksi Fendi Men's Spring/Summer 2022 berfokus pada palet warna yang mencerminkan rona langit Italia, lalu 'diambil' untuk menciptakan satu set pakaian yang berdominasi warna pastel. Tone klasik warna lemon dan lime dikontraskan dengan lavender, hijau pistachio, dan peony yang diberi sentuhan sedikit chalk an grafit untuk 'menyuntikkan' elemen kegelapan ke dalam cahaya.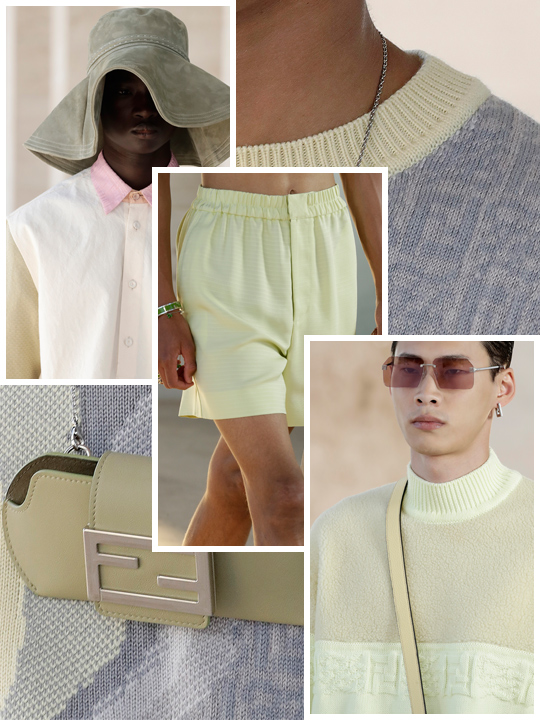 Flowy tops, cropped jackets, blazers, dan bold eyewear  menjadi highlight dalam koleksi kali ini. Koleksi ini mengekspresikan kelembutan dan kemudahan,  serta menjelajahi teknik menjahit terbaru akan volume dan menghadirkan cetakan Fendi Land, gambaran kartografi dari ''Eternal City".  Dalam rangkaian simulasi topografi yang harmonis berjudul Fendi Earth, motif berkontur abstrak 'mengapung' di atas setelan sutra linen, denim jacquard, plush crochet tees, dan shearling intarsia –  yang mencerminkan pemandangan Roma yang diarsipkan dari sudut pandang Fendi.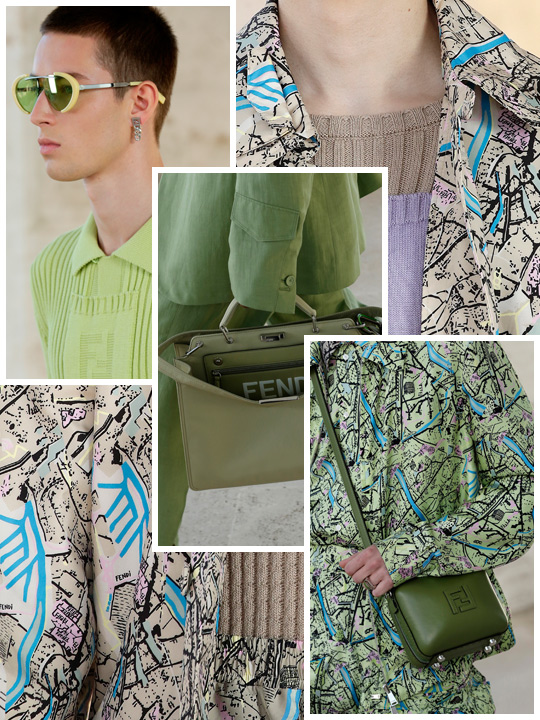 Koleksi aksesori Fendi Men's Spring/Summer 2022 adalah 'sweet escape' dari kenyataan, sebuah interpretasi yang menyenangkan dari benda sehari-hari dan dijadikan fashion item khas craftmanship Fendi. Melengkapi rangkaian busana koleksi ini, para model mengenakan sneakers printed FENDI Flow, gaya sandal gesper digabungkan dengan slip-on knit sneakers monokrom berdetail applique yang disuntikkan dalam palet pastel. Dan juga, Desert Boots berbahan suede lembut dengan gesper logo FF yang menjadi highlight, outdoor inspiration  musim ini bersama Flat Woven Double Strap Sandals dengan detail mewah atau jahitan Selleria.