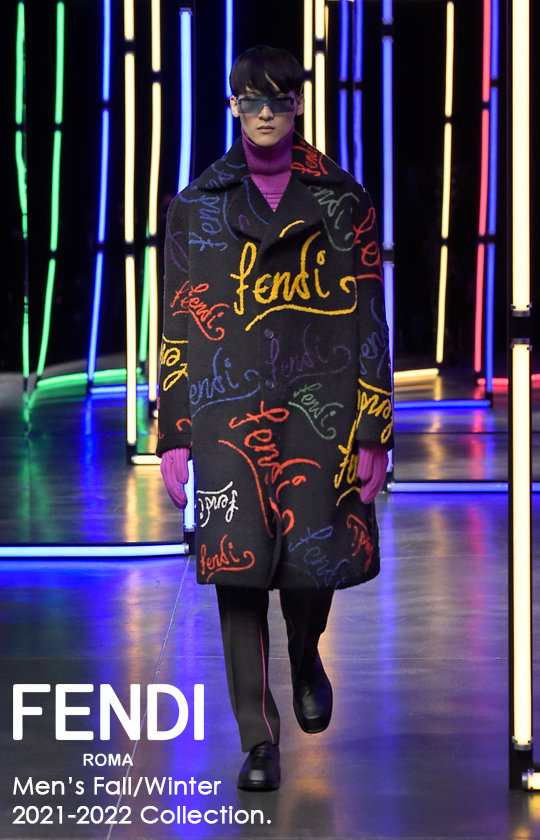 presented by

Fendi Men's Fall/Winter 2021-2022 Collection
Published by Sugar & Cream, Friday 05 February 2021
Text by Farida Esti, images courtesy of Fendi
The Classic Menswear With A New Sense Of Playfulness.
Working from home or being a stay-at-home person, doesn't mean you can't be fashionable. Menyikapi kondisi saat ini, Fendi beradaptasi dengan 'Kenormalan Baru' dalam koleksi busana pria Fall/Winter 2021-2022. Koleksi yang didesain oleh Silvia Venturini Fendi tersebut mengedepankan kenyamanan sekaligus memberi kebebasan berbusana setiap individu meski hanya di rumah saja. Sehingga koleksi ini dapat dipakai di manapun dan kapanpun.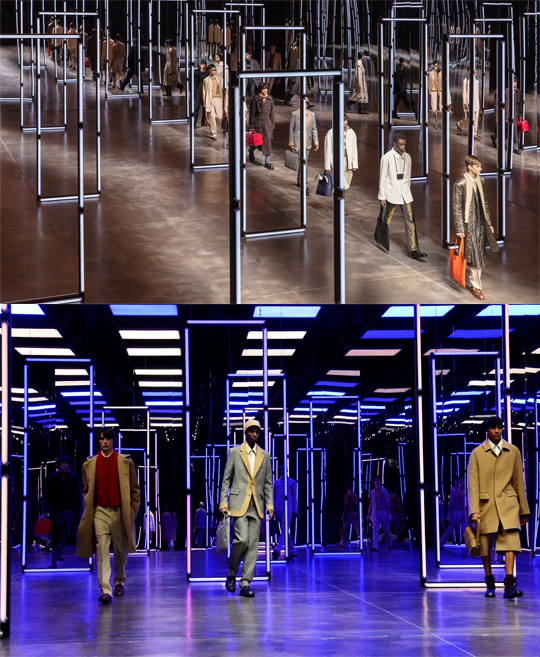 Fendi Men's Fall/Winter 2021-2022 dipamerkan pada ajang Milan Fashion Week yang baru saja berakhir di Milan. Film peragaan busana diarahkan oleh seniman Italia, Nico Vascellari, lalu diiringi musik berjudul What Is Normal Today yang diaransemen oleh Not Waving dan diisi oleh suara Silvia. Panggung fashion show bernuansa gelap dihiasi oleh bingkai doorways berwarna neon menghasilkan kesan futuristik.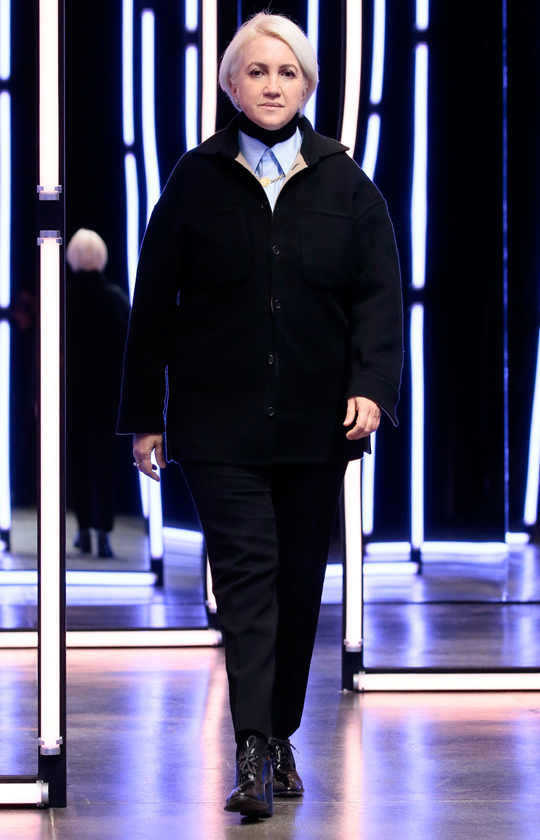 Silvia Venturini Fendi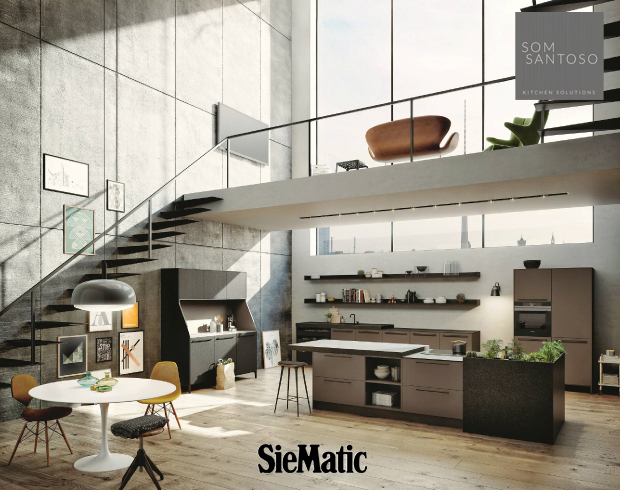 Presented by Som Santoso
Sebanyak 45 look ditampilkan dengan potongan workwear bersiluet relaxed outwear. Spektrum warna cukup beragam, mulai dari warna monokrom hingga warna cerah yang mewakili spirit optimisme Silvia akan masa depan yang lebih cerah. Overcoat dan trench coat dibuat dengan pola lebih santai menggunakan kain cashmere flannel hingga satin. Jaket-jaket puffy dengan teknik quilted diagonal tampil mencolok dalam warna-warna neon.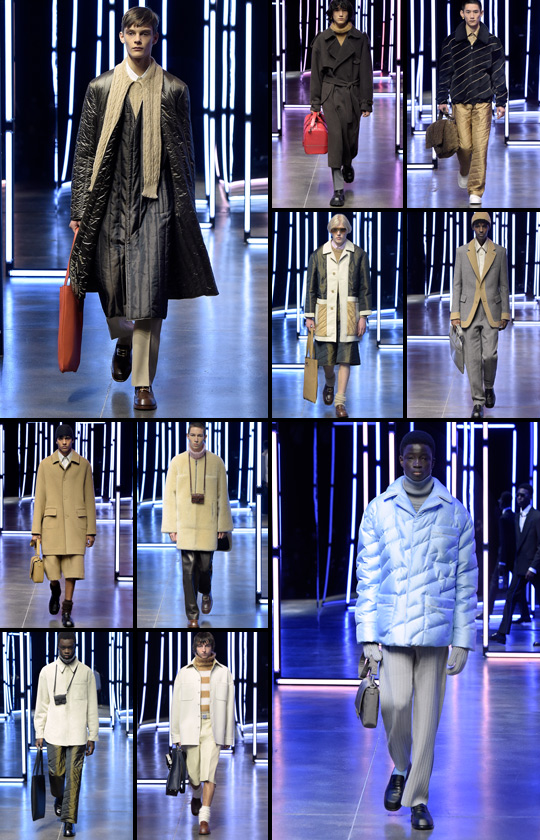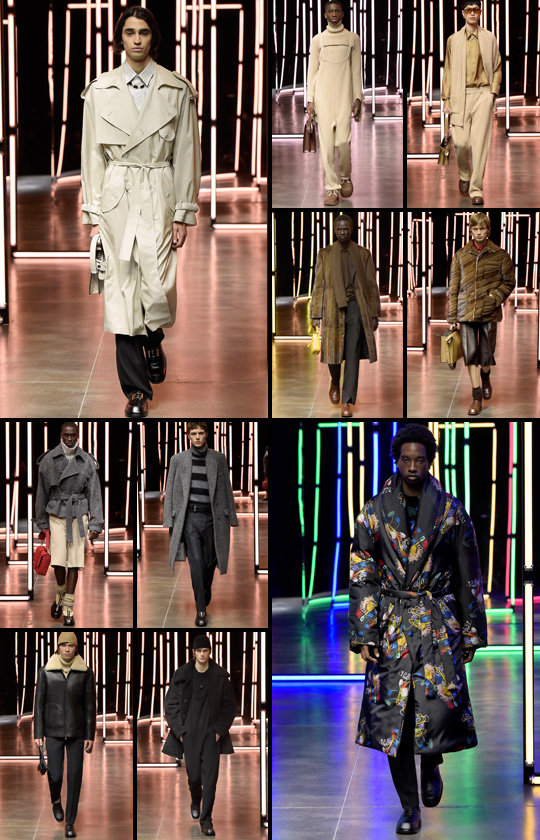 Teknik rajut juga diterapkan pada long johns, cardigan scarve, hingga sweater berleher tinggi yang sangat unik. Aksesori pada koleksi Fendi Men's Fall/Winter 2021-2022 memiliki palet warna warm khas musim gugur. Material kulit dengan aksen monograf FF menjadi bahan utama backpack dan crossbody pouch. Kehadiran sepatu slip–on atau buckle sabots berbahan kulit menambah sentuhan klasik koleksi ini.