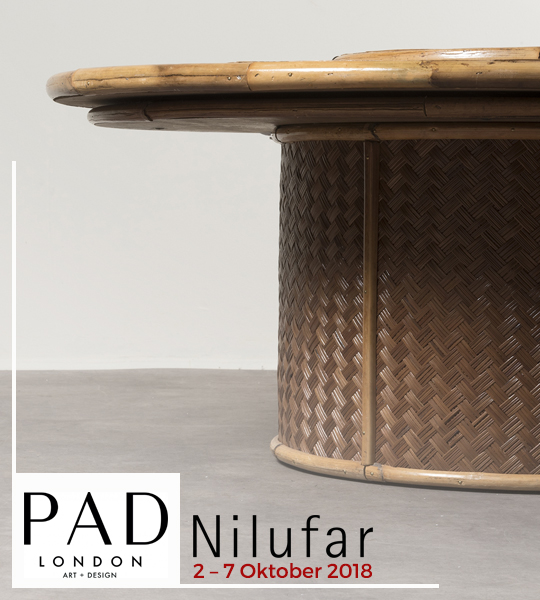 Exhibition of Nilufar Galery at PAD London 2018
Published by Sugar & Cream, Friday 28 September 2018
Text by Dira Rohmatun, images courtesy of Nilufar
2 – 7 Oktober 2018
Menyambut ajang pesta bergengsi PAD London 2018, Nilufar Galery yang didirikan oleh Nina Yashar's turut menyemarakan ajang pesta yang dilaksanakan pada 2 – 7 Oktober 2018 tersebut. Nilufar Galery siap menampilkan koleksi furnitur pilihan yang dirancangan pada tahun 70-an oleh berbagai seniman Milan termasuk karya desainer Gabriella Crespi (1922-2017). Koleksi yang dikurasi dengan cermat tersebut diharapkan dapat mengejutkan.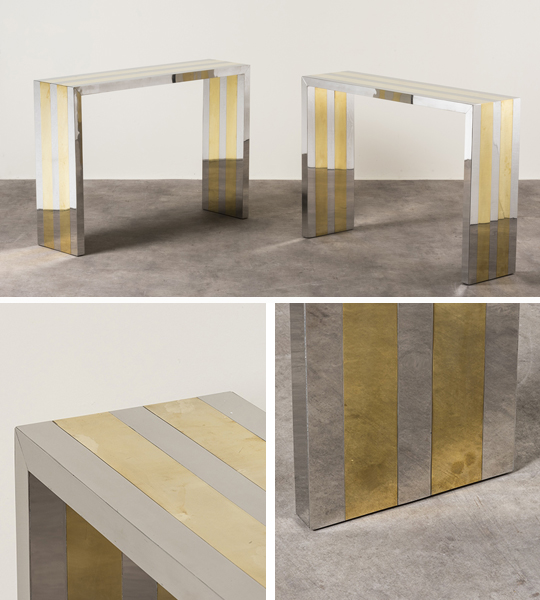 Two consoles by Gabriella Crespi
Italy, 1970 c.
Signed exemplars
steel, brass
Beragam funiture dibuat oleh para desainer dengan bermain pada pemilihan bahan yang menggunakan kekhasan material alami, seperti rotan dan bambu, yang juga ditaburkan dengan kuningan mengkilat, yang mampu membangun atsmosfer yang memikat di dalam ruangan. Secara tak langsung, benda-benda pahatan ini membangkitkan kesan pengalaman spiritual mistik seseorang saat berada di dalam ruangan.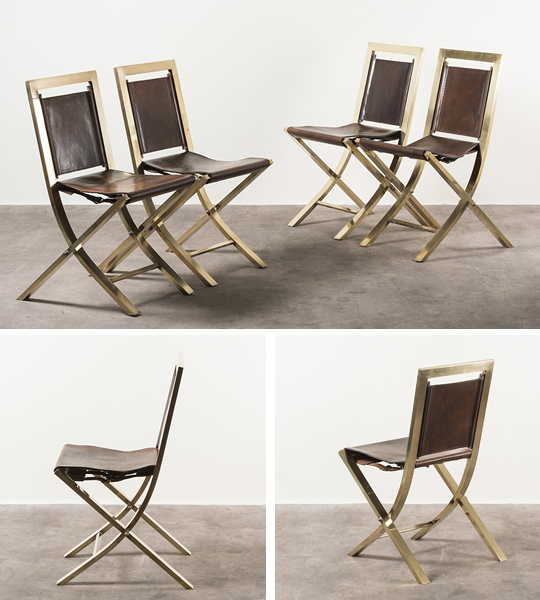 Four chairs mod. Sedia '73 by Gabriella Crespi
Italy, 1973
Signed exemplars
Leather, brass
Pada ajang PAD London 2018, Nina Yashar's memadukan visinya tersebut dengan menyandingkan lampu Paavo Tynell's dengan karya terbaru dari Osanna Visconti Di Modrone, sebuah rak unik yang terbuat dari bambu berlapis perunggu dengan tujuan menghidupkan kembali warisan dan bakat Crespi's mengenai kerajinan artistik yang sangat eksotis. Sementara itu, bentuk piramida Crespi's yang berlawanan dengan CLS Architetti brass bookshelf and low table, berdiri sangat casual dengan sepasang Bergères armchairs dari Edward Wormley.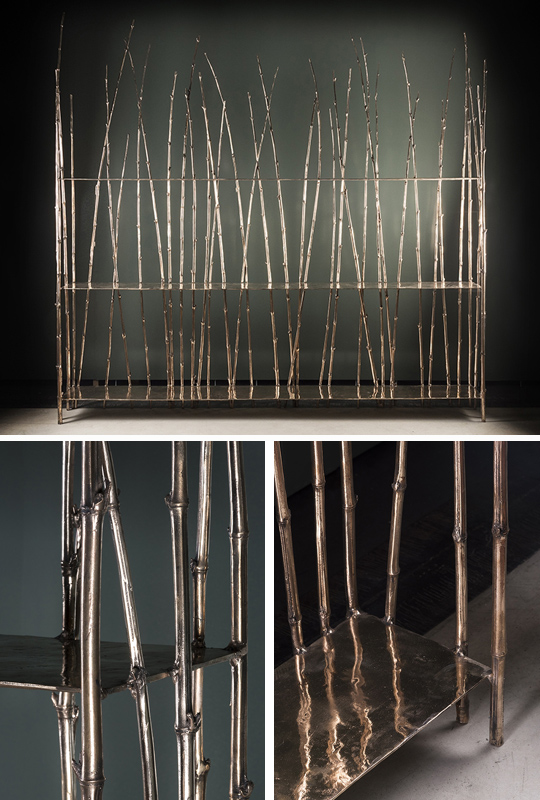 Bamboo collection – bookcase by Osanna Visconti di Modrone
Italy, 2018
Nilufar Edition – Unique piece
Customizable dimension  upon request, natural bronze
Selain itu, Anda juga akan disambut dengan lampu dari label Arredoluce's yaitu minimal tripode floor lamps stands dengan rare mirror dari Ettore Sottsass yang memancarkan cahaya ramah ke segala ruangan. Tak ketinggalan juga dengan efek berawan yang dihasilkan dari newly commisioned pendant rancangan Vibeke Fonnesberg Schmidt, yang memberikan refleksi cahaya ke arah meja berbentuk asimetris berwarna hitam rancangan dari desainer  terkemuka Brazil, Joaquim Tenreiro.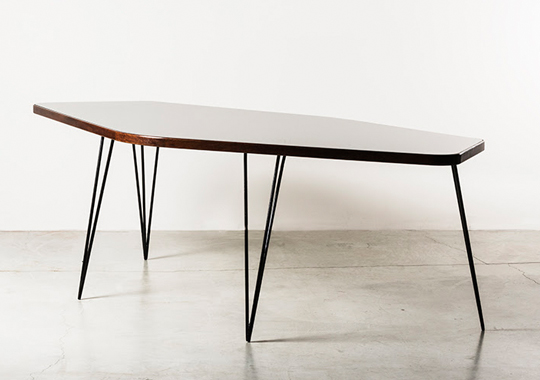 Poligonal table by Joachin Tenreiro 
Brazil, 1958
Manufactured by Tenreiro Moveis e Decorações
Wood, painted steel, backpainted glass
Inti yang menjadi daya tarik pada instalasi Nina Yashar's ini ialah menemukan cerita yang kuat terhadap karya yang luar biasa dari Zoe Vases oleh Caturegli e Formica (Milan) serta Temple Oil Lamps dari Bethan Laura Wood.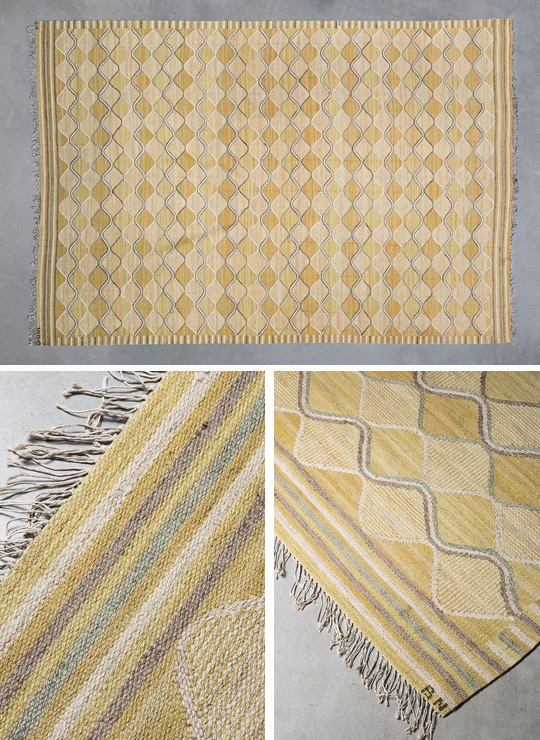 Spättan carpet by Barbro Nilsson
Sweden, 1943
Manufactured by AB Märta Måås-Fjetterström
Hand woven wool

Ingin merasakan pengalaman spiritual berada di tengah-tengah furnitur rancangan tahun 70-an? Kunjungi dan simak beragam koleksinya di pameran Nilufar Galery yang berada di booth B16, Barkeley Square W1, London dari pukul 11 siang hingga 8 malam. Sementara itu, pada hari terakhir pameran ini akan berakhir pada pukul 6 malam. Save the date.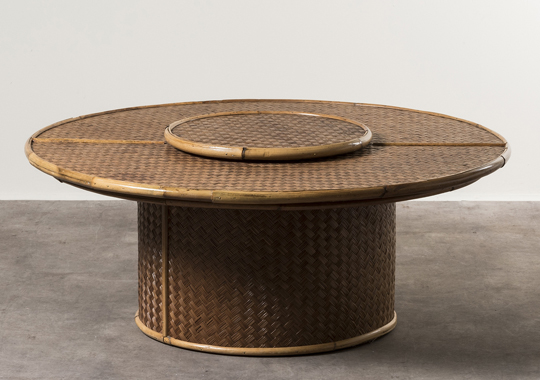 Rare round low table with Lazy Susan by Gabriella Crespi 
Italy, 1973
Wood, rattan