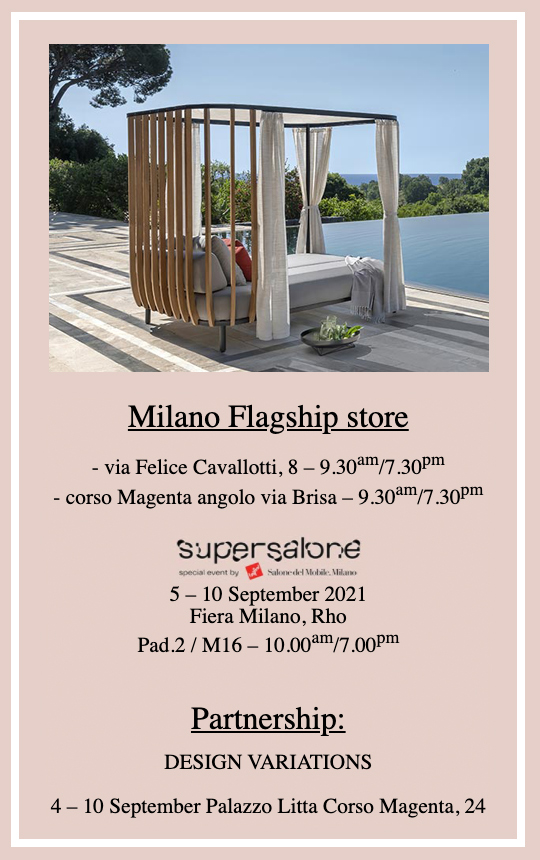 presented by

ETHIMO PREVIEW 2022 COLLECTION
Published by Sugar & Cream, Thursday 02 September 2021
Text & Images courtesy of ETHIMO
Milan Design Week 2021
From 4 to 10 September, Ethimo offers a preview of its new products for 2022 during Milan Design Week. Plenty of new collaborations enhance the collections with interesting original projects, in which design teams with research and innovation.
The Ethimo 2022 collection is a multiforme idea where each project conveys its own personality. Contemporary outdooor is a new idea of environment to live in with full -comfort and modularity, with attention to details, design, nature.
List of Collection and Designers from Ethimo 2022 Collection :
Ace by Patrick Norguet
With the Ace collection, designed by Patrick Norguet, Ethimo embarks on a new adventure, presenting a collection of original furniture for outdoor sports, named after the winning serve in tennis. Ace was designed to attractively furnish tennis courts, pools, athletic clubs, and exclusive resorts, adapting perfectly to the context in which it is placed. The various configurations that can be created highlight the project's extraordinary flexibility and versatility, intended not only for professional circuits and major sporting events, but also for normal athletic activities.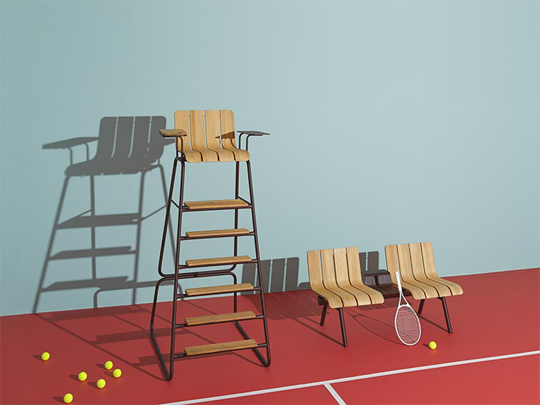 Ace Tennis
Calipso by Ilaria Marelli
The Calipso collection, elegant and minimal, is the result of thorough compositional and stylistic research, seeking not just a new modularity and expressiveness for furniture, but also a new dimension of wellbeing capable of creating 'made-to-measure' refined settings.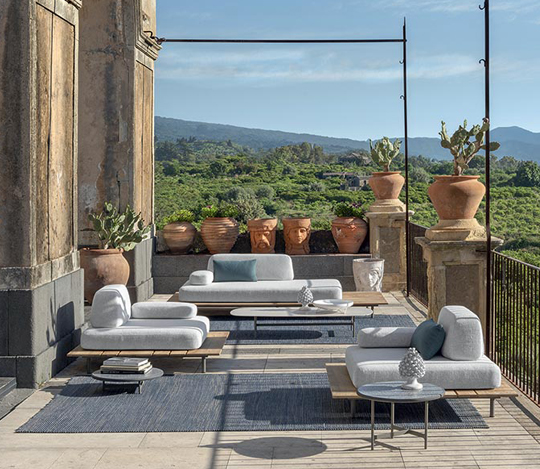 Calipso Lounge Set
Gaia by Marc Sadler
With stylish details, Gaia lamp interprets light with the liveliness of colour and the elegance of teak. The table version of Gaia is a chargeable battery lamp that provides both directional and ambient lighting. A luminous 'whim' with various guises that allow it to interpret outdoor settings in different ways, quickly bringing alive curious corners for chilling or chatting.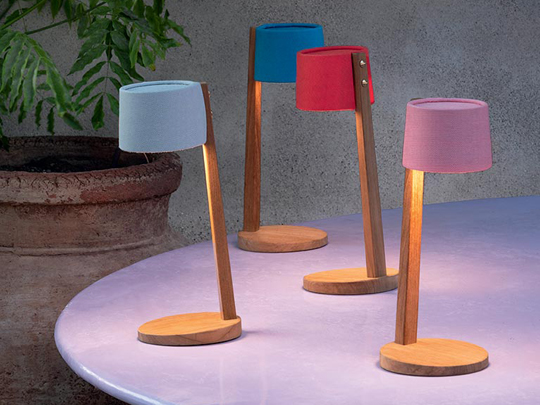 Gaia All Colors
Kilt Lighting by Marcello Ziliani
The iconic silhouette of the Kilt lounge and dining collection is reinterpreted in a new design that brings to life a hanging lamp, a 'circle' of light capable of creating warm, relaxing and charming outdoor moods. The Kilt lamp (diameter 62cm and height 30cm) confirms the same materic characteristics as the furniture in the larger collection, where natural or pickled teak (FSC certified) is matched with polypropylene cord, here available in the refined shades of Sand and Dark Grey.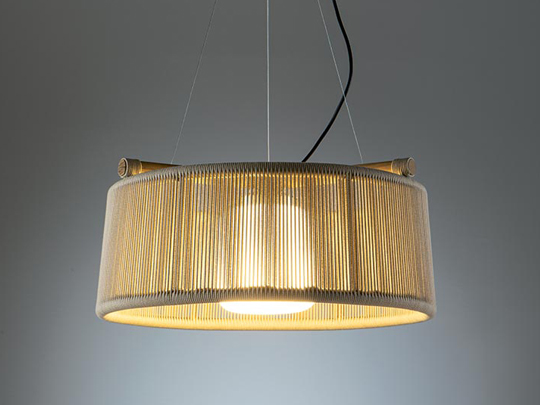 Kilt Lighting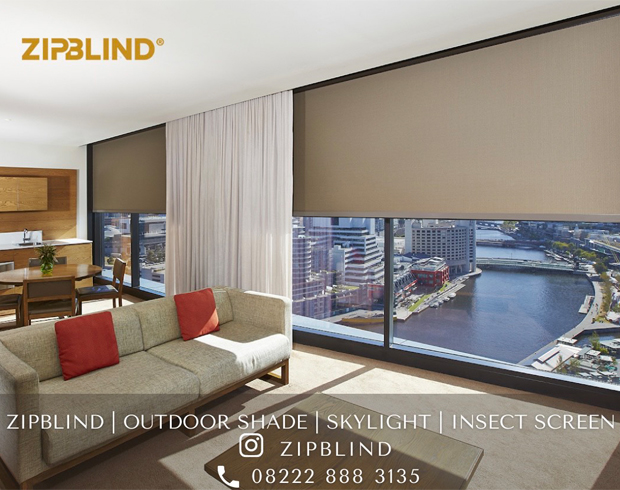 Presented by Zipblind
Rotin by Zanellato/Bortotto
Rotin is a lounge collection where shape, colour and substance come together to tell the story of a new way of thinking and en-joying places for relaxing in company in the open air. Comprising sofa, lounge armchair, coffee table and pouf with structure in pickled teak, Rotin is inspired by Asian tradition, which sees bamboo as the main element for outdoor furnishings together with techniques normally used in the production of rattan furniture.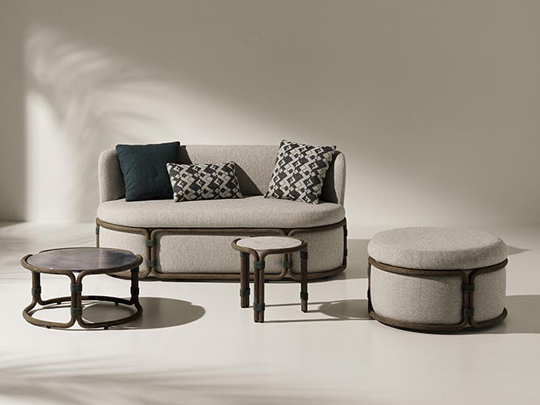 Rotin
Sling by Studiopepe
Sling chair is inspired by vintage camping in the seventies; the simplicity of its design hides the appeal of a totally on-trend aesthetic and functional personality, breathing life into an iconic element that lends character to any setting. Sling Chair is a 'free' ergonomic seating solution that teams all the necessary stability and resistance with extraordinary comfort. Its stainless steel tubular structure comes in various shades of bronze. The cloth, in Elitis fabrics, defines the seat and the many colours and patterns available make different styles and personalisation possible.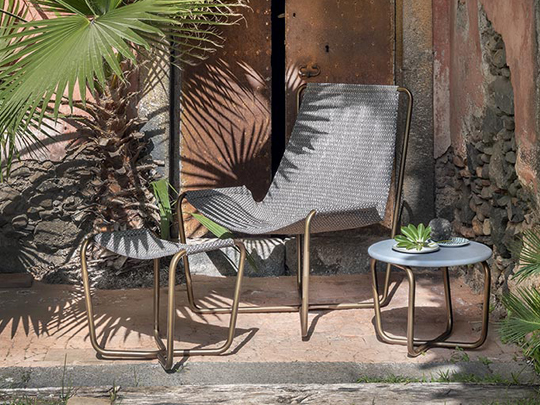 Sling
Swing by Patrick Norguet
The iconic Swing collection is completed with a new lounge element; a cosy alcove of enveloping proportions, intended as a safe haven, almost poetic in nature, for enjoying the outdoors in the utmost comfort. This elegant element of furniture maintains the wider collection's features of quality and comfort, while once again renewing that distinctive and unmistakeable architectural play of repeated elements in natural and pickled teak, this time with a new stainless steel frame available in two colourways, Sepia Black and Warm White, with even higher performance for outdoor living.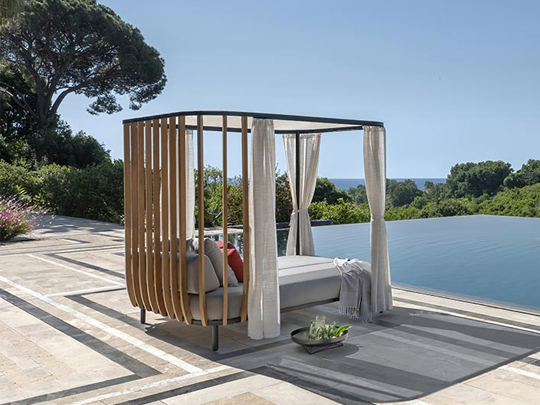 Swing
Tetris by Marc Sadler
Tetris is a cleancut linear design accessory conceived for outdoor settings that aim to amaze thanks to unexpected elegant lighting effects. Tetris is both a floor lamp and a handy side table or pouf for the garden. The various tetrominoes in teak fit together just like a Tetris and the light from a chargeable LED light source hidden inside filters through the joins to illuminate the surrounding area.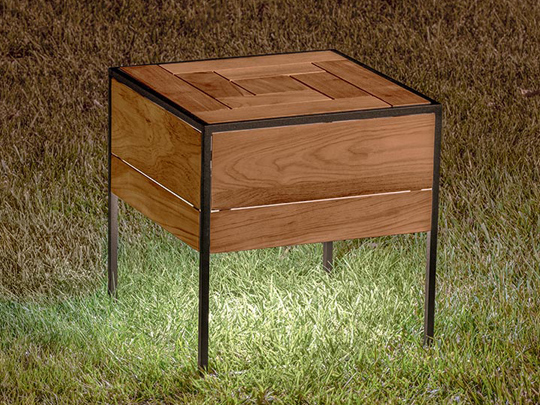 Tetris
Venexia by Luca Nichetto
The Venexia collection is rounded out with the new chalky colour that highlights its design. The lounge seating is cosy and comfortable, the low tables flatter an unexpected combination of stone and aluminium. The warm shades of the cushion fabrics provide a link with the earth.


Venexia
Diary Date With Design.
During Milan Design Week, the new Ethimo flagship store at Via Felice Cavallotti 8, in the heart of the Milano Durini Design District, will host daily encounters with the designers to give insight into the ideas and details in the new collections