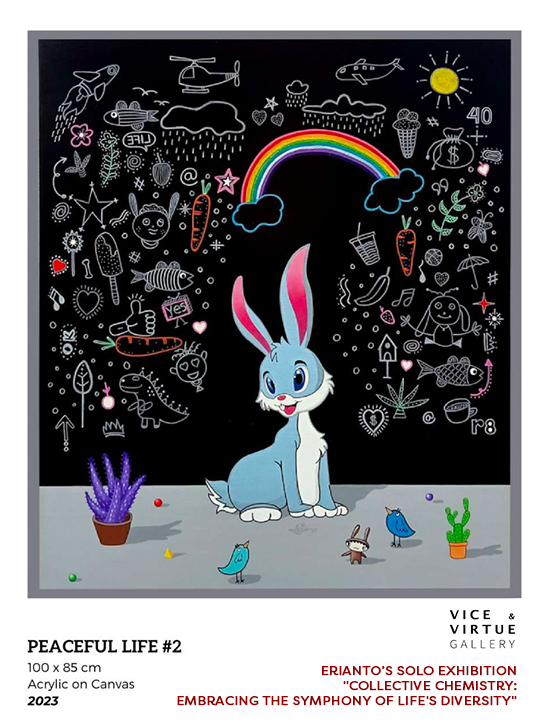 presented by

ERIANTO'S SOLO EXHIBITION – "COLLECTIVE CHEMISTRY: EMBRACING THE SYMPHONY OF LIFE'S DIVERSITY"
Published by Sugar & Cream, Friday 18 August 2023
Images courtesy of Vice & Virtue Gallery
By Vice & Virtue Gallery at Jakarta Art Hub: 19 Aug – 15 Sept 2023
Welcome to "Collective Chemistry," an awe-inspiring exhibition that celebrates the dynamic interplay of life's diversity and the intricate connections  that bind us all. Through the harmonious interaction of social life and the surrounding environment, these artworks encapsulate the perpetual motion of existence, where every element complements one another, creating a unified whole akin to the wheel of life.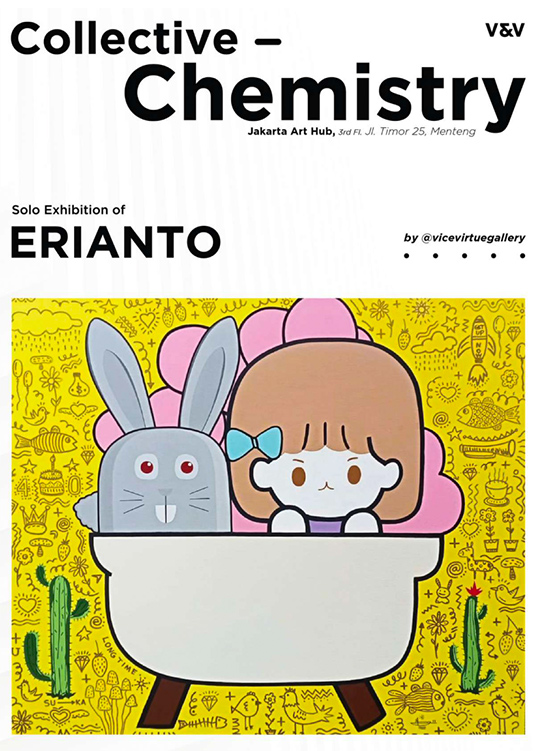 NGADEM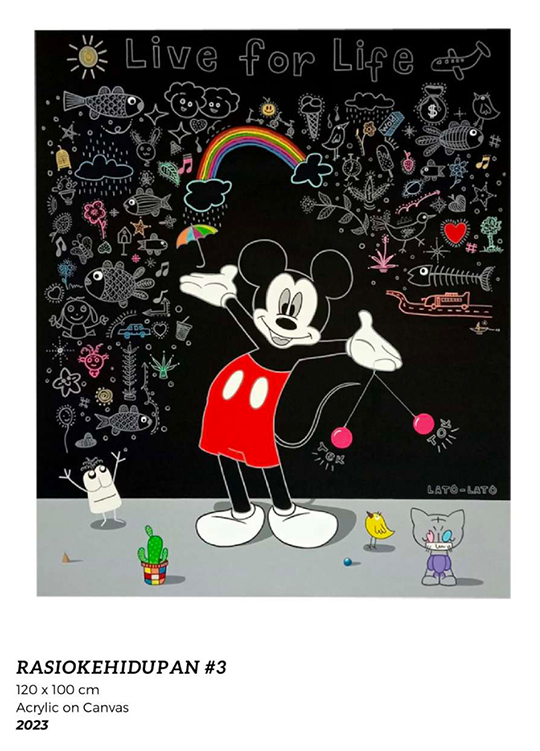 At the heart of these artworks lies the main object – a singular, powerful symbol that takes the form of fish, rabbits, plants, and more, each possessing unique and captivating philosophies. These representations serve as mirrors of human life, embodying both individuality and the collective experience of communities. Human nature, driven by a desire for heroism and the pursuit of supremacy, is poignantly reflected in these pieces, evident in the relentless pursuit to stand out, whether as individuals, groups, or even states.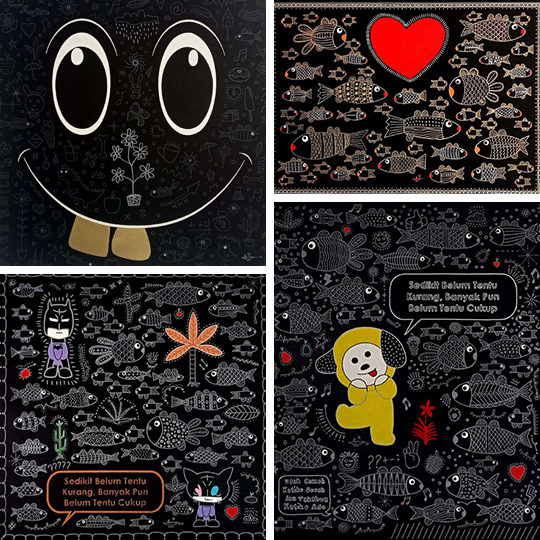 FAKE SMILE | BLACK LOVE | RASIO KEHIDUPAN | RASIO ALAM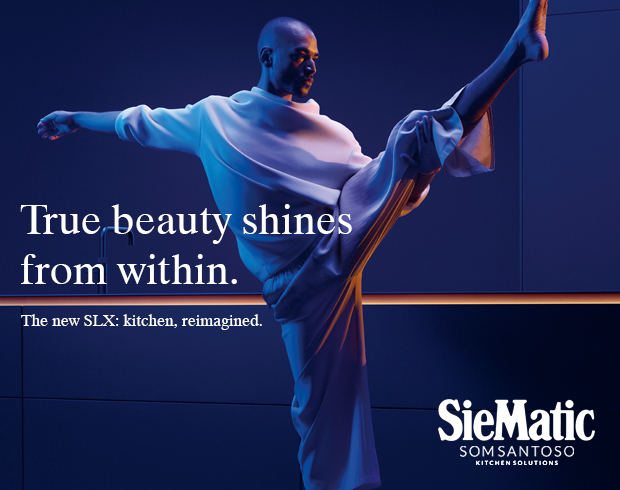 Presented by Som Santoso
The second focal point, the background, serves as a canvas that displays desires, vents, and emotions through graffiti, sketches, and other expressive mediums. This section plays a vital role as an incubator and reinforcement for the main object, encapsulating the diverse processes and experiences that shape life's management and serve as guiding principles for the future. From these experiences and lessons of the past, individuals have the potential to evolve and achieve their aspirations, becoming "something" greater through continuous growth and development.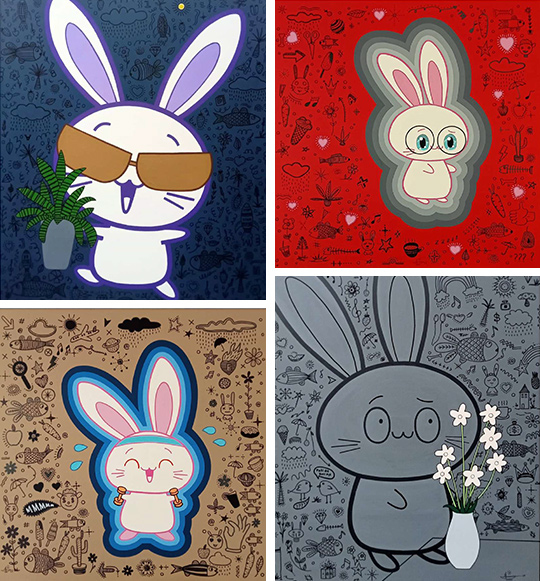 SEKUNTUM BUNGA DITANGAN | PEACFUL LIFE #3 | RASIO KEHIDUPAN #2 | SEKUNTUM BUNGA DIATAS MEJA
A powerful synergy emerges between the subject matter and the background, forming  an inseparable bond of unity with in each art work. Just a s life's elements complement and interact with one another, so do these artistic elements. They coexist in harmony, showcasing the beautiful complexities of existence and our interdependence with the world around us.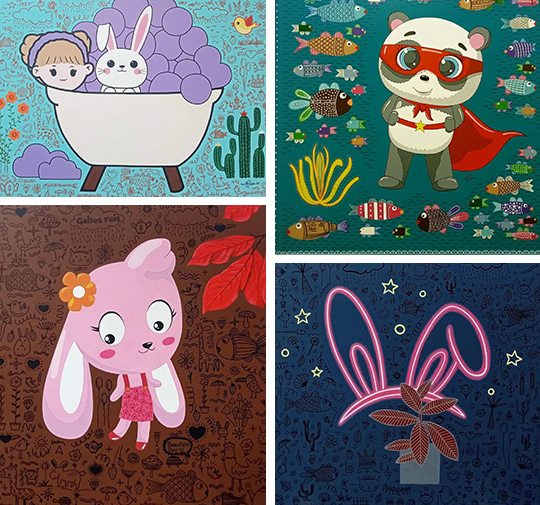 NGADEM #2 | MY HERO IS NOT SUPER HERO #3 | CORNER OF LIFE | SEKUNTUM BUNGA MERAH
As you immerse yourself in "Collective Chemistry," may you be inspired to embrace the beauty of life's diversity a n d its profound connections. These artworks beckon us to appreciate the interwoven tapestry of human experiences, encouraging empathy, compassion ,and a shared responsibility towards the preservation and enhancement of our shared world. Let the collective chemistry of these artworks ignite your imagination and foster a deeper understanding of the symphony that binds us together in the grand symposium of life.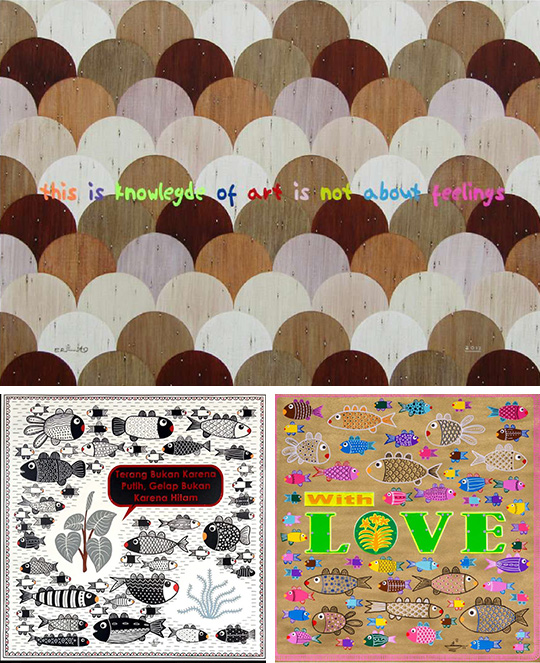 YOUR MIND #2 | RASIO ALAM #2 | WITH LOVE