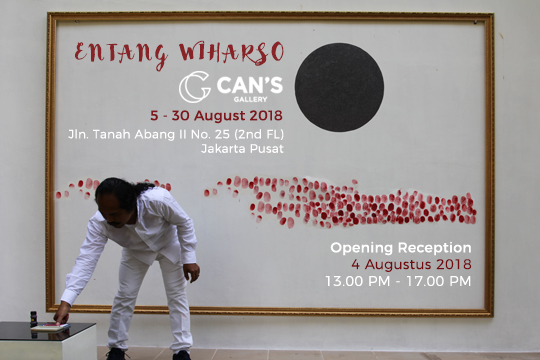 Entang Wiharso – Landscaping My Brain
Published by Sugar & Cream, Friday 27 July 2018
Text & Images Courtesy of Can's Gallery
Can's Gallery – Entang Wiharso Solo Exhibition
"Landscaping my Brain" is an exhibition of artwork by Entang Wiharso that features important earlier paintings, prints and sculpture presented alongside new work created specifically for the exhibition at Can's Gallery. The exhibition focuses on Wiharso's extensive exploration of self, place and belonging and how people manage and adapt to change.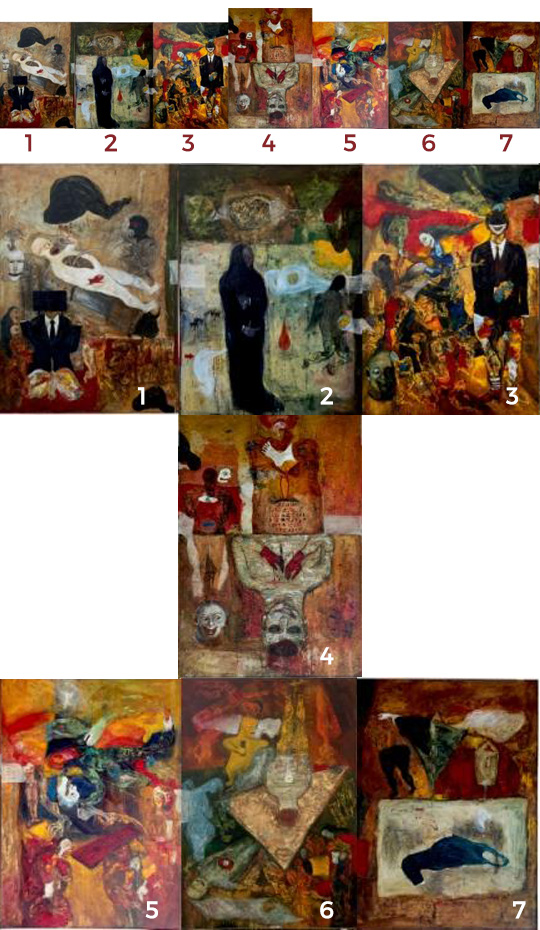 Landscaping My Brain – 200 x 1050 cm – 7 panel – panel 4 is 250 cm h – 1999 -oil acrylic and pencil on canvas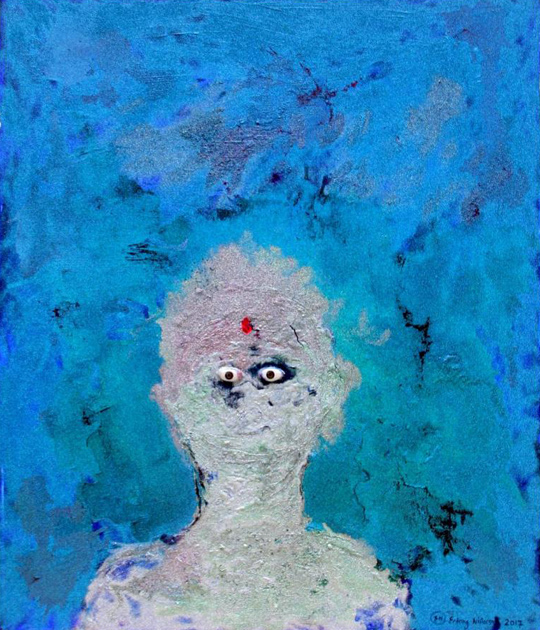 Blur – 2017 – Acrylic glitter on canvas – 135 x 115,5 cm
Reviewing Entang Wiharso's practice over time, a tendency to confront morally ambiguous events and experiences from a humanist perspective emerges in his work. Wiharso's knack for paying attention to what people are saying and to what is happening around him – his ability to "keep his ear to the ground" – has resulted in work that reimagines historic events by grounding them in private experience. He resizes the dominant socio-political narratives in works that are emotional and confrontational. He consistently acknowledge human frailty and failure in his work while still recognizing individual resilience and agency.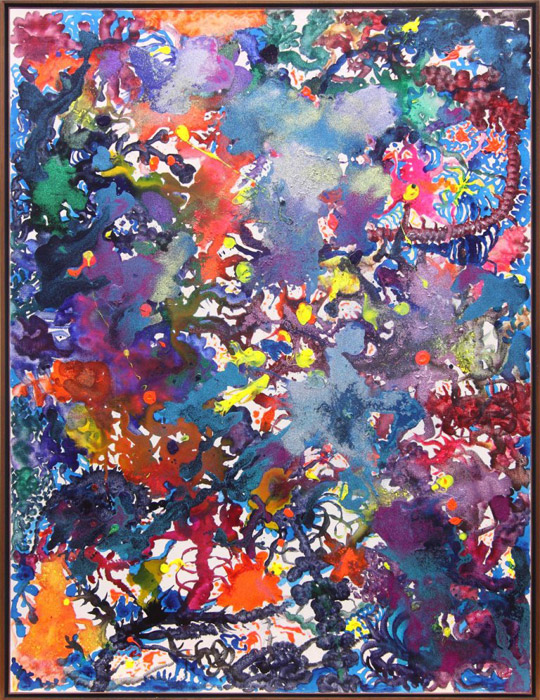 Floating Garden, 2016, Acrylic, glitter and oil on linen, 200 x 150 cm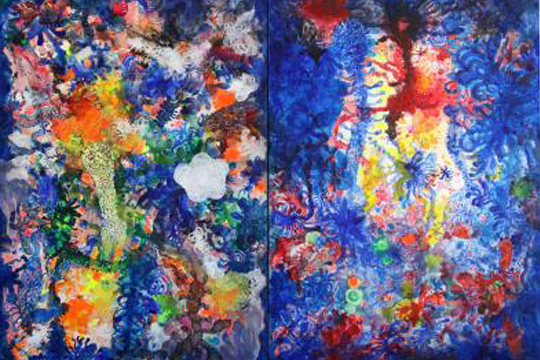 Yin Yang – Floating Garden Series – 2017 – acrylic, ink glitter on canvas – 142,24 x 203,2 cm diptych
The title of the exhibition is based on a monumental 10,5-meter painting of the same name originally exhibited in the US in 1999. This pivotal work, now being exhibited for the second time in Indonesia, brings Wiharso's interest in social and political structures that manifest ideology together with his exploration of how people conform to and resist such systems. It also references the importance of the natural world in his work, in particular the role of landscape as a marker of human ambition. The body of work selected for Can's Gallery is pulled from various points in his career, harkening back to periods of upheaval in Indonesia, to the artist's arrival in the United States and his experiences as a foreigner, to events shaped by his marriage and children, and to his efforts to create an identity that reflects his sense of belonging and alienation.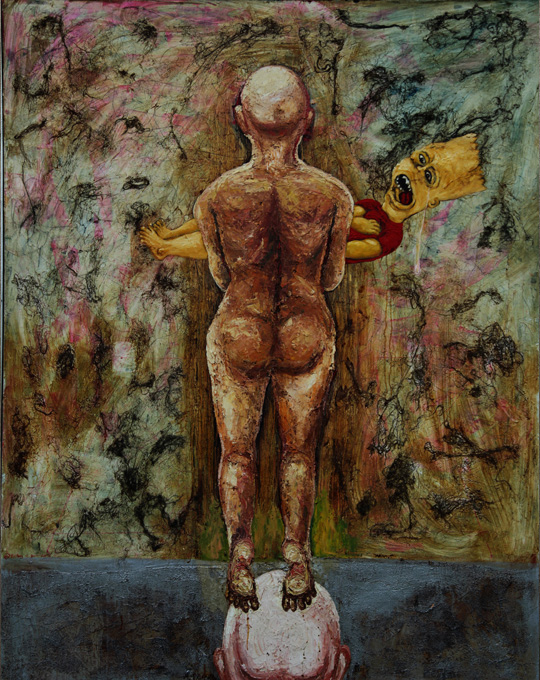 Presenting Desire – 2003 – Mixed Media on Canvas – 178 x 147 cm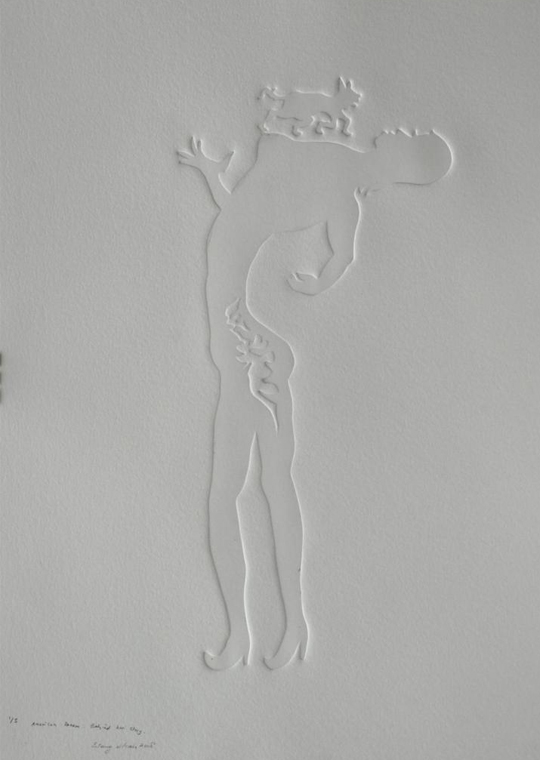 American Dream – Behind Her Story -2008 – embossed print – 56 x 76 cm
Entang Wiharso has a multi-disciplinary practice and is known for his dramatic visual language and unique images of contemporary life. His work is layered with social, political and sexual critique, revealing a complex picture of the human condition. Having exhibited in many prestigious international forums including the Venice, Prospect 3 and Prague biennales, Wiharso's recent work focuses on the duality of cultures and experiences in his two homelands – Indonesia and America. His work brings into sharp focus issues of national identity, migration, race, political states and power conflicts. Wiharso's desire to question the circumstances of our lives without prescribed outcomes, and to report back on what is happening in our world, ties the show together and offers strategies for considering key themes, ideas and aesthetics in his oeuvre. The work selected for the exhibition spans more than 20 years over the course of 3 decades, highlighting the methodology and visual and conceptual development in Wiharso's practice.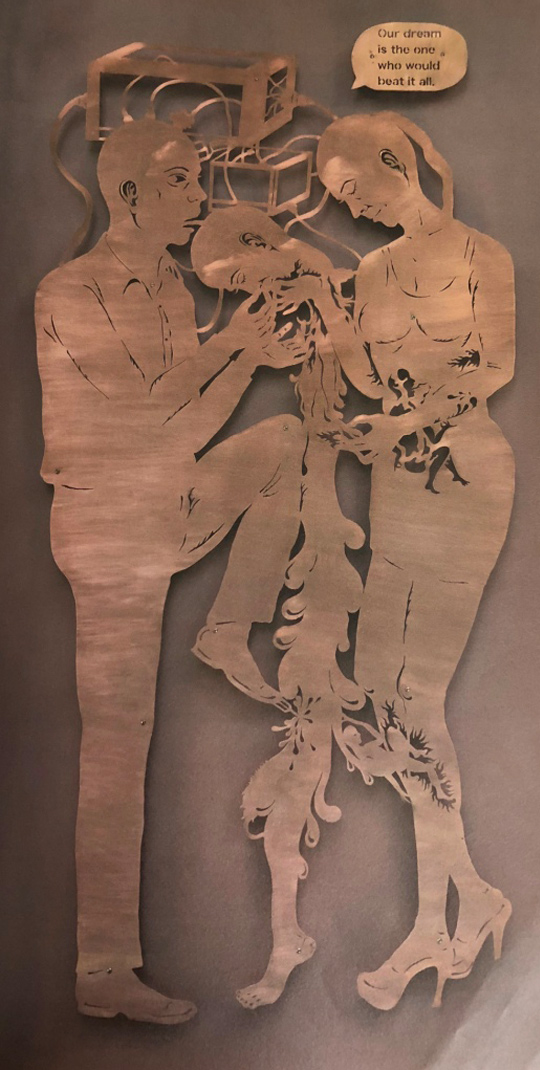 Never Say Yes – 2015 – Copper -244 x 122 x 10 cm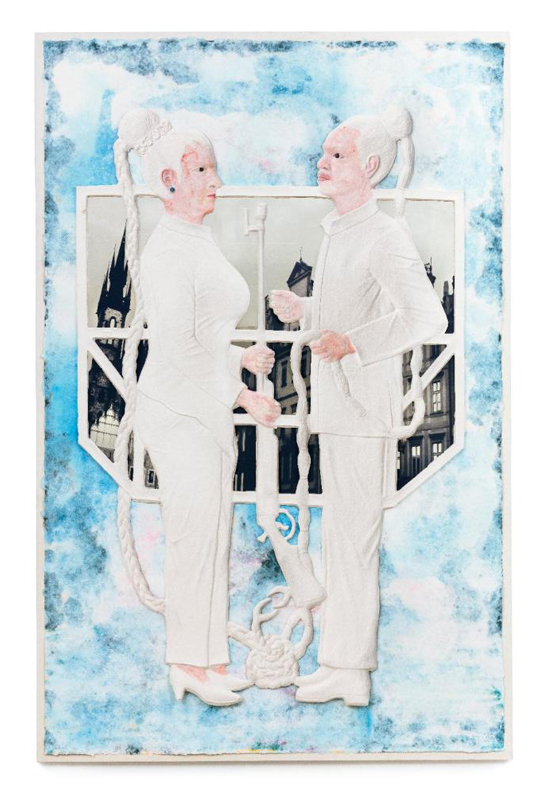 Under Protection for 24 Hour – 2015 – Cast paper,acrylic paint,glass mirror, coloret STPI handmade paper, – 234,5 x 153,5 x 3 cm
Hibernation: Ground Zero
world dominated by a destructive fanaticism, including racist activity, against those from different
religious faiths, political parties and national origin, particularly migrants (the "other"). My brain is
flooded with media reports on radical views and extremist activities. An overwhelming fear has arisen
and is a strong response to globalization. Some people close themselves off consciously and
unconsciously to any possibility of foreign influence, such as ideology and culture, to protect their
heritage. When fearful, they become intolerant of foreigners and ultimately do not want to compromise their beliefs. They do not want to be polluted, so they keep watch and protect their group in order to maintain difference and distance. This work uses abstraction to create a response, a search for common ground, using landscape as a symbol of hope for a beautiful and better future. It is an
abstracted, imagined landscape like we create in childhood. Hibernation: Ground Zero represents a form of refusal or rejection, as well as a personal protest, by deliberately hiding content. This performance is strongly motivated, highly repetitive, and intuitively impulse driven. This method of rejection is manifested through silence (hibernation) and comes directly from the experience of gardening in four seasons.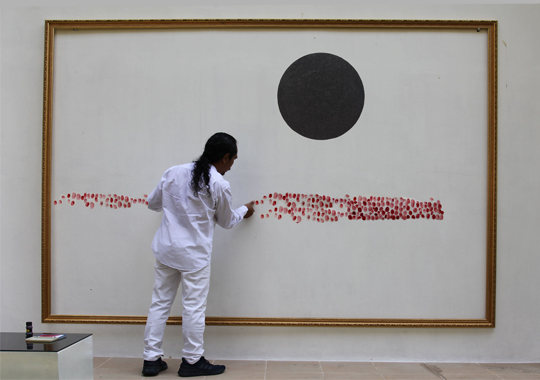 Entang Wiharso, Hibernation – Ground Zero – Interaktif Performance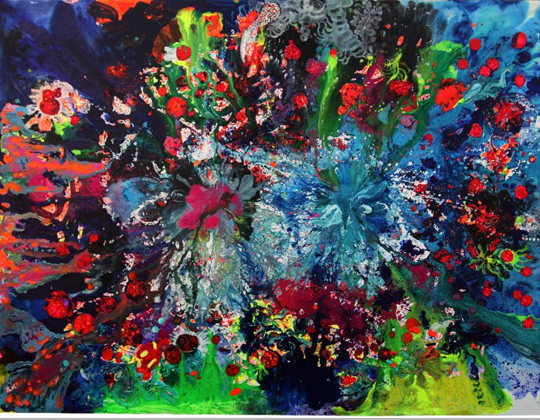 Ground Zero #2 – 210 x 285,5 cm – 2018 – Acrylic ink glitter on canvas
Entang Wiharso
Born in 1967 in Tegal, Indonesia, Entang Wiharso studied Painting at the Fine Art Department of the Indonesian Art Institute of Yogyakarta. His provocative works face issues of power, love and loss and represent an intense exploration of the human condition. He delivers personal reflections and critiques by integrating narrative tools with several unconventional materials. including balloons, yarn, wires and nails, in the print-and paper-making process. Recently, an increasing use of written text broke into his works: slogans, signs, philosophy or common phrases are collected from newspapers, political campaigns, quotes from important or influential people or characters from TV or films. Used directly or altered, they add a further component to the complex artistic language of his work.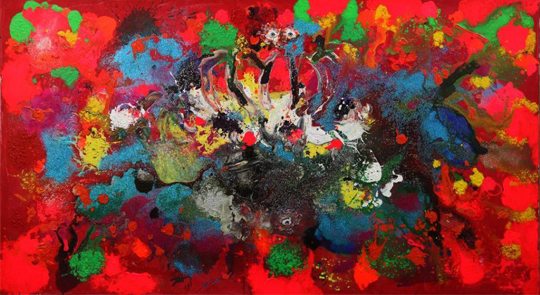 Ground Zero #1 – 2018 – Acrylic ink glitter resin thread color pigment on canvas – 150 x 275 cm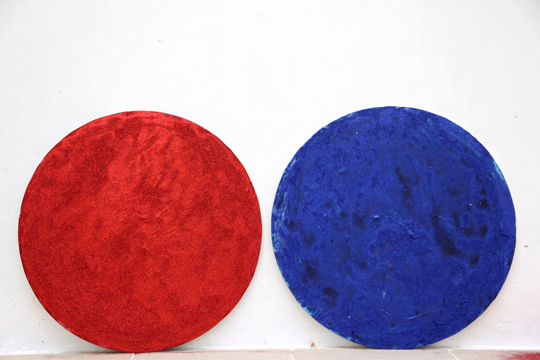 Flag – 2018 – Acrylic glitter on Aluminum – each diameter 50 cm
His most representative exhibitions include, Can's Gallery New Dimension. Can's Gallery, Jakarta (2017), "Conversation: Endless Acts in Human History. Entang Wiharso & Sally Smart" with Can's Gallery at Galeri Nasional Indonesia (2016) "From Chagall to Kusama and Hatsune Miku" at the Mori Art Museum, Tokyo, Japan (2013), "Love Me or Die" at Gallery Canna (2010). He also took part to the 55th Venice Biennale and the Prague Biennale 6 (both 2013) as well as in the Yogyakarta Biennale XI, Yogyakarta, Indonesia 2nd Open Terra Cotta Biennale (2007). He currently lives and works between Rhode Island, US and Yogyakarta, Indonesia.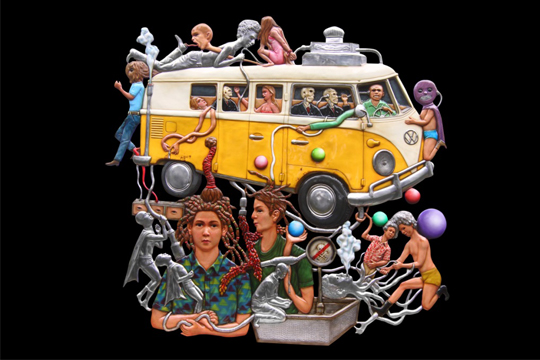 No Where to Go – 2016 – Aluminum car paint resin color pigment thread polyurethane coating – 208 x 218 cm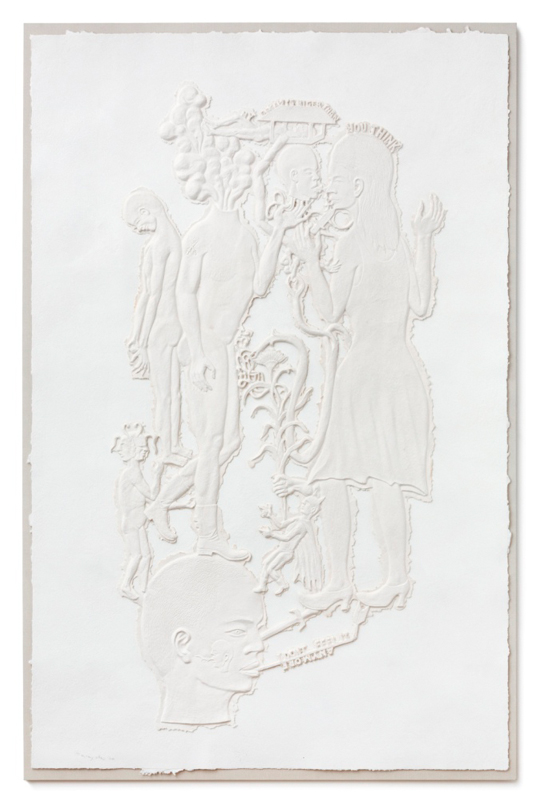 Home Sweet Home – Comic Book Series – 217,5 x 244 x 3,5 cm – 2015 – cas paper stpi handmade paper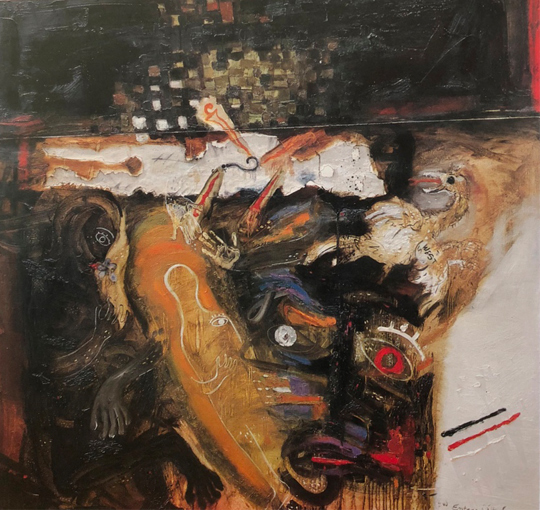 Ripped, 1994, oil on canvas, 200 x 195 cm