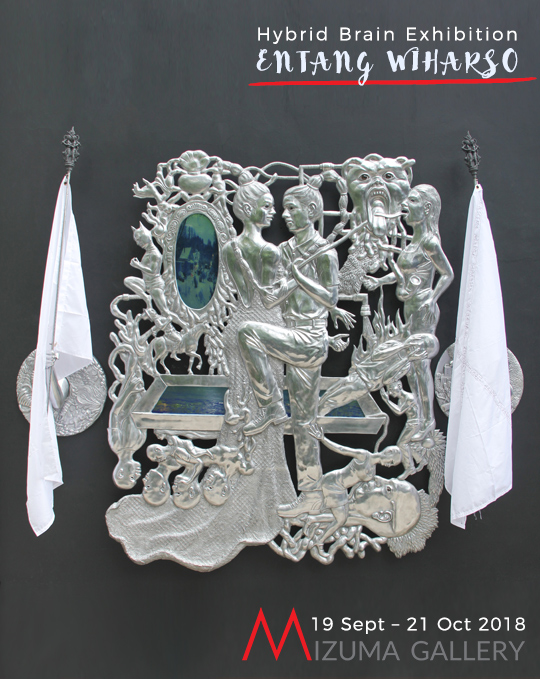 Entang Wiharso – Hybrid Brain Exhibition
Published by Sugar & Cream, Monday 03 September 2018
Text and Imsges Courtesy of Mizuma Gallery
@ Mizuma Gallery Singapore, 19 September – 21 October 2018
Mizuma Gallery is pleased to announce Hybrid Brain, a solo exhibition by celebrated Indonesian artist, Entang Wiharso.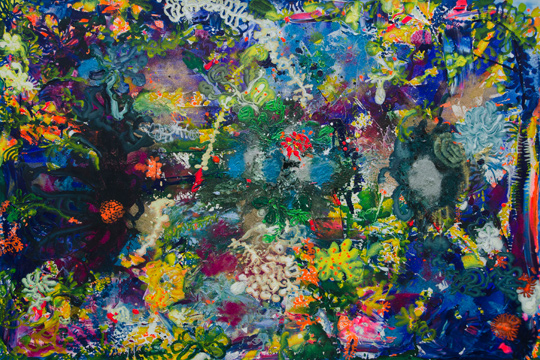 After Hibernation – Floating Garden
2018
ink, acrylic, glitter on canvas
200 x 287 cm
Entang Wiharso is one of Indonesia's most acclaimed contemporary artists and is known for creating provocative works loaded with bold visuals and distinctive imageries. Since 1997, Entang, his American wife, and two children have shuttled between Jogjakarta, where his Indonesian studio is located, and his studio in Rhode Island, U.S., progressively belonging and un-­‐belonging to his land of origin. These two vastly different countries have become important parts of his identity, and this dichotomy of cultures, personal opinions, and experiences are reflected in his works.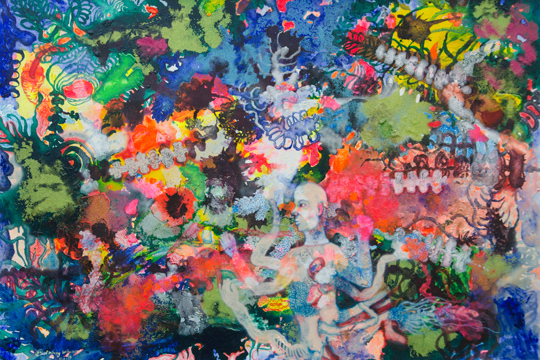 Reconstruction – Floating Garden
2018
ink, acrylic, glitter car paint on canvas
145 x 214 cm
In this exhibition, Entang explores the issues of identity, belonging, and otherness in an increasingly mobile society where acceptance and integration are rare privileges coloured by ideology, social statues, and genetic heritage. Disguised by thick impasto and a vivid palette, and through the use of glitter, collage, ink and, occasionally, car paint, the seemingly abstract works on canvas of Ground Zero, Hibernation, Floating Garden, and Precaution are reminiscent of landscape painting where the flat surface of the canvas is deployed to portray the artist's emotions in relation to his surroundings. However, in these works, natural elements such as the sky and the earth, typical of the landscape format, and their relation to the human being, are reshuffled and transformed through the artist's emotions and "mind notes" and are translated on the canvas according to his medium of choice.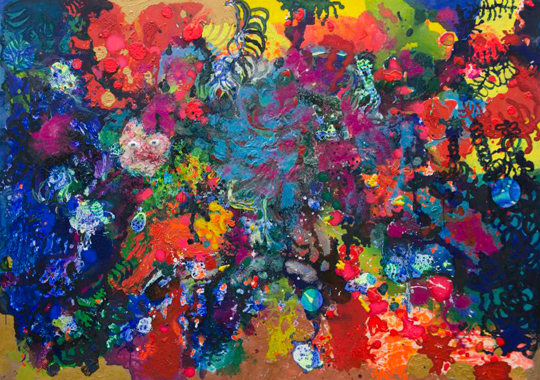 Reconciliation – Ground Zero
2018
acrylic, ink, thread, resin, colour pigment,
glitter on canvas
200 x 287 cm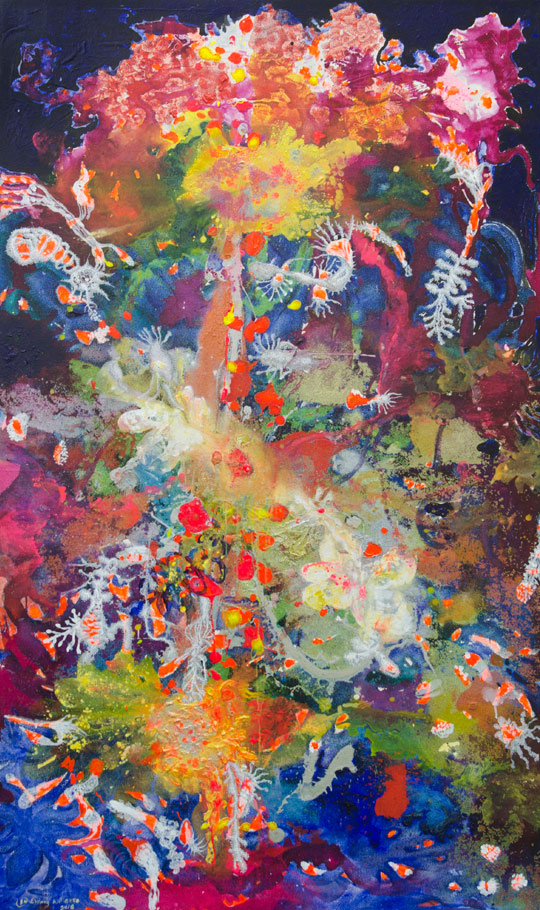 Hibernation
2018
acrylic, ink, glitter on canvas
213 x 125 cm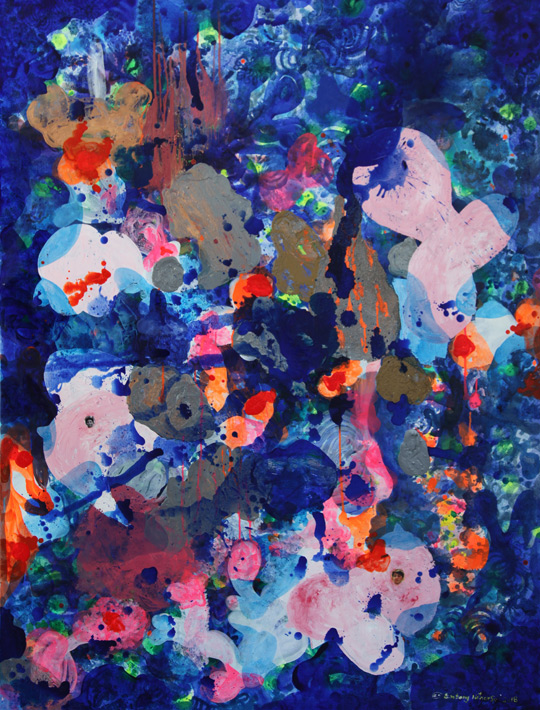 Into Landscape: Floating Garden
2018
acrylic, photo collage on canvas
167.5 x 126.5 cm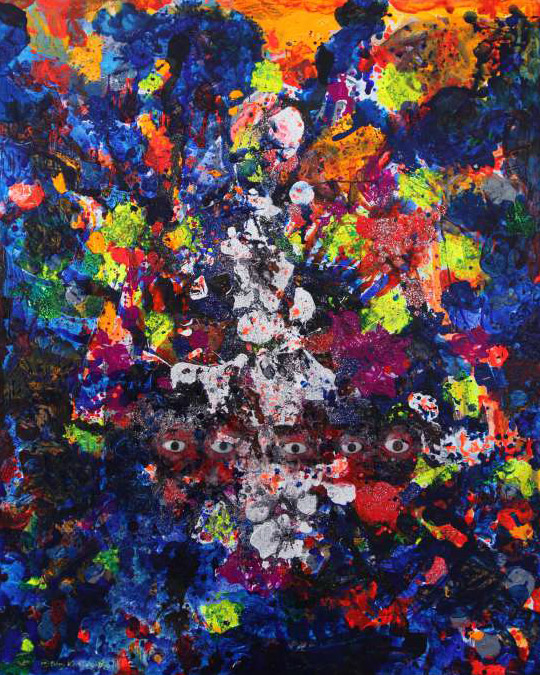 Precaution: Five Eyes
2018
acrylic, oil colour, photo collage,
glitter on canvas
182.5 x 147 cm
Hybrid Brain will showcase Entang Wiharso's newest body of works that was intentionally produced in his two studios located in Yogyakarta and Rhode Island, where he is an Indonesian artist in the former, and an American in the latter. It is a reflection on the concept of 'identity' as a social conditioning that further unpacks notions of alienation and prejudice to which, in various degrees, we are all subjected to in society.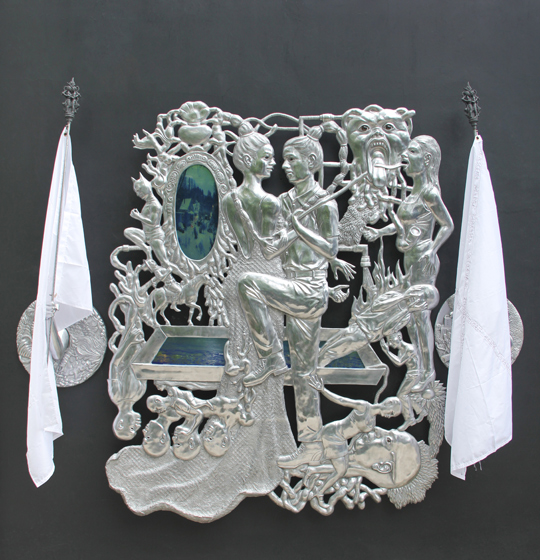 Under The Shadow of Flag
2018
aluminium, mirror, digital print on flexi
glass, fabric
223 x 282 cm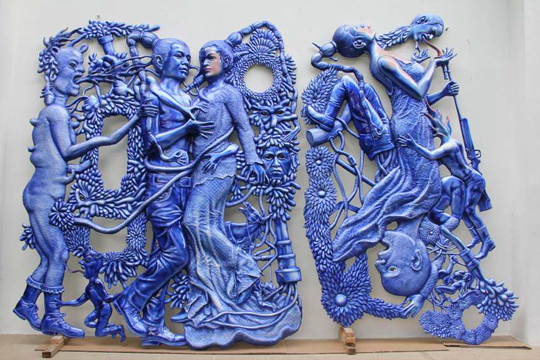 Recalling Home
2018
aluminium, car paint
194 x 234 x 18 cm, 145 x 244.5 x 18 cm
The exhibition opens with a performance by Entang Wiharso on Wednesday, 19th September 2018. Titled Hibernation: Ground Zero, the performance will see the creation of a participatory artwork that will be ongoing throughout the duration of the exhibition.



Art History: Indonesia Diaspora
2015
ballpoint, car paint on linen
200 x 600 cm (total of 4 panels, 200 x
150 cm each)