Dive into colours, motifs and textures in luxurious fabrics, you would feel in love instantly. Just like a picture, every fabric tells a story and its luxury heritage. This is about Jim Thompson's new Forbidden Colours collection which embodies the sumptuous decadence of Thai silk.  The opulent collection is created by Jim Thompson's talented Creative Director Ou Baholyodhin who is responsible for home furnishings (decorative fabrics and interior accessories). Who could forget the stunning colours of various hand woven silk in the classic Hollywood film The King and I? It was Jim Thompson silks that stunned the Hollywood and the world.  Now,  with the new luxury colours in various new textures, Forbidden Colours collection once again not only preserving its legacy, but it excels more exciting.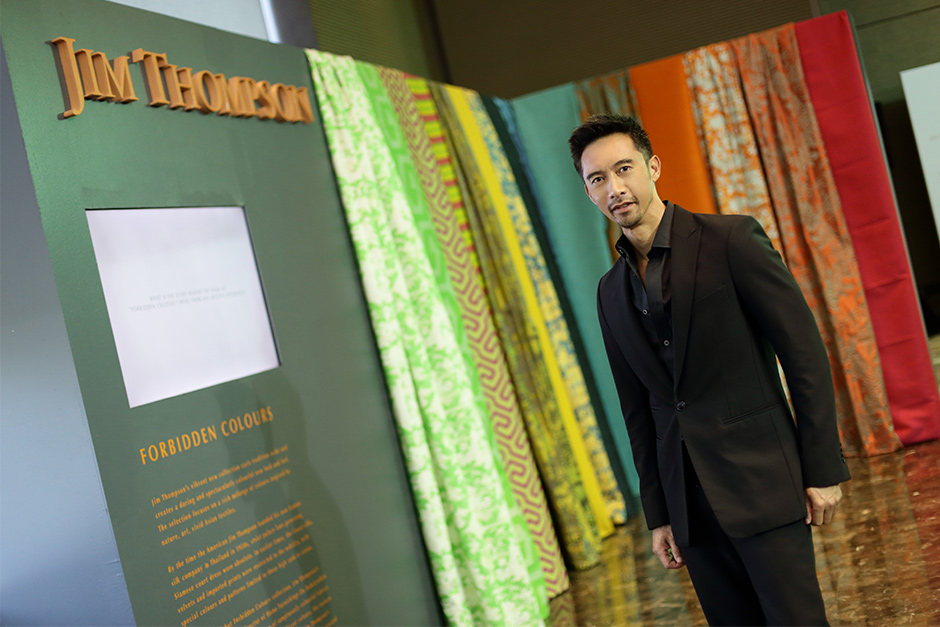 An interview with Ou Baholyodhin, Jim Thompson's Creative Director of home furnishing
The brand is the most synonymous with Thai Silk.  Have you ever thought that you would be in charge as a Creative Director  for home furnishing of the legendary Thai Silk Jim Thompson?
Before moving to Thailand some 8 years ago I was living and working in London with my own design studio, from where I have been consulting for this Jim Thompson since the late 90's. I have designed a furniture collection for them back in 1998 which is still in production to this day. So coming to work at Jim Thompson was no surprise but rather a natural continuation for me.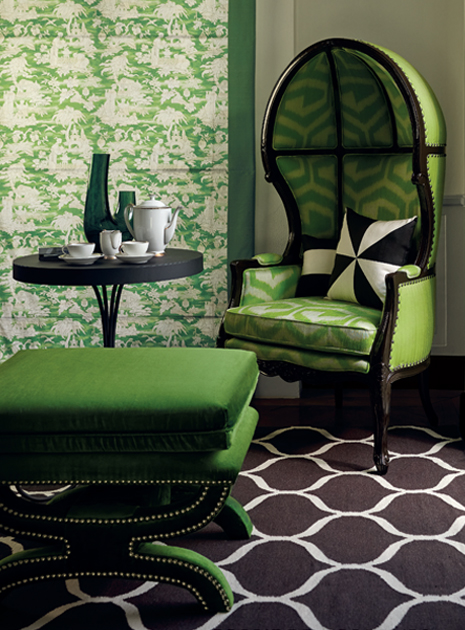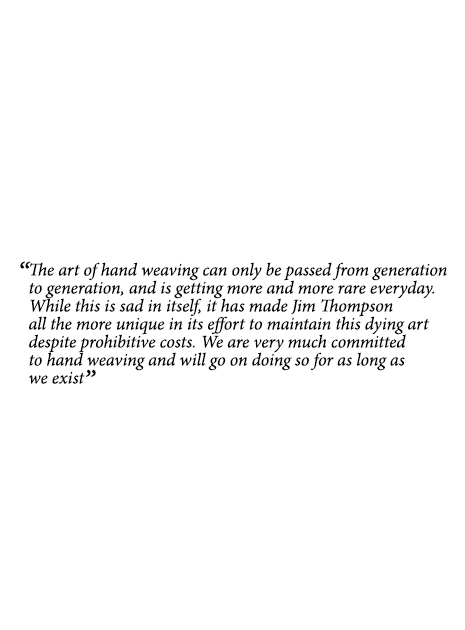 When did you officially be appointed as a Creative Director? What is your immediate vision with the company?
My appointment came two and a half years ago, April 2013, and it had taken me two years to launch a new collection entirely under my creative supervision. At the point of joining naturally there were products already under development which gradually get more and more of my signature added.  I have always admired what Jim Thompson single handedly achieved back in the 1960's so my vision is pretty in line with that. Over the years we have grown to become very international and our language had become too broad and general. I would like to shape a clear identity that is unique to us, just like what Jim had done in the early days.
How important the past history of Jim Thompson's products to you? How do you integrate the historical design of the company into present time and the future?
Being a historical brand and carrying the tag line " The most treasured name in silk" naturally our archives are very important to me – they form the core DNA of our products. There is not once collection which does not refer to our past, our heritage. That doesn't mean we are backward looking, on the contrary the house of Jim Thompson has consistently been in the forefront of home furnishings designs. Our products can be seen in both the most traditional settings as well as the most avant-garde homes, hotels and restaurants.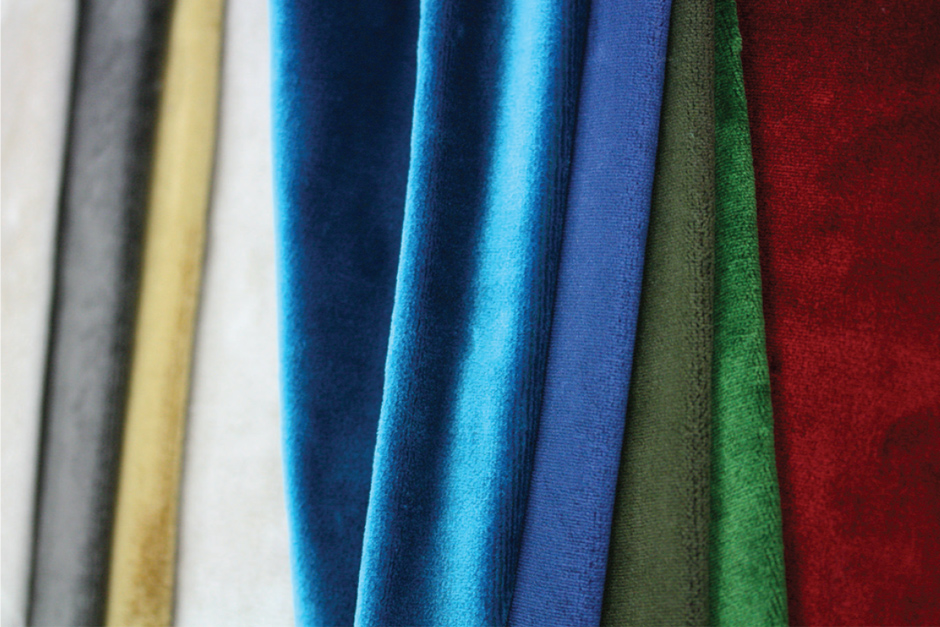 Being Asian luxury heritage brand, how would you excell Jim Thompson in to the next level?
We continue to provide fresh new and daring ideas, combination of unusual colors, while at the same time maintain the very highest quality in any product that we offer. That is what Jim Thompson did from day one and its what we intend to continue doing.
The new collection called Forbidden Colours in 2015 marked your first role as the Creative Director. What are the significant differences of the new collections?
Whilst there was a lots of hand-woven silks in this collection, which is very much a Jim Thompson signature, one could notice the subtle changes – our silks handle better, they are much softer, less sheen and more dry to the touch with an almost linen like character.  Traditional silks tend to be stiff and shiny which gave them a very Asian and ethnic feel. Our new silks look and feel contemporary, much more suited to simpler and more contemporary interiors of today.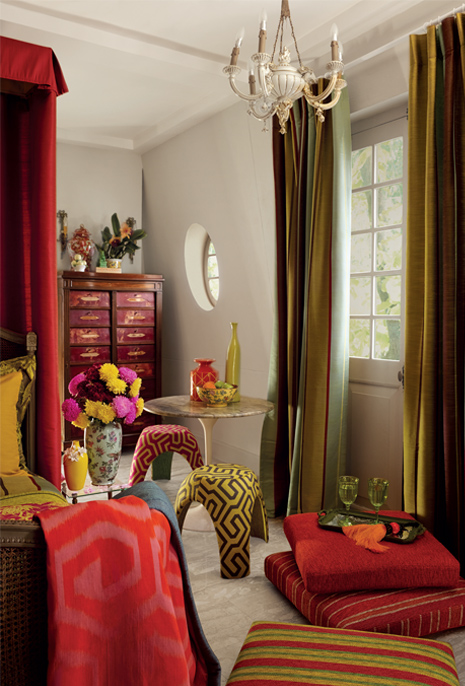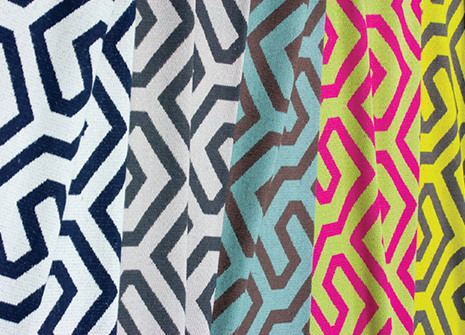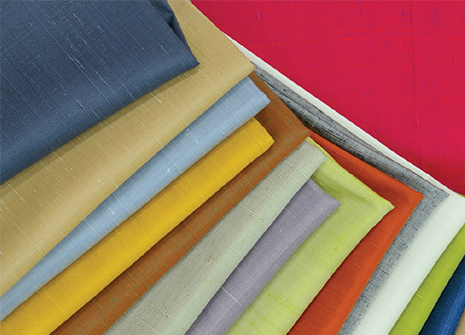 What are the significant core values of Jim Thompson brand? Hand Woven and Print?
The art of hand weaving can only be passed from generation to generation, and is getting more and more rare everyday. While this is sad in itself, it has made Jim Thompson all the more unique in its effort to maintain this dying art despite prohibitive costs. We are very much committed to hand weaving and will go on doing so for as long as we exist.
What is your design philosophy with silk or Thai Silk?
I would say the product speaks for itself – with more than 60 years of experience in the industry we've learned all we could ever learn about silk weaving – it's a question of "if it ain't broke don't fix it" and that's exactly my design philosophy when it comes to Thai Silk.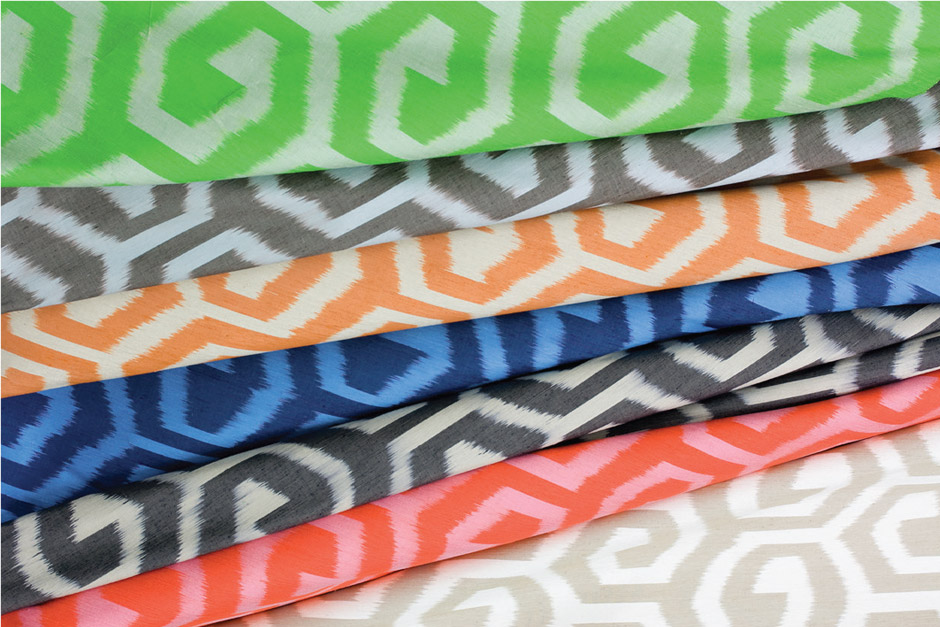 What are the most attractive or sexiest things about Thai Silk Jim Thompson?
The most alluring thing about Jim Thompson Thai silk is the sense of history that is woven through all of our products. There is a shroud of mystery,  of legend and heritage. It is difficult to put your finger on it but all our clients seem to feel the same and that's what's created a unique sense of loyalty in the brand.
What does luxury mean to you?
Luxury is never having to compromise on anything…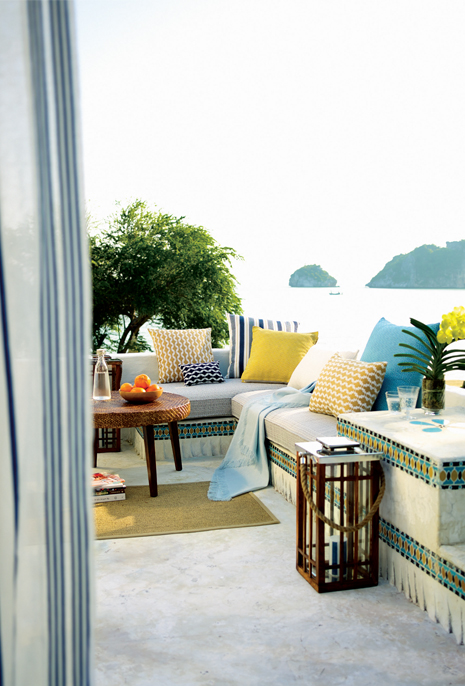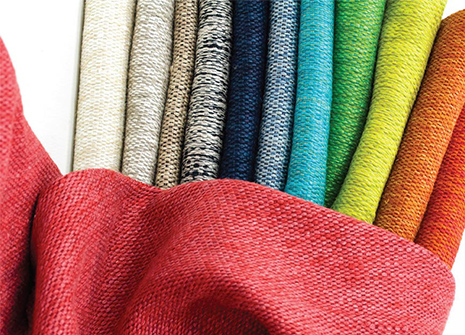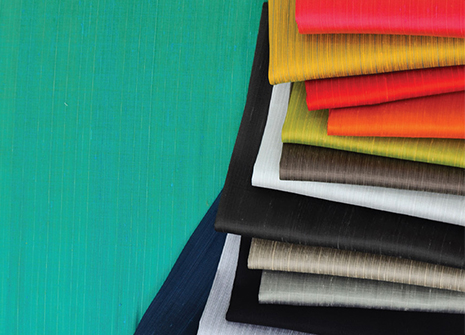 Your advice to young designers
My advice would be to work hard and keep working harder because that's exactly what I did – there is no secret or short cut to success I'm afraid  LOL
Any exciting plans or collaboration for Jim Thompson in this near future?
Everyday at Jim Thompson is exciting, the sky is literally the limited when it comes to Thai silk – we work with the most innovative design firms fitting out the latest interiors and exteriors in the most far flung locations, including super yachts and the most advanced private jets –  everyone seems to want a piece of Jim Thompson in their everyday lives.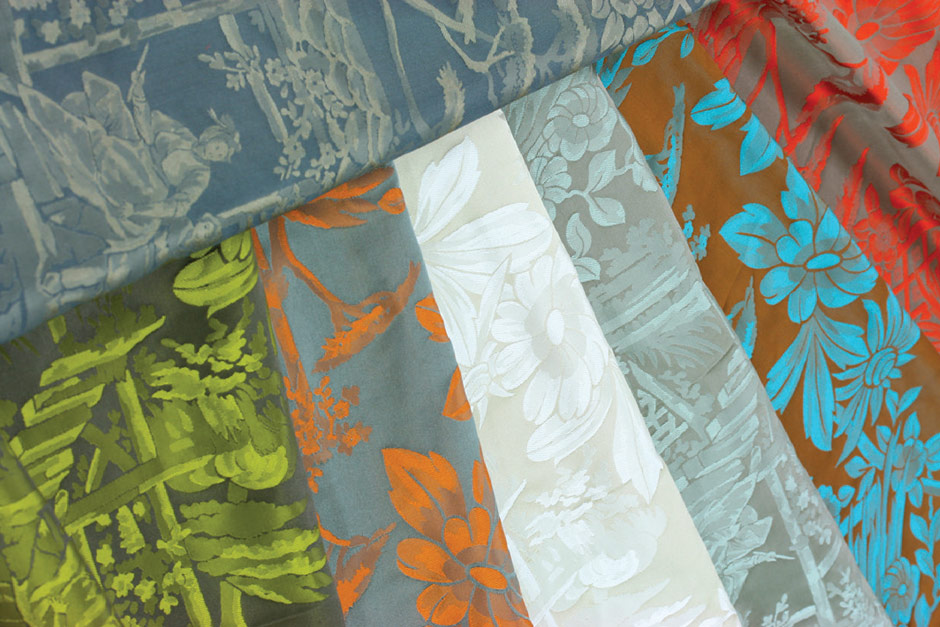 How do you fit Thai Silk Jim Thompson in the current demand of home furnishings today?
Jim Thompson Thai silk is a classic product, it transcends trends, it is timeless, and that has been proven time and again,  year after year.
Share with us your most favourite books.
The first two has to be my own books: LIVING WITH ZEN (or THE PURE AND SIMPLE HOME) AND the second book BEING WITH FLOWERS. Then TONY DUQUETTE