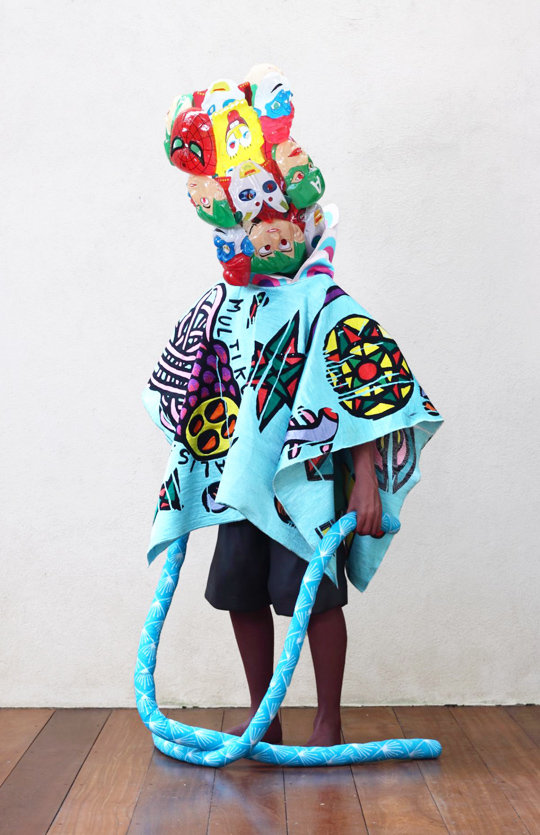 Eko Nugroho Solo Exhibition
Published by Sugar & Cream, Wednesday 14 September 2016
Arario Gallery Shanghai
Hampir setiap tahun seniman ternama asal Yogyakarta, Eko Nugroho melansir pameran tunggalnya. Jika tahun 2015 lalu di Salihara, Jakarta, maka tahun ini nama besar seniman Indonesia yang masuk dalam radar seni internasional melansir pameran tunggal bergengsinya dengan Arario Gallery di Shanghai, Tiongkok dari tanggal 10 September -28 Oktober 2016.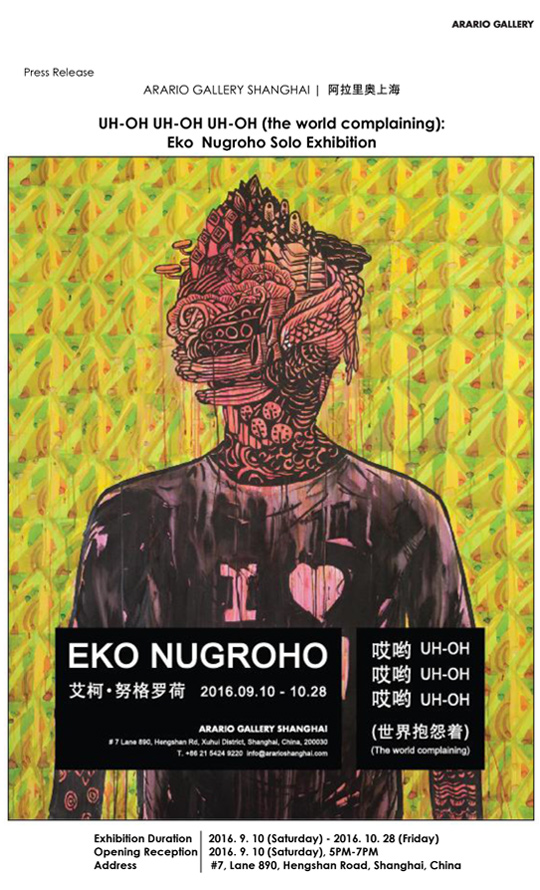 Pameran tunggal bertajuk "UH-OH UH-OH UH-OH (the world complaining)", menggelar pencapaian artistik terbaru dari Eko Nugroho dengan berbagai media seperti embroderi, patung, kertas, fiberglass dan lukisan mural.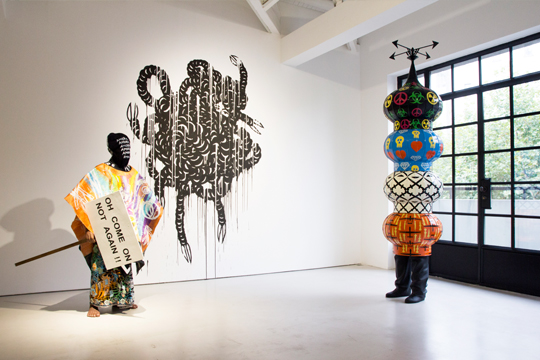 Karya-karya kontemporer Eko dianggap sangat berbeda atau bertolak belakang dengan seniman generasi sebelumnya di era reformasi. Pembaruan aura yang diperlihatkan oleh seniman ini melalui subjek maupun berbagai media yang dipergunakan. Sebelumnya dia dikenal dengan pameran yang menggabungkan karya embroideri, seni intaslasi dan pertunjukan mural diruang pameran.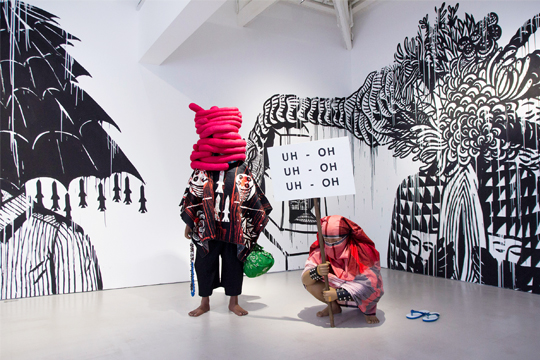 Dibalik karyanya seniman yang kerap diundang berpameran di luar negeri ini tidak hanya menyentuh sisi kehidupan urban, budaya dan tradisi yang dekat dengan lingkungannya tapi juga mengaitkan situasi perubahan sosial dan politik yang terjadi di Indonesia secara tidak langsung.  Yang menarik adalah semua persoalan dipresentasikan dan dituangkan dengan antusiasme yang menggoda, dan dengan daya tarik visual yang vibran dan positif. Mengundang sebuah dialog terbuka secara instan dengan pemerhati karyanya. (JW)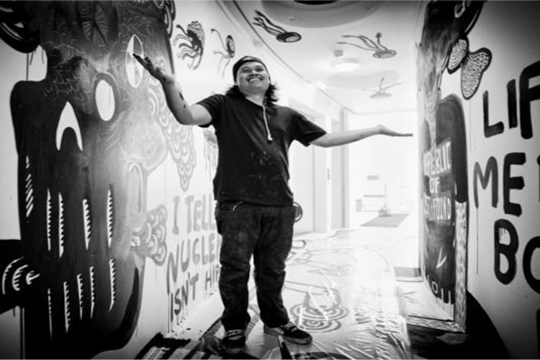 Eko Nugroho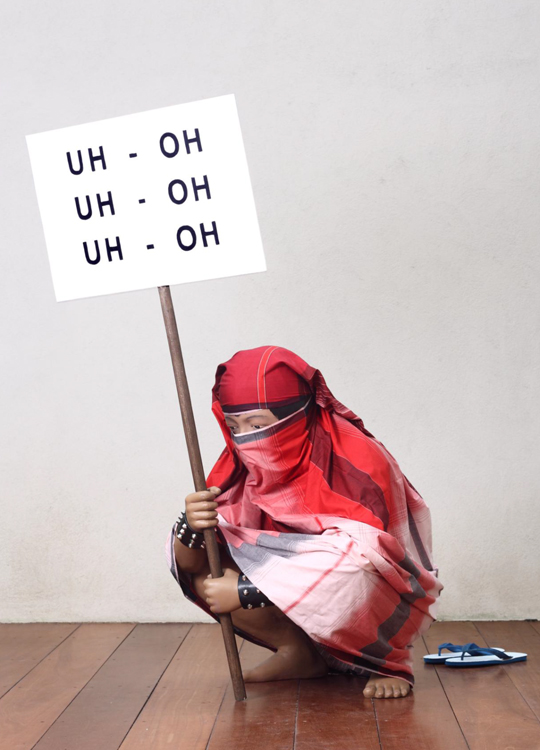 The Dance Corps Series "Protester With New Issue" 2016, Fiberglass painted with acrylic, manual embroidery 137 x 72 x 63 cm.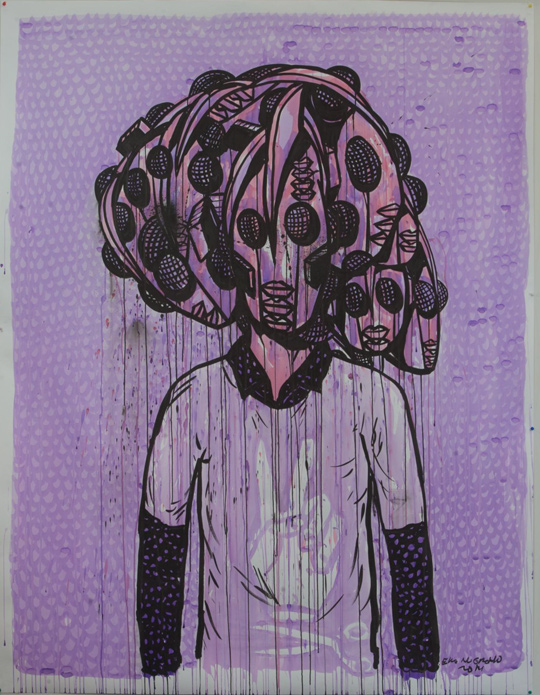 Cut The Peace 2014 Indian Ink, Ecoline on Paper 200 x 150 cm.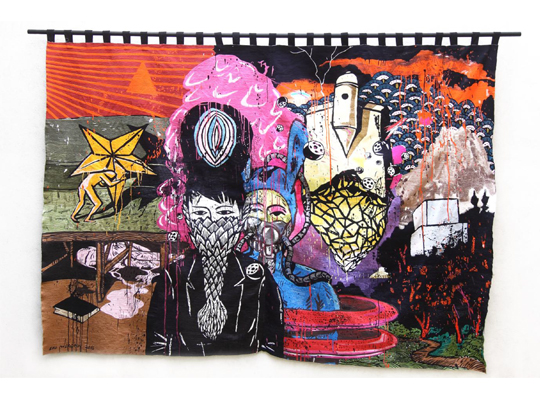 Illusion of Hope 2016 Manual Embroidery 314.5 x 220 cm.