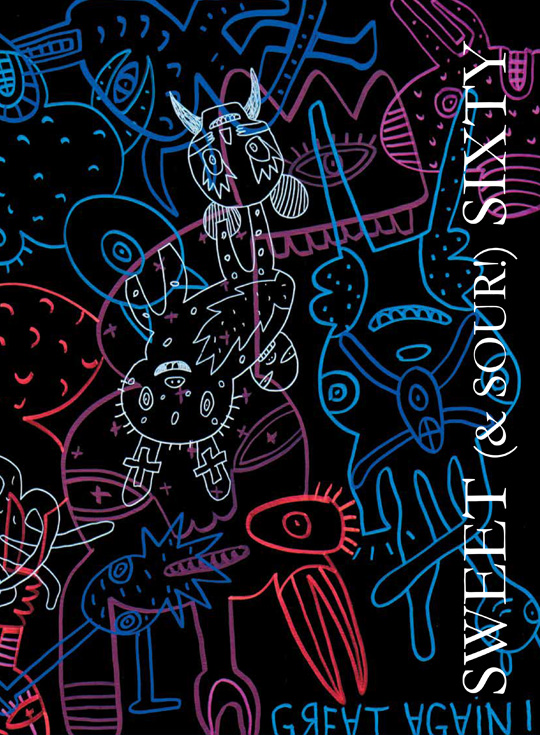 Eddie Hara's SWEET (& SOUR!) SIXTY
Published by Sugar & Cream, Friday 24 November 2017
Curatorial Text by Agung Hujatnikajennong, Images courtesy of Nadi Gallery, Jakarta
Nadi Gallery : 28 November 2017 – 15 December 2017 
IN-BETWEEN CONTINGENCIES – IN THE
FACE OF THE FLOWING TIME
The year 2017 is a special one for Eddie Hara, at least for two reasons. The first one relates to his current status as an "immigrant".
It is exactly twenty years ago that Hara decided to move to Europe; to live and work in Basel, Switzerland. It wasn't an easy decision in his life. At that time his reputation in Indonesia was rising as a young artist who had begun to be involved in big exhibitions, both in the country and abroad. Several of his fellow artists questioned his decision. They believed that living abroad would risk the "cultural relevance" of his works to his homeland, as well as potentially harm his bright career.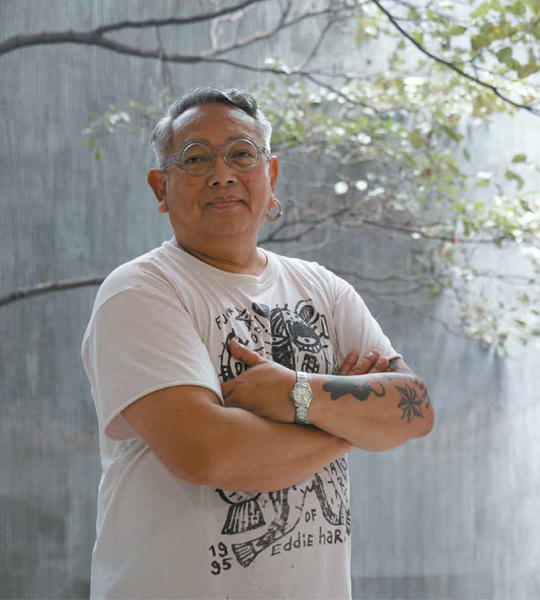 Indeed, it was personal considerations that became the reasons behind his move, especially his marriage with Catherine Maeder, the mother of his two sons, Mimmo and Nestor. But more than that, it was also influenced by a more underlying outlook of life. Since early on, Hara was not an artist who naively believes in rigid ties between cultural values and one's birth place or one's national identity. His works have always been a clue. Instead of immersing himself in the various discourses of "Indonesian-ness" in the local art world, since the end of 1980s he has intentionally opened himself toward "outside" influences. Since those years, too, he has traveled abroad for exhibitions, residence programs, and academic studies. It was such experiences of being an itinerant artist that, I believe, crucially formed his flexible attitude in viewing cultural differences.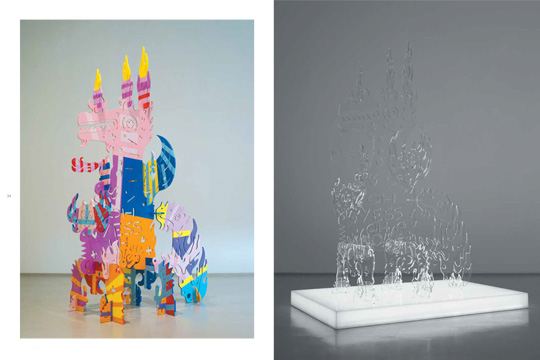 Buaya Darat #2, 2017, Plexi glass, polyurethane paint, 185 x 114 x 64 cm and Buaya Darat #1, 2017, Plexi glass, LED light, 196 x 143.5 x 93.5 cm.
Observers discussed the emergence of Hara's works as an important phenomenon in the Indonesian art in the beginning of 1990s. Together with his compatriot, Heri Dono, Hara appeared with works that deviated from the predominant trend. Since the end of 1980s, he has developed a visual style based on a detailed study over children's drawings and popular comic characters. When his peers in campus were still grappling with "classic" approaches, especially surrealism and expressivism, in Yogyakarta, Hara came up with "naïve" styled paintings. He was already starting to present imaginary creatures or characters whose anatomy resembles mutation or transplantation rather than stylization of forms. Brushes of bright and merry colors have always appeared on his canvases. There were no mystical or local spiritual themes. Instead he presented actual, social daily issues.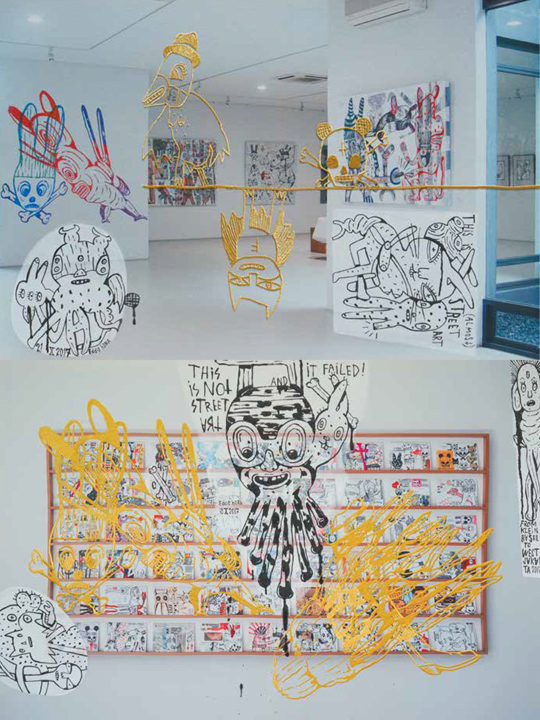 This is Not Street Art, 2017, Digital print, acrylic and handmade embroidery on canvas, 100 x 150 cm and This is (Almost) Street Art, 2017, Digital print, acrylic and handmade embroidery on canvas, 100 x 150 cm.
The creatures in Hara's paintings overall represent the ambiguity of human nature and social norms or values. Looking at a glance like fish or other nautical creatures, mammals, dolls, crowns, robots or cyborgs, they often come with open mouths; rows of teeth at the front as if laughing. But their hands often grip a weapon, a sort of blade, sword or gun. Their ambiguous expressions represent the ever-contradicting and paradoxical sides of humans. Luminous eyes alter laugh into sinister sneer. Angels and demons merge together in one physique. Lately Hara has also been presenting more and more icons identical to death or violence, such as skulls and fanged masks, with bright and cheerful colors. Another important element in Hara's works is texts in-between the drawings. Sometimes those are amusing, random phrases, but at some other times they guide us to his real intention: to express comments, criticisms, satire, or mere traces of verbal expressions lashing out in anger.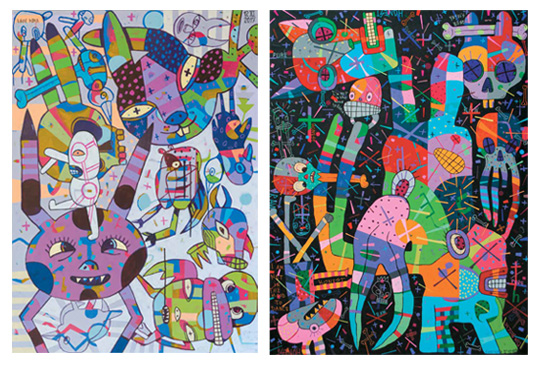 Long Eared Creatures Don't Say Goodnight, 2017, Acrylic on canvas, 140 x 100 cm and I`m Not in the Mood to Dance (Pure, Raw, Honet, Diabolic), 2014, Acrylic on canvas, 200 X 150 cm.
Looking at those hybrid, distorted creatures' anatomy in his paintings, once I asked whether such images were the result of Javanese wayang influence. Rather than instantly admitting it, Hara told me about the similarity of wayang characters and those of the cartoon world, such as Mickey Mouse, Alice in Alice in Wonderland, and Batman, who had been alive in his imagination during his teenage, far before he moved to Europe. This is an interesting statement in regard to the Indonesian art development that has long been under the shadow of fanaticism of "locality" or "Indonesian-ness". Hara's statement explains why his works merited a lot of talks in the early 1990s. He represents an emergence of Indonesian new artists who at that time refused to work according to the dictating, narrow "cultural chauvinism". Not only absorbing stylistic influences of Dada, Fluxus and art brut, Hara also admits being influenced by punk music, heavy metal music and street art (graffiti). He draws inspirations from a subcultural spirit that is still very much rebellious but expressed in far more casual ways.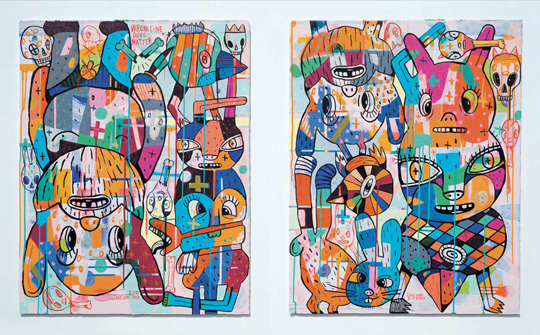 Joyful Rites of Spring I, 2017, Acrylic on canvas, 111 x 88 cm and Joyful Rites of Spring II, 2017, Acrylic on canvas, 111 x 88 cm.
Twenty years after he moved to Basel, we know how, as an artist, he still has an intact, flourishing reputation in Indonesia. His career as an Indonesian artist living in Europe seems to emphasize how connections between "cultural values" and a space or a place is basically contingent—arbitrary even. To be an "Indonesian artist", for Eddie Hara, doesn't mean to live and work in Indonesia.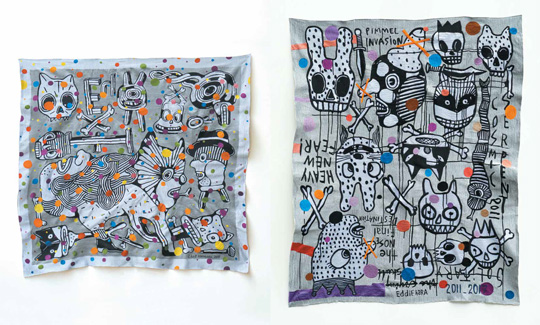 Come and Play With Us!, 2017, Handmade embroidery, 127 x 135 cm and Cosmic Serpent, 2017, Handmade embroidery, 121 x 97 cm. (unique edition).
Some might see that his career is part of a general phenomenon in step with the latest characteristics of the global contemporary art after 2000s in which art production, distribution and consumption (through exhibition, collection, auction etc) can easily cross geographical borders these days. However, I believe that, in fact, cosmopolitanism is something inherently natural in Hara's life, which also shapes him as an artist.
The year 2017 is also special for him as it marks his sixtieth birthday—the title of this solo exhibition, SWEET (& sour!) SIXTY indicates the significance of the moment to him. But this exhibition, of course, is not just a celebration of a painter's birthday. Our attention to someone's age is a testimony to how the life of modern humans is quantified by a chronological
time unit (birth year – death year). Our perception often hinges too much on numbers used to quantify, instead of quality. We often forget that a birthday is basically a memento of what we do in life: What have we done as a mortal being in the face of the flowing time?
Learning about Eddie Hara practically from readings and talks in short meetings, I would like to nevertheless weave this short article from deep impressions about his works and figure. I wouldn't hesitate to say that his charisma lies in his humbleness and sincere friendliness. He is always nonchalant and likely to amuse in daily interactions; never distances himself from anyone, including a much younger generation of artists. He never patronizes or acts in too formal ways as a deeply seasoned senior.
Looking up to his figure as an artist, I truly appreciate how he puts art as the way of life—especially painting. His spirit seems to be in contrast with his age. He maintains until today a painting method that rarely rests on a sketch or design. His painting process can be likened to an opening of a Pandora
box, in which myriad images of objects, texts, planes, lines, dots, melts and brushes of colors seem to burst or spill over, filling an entire canvas. He does keep doodles of sketches in a drawing book that he carries whenever he goes. But, in his process, those sketches never transform themselves fully into paintings. He also differs from "expressionist" artists who rely on revelation before drawing, working with great discipline and spending several hours in studio every day as much as he can.
SWEET (& sour!) SIXTY does not reflect at all a typical, stagnant "old artist" generation's exhibition. On the contrary, this exhibition might represent the golden age of Eddie Hara. For instance, this time he is presenting a number of paintings bigger in size than the ones he previously made. Look at, for example, Bobo-bobo Siang (2016-2017) and It's, It's my Baby (2015-2017) stretching more than 2 x 3 meters. Not only trying something new, he has also been exploiting the spacious exhibition hall at the Nadi Gallery, which he transformed to a temporary studio during his residence in Jakarta. In this exhibition, there are several works in embroideries, as well as three-dimensional objects from acrylic sheets that he created with the help of Biantoro Santoso. It is all an evidence of how Eddie Hara's spirit of experimentation with new media and materials knows no halt.
This short note may not be the best present, but I would like to end it with a most sincere wish: Happy Birthday, Mas Eddie!
Curatorial Text by Agung Hujatnikajennong, Images courtesy of Nadi Gallery, Jakarta
Nadi Gallery : 28 November 2017 – 15 December 2017 
DI ANTARA RUANG- RUANG NISBI – DI HADAPAN WAKTU YANG BERLARI
2017 adalah tahun yang istimewa untuk EddiE HaRA, sekurang- kurangnya untuk dua perkara. Yang pertama berhubungan dengan statusnya kini sebagai 'imigran'.
Tepat duapuluh tahun lalu, EddiE memutuskan hijrah ke Eropa, untuk menetap dan bekerja di Basel, Swiss. Kepindahan itu bukan keputusan yang mudah dalam hidupnya. Ketika itu, reputasi EddiE di Indonesia justru tengah menanjak sebagai seniman muda yang mulai banyak tampil di pameran-pameran besar di dalam maupun luar negeri. Sejumlah rekan senimannya sempat mempertanyakan keputusan itu. Menurut mereka, tinggal di luar negeri beresiko memutus 'hubungan-hubungan kultural' karya-karya EddiE dengan tanah air, sekaligus berpotensi menghambat perjalanan karirnya yang cemerlang.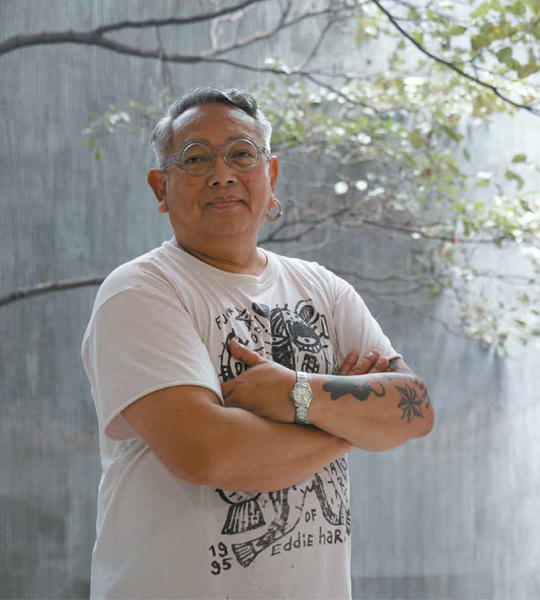 EddiE HaRA
Kepindahan Eddie memang didorong oleh pertimbangan- pertimbangan personal, terutama oleh pernikahannya dengan Catherine Maeder, ibu dari dua anak laki-laki mereka, Mimmo dan Nestor. Tapi lebih dari itu, keputusan itu juga dipengaruhi oleh pandangan hidupnya yang lebih mendasar. Sejak awal, EddiE bukanlah seniman yang percaya begitu saja pada ikatan yang kaku antara nilai kultural dengan tempat tinggal maupun identitas kebangsaan seseorang. Karya-karyanya sudah sejak awal menunjukan hal itu. Alih-alih terlibat dalam berbagai wacana 'keindonesiaan' di medan seni rupa lokal, sudah sejak akhir 1980-an, EddiE malah dengan sadar membuka dirinya pada pengaruh-pengaruh 'luar'. Sejak tahun-tahun itu pula, ia sudah sering melakukan perjalanan ke luar negeri, untuk berpameran, mengikuti program residensi maupun studi akademik. Pengalaman-pengalaman sebagai seniman 'pengelana' (itinerant) itu, saya kira, sangat berperan dalam membentuk sikapnya yang cenderung luwes dalam memandang perbedaan-perbedaan budaya.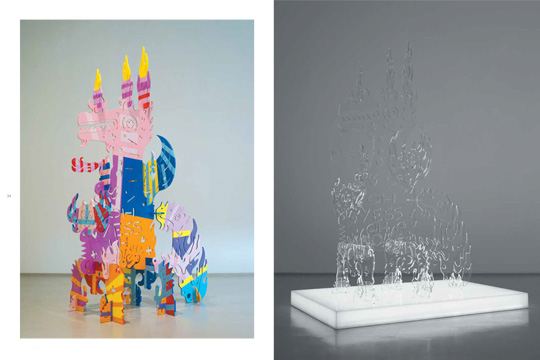 Buaya Darat #2, 2017, Plexi glass, polyurethane paint, 185 x 114 x 64 cm and Buaya Darat #1, 2017, Plexi glass, LED light, 196 x 143.5 x 93.5 cm.
Para pengamat telah membahas kemunculan karya-karya EddiE sebagai fenomena penting dalam seni lukis Indonesia pada awal 1990-an. Bersama kompatriotnya, Heri Dono, EddiE muncul dengan karya-karya yang menyimpang dari kecenderungan dominan. Sejak akhir 1980-an, EddiE mengembangkan gaya visual dari studinya yang rinci atas karakter visual gambar anak- anak dan komik-komik populer. Ketika rekan-rekan kuliahnya masih berkutat dengan pendekatan-pendekatan 'klasik' di Yogyakarta, terutama 'surealisme' dan 'ekspresivisme', Eddie tampil dengan lukisan-lukisan bergaya 'naïf'. Ketika itu, ia sudah mulai menampilkan makhluk-makhluk atau tokoh-tokoh imajiner yang anatominya lebih menyerupai hasil mutasi atau transplantasi, ketimbang stilisasi bentuk-bentuk. Sapuan- sapuan warna-warna cerah dan meriah selalu tampak pada kanvas-kanvasnya. Tak ada tema-tema mistis atau spiritualisme lokal. Alih-alih, EddiE menyodorkan persoalan-persoalan sosial sehari-hari yang aktual.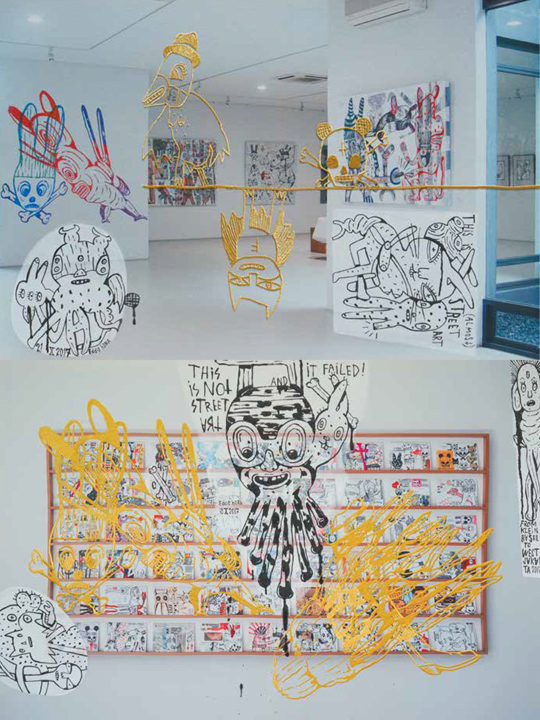 This is Not Street Art, 2017, Digital print, acrylic and handmade embroidery on canvas, 100 x 150 cm and This is (Almost) Street Art, 2017, Digital print, acrylic and handmade embroidery on canvas, 100 x 150 cm.
Makhluk-makhluk dalam lukisan EddiE mewakili ambiguitas sifat- sifat manusia dan nilai-nilai atau norma sosial. Sekilas menyerupai ikan atau makhluk laut lainnya, mamalia, boneka, badut, robot atau cyborg, mereka seringkali hadir dengan mulut terbuka, dengan gigi yang tampak berjajar di depan, seolah menyiratkan tawa. Tapi tangan mereka tak jarang menggenggam senjata, semacam belati, pedang atau pistol. Ambiguitas ekspresi mereka adalah representasi sisi-sisi yang serba kontradiktif dan paradoks dari manusia. Mata-mata yang mencorong mengubah tawa menjadi seringai jahat. Malaikat dan iblis dapat menyatu dalam satu wadag. Belakangan EddiE juga semakin sering menampilkan aikon-aikon yang identik dengan kematian ataupun kekerasan, seperti tengkorak ataupun topeng-topeng bertaring, namun dengan warna-warna cerah dan riang. Elemen penting lain dalam karya-karya EddiE adalah teks-teks yang berkelindan di antara gambar. Terkadang teks-teks itu hanya berupa frasa- frasa tak beraturan yang iseng dan jenaka, tapi tak jarang pula mengarahkan kita pada intensi EddiE yang sebenarnya, yakni untuk menyatakan komentar, kritik, sindiran atau sekadar jejak ekspresi verbal yang mengumpat penuh kemarahan.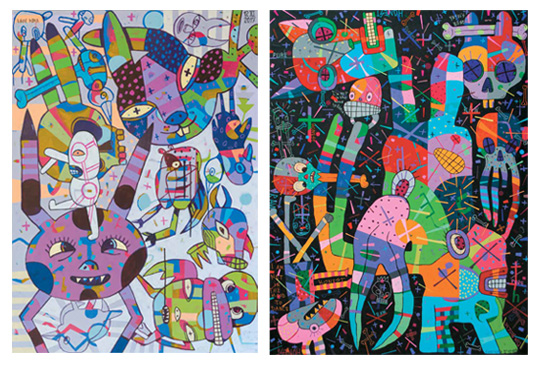 Long Eared Creatures Don't Say Goodnight, 2017, Acrylic on canvas, 140 x 100 cm and I`m Not in the Mood to Dance (Pure, Raw, Honet, Diabolic), 2014, Acrylic on canvas, 200 X 150 cm.
Melihat bentuk anatomi makhluk-makhluk hibrid yang terpiuh dalam lukisan-lukisan EddiE, saya pernah menanyakan apakah penggambaran itu terpengaruh oleh bentuk-bentuk wayang kulit Jawa. Ketimbang langsung mengakuinya, Eddie malah lebih banyak bercerita tentang persamaan tokoh-tokoh dalam wayang dan dunia kartun, seperti Mickey Mouse, Alice in Wonderland dan Batman yang juga telah hidup dalam imajinasinya sejak remaja, jauh sebelum ia pindah ke Eropa. Ini adalah pernyataan yang menarik, ketika dikaitkan dengan perkembangan seni rupa Indonesia yang pernah cukup lama berada dalam bayang-bayang fanatisme 'kelokalan' maupun 'keindonesian'. Pernyataan EddiE menjelaskan mengapa karya- karyanya begitu banyak diperbincangkan pada awal 1990-an. EddiE mewakili kemunculan generasi baru seniman Indonesia yang ketika itu menolak untuk berkarya di bawah naungan 'chauvinisme budaya' yang sempit. Selain menyerap pengaruh gaya-gaya seni semacam Dada, Fluxus dan Art Brut, EddiE juga mengakui adanya pengaruh musik punk, heavy metal dan seni jalanan (graffiti) dalam lukisan-lukisannya. Ia terinspirasi oleh semangat kaum subkultur, yang masih mengandung perlawanan, tapi dinyatakan dengan cara-cara yang lebih santai.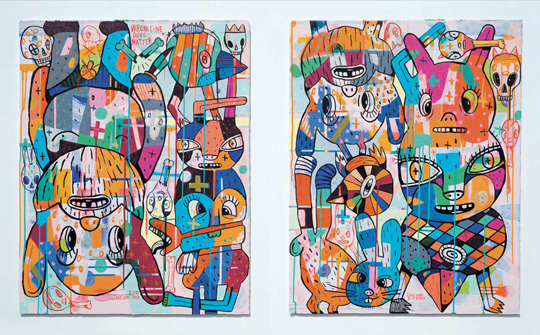 Joyful Rites of Spring I, 2017, Acrylic on canvas, 111 x 88 cm and Joyful Rites of Spring II, 2017, Acrylic on canvas, 111 x 88 cm.
Dua puluh tahun setelah kepindahan EddiE ke Basel, kita tahu bagaimana reputasinya sebagai seniman masih tetap tegak dan berkibar di Indonesia. Karir EddiE sebagai seniman Indonesia yang tinggal di Eropa seperti menggarisbawahi bagaimana hubungan-hubungan antara 'nilai kultural' dengan sebuah ruang atau tempat pada dasarnya selalu bersifat nisbi, bahkan arbitrer. Menjadi 'seniman Indonesia', untuk EddiE, tidak selalu harus tinggal dan bekerja di Indonesia.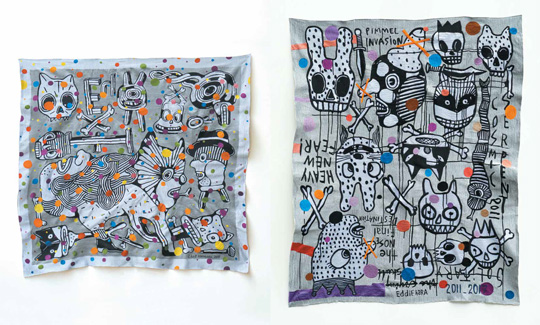 Come and Play With Us!, 2017, Handmade embroidery, 127 x 135 cm and Cosmic Serpent, 2017, Handmade embroidery, 121 x 97 cm. (unique edition)
Sebagian orang mungkin beranggapan bahwa karir EddiE hanyalah fenomena umum yang sejalan dengan karakter mutakhir medan seni rupa kontemporer global setelah 2000-an, di mana produksi, distribusi dan konsumsi karya seni (melalui pameran, pengoleksian, lelang, dsb.) hari-hari ini dapat dengan mudahnya melintasi batas-batas geografis. Tapi saya justru berpendapat bahwa kosmopolitanisme adalah sesuatu yang tertanam secara alamiah pada jalan hidup EddiE, sekaligus membentuk identitasnya sebagai seniman.
Tahun 2017 juga istimewa bagi EddiE karena menandai usianya yang menginjak enampuluh—judul pameran tunggal SWEET (& sour!) SIXTY mengindikasikan pentingnya momen itu baginya. Tapi pameran ini tentu saja bukan melulu perayaan ulang tahun seorang pelukis. Perhatian kita pada usia seseorang membuktikan bagaimana kehidupan manusia modern selama ini telah dikuantifikasi oleh satuan waktu yang kronologis (tahun kelahiran – tahun kematian). Persepsi kita seringkali terlalu terpatok oleh angka-angka yang digunakan untuk menghitung kuantitas, bukan kualitas. Kita sering lupa bahwa ulang tahun pada dasarnya adalah momen pengingat (memento) tentang apa yang telah kita lakukan selama hidup: Apa yang telah kita lakukan sebagai makhluk fana di hadapan waktu yang tak berhenti berlari?
Meski saya lebih banyak mengenal EddiE melalui bacaan- bacaan dan obrolan-obrolan dalam pertemuan-pertemuan yang singkat, saya ingin merangkai tulisan singkat ini dengan kesan-kesan mendalam tentang sosok dan karya-karya EddiE HaRA. Saya tak sungkan untuk mengatakan bahwa kharisma EddiE terletak pada kerendahhatian dan keramahannya yang tulus. Dalam pergaulan sehari-hari, pembawaannya selalu santai dan cenderung jenaka. Ia tak pernah membuat jarak dengan siapapun, termasuk dengan generasi seniman yang jauh lebih muda. Dia tak pernah menggurui ataupun bersikap terlalu formal bagai seorang senior yang kenyang dengan lebih banyak pengalaman.
Meneladani sosok EddiE sebagai seniman, saya sangat menghargai caranya menjadikan kesenian—terutama seni lukis—sebagai jalan hidup. Dalam berkarya, semangat EddiE justru bertolak belakang dengan usianya. Sampai hari ini, EddiE memang masih mempertahankan metode melukisnya yang jarang berpatokan ada sketsa atau rancangan. Proses melukisnya bisa diibaratkan bagai proses membuka kotak Pandora, di mana berbagai gambaran objek, teks, bidang, garis, noktah, lelehan dan sapuan warna seperti meledak atau tumpah begitu saja memenuhi segenap bagian kanvas. Ia memang menyimpan corat-coret sketsa dalam buku-buku gambar yang selalu dibawanya ketika bepergian. Namun dalam prosesnya, sketsa-sketsa itu tidak pernah bertransformasi secara utuh ke dalam lukisan. Berbeda pula dengan seniman- seniman 'ekspresionis' yang mengandalkan jatuhnya ilham sebelum melukis, EddiE punya disiplin kerja yang tinggi dengan sebisa mungkin menghabiskan beberapa jam bekerja di studio setiap hari.
SWEET (& Sour!) SIXTY sama sekali tidak mencerminkan stereotip pameran generasi 'seniman tua' yang mandeg. Sebaliknya pameran ini barangkali mewakili periode keemasan EddiE HaRA. Sebagai contoh, kali ini, EddiE menghadirkan sejumlah lukisan yang berukuran lebih besar dari yang biasa ia buat. Lihat misalnya Bobo-bobo Siang (2016 – 2017) dan It's, It's my Baby (2015-2017) yang berukuran lebih dari 2 x 3 m. Selain ingin mencoba sesuatu yang baru, ia juga memanfaatkan