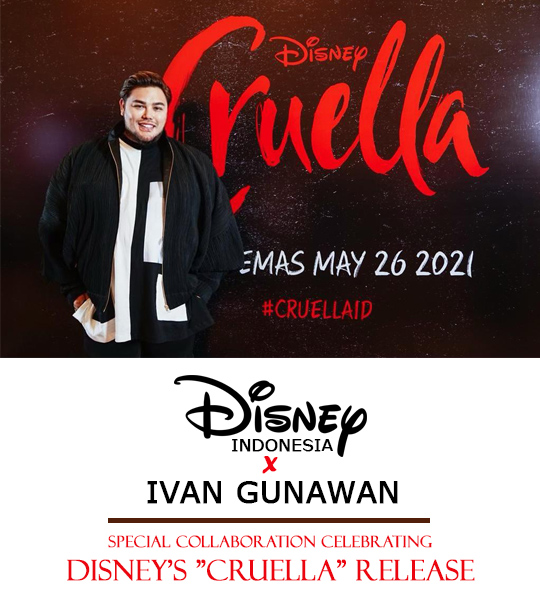 presented by

Disney Indonesia x Ivan Gunawan: Special Collaboration Celebrating Disney's "Cruella" Release
Published by Sugar & Cream, Monday 31 May 2021
Text by Dinda Bestari, image courtesy of Disney Indonesia
Two Special Outfits With Two Different Styles
The expertise of fashion designer Ivan Gunawan in designing clothes is not in doubt. However, what happens if the 'evil' designer is invited to collaborate with Disney Indonesia to create costumes inspired by the 'evil' Disney story and character "Cruella"?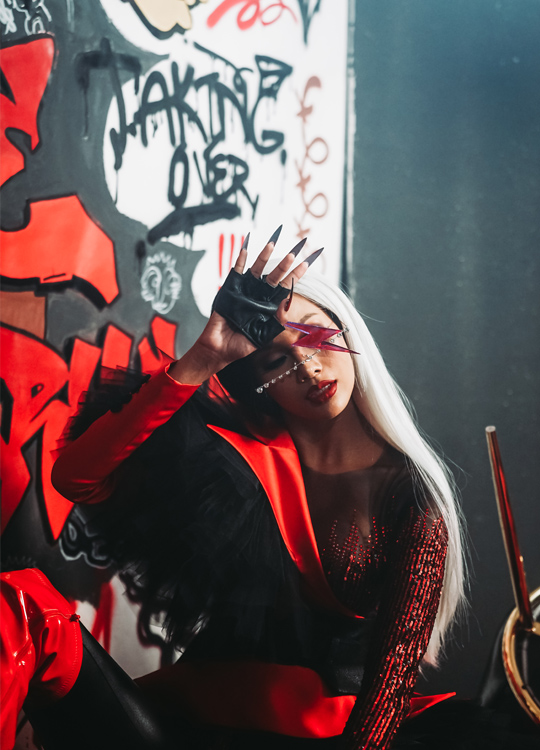 Ivan Gunawan membawa nafas segar dan unik untuk menginterpretasikan karakter Cruella ke dalam dua busana spesial yang dirancangnya. Mengangkat perbedaan gaya antara dua tokoh utama Disney's "Cruella" yakni Cruella dan Baroness Von Hellman, Ivan Gunawan telah menyiapkan busana dengan dua gaya bertolak belakang: revolusi punk rock di tahun 1970-an ala Cruella serta tampilan elegan ala Baroness.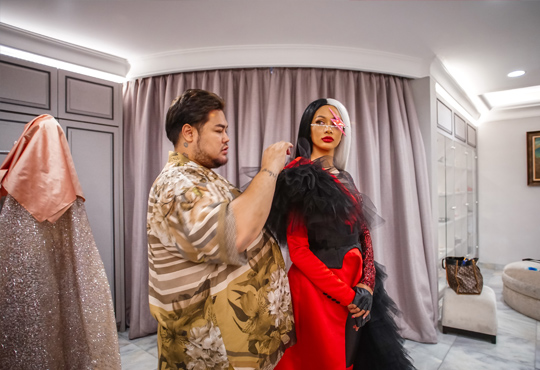 Lekat dengan karakter yang ekspresif dan berani, busana spesial yang terinspirasi dari Cruella menghadirkan dominasi warna merah, hitam, dan putih. Pemilihan fabric-nya pun cenderung berani, seperti menggunakann bahan kain sintetis dan tule.  Di sisi lain, busana yang terinspirasi dari Baroness memperlihatkan keanggunan dengan warna-warna soft tone seperti putih, krem, dan emas. Palet dan nuansa ini sejalan dengan karakter Baroness sang 'legenda mode' yang terkenal akan keeleganannya.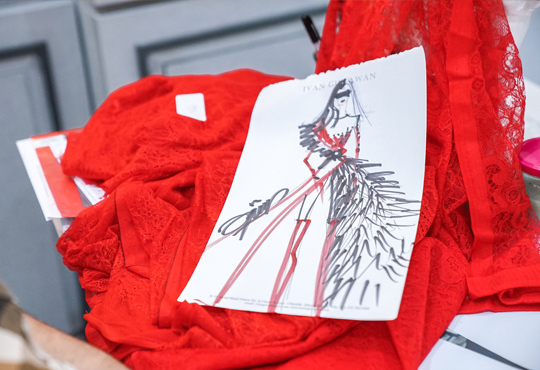 Kedua busana spesial ini, nantinya akan dikenakan oleh dua muse Ivan Gunawan, yang kemudian diterjemahkan ke dalam bentuk visual seperti karya-karya foto.  Busana yang terinspirasi dari karakter Cruella dikenakan oleh Aurra Kharisma, Miss Grand Indonesia 2020, sedangkan busana yang terinspirasi dari Baroness  dikenakan oleh Sophia Rogan, Miss Grand Indonesia 2021.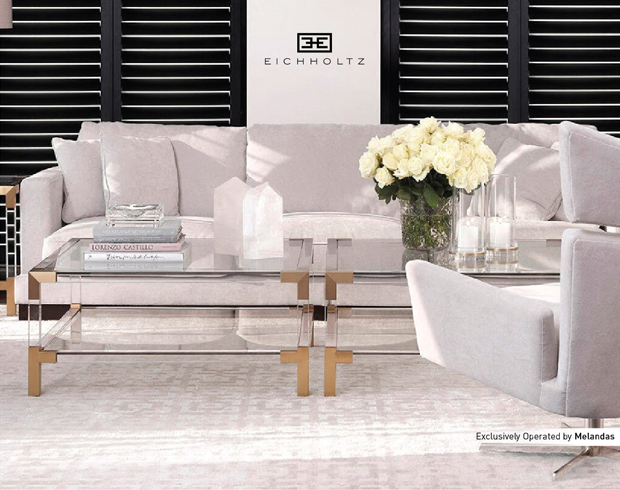 Presented by Melandas Indonesia
"Rasanya senang sekali bisa menghadirkan karya spesial yang terinspirasi dari Disney's 'Cruella'. Film ini sangat lekat dengan dunia fesyen yang sangat dekat dengan dunia saya. Dan saya berharap dengan adanya kolaborasi ini dapat memberikan warna dan cara baru bagi para penggemar untuk menikmati cerita, karakter, serta elemen-elemen yang ada di film Disney's 'Cruella'," ungkap Ivan Gunawan.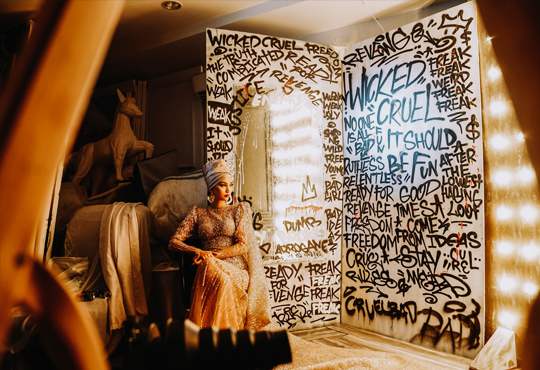 Selain berkolaborasi dengan Ivan Gunawan , Disney Indonesia juga berkolaborasi dengan penata fesyen ternama Indonesia, Wanda Hara, di mana Wanda Hara akan mendandani para selebritis Indonesia dengan gaya yang terinspirasi dari Disney's "Cruella". Kolaborasi spesial Disney Indonesia dengan Wanda Hara ini melibatkan sejumlah selebriti tenama seperti Jessica Mila, Ayu Dewi, Titi Kamal, Cinta Laura Kiehl, Mawar de Jongh, Arifin Putra, Mischa Chandrawinata, Marcel Chandrawinata, dan masih banyak lagi.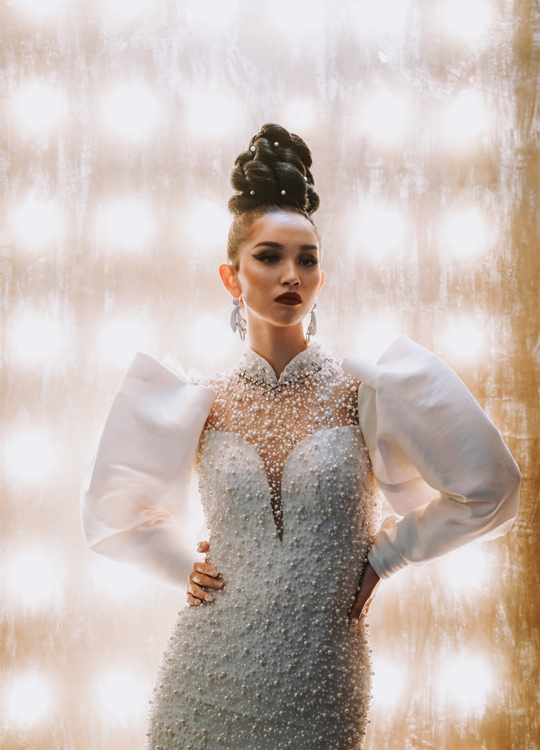 Hasil kolaborasi Disney Indonesia dengan Ivan Gunawan dan Wanda Hara disuguhkan kedalam bentuk pameran yang  berlangsung di Mall Pacific Place mulai dari 25 Mei 2021.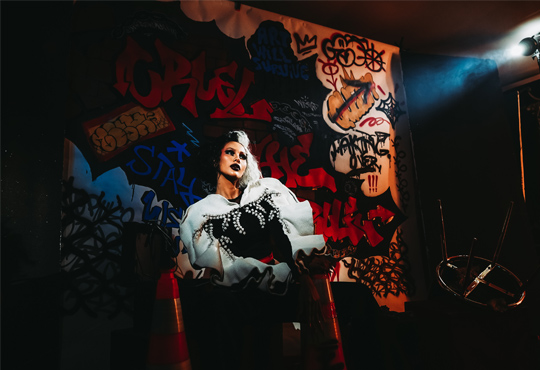 Disney's "Cruella" yang dibintangi oleh pemenang Academy Award®, Emma Stone dan pemenang dua piala Oscar®, Emma Thompson dan disutradarai oleh Craig Gillespie, serta diproduseri oleh Andrew Gunn, Marc Platt, dan Kristin Burr , dengan Emma Stone dan Michelle Wright bertindak sebagai produser eksekutif. Perancang kostum pemenang dua Oscar®, Jenny Beavan menghadirkan kostum yang memesona dan imajinatif menjadi daya tarik sendiri memikat pada film ini. Disney's Cruella  hadir di Indonesia pada 26 Mei 2021 di bioskop-bioskop favorit Anda.