Our Best Picks from the 55th of Salone del Mobile, April 2016
From the most prestigious exhibition, Milan's high-end design extravaganza last April 2016 : Salone del Mobile, we have selected some dining tables with fabulous design and aesthetically appealing.
Time moves and the world changes. In this digital era, the speed becomes everything. The art of culinary has gone far beyond. The new chefs are coming with new great ideas. Nonetheless, it does not change one thing in our live : the tradition of good eating has never been lost. We all need a gorgeous dining table to pleasure our good eating and to share our life. From contemporary, modern, modern classic or perhaps the uniqueness, we selected all styles to entertain your visual delights in choosing the next ultimate dining table.
Here is the list of our best picks in no particular order :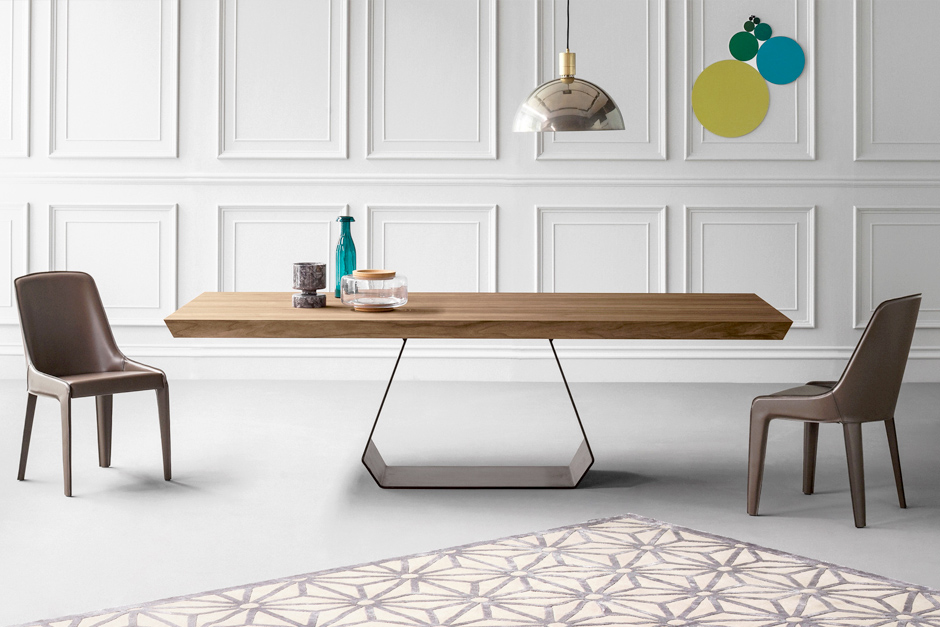 Brand : Bonaldo
Title : Amond Table
Designer : Gino Carollo
Review : Bold and unexpected between the top and the base. A sense of light weight due to a diamond-shaped base. The great shape of the base is available in different materials : copper or brass
Bonus : If wood is not your style, you may choose ceramic or glass for the table top.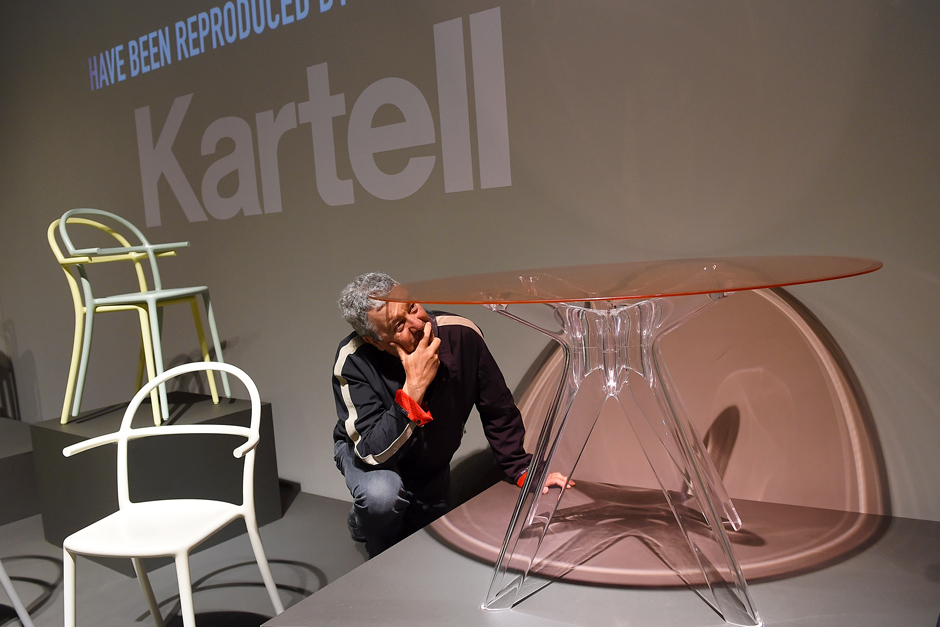 Brand : Kartell
Title : Sir Gio Table
Designer : Philippe Starck
Review : The creative minds spark Kartell's innovative designs to life. Who will be thinking of the transparency could be source of fun in design? A transparent polycarbonate base and tabletop in various sizes and colours, Sir Gio is a tribute to lightness, the purity of forms, and even to freedom of expression.
Bonus : various sizes and colours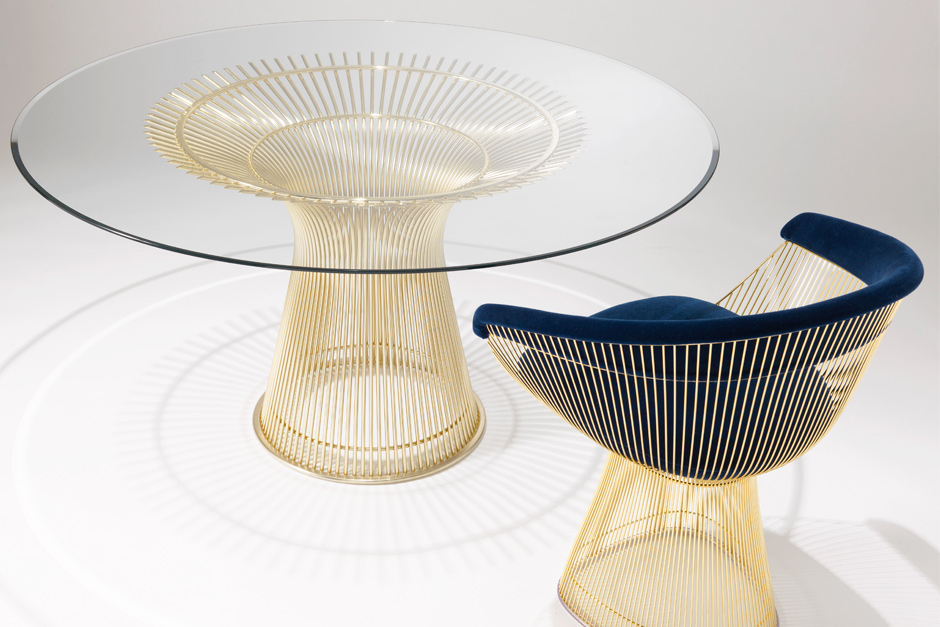 Brand : Knoll
Title : Table – Platner Gold Collection
Designer : Warren Platner
Review : Used to be only in our dreams to have a dining table both made of gold and by an iconic designer. Not with this small dining table with its chairs. The new and expanded collection by Knoll for Platner collection comes in Gold. Yes, it is gold so that it is bright and shining like gold. Would you like to impress more?
Knoll collection is available from Dream, Singapore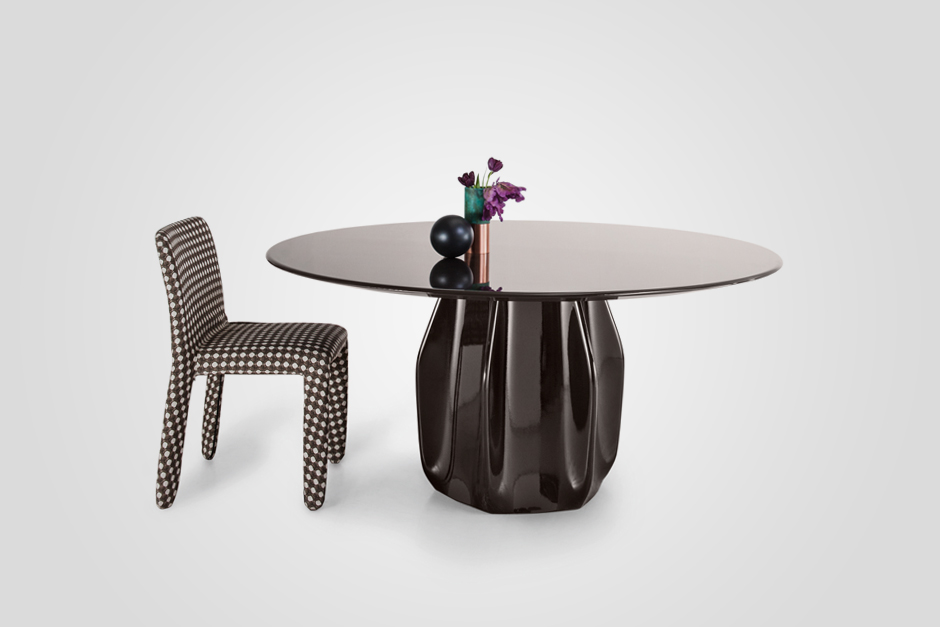 Brand : Molteni & C
Title : Asterias
Designer : Patricia Urquiola
Review :  The sinuous central base with six curved wedge-shaped and the name of the table inspired by a cactus that grows in the mountainous regions of Mexico : Asterias. Innovative, practical and yet contemporary, this table can be fitted with a lazy Susan turntable which is very popular in Asian.
Molteni & C is available from Molteni & C in Jakarta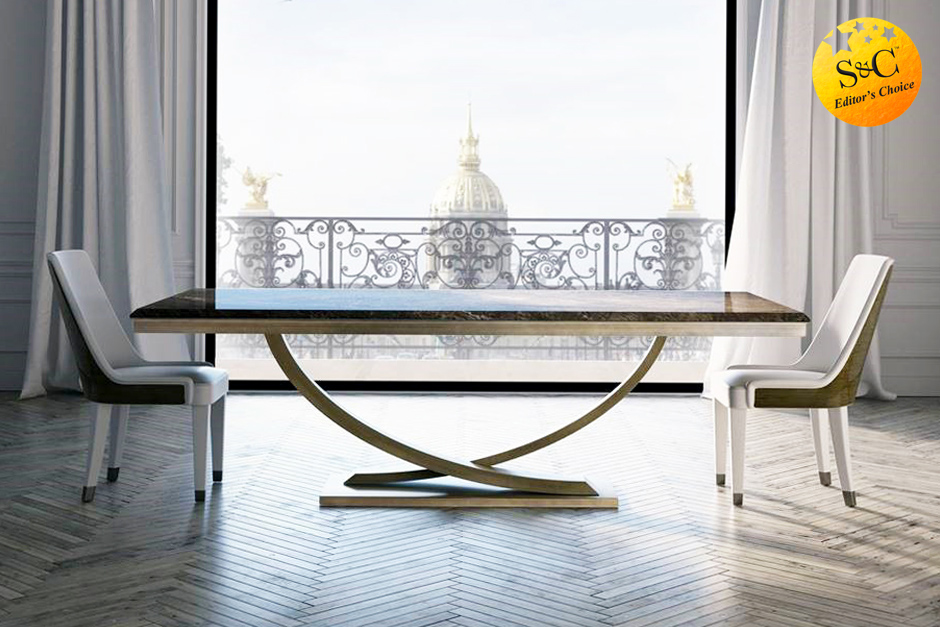 Brand : Hugues Chevalier
Title : Haussmann Table
Designer : Design Studio Telemaco
Review : For lovers of French luxury and art deco, this dining table from particular Haussmann collection by Hugues Chevalier brings a sleek modernity for an elegant interior. Rich in details, fashionable and the sleek sculptural base in metal bronze or chrome is very stylish for a dining table.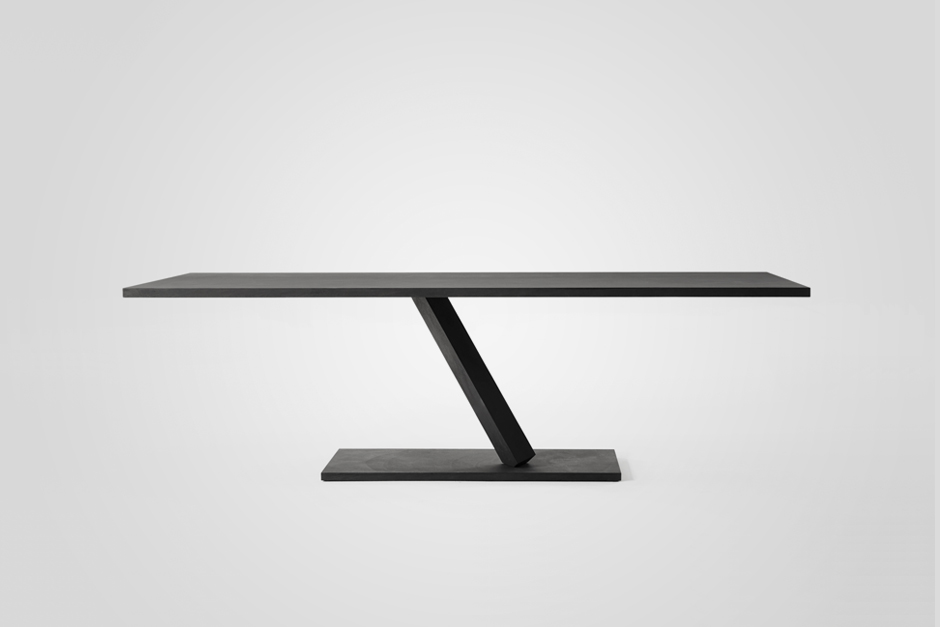 Brand : Desalto
Title : Element Black Table
Designer : Tokujin Yoshioka
Review : Considered as an iconic table due to its tilted base, Element Black Table posses the uniqueness not only due to the structure of its base but also the overall shape that projects a futuristic look.
Precautions : you may have sensory experience of great emotional impact.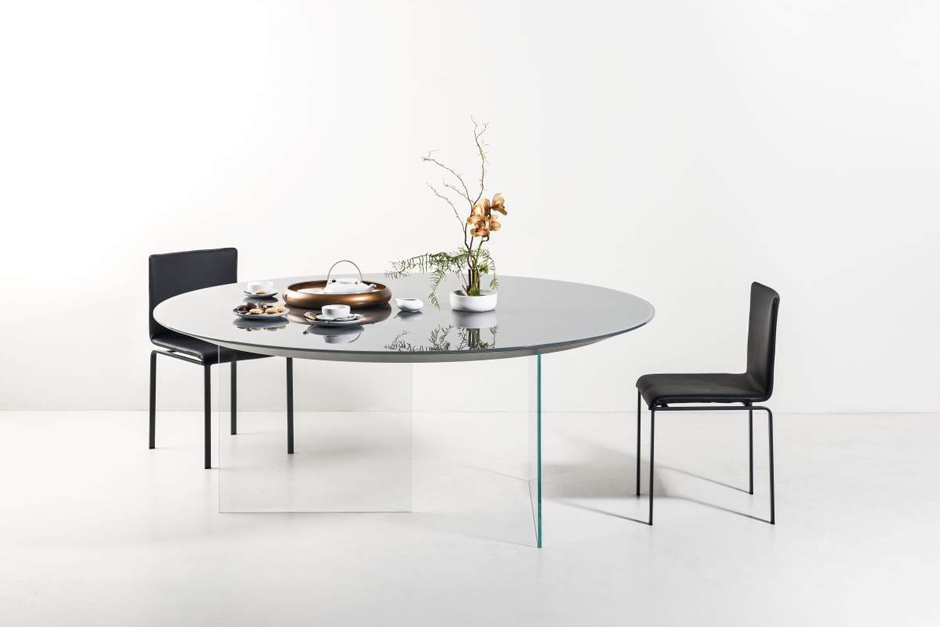 Brand : Lago
Title : Round/Rectangular Air Table
Designer : Daniele Lago
Review : do we see a floating table top from a distance? The Sturdy glass legs break the tradition of having solid legs for a dining table. The table top is available in tempered glass that can be painted in 32 Lago colours or simply in Wildwood oak.
Bonus : be fun with a design edge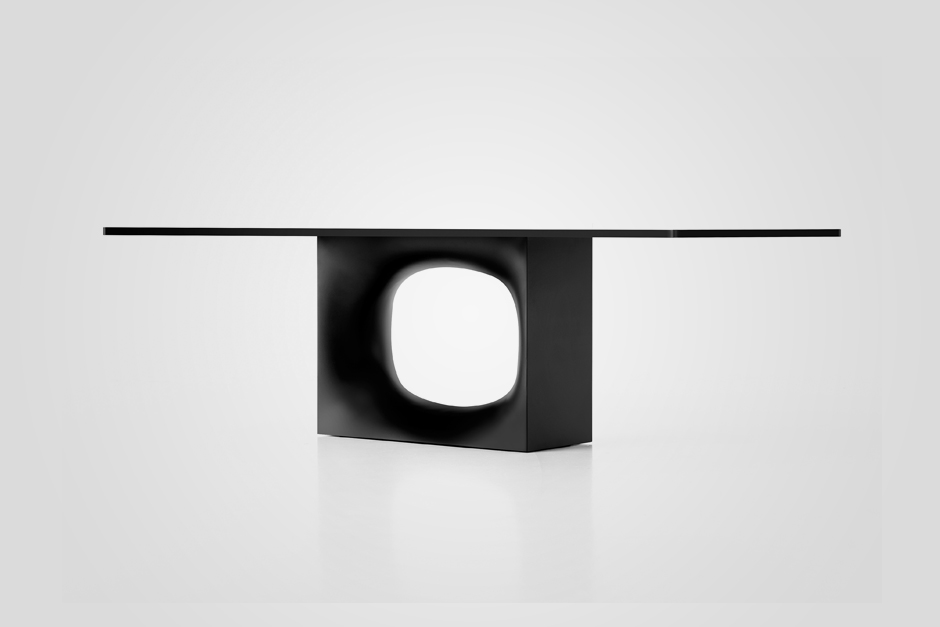 Brand : Kristalia
Title : Hole Dining Table
Designer : Kensaku Oshiro
Review :  To enhance its beauty of an ordinary table, Kensaku have perfected the sensation of the base : an oval hole with soft, sinuous and organic lines. The result is a contemporary look for a dining table. The oval hole is made of metal sheet with a special process of moulding and bending.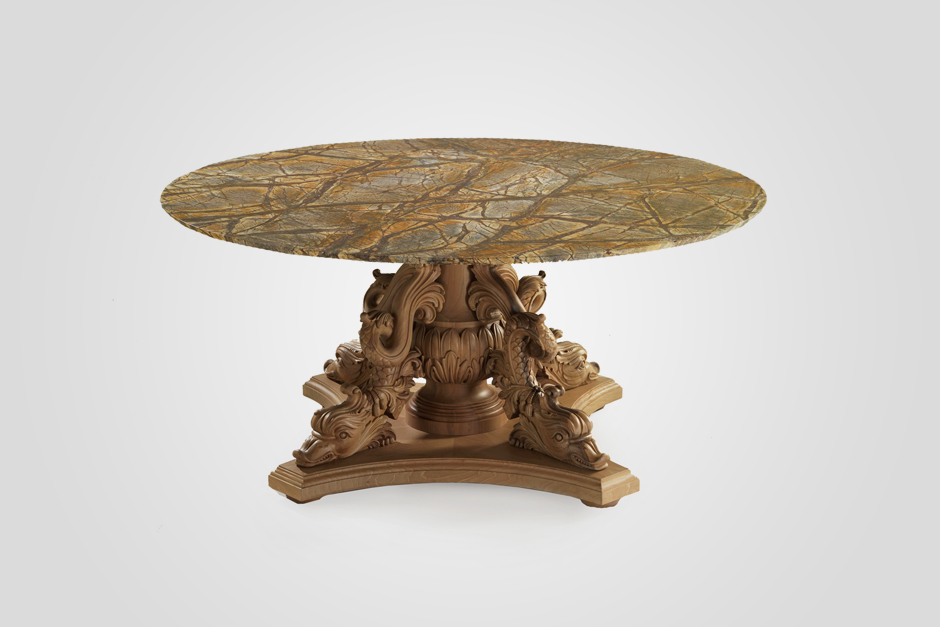 Brand : Fratelli Boffi
Title : TritoTable
Designer : Andrea Mancuso and Emilia Serra(Analogia Project)
Review :  a mixture of tradition, luxury and avant-garde, Trito table is rich in charms. The major attraction comes from its base : showing mythological figures of tritons and neoclassical inlays of Greco-Roman inspiration. The top table made of a rain forest brown marble.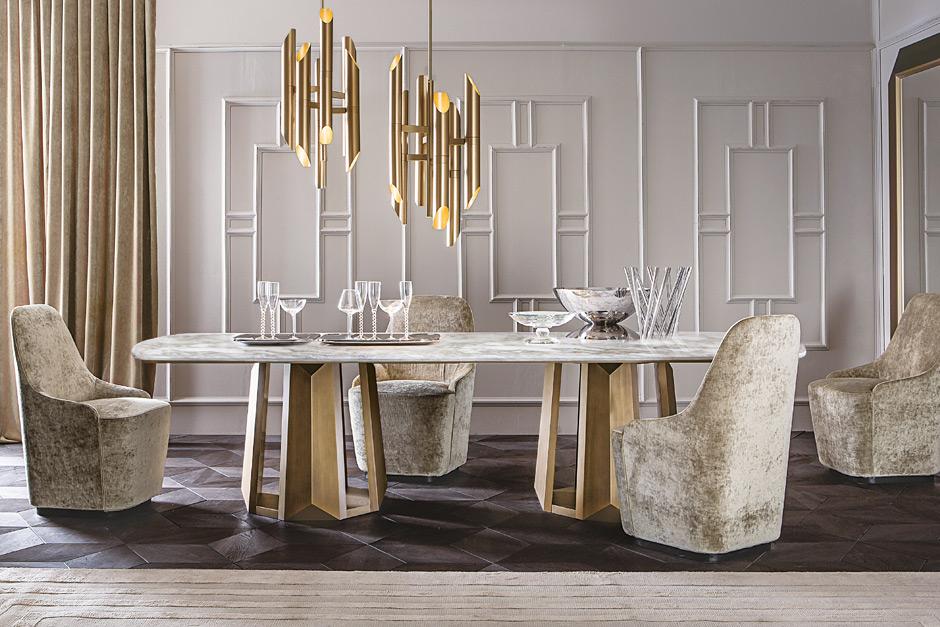 Brand : Casamilano
Title : Kandinsky
Designer : Massimilliano Raggi
Review :  Are looking for an elegant dining table with a marble top and a design edge of the base?  Kandinsky from Casamilano could be the one.  The Kandinsky table is characterized by a thin and elegant marble top supported by a particular wooden base, modelled like an artwork. The wooden base (MDF) has brushed brass effect finish.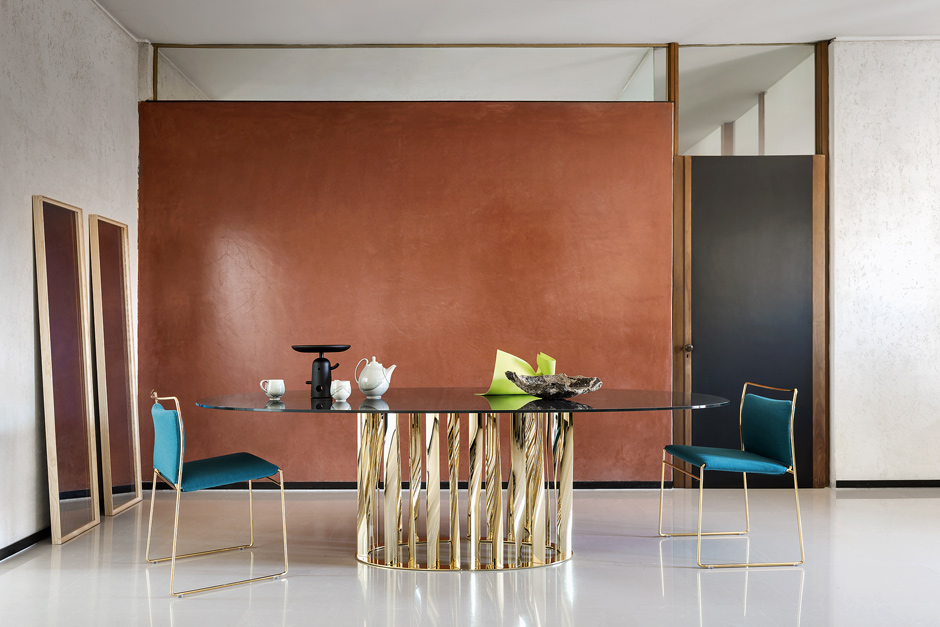 Brand : Cassina
Title : Boboli Table
Designer : Rudolfo Dordoni
Review : call it a table with more than 100 combinations! The uniqueness comes from twisted thin vertical strips of metal to create a sculptural effect as the base of the table.  With the sculptural base, this table could enhance the landscape beauty of your dining room.
Cassina is available from Ambiente, Jakarta and Dream in Singapore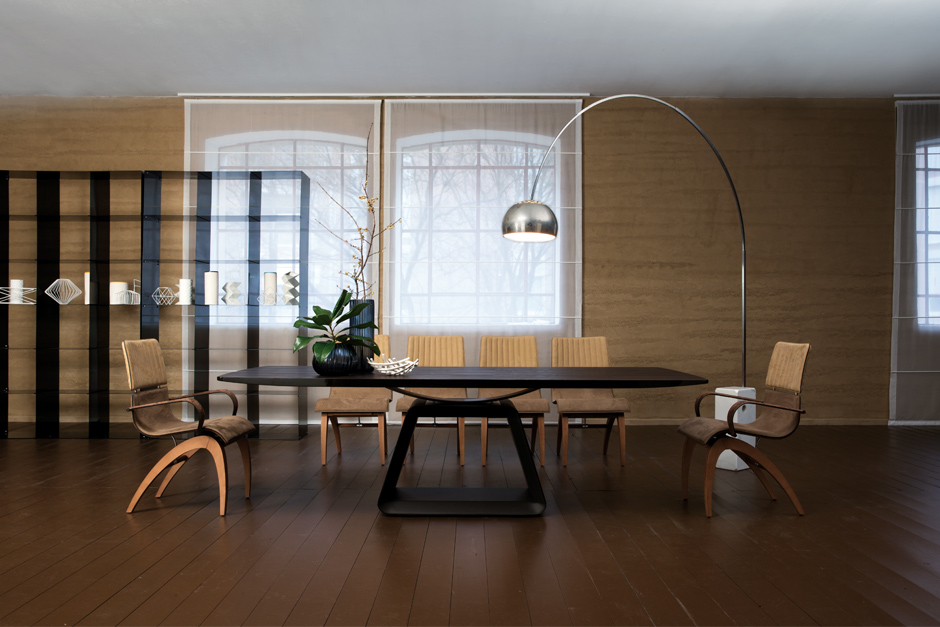 Brand : Il Loft
Title : Roger
Designer : Arch. Simone Cappellanti
Review : A stylish table that may add a new twist to the surrounding space due to its floating illusion. The base structure consists of two different parts, contrasting between strong and lightness.