presented by

DEWI FASHION KNIGHTS GREETING GUESTS AGAIN
Published by Sugar & Cream, Thursday 10 November 2022
Images courtesy of Dewi Fashion Knights (DFK)
Show by Stella Rissa, Yogie Pratama and Rinaldy A. Yunardi.
The annual Jakarta Fashion Week (JFW) turns fifteen this year, marking it with a new venue, its fourth since the inaugural JFW in 2008, and also a return to offline shows after the pandemic made JFW shows only available online for the past two years. This year, thirty shows were presented on both offline runway and online streaming services, including not one as usual, but two Dewi Fashion Knights (DFK) shows as JFW finale.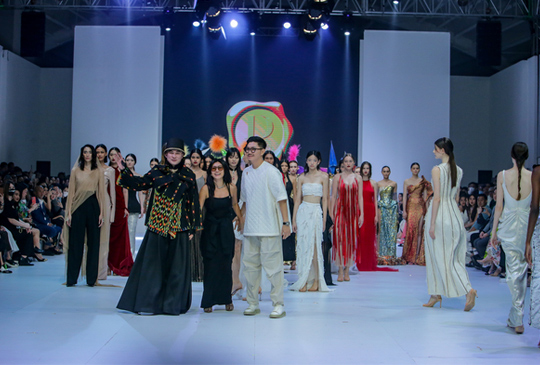 Rinaldy A. Yunardi, Stella Rissa, and Yogie Pratama
The first DFK was slated on the penultimate day for ready-to-wear collections, while the second DFK was reserved for couture as the last day's very last show. Let's take a look at the finale.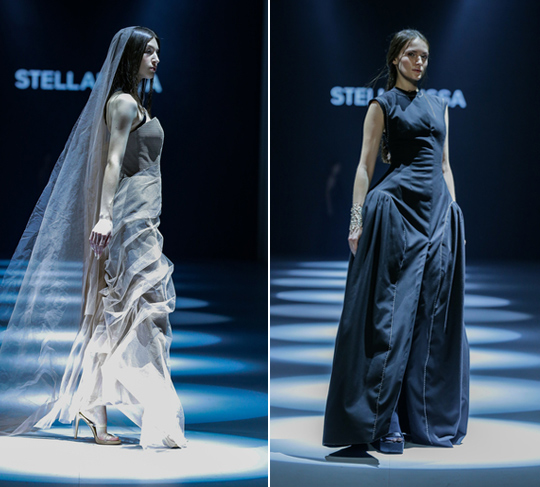 Stella Rissa
Three designers were selected by the organizer to present their works this year; Stella Rissa, Yogie Pratama and Rinaldy A. Yunardi. Each delivered a couture collection that was sufficiently distinguishable from each other to gain different responses from over 500 invitees including media packing the venue that evening.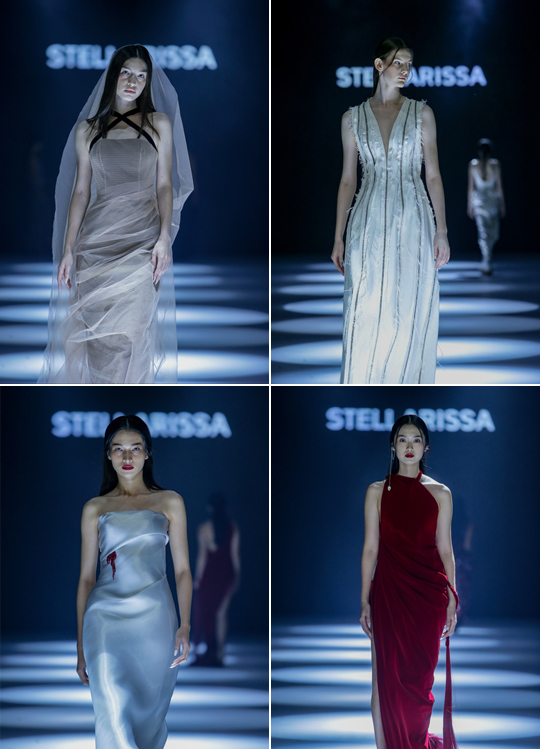 Stella Rissa
Stella Rissa's collection of couture evening gowns in black and flesh colors were tied together with crimson as accents, embellishment, or head-to-toe ensembles. Titled "In the Name of the Mother", tulle, satin, and a hint of possibly macrame were observed during the presentation. While a couple of looks had a relaxed silhouette, the rest of the collection had defined waistline—some in structured bodice that would keep the wearer's back upright while walking.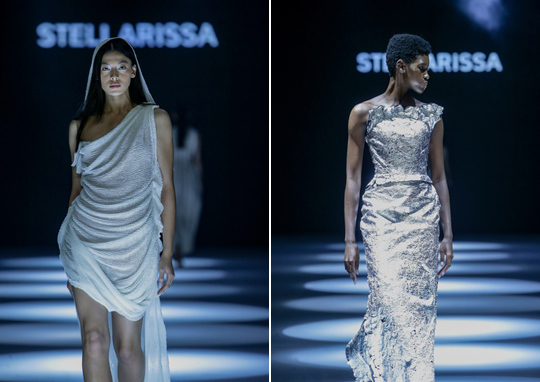 Stella Rissa
Even before her induction a few years ago into Ikatan Perancang Mode Indonesia (IPMI), Indonesia's oldest association for fashion designers, Stella Rissa already had a steady following. This collection without doubt will be received well by her loyal clients and might be seen on future social events.


Presented by Interni Cipta Selaras
Yogie Pratama, vivacious as ever during the press conference, presented audience with a collection that is perhaps not best described as a collection since he meant each look to be unique and fit for a certain woman. He looked at the models donning his creation and assigned different hairdos according to the individual characteristics he saw.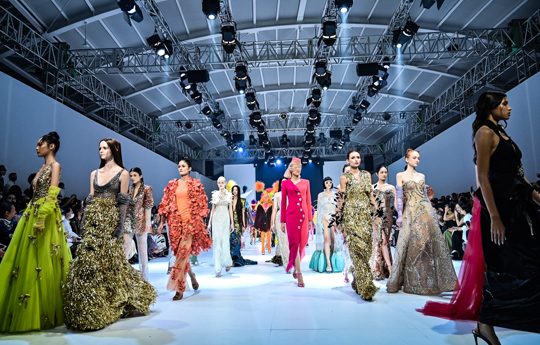 Yogie Pratama
A variety of fabrics, colors and treatments dotted the catwalk. While floor-length column dresses monopolized the collection, one different look drew most attention—a bodysuit in the shape of classic maillot worn with see-through cape with teal ruffle and matching long gloves. Think Hollywood starlet sauntering into an invite-only party along the Amalfi Coast. A crowd-pleasing collection that's undoubtedly worth its billing on DFK's schedule.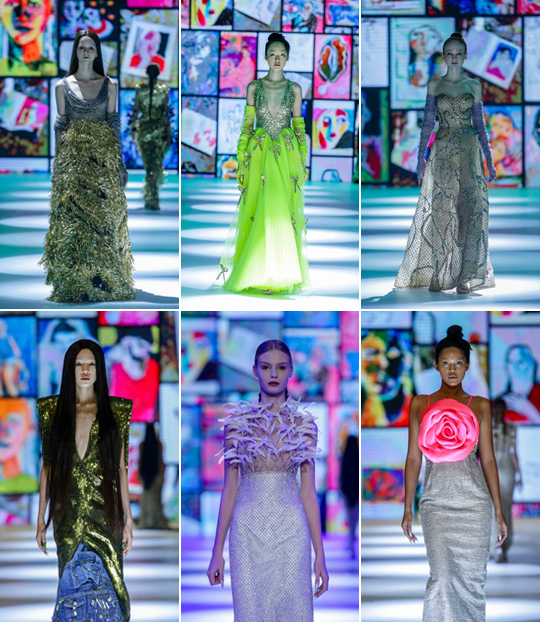 Yogie Pratama
The last and definitely the most, is Rinaldy A Yunardi. He was the first accessories designer ever presented in DFK seven years ago, then also as the finale, and he delivered with a bang I personally still remember the visual and music from that show to this day.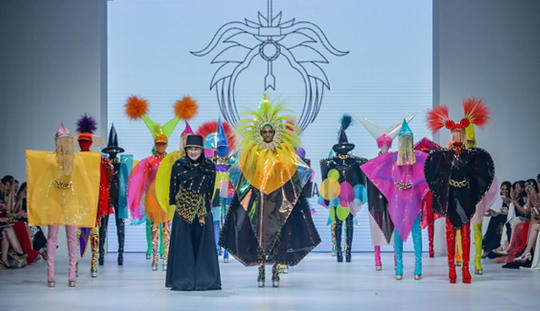 Rinaldy A. Yunardi
This year he sent models down the runway encased in gigantic geometric contraptions which dashing colors randomly caught spotlights and reflected to the audience. Line after line, color after color, one oomph look after another; the show was indeed what the designer said in the press conference as his attempt in enabling women to find their inner beauty and bringing happiness. At the very least his collection did invoke happiness in the audience who's oohing throughout the show. Statuesque model Laura Muljadi, whose exquisite visage was framed with what's perhaps best described as a lovechild of sunflower and a South American tribal costume, closed the show amid thunderous applauses. DFK is expected for drama and fantasy, and Rinaldy A Yunardi, whose works have been publicly worn by Madonna, never disappoints his ardent homeland supporters.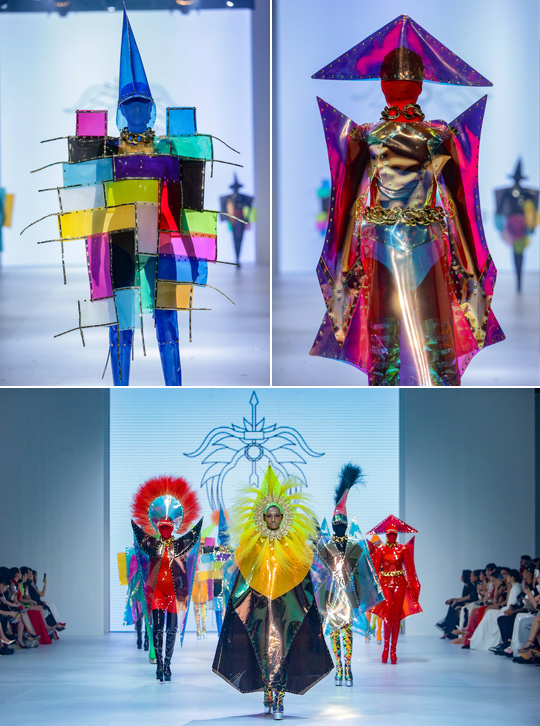 Rinaldy A. Yunardi
Beyond the collections described above, it's interesting to note how both Yogie Pratama and Rinaldy A Yunardi chose to reply when asked at the press conference on the prevailing notion in Indonesia that every fancy evening gown could be called couture. Yogie attributed it to the new habit of easy and often misleading information, tricking people into thinking they understand the whole issue with a click or two. Rinaldy believes that couture should come from the heart, a labor of love. Both designers openly stated that it's not the fanciness that makes a garment a couture, but instead that is personalized for a certain client through a careful process that takes considerable time.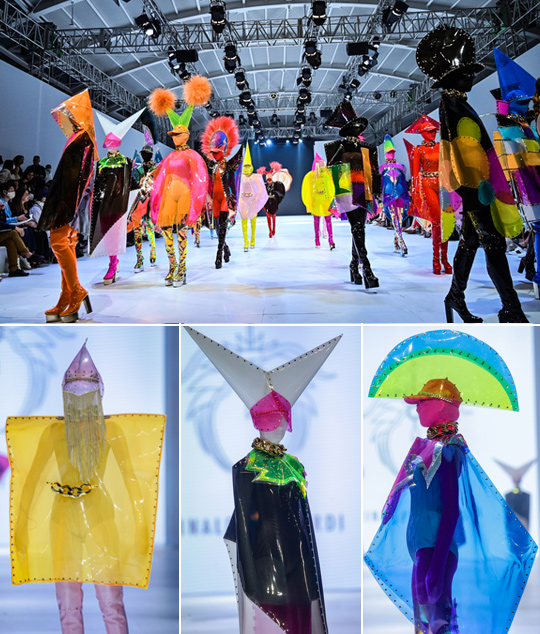 Rinaldy A. Yunardi
The 15th JFW might've been lighter than its pre-pandemic state, but what the DFK couture designers said about their craft certainly packed a lot.
Welcome back, DFK! (LI – Lynda Ibrahim)